How to do the great Californian road trip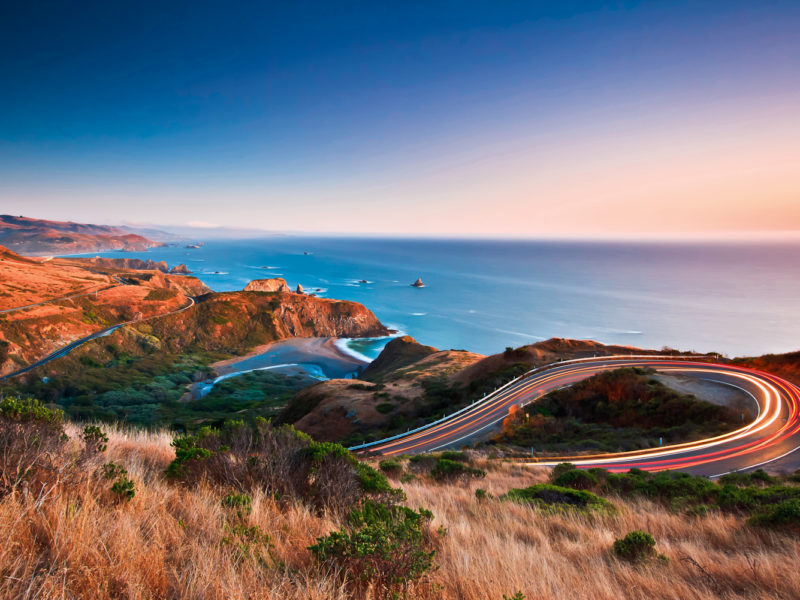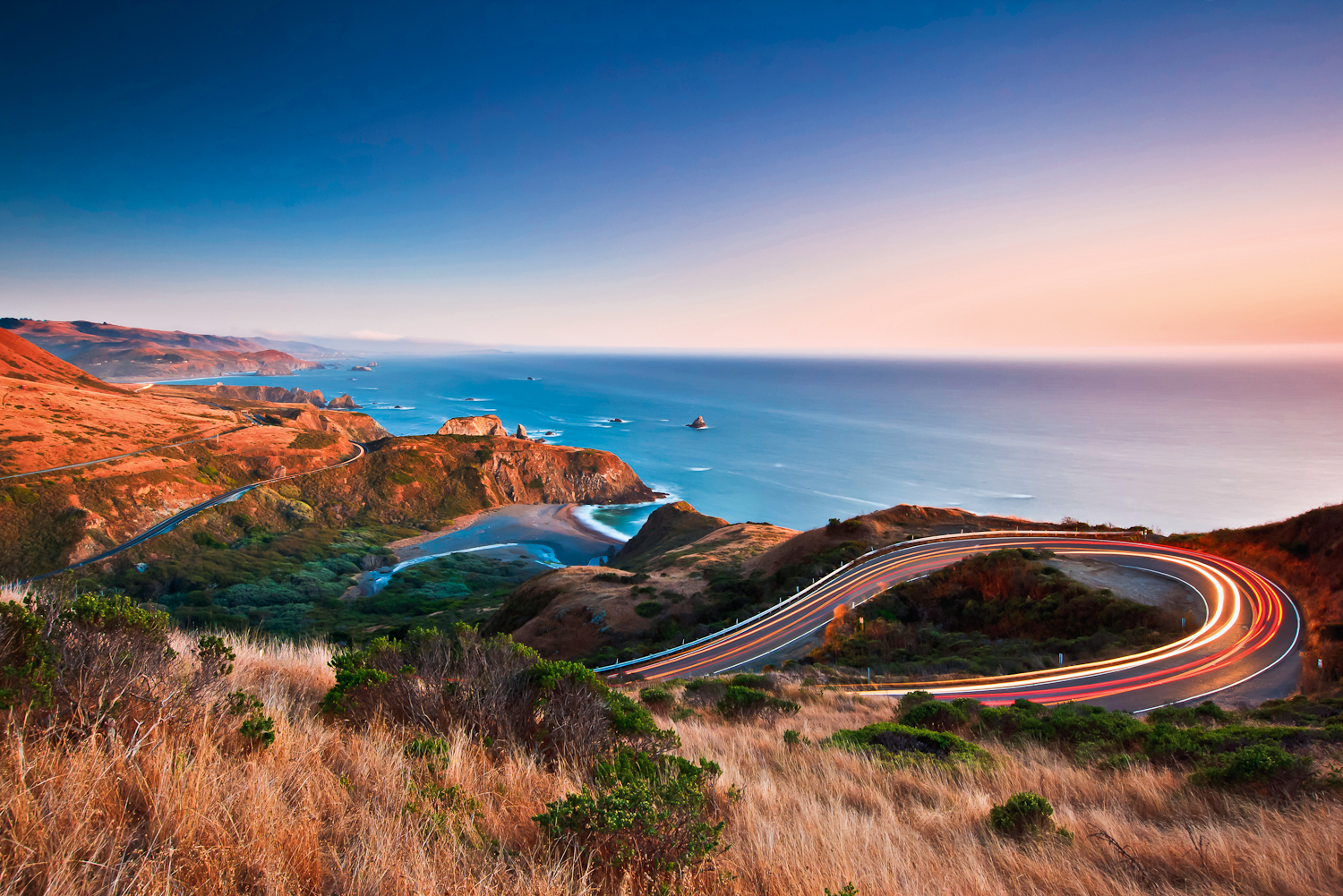 Hit the road for a classic American road trip across California in a classic American car.
A couple stopped in the middle of a car park and stared.
"It is as much fun as it looks," I called out.
I was having a ball ticking another experience off the bucket list, throwing myself into the stereotype and loving every second.
The staring couple laughed and strolled off.
They wished they had a convertible, but then it really is the only way to drive California State Route 1, which I am just about to do.
The basics
It goes by any number of names: Highway 1, Highway 101, Cabrillo Highway, Pacific Coast Highway, to name a few.
Regardless of nomenclature, it is one of the great drives of the world and usually refers to the journey between San Francisco and Los Angeles.
Officially it is a lot longer: the southern terminus is 95 kilometres south of Los Angeles at Dana Point; the northern tip is 435 kilometres north of San Francisco at the town of Eureka.
The stretch between California's two largest cities is the most enjoyable section though, hence its well earned fame.
The cliff- and coast-hugging Big Sur region, roughly the middle point between San Francisco and Los Angeles, is all the clichés of wilderness and breathtaking vistas in a hairpin-turn-after-hairpin-turn drive.
Big Sur is book-ended by gorgeous wine and beach counties and towns. In the south, San Luis Obispo and the more well-known celebrity haven of Santa Barbara are stuffed full of incredible wineries, restaurants and things to do.
In the north, Carmel-by-the-Sea is a laid-back beach-side community that will seduce the hardest of road warriors to stay as long as the cash will allow.
The best way to drive Highway 1 is from San Francisco to Los Angeles because the right-hand drive means you are closest to the sea.
This allows for greater gawk factor and is a lot easier and safer to pull in to the many 'Vista Points' (lookouts in the Australian lexicon), particularly helpful around Big Sur, the most spectacular yet challenging part of the drive. (Also, the sun will be setting over your right shoulder as you drive, making the scenery in front of you that much more colourful and visible – driving into the setting sun on foreign roads is not that much fun.)
The top
San Francisco to Carmel-By-The-Sea via Monterey
If you are in a hurry (and can I make a plea that you're not) the drive to Monterey and Carmel can be a quick trip down the bland freeway through San Jose and other unremarkable Silicon Valley enclaves.
It's far more rewarding, however, to head straight out to the coast from San Francisco and meet up with Highway 1 at Pacifica.
The freeway comes to an abrupt end 20 minutes from San Francisco at Pacifica Beach, where surfers make use of the waves and the Californian firs fill the valleys.
I pull over on the headland and put the top down: the great drive begins. Between Pacifica and Monterey, the road glides over the salad bowl of California.
The rich brown fields are covered in uniform rows of lettuces, strawberries, blueberries and artichokes, which march to the horizon, only stopped by the coastal cliff-edge or a sandy beach. Artichokes are in season and the bountiful crop is on sale at roadside honesty-box stalls.
The terrain is relatively flat with slight undulations. I pass through the occasional stand of firs in a small valley or untameable headland and the piney perfume wafts around me.
As I fly past Santa Cruz, a unicyclist is out for a morning ride; only in California would that happen. The road becomes dual carriageway here and without the coastal vista all character is lost. I push on to Monterey Bay, the capital of California under the Spanish and Mexicans.
At the beginning of the 20th century, Monterey hit the big time with the invention of canning, supplying the world with a steady stream of fish in a tin. It all peaked in the 1940s when one billion tonnes of sardines per year were being encased in metal. By 1950 the waters were fished out and the town crashed.
Today Monterey trades on tourism with its epicentre of Cannery Row, a built-for-tourists quasi-nostalgic experience.
Restaurants like Bubba Gump tout for visitors amongst novelty sock stores, frozen yoghurt shops, arcades, trinket and souvenir sellers, and a pretty awful wax museum.
Despite my low expectations, Monterey Bay Aquarium is magnificent. Kids run with glee from tank to tank or touch all kinds of crustaceans at the aqua equivalent of a petting zoo. At the open ocean tank, tuna, sun fish and hammerhead sharks glide effortlessly past the huge viewing window.
A complete contrast to the touristy centre of Monterey is Carmel-by-the-Sea (to give it its official name), just 10 minutes further south.
You know you are way out of your price range when every house for sale is being sold by Christies. This small town with 3000 official residents, of whom only 1000 are full-time, has its own Tiffany & Co.
Take Byron Bay, Noosa and Lorne, and give them a $1.5-million entry level and you have this town, where life is not only easy but immensely beautiful.
It's no wonder that in the last 12 months Carmel has placed at no.6 on Conde Nast Traveler's list of places to visit in the US and was named the third most romantic destination in the world by Travel and Leisure.
I drop into Dametra Café for lunch. The place is full and lively. The host pulls out his bouzaki (a greek guitar) to serenade a couple celebrating a milestone anniversary. Sitting in the bar, my Caesar salad is mediocre but milieu makes up for a lot.
Carmel is also home to a number of 'legendary' hotels. (Doris Day's pet friendly Cypress Inn was reviewed in IT Issue 13). I pull the Mustang up outside the distinctive pink walls of the La Playa, self-described as the Grande Dame of Carmel and built in 1905 by a local artist for his wife (heiress to the Ghirardelli chocolate fortune).
Its styling is all Spanish revival with white-washed walls, intricate and colourful tiles and loads of wisteria. The gardens are nail-clipper-manicured and its beach views are more glimpses (although it is the closest hotel to the beach).
My simple entry-level room is unspectacular but totally suitable; luxurious bed and simple bathroom. At $319 for the night, it's a good deal for luxury in Carmel.
Later, I stumble into a grand old tradition. Every Sunday from 5pm to 5:10pm any drink in the bar is a dime as long as you have an actual dime. My beer tastes so much better for costing so little.
Carmel hit the international stage in the late '80s when Clint Eastwood was mayor. The ageing film legend owns one of the many hotels in town, Mission Ranch Inn, and the staff at La Playa mention that he is occasionally seen at the hotel's restaurant.
I don't usually do star spotting, but for Clint? Absolutely. La Playa's free shuttle drops me off at the Mission Ranch Inn. It's a typical American white weatherboard ranch with green trimmings. I don't have my Clint moment, or a balcony seat, but I feast on a good ol' American burger with a local artichoke starter.
The Middle
Big Sur
Impenetrable and remote, the Big Sur region was only slowly opened up in the mid 20th century, thanks to the construction of the road I am currently driving.
From that moment on the region has been seducing all-comers. Jack Kerouac penned a book, Big Sur. Henry Miller lived there from 1944 to 1962 and famously recalled having a traveller knock on his door asking for directions to "the cult of sex and anarchy". Hunter S. Thompson wrote an article about its bohemian and alternative culture for a men's magazine after spending the most part of 1961 as a security guard at a resort here.
The 45-minute drive from Carmel to Post Ranch Inn is the opposite of the previous day's bland highway. Rugged mountains covered in towering trees are masters of this domain and the road skitters between them like a mouse running from a broom. The skies are closing in and the top of the Mustang remains firmly over my head.
For all the places to have a rainy day, this is both the worst and best. For travellers, Post Ranch Inn transforms the Big Sur experience.
Heralded as "the West Coast's Greatest Place to Stay" by Travel and Leisure, when it opened in 1992, Post Ranch Inn is much more than an über celeb retreat (Drew Barrymore honeymooned here and heaps of other A-listers have stayed).
The accommodation comes in two completely understated grades, Ocean View and Mountain View rooms. In fact, they are not rooms but entire three-bedroom suites with a huge balcony and private hot tub continuously heated to 40-degrees Celsius.
My cliff-hanging Ocean View suite is exquisite: curved wood-panelled walls make the most of a spectacular storm rolling into the hills. A dip in the balcony's hot tub in the middle of a storm is indulgent and oh-so-satisfying.
As the storm intensifies, I lunch at Sierra Mar on a three-course set meal with outstanding wines. The restaurant is also set on the cliff-edge with views of Big Sur and the Pacific – except today. It is a white-out, so with nothing to see but storms, I retreat back to my room and my balcony hot tub.
During a pause in the rain I walk around the grounds; wild turkeys bob out of my way as deer skip into the cover of the forest and the clouds cosy up to the mountains way above me.
The weather continues the next day during the drive from Big Sur to San Luis Obispo, which has some of the most spectacular scenery of the entire journey.
The bridges leap from cliff-side to mountain-side, over pounding waves. But I see very little as I concentrate on staying on the road through the torrential rain.
Every cloud has a silver lining though: dismayed that the most magnificent part of the drive was marred by less than ideal weather, I decide to re-drive it at 4pm the next day.
Trying to beat the setting sun gives me an excuse to drive the Mustang fast.
In the end I drive this legendary two-and-a-half hour, 166-kilometre part of the entire 720-kilometre journey three times, and this final time is epic.
Each corner reveals another spectacular cliff and mountain. And to top it all off, dozens of whales surface and spout in the ocean on the horizon.
The Bottom
San Luis Obispo and Santa Barbara
San Luis Obispo is a simple and pretty college and spa town.
Another former missionary town, it has several burgeoning wine regions on its doorstep (in particular Paso Robles, recently named 2013 Wine Region of the Year by Wine Enthusiast magazine) and all the energy and optimism that a large student population brings with it.
The students are responsible for one of the town's most unusual attractions, Bubble Gum Alley. God knows why but it seems the local kids mark their undying love for each other with chewing gum stuck to an alley wall.
Some of the declarations are actually very creative with huge slabs of the sticky stuff moulded into large tomes of devotion. The weirdest part is the sweet, minty scent that signals your imminent arrival.
The nightlife is also bigger than a town this size would normally deserve. A great selection of restaurants and bars huddle around the creek that runs through it, and sitting at the bar of the sleek Granada Hotel & Bistro, I enjoy the best bar meal of my entire trip.
Whilst in San Luis I have to pay homage to one of the great media men of all time and drop in on Hearst Castle, an icon of American success and excess.
From 1919 to 1947 William Randolph Hearst amused himself as he built a series of houses where guests including Charlie Chaplin, Greta Garbo, Errol Flynn and Clark Gable came to enjoy the astonishing views of the coast at San Simeon.
He never finished the building as he kept adding extensions and grand houses: the four main structures boast 58 bedrooms, 60 bathrooms and two of the most impressive swimming pools known to man.
In his lifetime, Hearst assembled an incredible collection of priceless artworks, textiles, antiques and other assorted knick-knacks that he housed in the castle.
All the bedrooms have ornate 16th- and 17th-century painted ceilings cut out of monasteries in Europe and shipped to the US. The bathrooms are Art Deco masterpieces replete with gold fittings.
But the most remarkable structure is the indoor pool with its eye-popping Gatsby-esque 24-carat gold inlay.
South of San Luis, Highway 1 becomes a two-lane soulless highway. The Highway 154 is a more scenic alternative that approaches Santa Barbara from the mountains.
A quick turn-off and I find the Cold Spring tavern, a wooden mountain-shack restaurant, whose dark shingle walls are crammed with taxidermy, clippings and other ramshackle memorabilia.
A quick bowl of 'famous cold spring chilli' with cheese and onion for lunch is a lovely break.
Santa Barbara shows the US at its honest best. It's idyllic but not perfect – the place is teeming with homeless. It describes itself as the American Riviera, which is not entirely off the mark.
At first glance, the low-rise city of mostly Spanish Revival architecture, with its beautiful streetscape and iconic red tiled roofs, is very European. The city government's restrictions on neon signs, building heights and façades makes for a highly walkable and liveable city.
At its essence Santa Barbara is a well looked after and beautiful coastal getaway. The main thoroughfare of State Street is a thriving strip of shops and restaurants.
The city is also blessed with seriously good small museums, all carefully curated and maintained by a dedicated army of concerned citizens.
At the Natural History Museum, I find the only decent exploration and representation of the local indigenous people, the Chumash, who were largely obliterated or assimilated by the Spanish missionaries.
But Santa Barbara is probably most well-known for its glitz and glamour roster of famous residents like Rob Lowe, Oprah, Brangelina, Whoopi Goldberg, Ellen and Katy Perry. It was also the epicentre of movies during the silent era when Charlie Chaplin built a hotel in the Montecito neighbourhood.
I stay at a gem of a hotel myself: The Simpson House Inn is a Victorian house built in 1874 that has been restored and turned into a boutique hotel. The house is surrounded by formal gardens which hide several cottages.
My room, the Tack Room, is beach-side bungalow in style.
The Simpson House is within walking distance of some of the best restaurants in Santa Barbara. I dine at local institution Bouchon, which has been farm-to-table since it opened in 1998.
The following day I have lunch at the other end of the spectrum, Norton's Pastrami and Deli. It's old-school counter-seat eating and serves the best Ruben I have ever had.
All great journeys must come to an end
Santa Barbara to LA
I delay my departure as long as I can and drop in on one of the recently revitalised neighbourhoods, the horribly named Funk Zone. Many of the wineries of the Santa Barbara area, made famous by the merlot-killing movie Sideways, have established wine-tasting bars in the Funk Zone.
You can easily walk, then stumble, and eventually crawl from tasting to tasting. My picks are Municipal Winemakers (hipsters making good wine) and Riverbench Vineyard & Winery (a little more posh).
I need to detox before I jump into the Mustang and battle with the LA traffic. It's time to join the ranks of the new age at Salt, an underground replica of a Himalayan salt cave.
A dewy-eyed young girl tells me sitting in the darkened salt cave for an hour will make me happy because "the negative ions are the same as you get from the sea and will induce the production of serotonin to make you feel calmer and happier".
Just what I need to take on the streets of LA. After an hour (and a quick nap) in the Himalayan salt cave, I think I am calm enough. My serotonin levels drop with each mile I drive closer to LA, but the end of one of the great journeys of a lifetime is always going to do that.
What to see and do
-There are fantastic walks around Big Sur.
–Point Lobos Nature Reserve just south of Carmel is awesome for spotting sea otters at play.
-Pre-book your tour to Hearst Castle online to avoid queues and crowds.
-Missions are as common here as cathedrals are in Europe. Santa Barbara is the largest and best presented.
Where to stay
Carmel-by-the-Sea
La Playa Hotel
The grand pink old lady of Carmel with incredible gardens.
Big Sur
Post Ranch Inn
This was No. 25 on our 2013 list of the 100 Best Hotels in the World.
San Luis Obispo
Sycamore Mineral Springs Resort & Spa
Out of town and great retreat feel. Ask for the West Meadow suite if you can.
Santa Barbara
Simpson House Inn
Romantic Victorian stylish boutique stay.
Where to eat
Mission Ranch Hotel
Mr Eastwood's place serves classic American food. Book a balcony seat for sunset.
Casanova
Cute and classy Italian.
Dametra Café
Lively Mediterranean atmosphere.
Big Sky Café
A local favourite for breakfast and lunch.
Buona Tavola
Best Italian in town.
Granada Hotel and Bistro
Great restaurant open later than everyone else.
Luis Wine Bar
Stop in for a sip and snack.
Bouchon
An institution of local produce with an incredible wine list.
Olio e Limone
White tablecloth Italian dining.
Carlitos
Mostly modern Mexican opposite the Arlington theatre.
Norton's Pastrami and Deli
For sky-high sandwich stacks.
Details
How to get there
United Airlines has daily direct flights from Sydney to San Francisco from $1440 return.
How to get around
The mustang was $685 from Dollar Rentals and petrol was only $62. Make sure you include the additional third party insurance as this is not mandatory or covered in the US.
LEAVE YOUR COMMENT