The grand Yukon RV road trip – 25 things you must know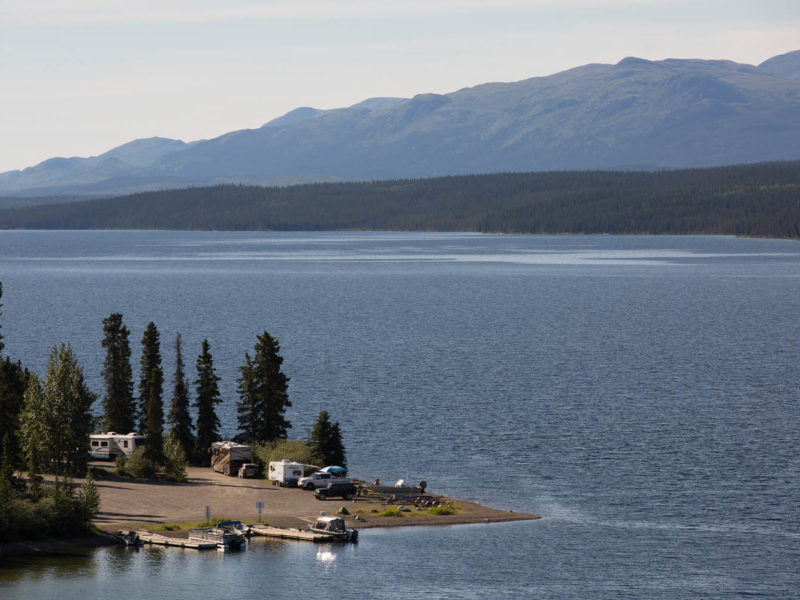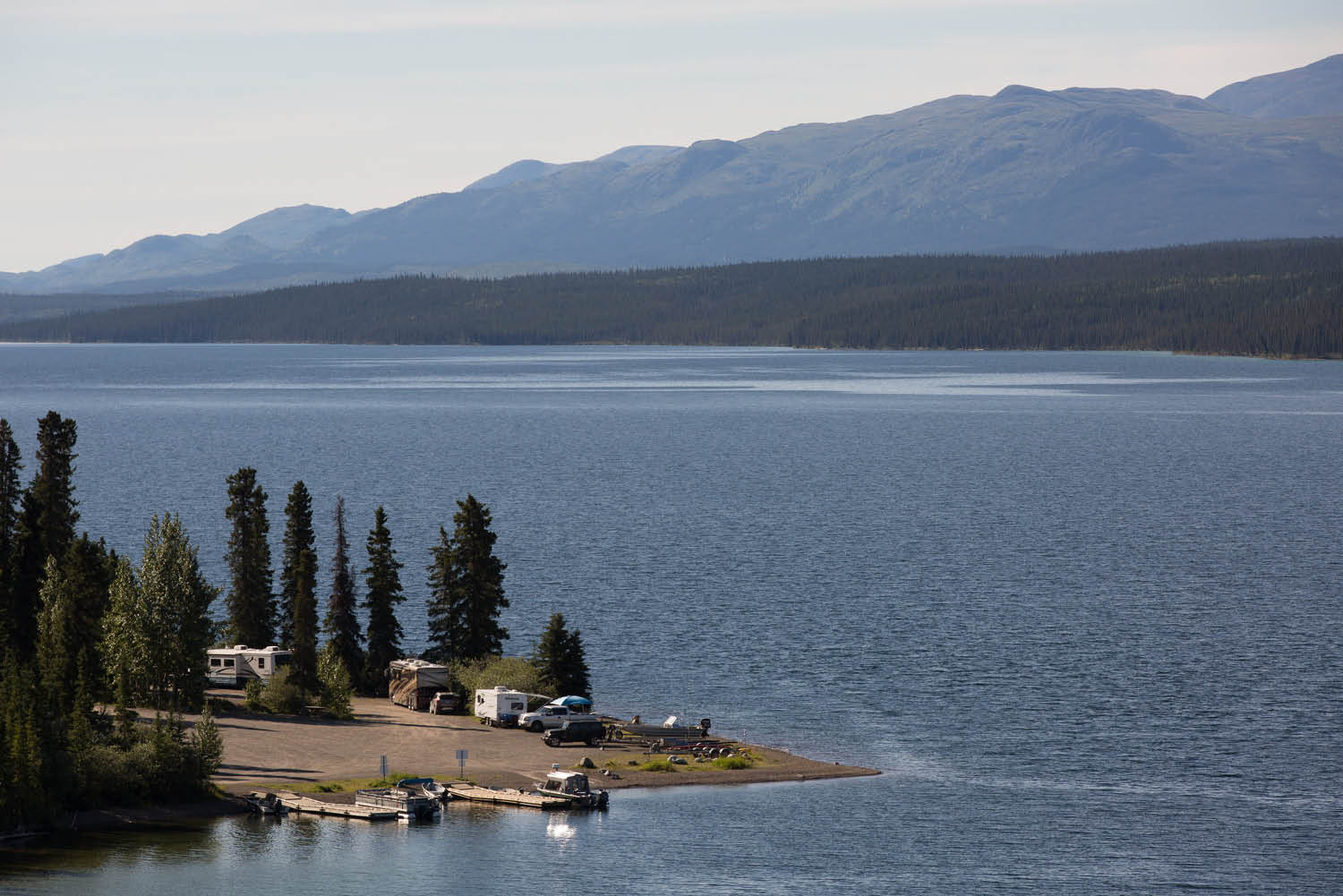 It may be an adventurous road trip, but it doesn't have to be a bumpy ride. Here, our Yukon expert, Steve Madgwick, shares his tips on how to make your Grand Yukon RV Road Trip a smooth one.
It's astounding how much you learn on a 3000-kilometre road trip, driving an eight-metre long, three-metre high, 6.5 tonne RV on some of this planet's most remote roads.
Alaska gets all the bucket-list love, but Canadian next-door neighbour Yukon shares the same latitude, same mountain ranges, same animals but with a personality all its own. In the summer months, the 'larger than life' history, cultures and huge horizons make for one of the best road trips on Earth. The Yukon's scale and sheer remoteness can seem daunting at first, but don't let that stop you. Please.
After two weeks driving under the Midnight Sun (past the Arctic Circle), I reckon I am a pretty much an expert now. So here's everything you need to know about your Grand Yukon RV Road Trip.
Which route should I drive?
1. The classic loop: Whitehorse-Klondike-Alaska-Kluane-Whitehorse
You can drive this 1500-kilometre loop in five days, but push it out to two weeks to give yourself time to appreciate Yukon's nuances. Start in capital Whitehorse; head north up Klondike Highway to Dawson City; west over Top of The World Highway to Chicken, Alaska (unsealed road); head south and re-cross the border into Yukon; south to marvelous Kluane National Park; then finish the loop back into Whitehorse.
2. The Arctic Circle side-trip
If you've time and an adventurous spirit, branch off the classic loop up and back down Dempster Highway (unsealed) to the Arctic Circle, and beyond to Inuvik (Northwest Territories). This is Ice Road Trucker territory in winter, but in summer its highlights are infinite (Read: The Arctic Circle road trip). Other more laid-back add-ons include the Southern Lakes loop (Carcross, Tagish, Marsh Lake) and The Silver Trail side-trip to Keno and Mayo.
Before you leave Whitehorse…
3. Do a big shop
Yukon's capital is endowed with all the services you'll need, from supermarkets to Starbucks. Use them. You can buy most incidentals in village roadhouses, but the choice dramatically shrinks and costs explode the further you are away from the city.
4. Some pre-road-trip R&R
Jet-lag and RV road trips don't play well together. Plan at least one prep/rest day in Whitehorse to get your bearings before you hit the road. Drop by the Visitor Information Centre for the good oil on road conditions et al, check out the sites and, most importantly, get a good night's slumber.
5. Make sure you've packed…
Yukon's summer temperatures range from brisk to hot so bring your coolest sunglasses and hat, plus throw in sunscreen and mosquito repellent (you'll thank me later). Conversely, pack rain gear and layers for warmth, especially if you're heading far north. Sort out playlists, too, because there isn't great phone or radio reception where you're going.
6. If in doubt, fill up
Yukon's settlements are well and truly spaced apart, so every time you pass a petrol station, ask yourself, "where's the next one?". Fuel prices in Dawson City and Whitehorse are on par with the rest of Canada, but 'isolation tax' bites in remote corners (remember, RVs have huge tanks to fill!).
How to drive an RV for first-timers
7. It's okay to be the slowest thing on the road
Despite their torquey engines, RVs are always the tortoise, never the hare. Ninety-nine times out of 100 you will be the passee not the passer. Cars will occasionally bank up behind you; it's up to them to pass you. Get used to this and you will enjoy the drive a lot more.
8. Driving by mirrors
Learn how to use you mirrors before you leave the rental lot. Because of their length, which cause gaping blind spots, RV's rear-view mirrors are split into two: the bottom half shows close cars, the top shows those approaching from afar. (The windscreen-mounted mirror is useless.) Mirrors are also the best way to ensure the wide beast is in its lane. Tip: Don't stress, the Yukon's wide-open roads make for a forgiving environment.
9. The art of RV steering
Obviously a long wheelbase vehicle needs more room to turn than a car. Most rentable RVs are less than nine metres (unlike the Winnebago whales you'll see) so it's just like driving a really big car. Simply allow a wider turning ark and use your mirrors to check that you aren't curb-cutting with your rear tyre. Be prepared to execute four- and five-point turns instead of the usual three. (Check out YouTube for masterclasses.)
10. Chill on hills
The Yukon's roads cut through endless mountains and valleys, meaning you have to deal with steep gradients in a vehicle the weight of a small truck. There are a few things to know: slow down before (not on) a hill; select a low gear if the incline looks precarious; then chug calmly down it.
11. The reversing partner
Whenever you don't feel 100 per cent confident reversing the beast, it is your passenger's sworn duty to get out and help. Your reversing-angel should stand in clear view of one of your mirrors and use obvious hand signals to help you 'land'. (Note: Always look up for obstructions, too.)
12. Don't forget to unplug
Do a final walk-around your RV every time you drive out of a campground! It's amazing how many stories you hear about power boxes and water connections being dragged down the road. Remember to close your 'pull-out' too.
RV Life: there are no stupid questions
13. What's inside an RV?
RV life is about self-sufficiency. The 'Midi' motorhome we rented (see No. 22) sleeps four comfortably and has everything, including the kitchen sink: a (small) shower, toilet, propane stove, fridge/freezer, conventional oven, microwave, television, electric 'pull-out', on-board generator, solar panels and much more!
14. Yukon's campgrounds are postcard awesome
Parks Canada provide some of the most stunning campground settings in the free world. My fave is Fox Lake (north of Whitehorse) for its sheer reflective-lake prettiness. The secluded, well-maintained sites offer only basic facilities (clean long-drop loos, free firewood etc.) for well under twenty bucks a night. (Tip: it's first-come, first-served so turn up before 11am when other RVers tend to move on.)
15. RV parks: pump and dump
Each decent-sized town has at least one commercial RV park, mandatory so you can 'plug in' to recharge batteries and refill drinking and shower water (and to dump waste water). You only need to stay in one every few nights; generally they don't have the same charm as outta-town places.
16. Can I free-camp by the roadside?
Officially no, but lots of people do; there's plenty of open space up north. Check if it's private property, don't 'take the piss' and you should be fine. (Tip: park your RV on reasonably level ground.)
It's a Yukon thing
17. Sleeping under the Midnight Sun
Seeing the sun in the sky at midnight is an utter privilege. With 18 hours of daylight in summer, there's no need to rush through your day here, but it does take some getting used to, come beddy-byes. Bring an eye mask, black out the RV as much as possible, and set a 'bed-time', otherwise your body tends to want to party through the night.
18. Finding the First Nations
The Yukon's First Nation culture is vibrant and engaging, but can be a little difficult to pin down with limited time. Many of the Yukon's 14 First Nation bands have great interpretive centres; the Whitehorse, Carmacks and Haines Junction ones are particularly worth your attention.
19. Go on, splash out
On long journeys, stay a night or two away from the RV to avoid cabin fever (Go off-grid in a Kluane log cabin). Splash out at the odd local eatery, too, so you get to meet local characters and eat local fare (like Steve Watson and his giant cinnamon buns in Braeburn Lodge).
20. There's a bear (or two) in there
You are very likely to come across plenty of critters, big and small, from the ubiquitous raven ('mischief maker') and squirrel, to wolves, moose, caribou, muskox and more (please drive with this in mind!). And, yes, you're likely to see grizzly and black bears. Visit Parks Canada interpretive centres to watch the 'bear aware' video and buy some bear spray if you plan long hikes.
21. Drive like a Yukoner
Apart from the whole other-side-of-the-road thing (for Australians), always have your headlights on (it's the law) and slow down when you see little roadside flags because there's a nasty bump coming your way. A friendly wave to oncoming traffic is also the custom.
Ready to book your Yukon RV road trip?
22. How much does it cost to rent an RV?
We paid about $400 per day, including insurance (but not including fuel), for the second-largest RV in CanaDream's fleet, the Midi. Reduce the cost substantially by booking well in advance and by hiring a smaller vehicle (we booked late in peak season). Remember that this is the bulk of your accommodation costs covered and you can save money by cooking.
23. Read the insurance fine print!
Ask your travel insurance provider/rental company if you are covered to drive a vehicle of your RV's weight. Quiz them on exclusions: we weren't covered for undercarriage damage on unsealed roads, even though the RV company said it was OK to drive on them. Ask how much it charges for flat tyres and windscreen damage (it can be steep!).
24. Border crossings
Australians need an eTA to enter Canada and an ESTA to enter the USA if you cross over to Alaska, plus a land-crossing authorisation (going into the US, which costs USD$6 cash at the border).
25. How do I get to the Yukon?
Air Canada flies daily from Vancouver to Whitehorse. For more information, visit Travel Yukon.
Read about our Yukon RV adventures…
LEAVE YOUR COMMENT