Secret snow business at Sun Peaks, Canada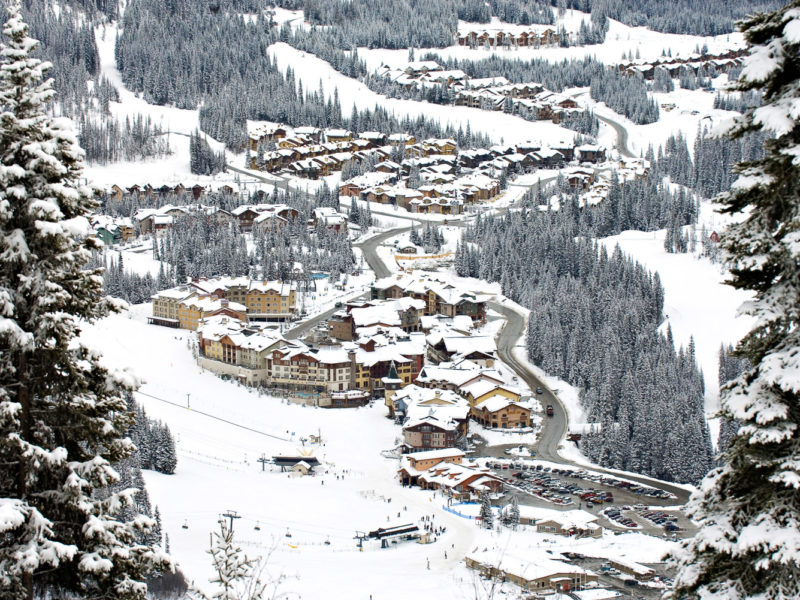 Tucked away in the Interior of BC, Canada, is a little-known gem of a resort. Words Megan Arkinstall
We've got a secret to share with you. There's a little ski resort that you probably haven't heard of hidden in the south-central interior of British Columbia, halfway between the Rockies and the Coastal mountain ranges.
It's nowhere near as crowded as the big-names of Whistler or Banff (read: no queues for the lifts and wide runs practically to yourself), with a small and relaxed European-style village of pastel-coloured, low-rise gabled roof buildings.
But when it comes to the mountain, this little-known resort is a serious contender for the best skiing in Canada. Surrounding the ski-in, ski-out village, its three towering mountains boast the country's second largest ski area (Whistler Blackcomb is the biggest) with more than 1700 hectares of 133 well-designed runs, catering to beginners, intermediates and experts alike.
To top it all off, this region experiences consistent light, dry powder and more than 2000 hours of annual sunshine, which means frequent bluebird powder days. Amazingly, this little Eden of skiing delights is just 45 minutes' north of Kamloops airport.
Its name: Sun Peaks Resort. Whether you're an amateur or intermediate wanting to scrub up on your skills, an expert in double blacks schussing your way around the country, or a family wanting a fun-filled snow adventure, Sun Peaks is a fantastic all-rounder and a little gem among Canada's ski resorts.
We experienced the best it has to offer in one perfect winter wonderland day.
Let it snow
We arrive at Sun Peaks fresh (or not so fresh) from the overnight VIA Rail train from Vancouver. Despite my sleepy head, the sight that greets us on arrival has me bright eyed and bushy tailed.
The village is cloaked in a blanket of thick white snow. Soft flakes fall steadily, quietly dancing around in the crisp, mountain-fresh air. The surrounding pastel-coloured buildings are topped with snow so thick it looks like marzipan icing.
After an early check-in to our hotel, we head straight out to discover this cute alpine village. We trudge through fresh snow to Tod Mountain Café, just a few minutes' walk down the village walkway.
We've heard the breakfast crêpes are delicious (our tremendously friendly cab driver gave us an extensive run down of the village on the 45-minute drive here from Kamloops).
At the counter, an Australian girl asks us what we would like to order (the first of many familiar accents we are greeted by here at Sun Peaks); I choose a spinach, feta, tomato and avocado crêpe, which I gobble down with a decent coffee.
A good snow day will get you moving quickly. Thirty minutes later I'm being fitted for skis. I'm a complete beginner at skiing – I've dabbled in snowboarding a few times and let's just say, I wasn't a natural.
"Are they meant to feel like this?" I apprehensively ask Sam, a young Australian guy, as he fits my boot. Apparently, yes. He waits for me as I robot-walk to the sales desk.
Looking longingly out the window at the falling snow, it's obvious he's counting down the moments till he knocks off. "I've heard it's wicked up there today," he says.
Beginner's luck
I'm waiting at the Rendezvous Area near the base of the Sunburst Chairlift for my ski instructor. I have butterflies in my stomach: back home, the precocious kids in Milo vests instilled in me a fear (and slight humiliation) when I was learning to snowboard; the kids here are even more naturally gifted in the snow, whipping around on skis and boards seemingly before they can walk.
But my instructor Axl, who comes from Sweden, puts me completely at ease. After a few practice slides down a bump of a hill, he takes me up the carpet to the top of Gentle Giant for a few runs, some great pointers and lots of encouragement.
Before I know it, I'm heading up the quad lifts and coming down green runs that intertwine with blues – I'm beaming! Indeed, the ultimate blessing of skiing in the country's second-largest ski area, is the wide, well-groomed runs that you practically have to yourself and there's plenty of room for more advanced skiers and snowboarders to fly past as I learn.
Even better, there are no lift queues, so plenty more time is spent up the mountain (and in Sunburst Lodge enjoying one of the fresh cinnamon buns; the aroma is just irresistible and the views up here aren't bad either).
There's something so cool about skiing straight back to your accommodation – no buses, no laborious walks with your ski gear… it's so simple. I store my skis and head straight to my room.
Skiing with champions
My husband and I reconvene at the clocktower. He had taken off with his snowboard to the top of Mt Tod to try out the steep black and double black runs; no doubt we'll tackle a few together when I've fully graduated from the carpet…
The warmth of Bolacco Café is immediately welcoming; I pull off my beanie and gloves and look around for Al Raine.
I spot him sitting on the window bench all snug in his knitted sweater. He waves us over.
"They do the best coffee in the village," he insists when we sit down. Not a bad endorsement from the mayor of Sun Peaks. I order a grilled cheese and pickle sandwich and 'the best coffee' in the village.
As most conversations do here, talk quickly moves to the current mountain conditions. Former head coach and program director of the Canadian Alpine Ski Team (from 1968–1973), Al's love of skiing started when he was a young boy living in Vancouver.
"I'd catch the local bus to the road that all traffic to Mt Seymour would head down and I'd hitchhike a ride from there." He laughs when he admits he was only about nine!
His wife Nancy Greene is director of skiing at Sun Peaks (not to mention an Olympic gold medallist and World Alpine Skiing Champion). They moved to Sun Peaks in 1994 and opened Nancy Greene's Cahilty Lodge; they continue to be strong advocates of Sun Peaks and extremely passionate about skiing (and all other Alpine sports).
Al hits the slopes every morning – "I've banned morning municipal committee and council meetings!" – and he loves sharing this experience with visitors. Being such a down-to-earth, friendly guy people always take him up on the offer: he's skied alone less than 20 of the 122 days he's been out this season.
Just as accommodating is Nancy who offers weekly complimentary mountain tours throughout winter – so if you're here on the right day, you might find yourself exploring the runs with a champion.
Time for s'mores
I have a bit of time to kill, so I take my time wandering down the village walkway (you can walk or ski from one end of the village to the other within minutes).
I stop at Sun Peaks Sports and buy my husband a Sun Peaks T-shirt sporting a goggle-toting bearded dude (an essential souvenir, no?) and spend far too much time deciding between a Cookies 'n' Cream and Cheesecake Chocolate Bomb from Rocky Mountain Chocolate Factory. And maybe a caramel apple topped with s'more?
I walk back past the ski rental store: Sam is still watching the clock.
Breathtaking backcountry
An ethereal mist sits low on the mountain shrouding the view further ahead; towering snow-topped pine trees line the track that we're zipping along on a snowmobile like 007 in A View to a Kill.
We're on a snowmobile tour with two local guides (Ty is leading and Carmen is sitting at the tail of the group) and two visitors from Germany. My husband is driving and I'm on the back holding on for dear life.
My face is stinging from the cold air: I brave it and let go for a moment to pull my neck warmer up over my face.
Flying through Sun Peaks's backcountry is exhilarating. It's like another world up here, far away from the buzz of the village.
Occasional breaks in the treeline offer spectacular views of the Thompson–Nicola region, as we ride round winding tracks and over wide frozen lakes.
We stop in an open meadow so we can each take the snowmobiles for a cheeky spin – it's actually tough work this snowmobiling, but a lot of fun.
Après fun
Unlike its bigger BC rival Whistler Blackcomb, Sun Peaks is no wild party town. Instead, it is unpretentious, laid back and very family friendly with a host of kid-themed events (it's dog-friendly too; there's a number cross-country trails suitable for furry friends).
But there's still plenty of après ski action. We head to the local's local, Bottoms Bar & Grill, for a quick afternoon drink.
The sun has made an appearance and despite the lifts closing at 3:30pm, people are out and about on the lower slopes.
The mood is euphoric, with groups of friends fresh from a great powder day, still in their snow gear enjoying glasses of BC beer.
Twilight hiking
We hop, skip and jump over to the Village Day Lodge after our sundowner, where we are given some sexy snowshoes, gaiters and headlamps for an easy one-kilometre twilight tour by snowshoe.
We follow our Canadian tour guide Gordon out of the village, over a covered bridge to the entrance of a lovely forested trail. Here we put on our snowshoes and begin to walk (it's a lot easier than you might think) alongside the trickling McGillivray Creek to a bird feeding station.
We stop here for a quiet moment. Gordon brings out a bird-call whistle to entice the birds to come but instead we are greeted by a cute-as-a-button squirrel who ducks into a log and pokes his head out a moment later proudly showing off a nut that he's collected.
We continue walking through the pine forest, out over the frozen, snow covered golf course and cross over the Nordic trails. Up until 7:30pm every day you may see cross-countryskiers gliding past, making this heart-pumping sport look relatively easy (there are 36 kilometres of impeccably groomed and track-set trails here).
We pass the bottom of Mt Morrisey's ski runs and back into the forest to a cosy winter camp where we relax under a blanket of stars with delicious s'mores and hot chocolate cooked over a roaring fire.
Once suitably warm (inside and out) we begin our return walk past a lookout with views over the village, all pretty with sparkling lights.
Traditional fare
We decide we've done enough exercise today to warrant another feast, so we walk to the far end of the village to Kookaburra Lodge to dine at Voyageur Bistro, which is inspired by the North West Company fur traders of the early 1800s who voyaged across Canada from Hudson's Bay.
The place is decorated with Canadian artefacts (a 1930s canoe graces one wall), local antiques, and the menu showcases many ingredients that were the staple for fur traders and First Nations people from those days, such as bison, berries, bannock and fish, cooked with a contemporary flair along with some fantastic BC wines.
Later at our hotel, the gas fire is glowing; my husband is fast asleep. I'm sleepy too, but I'm mesmerised by the view from our window of the little village before me, all lit up and covered in snow like a perfect little winter wonderland.
The looming mountains surrounding us have disappeared into the night, hopefully still being dappled with snow ready for a bluebird powder day tomorrow.
DETAILS
Get there
Sun Peaks is 45 minutes north of Kamloops. Air Canada and WestJet fly daily from Vancouver and Calgary from $160.
Airport shuttle to Sun Peaks is from $45 per person.
Stay there
Most accommodation in the village has ski-in, ski-out facilities.
Our picks include Nancy Greene's Cahilty Lodge (studio from $97 a night), the more luxurious Sun Peaks Grand (from $114 a night) and Coast Sundance Lodge (from $143 a night).
Play there
Ski school
First-timers can book private lessons from $120 per person for one hour.
Snowshoeing
There are a number of different options including a Sunrise tour, Winter Wonderland and Moonlight Snowshoe and S'mores. Tours depart on selected days from December to April. From $45 per person + $20 snowshoe rental.
Snowmobiling
Choose from a two-hour tour (from $167 per person) or a four-hour tour (from $268 per person) or an evening tour with wiener roast (from $180 per snowmobile).
Other winter must-dos
While you're here, we recommend dog sledding ($250 per sled), ice-skating ($5 per person), fondue dinner at Sunburst Mid-Mountain Restaurant and evening descent ($75 per person).
For snow novices:
Bluebird powder day
A beautiful sunny day after overnight snowfall.
S'more
Roasted marshmallow and chocolate between two biscuits; a North American delicacy.
Nordic skiing
Cross-country skiing.
Après ski
Refers to anything social after a day of skiing.
A run-down of runs
Green is for beginners, blue for intermediates, blacks for advanced and double blacks for the brave (AKA experts).