Ontario's Thousand Islands is more than the salad dressing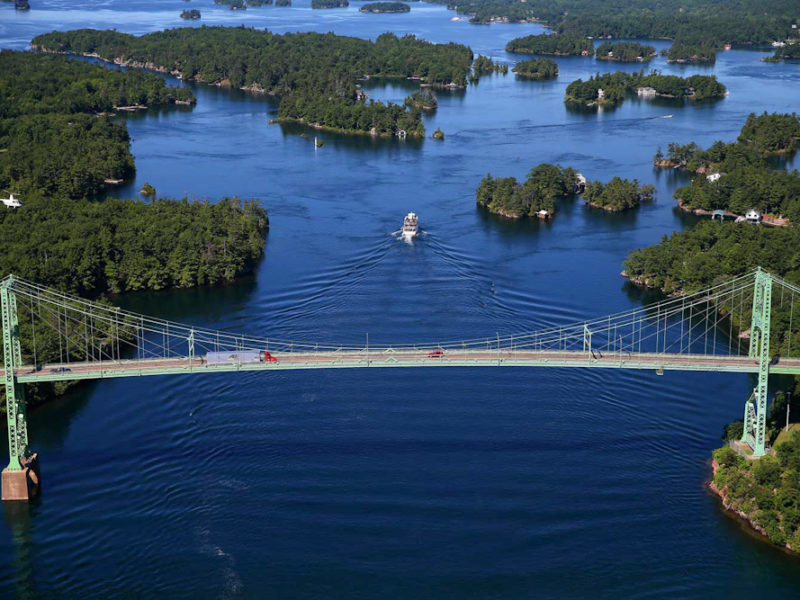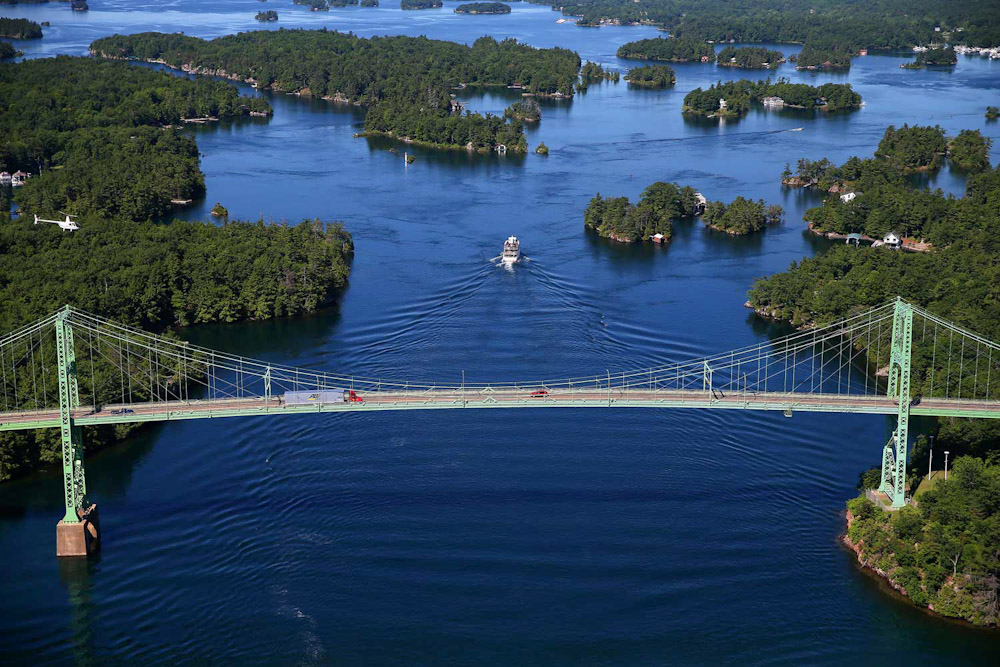 Kerry van der Jagt explores Ontario's Thousand Islands by air, bike and boat in search of a secret recipe.
Canada – home to towering mountains, epic train journeys, plunging waterfalls, and salad dressing.
Not just any dressing, mind, but the famous Thousand Island dressing, that creamy concoction favoured in the 1950s and guaranteed to bring any lettuce leaf back to life.
Ordinarily I wouldn't travel far for a salad, but when I learned the Thousand Islands is an actual archipelago in the St Lawrence River on the Canada-US border, and that the origin of the dressing was shrouded in mystery, my curiosity was piqued.
A quick Internet search heralded the Thousand Islands as a boating paradise, a veritable 'garden of woods and waters', rich in history and laid-back by nature. A place so under-the-radar not even my well-travelled Canadian friends knew it existed – a mere two hours' drive from Ottawa.
It's a late-autumn afternoon when I arrive in Gananoque, the fiery fall colours of yellow and gold reflected in the indigo waters of the St Lawrence River as I take to the waterway for a sunset cruise.
Located in southern Ontario, where the five Great Lakes squeeze into the St Lawrence River, the islands range in size from 100 square kilometres to the size of a picnic rug.
While some are uninhabited, others are topped with luxury homes, many built during the Golden Age of the late 19th century.
"Actually, there are 1846 islands," says our captain, as we drift past another fluffy green islet.
"But a Thousand Islands made better marketing sense."
While cruising is an ideal introduction, the best way to appreciate the ribbon of islands is by helicopter, thundering above the watery highway and zigzagging alongside the imaginary international border.
During the late 19th century the rich and famous flocked here, building their Rapunzel-like palaces and grand Budapest-style hotels.
Names such as George Pullman, the inventor of the railway Pullman car, Singer of sewing machine fame and Helena Rubenstein, queen of cosmetics, all became synonymous with the Thousand Islands.
"Back in the day you could buy a vacant island for as little as one dollar," says our helicopter captain Rupert, with the rueful look of someone who has long missed the real estate bargain of the century.
Swooping low we pass Boldt Castle on Heart Island, the hero of our story, where the infamous salad dressing is said to have originated.
According to local legend the dressing was created when millionaire George Boldt, proprietor of the Waldorf Astoria Hotel, instructed his maître d'hôtel Oscar Tschirky to come up with a condiment worthy of the islands.
A blend of mayonnaise, vinegar, egg, relish and (secret) spices, reserved for those privileged enough to 'summer' in the Thousand Islands.
Back in Gananoque everyone has an opinion (but no one it seems has the secret recipe) – some say the original dressing was developed by a fishing guide (rather than Tschirky) who passed it to silent film actress May Irwin, others say the dressing is still made at the castle once each year.
All agree that the addition of a pickle is the secret ingredient.
The pickle comes as a surprise; growing up, a dash of tomato sauce added to store-bought mayonnaise was my family's idea of a secret ingredient.
Savvy salad makers are just the tip of the Thousand Islands food scene. From boutique wine makers and craft beer producers to coffee shops housed in 18th century factories and fine waterfront dining, the cuisine of the Thousand Islands reflects the fertile land and waterways of the region.
Outdoor enthusiasts don't miss out either. Over the next few days I explore sections of the World Heritage-listed biosphere by kayak, bike the Thousand Islands Parkway, hike nature trails and visit bird sanctuaries.
Some days I just sit on the dock of the bay, lost in girlish daydreams about buying a houseboat and spending a summer here.
On my last evening I settle in at the Gananoque Brewing Company for a final Naughty Otter lager, a distinctive craft beer I've grown to love.
"I'd tell you the recipe," quips the hipster behind the bar. "But then I'd have to kill you."
Seems there's more than one secret lurking in these islands.
Details
How to get there
Air Canada flies daily from Sydney and Brisbane to Vancouver with connections to Ottawa.
Melbourne passengers fly to Sydney for connections.
Gananoque is reached easily by road in less than two hours from Ottawa. canada.travel
When to go
Summer (June to September) is the most popular for boating, swimming and fishing, but autumn is also fabulous for the autumn colour.
Where to stay
Gananoque Inn and Spa is an historic property on the riverfront. Fireplace rooms in the Main Inn start from $139.
While you're there
Enjoy a helicopter flight over Boldt castle with 1000 Islands Helicopter Tours from $149pp.

Eat, drink and shop at Axleworks, a community-focused enterprise housed in a former spring and axle factory.

Follow the sculpture trail in the Confederation and Sculpture Park.

Shop on King Street, Gananoque for antique and flea stores, wine bars and vintage fashion.

For more information, visit Ontario Travel.
Out to see Ontario?
Check out our Best of Ontario or Undiscovered Ontario pages, or here are some more reads to get you inspired:
LEAVE YOUR COMMENT