Travel the Rideau Heritage Route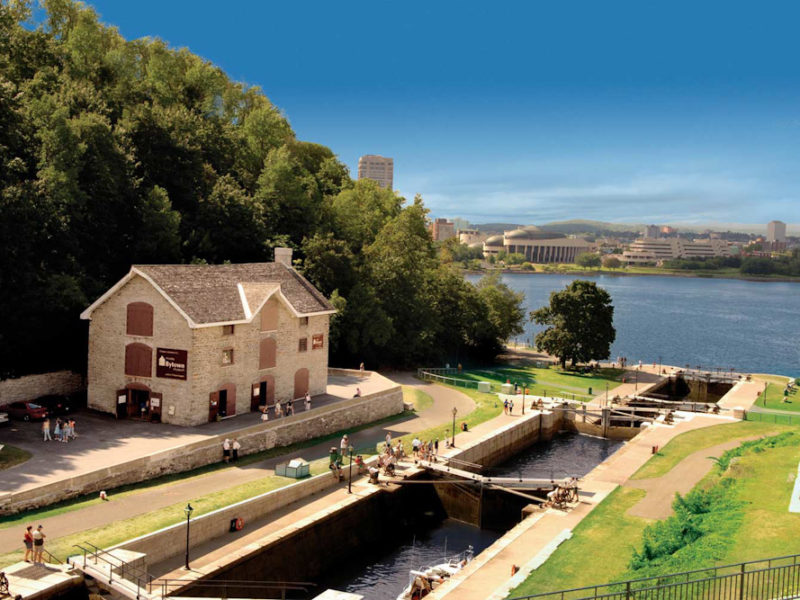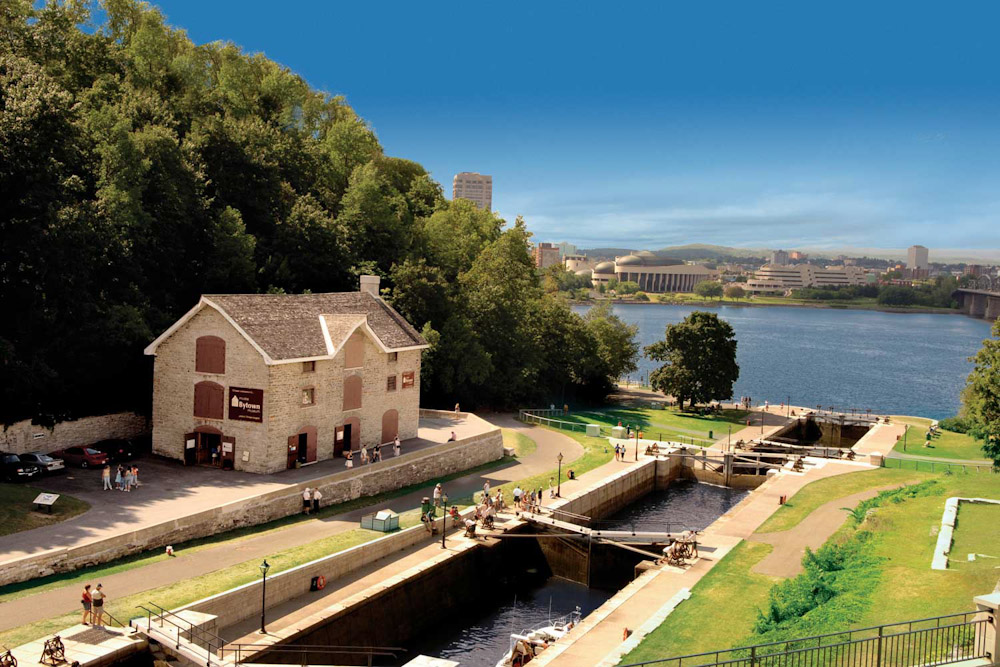 In southeastern Ontario, Kerry van der Jagt discovers an engineering marvel that is also a pristine waterway, surrounded by quaint communities and a raft of local characters; welcome to the Rideau Heritage Route.
Engineering marvels all have one thing in common; they are made to solve a problem.
While the Great Wall of China was built to keep the rabbits out (as we all learned from the television commercial) Ontario's Rideau Canal was built to keep the Americans out, in a move that would do Donald Trump proud.
After the War of 1812, British Colonel John By was commissioned to oversee the construction of a defensible waterway that could be used in the event of an American intrusion.
Built between 1826 and 1832 the ambitious project, which connected Kingston with Ottawa through a series of canals, lakes and locks, was never used for its intended purpose – by the time the workers had finished, the threat was over.
But no matter – the canal turned out to be quite handy as a commercial artery for log barges, steamers and riverboats.
In service for more than 180 years, the Rideau is the oldest continuously operating canal in North America, its 47 locks and 24 lock stations still operated by burly men capable of winding metal cogs by hand, a technique unchanged since 1832.
Today the canal has reinvented itself as the Rideau Heritage Route, winding its way through small villages and spectacular locations alongside the 202-kilometre Rideau Canal, now a UNESCO World Heritage Site
I begin my journey in Ottawa, spending a few days exploring the Canadian capital's Gothic Revival architecture, world-class museums and canal-side neighbourhoods, before hitting the road south.
While some travellers tackle the aquatic highway by boat or kayak, and others follow the trail by bike, I've opted to drive the route, in one long day, staying a few nights at either end.
Merrickville is my first stop, a time-warp of a town from the late 1700s, now boasting dozens of restored heritage buildings, excellent restaurants, pubs, walking trails, kayak rentals, artisans and antiques. And that's just for starters.
The real attraction is the people, an arty-farty bunch of professional painters, sculptors, potters, glass blowers and silversmiths who have banded together to form their own artists' guild.
Referred to as the 'Jewel of the Rideau' Merrickville is also about gourmet food. One peek at Mrs McGarrigle's fine food shop and my car boot is soon filled with chutneys, vinaigrettes and award-winning mustards.
"I couldn't find a mustard that was flavourful or hot enough," says owner and founder Janet Campbell, "so I started concocting my own." This is the type of go-getter attitude that defines Merrickville.
My next stop is Jones Falls, where rugged beauty meets old-school hospitality in the form of Hotel Kenney, a two-storey clapboard lodge from the 19th-century.
As a muggy mist swaddles the forested slopes, I wander down to the lake's edge, the russet and gold autumn leaves reflected in the still water.
Tacking a circuit around the lake I pause to imagine a time when native tribal groups would hunt and fish these waters, and later, the stonemasons and pioneers, who cut and chiseled a canal out of the Canadian Shield – made of one of the hardest granites on Earth. It is these layered remnants of history that bring a road trip such as this to life.
Lunch is served in Hotel Kenney's dining room, in a blend of classic dishes with modern styles and seasonal ingredients. I settle on a charcuterie board of olives, local meats and cheeses, salmon and artisan breads.
As much as I'd like to linger with a wine or two, it's time to press on to Chaffey's Lock.
A winding country road, its tarmac bristling with fallen autumn leaves, brings us to the small settlement of Chaffey's Lock.
On the day we arrive the lock is devoid of boats, but lockmaster Rich Fowlie offers to winch the chamber open, for no other reason than he loves messing about with locks.
"95 per cent of visitors are land-based, "says Fowlie, "but the remaining 5 per cent equates to about 75 boats per day in summer."
With a hitch of his blue overalls and a few heroic turns of the wheel, the water plunges over the gate like a tsunami, leveling the water between the two sides.
"Every lock station is a national park," says Fowlie. "So next time bring your kayak and tent, and camp your way to Kingston."
After our lock lesson we sign up for a two-hour river cruise, taking the opportunity to experience the tranquil side of the waterways, watching for birds and enjoying the view of brightly painted fishing cabins and colourful Adirondack chairs on waterside porches.
Bobbing amid such splendour I finally get it: while the locks themselves may be an engineering marvel, it's the natural beauty of the Rideau route that is the real miracle.
Details
How to get there
Air Canada flies daily from Sydney and Brisbane to Vancouver with connections to Ottawa.
Melbourne passengers fly to Sydney for connections.
When to go
The locks are open May-October, making this the most popular time for boating, swimming and fishing, but autumn is also fabulous for autumn colour.
Winter is the time for skating on the frozen Rideau Canal skateway. rideau-info.com
Where to stay
Hotel Kenney offers cottages plus lakeside, bayside and main lodge rooms.
While you're there
On your way to Ontario?
Here are some of our favourite Ontario picks from our list of 100 Things to do in Canada Before You Die:
LEAVE YOUR COMMENT