Canada's 7 top terrain parks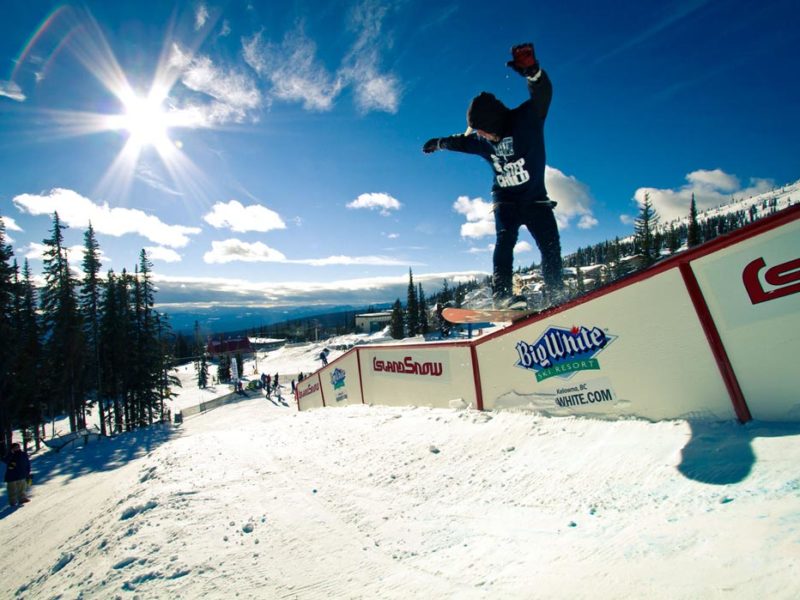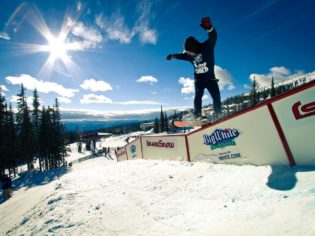 Terrain parks grew up in Canada. Freestyle skiing debuted at the 1988 Winter Olympics in Calgary, and one of the first snowboarder playgrounds appeared at Big White resort the same year. Three decades and another Olympic games later, Canada is home to some of the world's finest parks.
Whistler Blackcomb, British Columbia
North America's largest ski resort and a 90-minute drive north of Vancouver, Whistler is home to five terrain parks spread across 40 hectares.
A progressive approach lets skiers and boarders graduate to greater challenges through the parks as their skills improve, from the Big Easy Terrain Garden to the Highest Level Park. The five parks' 150-plus features, including 90 rails, culminate in an Olympic-calibre ski/snowboard-cross course at the bottom of the kilometre-long Nintendo Terrain Park, as well as a five-and-a-half-metre halfpipe for all those Torah Bright wannabes out there.
Cypress Mountain, British Columbia
If you want to hit the slopes where Torah took gold for the Australian Olympic Team, this mountain is less than 30 minutes from Vancouver by car and has a range of progressive terrain parks that rival those at Whistler. Four of them stretch all the way down the mountain, from the beginner- and family-focused Stomping Ground to The District, where large and XL features include jumps, wall rides, boxes and rails.
Apex Mountain Resort, British Columbia
Speaking of rails, this Okanagan ski area, 90 minutes south of Kelowna, is home to one that's nearly 93 metres long. No wonder the Guinness World Record for the longest rail grind on a snowboard – 78.7 metres – was set here, as was the longest rail grind on skis: 73.63 metres. Beyond this record-setting rail are four terrain parks, including the expert-oriented Claim Jumper with its 15-metre tables, transfers, flat downs and C-boxes; and a fully lit Night Park, with a mix of rails, boxes and jumps for all those Energizer bunnies out there.
Big White Ski Resort, British Columbia
A dedicated chairlift carries freestylers nearly 700 metres over the slopes of this Kelowna-area resort to the top of its terrain playground, TELUS Park, which is split down the middle. On one side there are larger rails, jumps and boxes, with smaller features on the other. The latter, however, is where you'll find a competition-ready halfpipe and ski/snowboard-cross course that mirrors the one used at Cypress Mountain in the 2010 Olympics.
Lake Louise Ski Resort, Alberta
Rising above the main lodge – all the better for showing off – the Showtime Terrain Park pushes this list beyond British Columbia's borders with more than 40 features spread across six sections. Learn to ride the rails at the Easy Street Beginner Park and, with practice, you can progress all the way up to the XL wall ride where the big kids play.
Mont Avila, Quebec
The aforementioned western resorts devote a tiny fraction of their slopes to terrain parks, but this hill just north of Montreal is mostly terrain park, thanks to the sprawling Rockstar MSS Snoprk Two separate slopes deliver nothing but tricky features from top to bottom, with the Piedmont section offering wall rides, rainbow rails and cable reels, and the Grand Ourse section chock-full of barrels and boxes.
Blue Mountain Resort, Ontario
Two hours north of Toronto by car, Ontario's largest ski resort is also home to the province's top terrain park. Badlands offers dozens of features ranging from small to XL – including rails, boxes and a cavernous superpipe – while Greatest Hits is geared toward beginners and children.
LEAVE YOUR COMMENT