This is the best time of year to catch Canada's diverse wildlife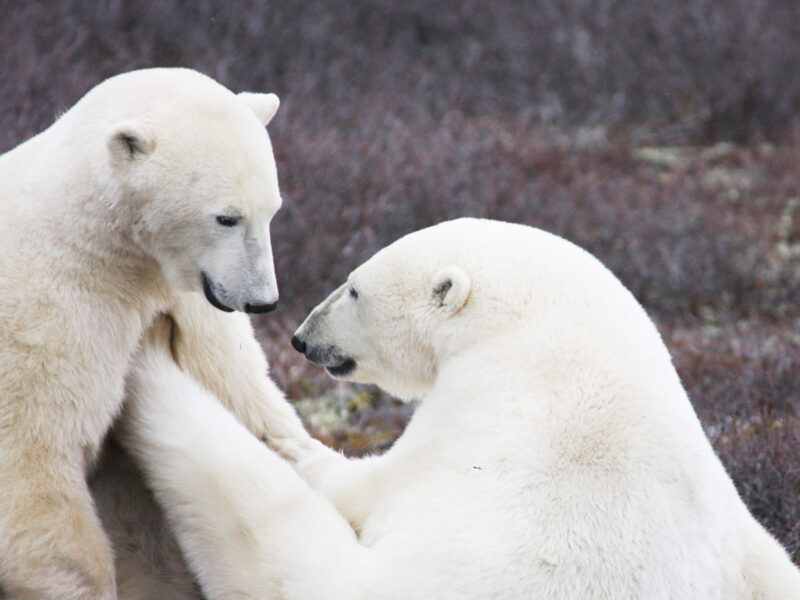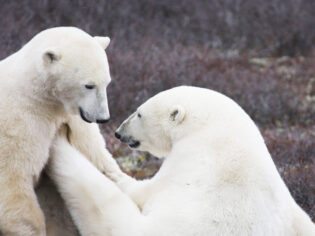 |

THIS ARTICLE WAS CREATED IN PARTNERSHIP WITH Destination Canada

|
When it comes to unique wildlife, awesome landscapes and dazzling night skies, it's hard to beat Canada in autumn.
Canada is a wildlife paradise, and the best time to glimpse polar bears, wolves, moose, grizzly bears, black bears, arctic hares and abundant birdlife is in autumn when the country's foliage is aflame. The icing on the cake? Migrating beluga whales and the Northern Lights. Here's the Canadian wilderness lover's bucket list.
1. Princess Royal Island, British Columbia
In British Columbia, culture has roots as deep as its trees. Spirit Bear Lodge, in Klemtu, is a model for conservation-based eco-tourism, and home to the kermode (spirit) bear; a rare white subspecies of the American black bear found in the Great Bear Rainforest.
Keep an eye out, too, for grizzly bears whose population reaches its peak in autumn, especially around the picturesque floating accommodation, Great Bear Lodge, a short flight from Port Hardy. Autumn is the best time to catch the local bears as they fish for dinner during the annual salmon run. Adding to nature's showcase, keep an eye out for black bears, wolves and eagle-eyed raptors.
2. Churchill, Manitoba
This is the Polar Bear Capital of the World. In October and November, Hudson Bay freezes over and the bears' hunt for food – primarily seals – begins. Tour operators such as Frontiers North Adventures, Lazy Bear Expeditions, Great White Bear, and Churchill Wild are experts in the habits and habitat of the world's largest carnivorous land mammal – in all its playful and predatory glory.
Polar Bears International, based in Churchill, is the epicentre of polar bear research, sharing studies on everything from polar bear dens to their unique whiskers. Earlier in autumn, spot the last of the migrating belugas.
3. Elk Island National Park, Alberta
Alberta in autumn spotlights the province's National Parks with their camping, hiking, mountain biking and stargazing opportunities. This is the place to see those nuggety bison (North America's largest land mammal) along with elk, moose, and caribou.
Elk Island National Park just 35 minutes from Alberta's capital city Edmonton, and Jasper National Park on the British Columbia border are good starting points.
4. Yukon Wildlife Preserve, Yukon
Yukon Wildlife Preserve, half an hour's drive from Whitehorse, is home to 70,000 moose, along with other antlered animals – elk, caribou, lynx, arctic fox, muskox, bison, and the thinhorn (a wild sheep native to the province). Tucked away in Canada's western corner, the Yukon is rich with roads to drive as you search for the 10,000 black bears and 7000 grizzlies call it home. As does the raven, Yukon's official bird.
Autumn in the Yukon is short but sweet, the countryside awash with colour. The Dempster Highway and Tombstone Territorial Park are especially beautiful. Pick wild berries, go hiking and look for the Northern Lights.
5. Algonquin Provincial Park, Ontario
Only three hours from Toronto and about four-and-a-half hours from Ottawa, the pristine wilderness of Algonquin Park is home to a plethora of wildlife. Get ready for moose, beaver, black bear, wolves, chipmunks, loons and nearly 300 species of birds.
Between mid-September and mid-October is the best time for an immersion in the colours of the landscape, courtesy of 34 native species of trees. Sugar maples at Tea Lake are spectacular. A walk here in any season will be rewarded with a variety of fungi, but during summer and autumn, brightly coloured, umbrella-shaped mushrooms, candelabra corals, and puffballs prevail.
6. Northwest Territories
Devotees of Canada's Northwest Territories love the Northern Lights in autumn before the winter chill sets in. Watch herds of caribou flow south from the Arctic coast. It's the best time of year to trek: if in Yellowknife, head down the Ingraham Trail and hike out to Cameron Falls. See peaks become dusted with powder as the first snow of autumn falls.
7. Coastal British Columbia
Graceful, powerful, swift and agile, there are around 20,000 bald eagles along coastal British Columbia. Feeding largely on crows, ducks, and gulls, and scavenging for scraps the rest of the year, they head to salmon-stocked rivers in the first three weeks of October.
Brackendale, next to Squamish, is a bird watcher's paradise. Every autumn it becomes home to one of North America's largest congregations of bald eagles settling in for winter. The bald eagle's striking white head and tail and the sheer size of its wingspan, up to 2.3 metres, make it hard to miss. Their nests, as big as an old Volkswagen Beetle, can be spotted high up in large conifers.
Other reasons to visit Canada in autumn
'Leaf peepers' are travellers more than a little obsessed with the colour of leaves. Whether hiking or driving in Canada, you can be guaranteed a vista of autumn foliage. From coast to coast are pitstops that tip the scale for saturated colour: leaves bright yellow, burnt orange and fiery red. In the north, the colour peaks in September. The further east you travel, the more vibrant the leaves become. From Alberta to British Columbia, from Ontario to Quebec and Nova Scotia, the gift of photosynthesis keeps on giving.
Colours of a very different kind make Canada's night skies unforgettable. Aurora borealis, aka Northern Lights, occurs when electrons and protons collide with gases in Earth's upper atmosphere producing tiny flashes that fill the sky with saturated light – green, purple, pink, yellow. Ribbons or sheets of colour dance across the heavens. While the northern lights can be viewed throughout the country, some of the best vantage points in autumn include the Yukon, Manitoba, Northwest Territories and Alberta. Each dazzles in its own special way.
For more on travel in Canada during autumn see keepexploring.com.au
LEAVE YOUR COMMENT