Clacton-on-Sea: England's old-school seaside surprise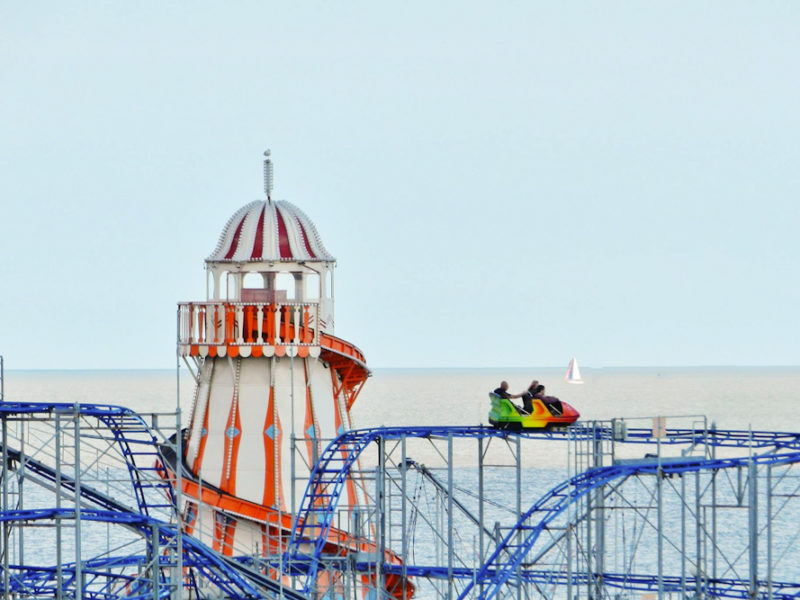 Feeling nostalgic for a simpler time of arcades and amusement parks? Dilvin Yasa heads to an English seaside town Clacton-on-Sea with her family, and discovers the past really is only a flight away.
"How would you like to take the kids on holiday to the most deprived area of England?" asked my husband Lee one day, jazz hands at the ready.
"Just picture a seaside ghetto overrun by ex-offenders boarded up in low-cost accommodation, where 40 per cent of adults don't have any qualifications whatsoever, and where the teen pregnancy rate is three times the national average?"
Oh my God, I thought as I raced to pack my swimsuit and leisurewear.
"What better place to take our two small daughters – I'm in!"
I wish I could tell you the above conversation happened exactly in those words, but sadly what my husband actually said to me (sans jazz hands) was that he would like to take a trip back to England and visit the English coastal town of Clacton-on-Sea, just a short drive away from his childhood home of Chelmsford, Essex.
"It has an historic pier with countless arcades, amusement parks and old-school fish-and-chip shops – the kids will love it just as I did!"
He was excited, I was excited – until I came across a report by the Centre for Social Justice (CSJ) which described our holiday destination (along with other seaside towns Blackpool, Margate and Rhyl) as 'veritable dumping grounds for groups such as care-leavers, people with substance abuse problems, those with mental health issues and ex-offenders, for whom placing authorities can easily find low-cost accommodation'.
An exaggeration? It didn't matter because, even as that imaginary conversation was looping in my mind, we were booking flights to find out first-hand what had become of my husband's favourite family resort town.
To be fair to Lee, the once quaint seaside village wasn't always disregarded by Britons (and their crazy Australian wives).
Founded as a seaside resort in 1871, it hit its zenith as a premier summer destination between the 1950s and 1970s as tourists from across the land poured in to enjoy its famous pier attractions, arcades and candy-coloured beach huts.
But as international travel became cheaper, Clacton-on-Sea was quickly abandoned as a holiday destination and the local economy was plunged into depression.
Once bustling hotels – now empty – were eventually acquired by private landlords and transformed into cheap one-room units (Clacton-on-Sea is also known as the bedsit capital of England), attracting a population of pensioners, welfare claimants and those on low incomes.
But just as it was looking like the town might never recover (Ross Kemp turned up with a camera crew to film Ross Kemp's Extreme World: Britain's Deprived Coast – and when Ross Kemp turns up, things are never going to end well), fortune smiled on Clacton by way of a $70-million coastal defence project to complete 22 new beaches in separate bays from Clacton Pier to nearby Holland Haven, a project locals hope will help resurrect the local tourism economy.
With the centre of London only an hour away, popular options for getting here include road and ferry, but we appear to have arrived by DeLorean, because as we roll into town it feels like we go back in time a solid 30 to 40 years.
Still vibrant amusement arcades line the streets down to the waterfront in a sea of flashing lights and clown music, while on the promenade, a multitude of old-school family thrill rides, traditional playgrounds, fast-food stands, and the aforementioned beach huts compete for our attention as a fierce summer wind drives us to button up our coats.
It is all at once an unrecognisable, yet comforting feeling and the kids scream with delight.
The star of the show is undeniably 145-year-old Clacton Pier with its wide variety of indoor and outdoor entertainment options, but while the outdoor amusement park at the far end of the pier initially beckons with its slew of towering thrill rides, we soon discover it is far too cold to indulge for longer than five minutes.
Happily, the undercover entertainment options are more than plentiful, and over the course of the morning we hit up its indoor amusement park (more suitable for little kids), SeaQuarium, arcades and Cosmic Glow bowling, before heading across to nearby Clacton Pavilion where we spend hours playing old-school 10p penny falls, pusher machines and novelty games, coming away with a multitude of stuffed objects.
Our vibrant new friends accompany us to Armstrongs, a chic restaurant overlooking the pier, and it's here, as we dine on grilled goats cheese with beetroot honey salsa and walnut salad, that I begin to think the doomsayers might have been a tad unfair.
After lunch, you may want to help prop up the local economy by way of a shopping trip. You'd do well to visit the quirky covered market (clactoncoveredmarket.co.uk), located in The Old Dairy filled with random items ranging from handmade crafts and vintage jewellery to air guns and old coins, and then take the five-minute drive down the road to Clacton Factory Outlet.
Recently awarded Platinum Loo of the Year in the Loo of the Year Awards (seriously), this pedestrianised centre – currently undergoing major redevelopment – is also the place to save up to 60 per cent off retail prices at stores such as M&S Outlet, Choice (which stocks Next) and Denby.
We load up on five years' worth of Next clothes, inspect the toilets (nice, but not what I would call 'platinum'), then check into the Premier Inn, a perfectly respectable chain hotel with sea views for around $80 a night. Bargain!
As the sun rises over the beach the following morning, highlighting the offshore wind turbines rising up out of the water, the best place to be is the impossibly pretty Marine Gardens, spread out along the waterfront above the beach.
Zoned into themes – Rose Garden, Sensory Garden, Mediterranean Garden and so forth – it features plenty of scenic seating, a metallic pavilion and plays host to the road train to Holland-on-Sea, which snakes its way along the waterfront down towards the colourful beach huts you can rent for around $30 a day (most have sun lounges, tea and coffee facilities and, if you're lucky, running water).
Once we've spent a decent chunk of time admiring our surrounds, the kids play in Clacton Pavilion Fun Park, where there are thrill rides operating on a per-token basis, an 11-hole mini golf drive and a 5D cinema; our girls' squeals can be heard for miles.
What can't be heard, however, is the 'I told you so' smirk my husband is wearing as we watch our kids have the holiday of their lives.
I at this moment I realise, 'dumping ground' or not, we haven't laughed this hard in years. It's exactly the holiday (and the destination) we needed.
LEAVE YOUR COMMENT