The scenic route: London to Paris, via the Channel Islands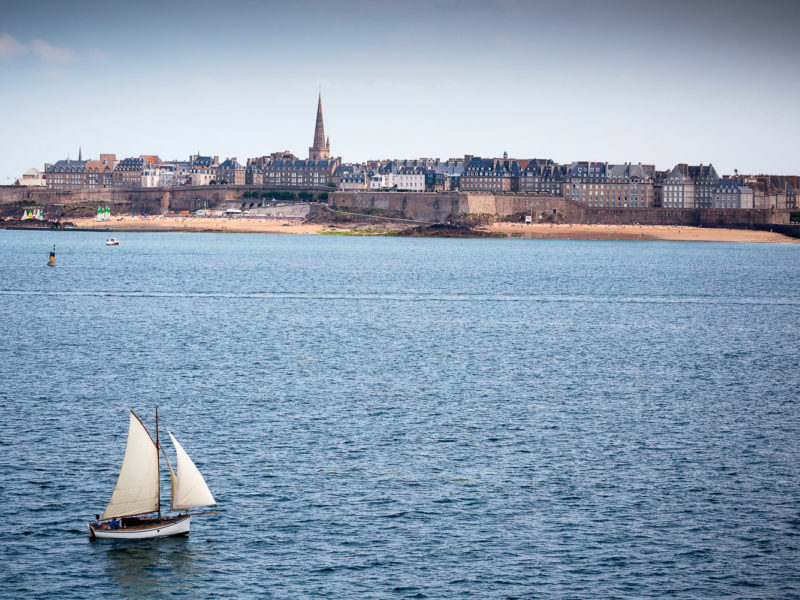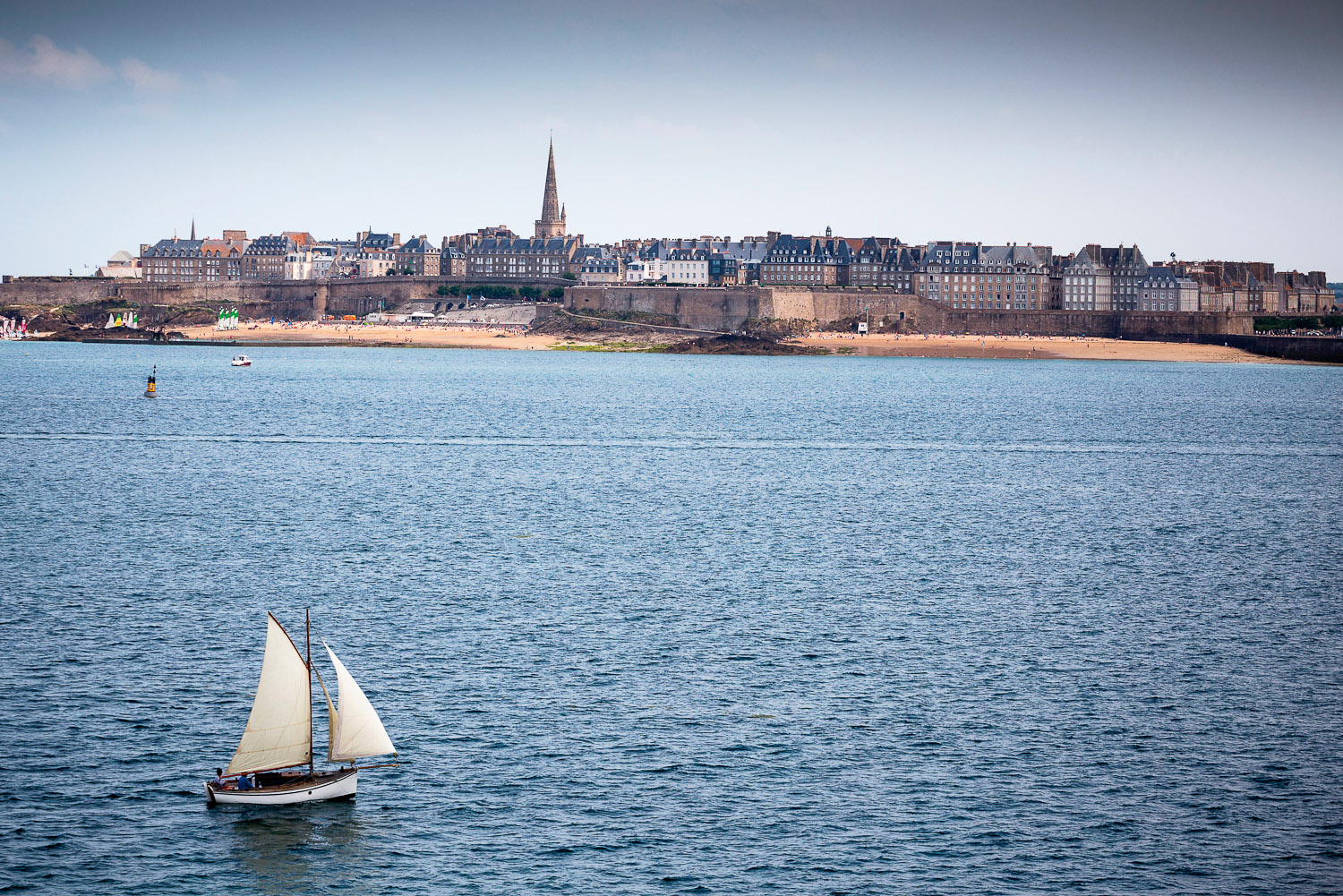 You're missing a trick if you head straight from London to Paris. Take your time, island-hop across the Channel, and you'll discover surprising communities and the medieval wonders of northern France.
The daily traffic between London and Paris must be one of the highest international, inter-city movements anywhere in the world.
But what if you didn't go direct – opting to take the scenic route, literally – travelling south through country England, then via ferries to the Channel Islands and on to Brittany, before finally making your way to the City of Light?
I've always liked the idea of taking the road less travelled, which is why I found myself in London recently preparing to take exactly this 11-day circuitous route. Here's where to stop off en route (and where to stay, play and eat along the way).
LONDON
My husband and I haven't been to London for some years, so we book into two hotels in different areas to discover each environment more intimately on early morning walks.
The Spanish-owned ME London on The Strand is an ultra-trendy establishment with clean contemporary lines. From here we're able to venture over Waterloo Bridge to South Bank, ride on The London Eye, catch a show in the West End and visit Covent Garden.
Come evening we savour the excellent tapas in the hotel's 10th-floor rooftop Radio bar, which has outstanding views over the city lights. Make sure you book yourself a spot as it's very popular, being the only rooftop terrace, lounge and bar in the Strand and Aldwych area.
We then opt for total indulgence with a two-day stay in the poshest corner of the Monopoly board, Mayfair. The Connaught enables us to witness another side of the city.
This is a quintessential luxury London hotel with exceptionally high levels of service and accommodation. We sip exotic drinks concocted by mixologist Rusty in The Connaught Bar, before dining right royally at Hélène Darroze's elegant in-house Michelin-starred restaurant, which serves superb French cuisine with great flair.
The following day we (almost guiltily) have our personal butler mirror-polish our shoes, and breakfast on eggs Benedict while watching chauffeurs pick up bespoke orders from nearby shops for their celebrity clients.
We then become true Mayfair locals by donning Burberry trench coats for a quick wander, offered for use during our stay.
DORSET
Our luxury bubble is deflated slightly when we join our group of 13 – mostly Australians, plus a Canadian couple and a sprinkling of Kiwis – and set off from London on board a 16-seater Mercedes Benz mini-coach with affable Nic Piercy as both driver and guide.
Our route today is via Windsor where we visit Queen Elizabeth's favourite castle, to Winchester for lunch and a chance to check out the impressive Norman cathedral.
We then head through the New Forest where the eponymous ponies have right of way in villages such as Burley, before finally arriving at the coast of Dorset.
We overnight in the delightful stone village of Corfe Castle on the Isle of Purbeck along the Jurassic Coast, and could easily have spent another day here exploring the rugged coastline and steep chalky cliffs that have become so familiar from the riveting TV series, Broadchurch.
Stay: Mortons House Hotel is a delightful 16th-century manor house in the tiny village of Corfe Castle.
Eat: Mortons House Hotel boasts an excellent restaurant serving English fare using the finest local produce.
Drink: The Castle Inn is a traditional local pub with good ales and atmosphere.
GUERNSEY
Passports at the ready, we board the ferry to the Channel Islands on day two; first stop Guernsey.
Located closer to France (22 kilometres away) than England (161 kilometres away), the Channel Islands were the only British territory to be occupied during World War II when the Germans arrived in 1940.
An unexpected surprise is a private meeting with local author Molly Bihet. Her book, A Child's War, tells of her experiences as an eight-year-old living on Guernsey when there were two Germans for every three locals.
She recalls a thriving black market, loaves of bread made with sawdust when flour was scarce, scavenging for potatoes and listening to overseas news on crystal sets that they hid from the Germans as they were verboten.
We'd read about the German occupation through books such as The Guernsey Literary Potato Peel Pie Society, but meeting Molly helps bring wartime events alive when we later visit local occupation museums and some of the 800 German bunkers on the island.
Stay: The Duke of Richmond Hotel is a luxury boutique property, a member of the prestigious Red Carnation Hotels, and within walking distance of St Peter Port harbour.
Eat: The appealing Le Petit Café and Le Petit Bistro offer good rustic French fare in Lower Pollet, just off the main esplanade.
Drink: The Ship & Crown is a traditional pub on the port seafront with great harbour views.
THE ISLAND OF SARK
It's day three and on the tiny island of Sark we meet Lt Col Reginald (Reg) Guille, a magistrate and judge in the feudal Bailiwick of Guernsey.
In the town's modest courthouse he explains how the island of 560 inhabitants is self-governed under the feudal lordship of Michael Beaumont who has just celebrated 40 years as the island's Seigneur, or Lord.
This year marks 450 years of its fiefdom, the oldest in the world; its feudal system almost unchanged since the 1500s.
While gorgeously appealing, Sark is a time warp.
It is one of the few places in the world where motor vehicles are not allowed; locals use tractors, bicycles and horse-drawn carts, the latter popular for showing tourists around the farming community. And with no streetlights, the island has been given 'Dark Sky' status, becoming the first island in the world to be a sanctuary to the stars.
We consider joining the starry-eyed on a romantic night-time horse and cart ride while lying on a mattress in the back – just watching the myriad stars in the Milky Way span one horizon to the other.
Stay: In the middle of the island, Stocks Hotel has been recently refurbished, offering very good accommodation, a public bar and an excellent restaurant. La Sablonnerie Hotel on Little Sark enjoys a charming and peaceful setting with stunning views, a good bar and restaurant.
Eat: Hathaway's Restaurant at La Seigneurie gardens serves delicious local dishes.
Drink: The Bel Air Inn at the top of harbour hill has a lovely courtyard, perfect for a refreshing ale (or two) in summer.
JERSEY
Jersey beckons an hour away by ferry on the fourth day of the journey. It's the buzziest of the islands but feels like it has lost a bit of its laid-back charm with modern buildings now crowding the once-picturesque harbour.
Armed with Jersey Passes, we have free reign of the island with complimentary entry to most of its attractions via a connecting shuttle in an old-style charabanc (bus).
We visit the harbourside Maritime Museum, take the amphibian vehicle across the sand at low tide to Elizabeth Castle that has defended Jersey for more than 400 years, and at the Jersey Museum check out the extraordinary hoard of 70,000 coins dating from the 1st century BC, believed to have been a war chest to fight Caesar.
We wind our way through the atmospheric Jersey Tunnels – the former underground German hospital – get a bird's-eye view from the turrets of Mont Orgueil that has stood sentinel for 600 years against any French invasion, and enjoy a wine-tasting at picturesque La Mare vineyards.
There is much to see and do on Jersey, with several beautiful gardens open to the public and the acclaimed Durrell Wildlife Park, established in 1958 by naturalist Gerald Durrell, author of, among other things, My Family and Other Animals.
Eat: Dine on fresh local fish and creamy Jersey Royal potatoes at The Oyster Box or delicious local lobster bisque at Mark Jordan At The Beach, two chic waterfront restaurants on the beach in St Brelade's Bay.
Drink: The terrace of L'Horizon Hotel overlooking St Brelade's Bay is the ideal spot for sunset cocktails while the Cock & Bottle is a great pub in the middle of St Helier.
ST MALO, BRITTANY
On day seven we arrive at St Malo. The walled coastal city in Brittany is an imposing site and must have put real fear in potential invaders as the former headquarters of the corsairs – the French kings' private pirates or privateers.
Severely bombed during World War II, its central intramuros within the ramparts has been beautifully restored and today lures year-round tourists with its Gallic charm, small boutique hotels, tempting biscuiteries and countless eateries, many hidden in the labyrinth of narrow cobbled-stone streets.
We visit the medieval 'old town' of Dinan, once a thriving centre for linen and leather, and since the afternoon is free, we opt to visit nearby Cancale, the oyster capital of France.
Third-generation oyster farmer Pierre Pichot walks us through expansive oyster paddocks that are exposed at low tide. It's decidedly weird to see tractors driving about on the seabed between rows of oysters, while workers stripped to the waist lift and turn mesh sacks of oysters with one eye on the tide, which at 13.8 metres is the second highest in the world.
Pichot's family runs the St Kerber Parcs Oyster Museum where we sample succulent deep-shell oysters as well as the wild belon or flat oyster – once the preferred mollusc of Napoleon Bonaparte, Henry IV and the Russian Tsars.
History records that Henry would eat some 20 dozen at a time; Marie Antoinette ordered van loads (carriage loads) for entertaining at Versailles.
Small group travel has its benefits and by a democratic show of hands, we opt to scrap a scheduled museum visit for a day trip to the sublime Le Mont St-Michel on day nine of the trip.
Built as a Benedictine abbey in 966, its fortified walls and isolated position in the high-tidal Couesnon estuary give it an almost mythical aura.
Its narrow streets are chock-full of tourists as we climb to the top of the Gothic abbey in time to hear the angelic strains of a mixed-voice choir at a noon-sung mass.
Stay: The boutique La Maison des Armateurs is the only four-star hotel in the heart of the old walled city of St Malo.
Eat: The newish Le Comptoir Breizh Café makes exemplary Breton crêpes with interesting fillings and a great selection of local ciders.
Drink: Enjoy a sunset drink at Bar du Soleil, overlooking the lido and the islands of Le Grand Bé and Le Petit Bé.
LAVAL
Our route through the Breton countryside on day 10 is via picturesque villages, with a picnic by the river in flower-strewn Mayenne, an ice-cream stop in photogenic Saint Suzanne, with our last overnight and farewell dinner in Laval.
Stay: Hôtel Perier du Bignon offers contemporary accommodation in 24 rooms housed in an 18th-century building.
Eat: Go to the Epicurean Restaurant at Hôtel Perier du Bignon for a menu of French classics.
Drink: Le Royal is a typical French bar that sits beneath the castle in Laval overlooking the River Mayenne.
EN ROUTE TO PARIS
On the last day, as we head for Paris, we elect to make a slight detour to do a lap of honour around the celebrated 13.6-kilometre Le Mans race track.
It's almost an afterthought, as we were pretty sure we'd never get the chance to actually drive it, but that's the beauty of travelling with a small group – you can include and exclude things at whim, extend or shorten museum and cathedral visits and customise and tweak the program as you go.
All say they love the small non-tourist group concept, the chance to meet locals, enjoy village life, and to discover a distinctly slower-paced life.
DETAILS
WHERE IS IT?
The Channel Islands are in the English Channel, closer to France than England, and were once a part of France now known as Brittany.
WHEN TO GO:
Back-Roads Touring has 11-day London to Paris via the Channel Islands tours departing two to three times monthly till 4 October 2015, and from 13 April to 28 September 2016.
Prices from $4795 per person, twin share with many inclusions.
HOW TO GET THERE:
Qatar Airways flies daily from Melbourne and Perth to Doha and offers its state-of-the-art A380 service from Doha to London daily, with fares from $1590.
WHAT TO BRING HOME:
Hand-knitted Guernsey sweaters, Jersey Black Butter – a delicious blend of apples, cider and aromatic spices, and fine crispy Crêpes Dentelle de Bretagne – just one of a fabulous range of delicious Breton biscuits.
LEAVE YOUR COMMENT