Venice with four kids in tow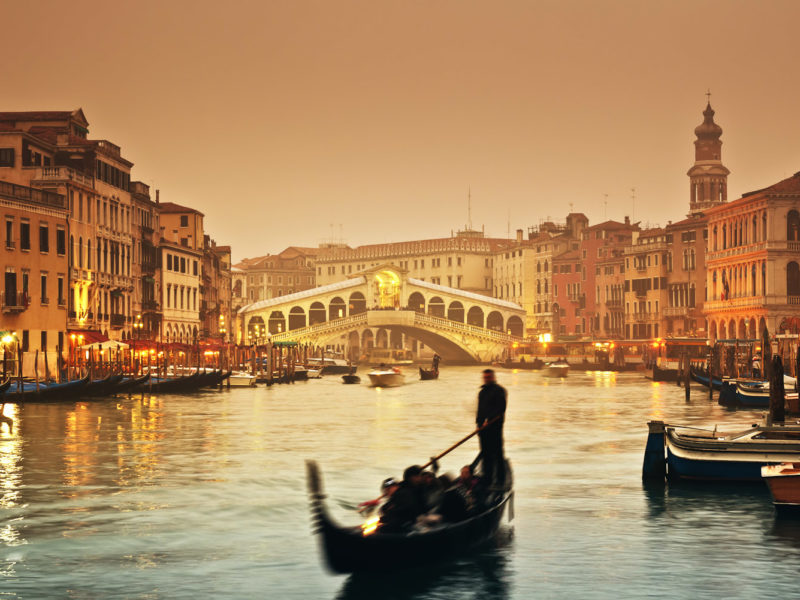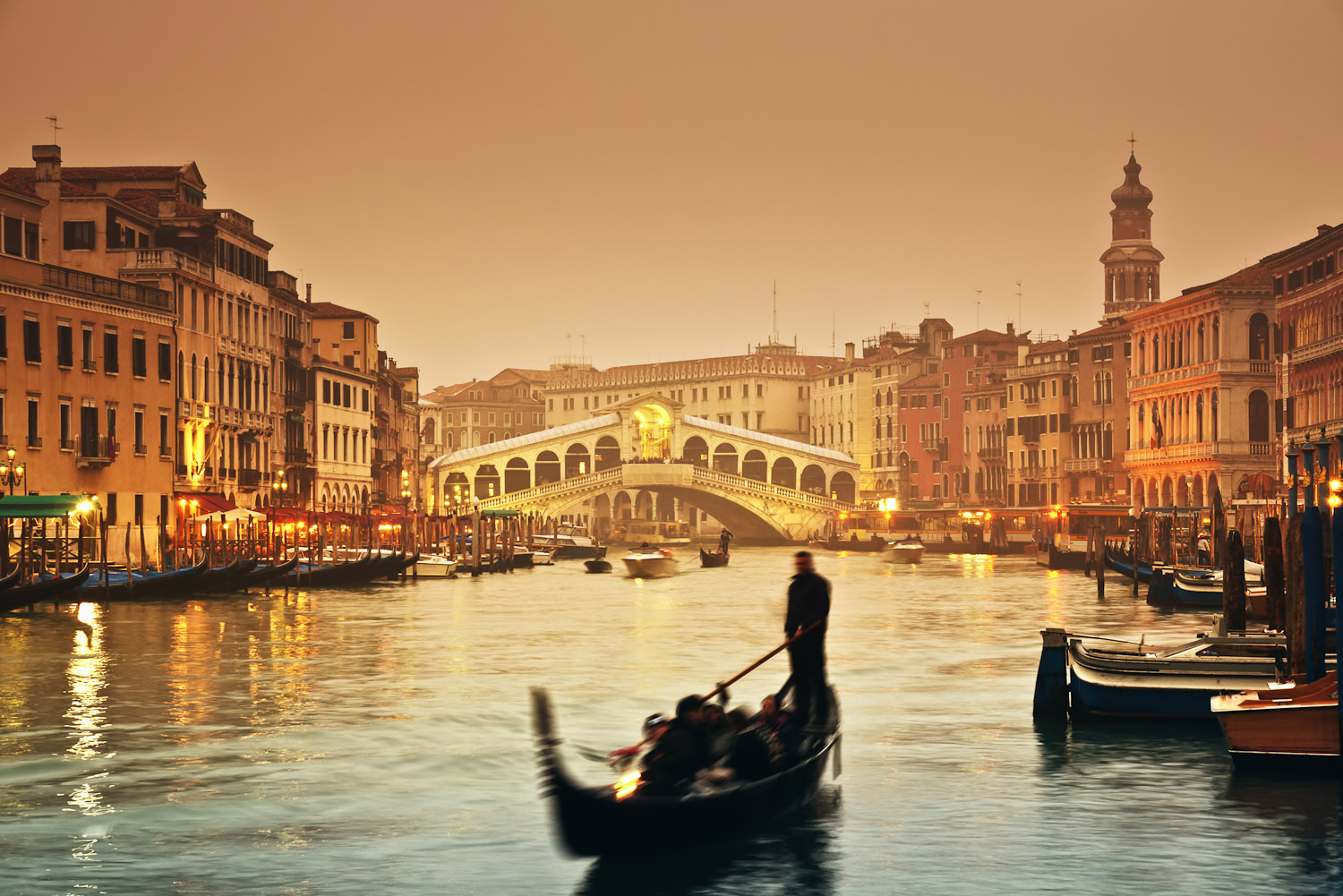 Losing your way in the backstreets of Venice can be a wonderfully romantic adventure. But is this possible with four kids in tow? Cilla Cole and her husband find out.
Lingering on the iconic Rialto Bridge at dusk, we gaze out over the Grand Canal as the sky turns rose-pink.
Lights from the opulent Renaissance palaces dance on the water and a gondolier, silhouetted against the rising full moon, silently passes below us.
Oblivious to the throngs of passing tour groups and jostling photographers, we kiss.
"Oh yuck! Do you have to?" shout our children. The spell is broken.
Travelling Venice without kids vs with kids
I give my husband an I-told-you-so-look. It had been his idea to come to Venice. I was keen to see the city again, of course, but possibly not now when our children are still so young… and with us.
I had been to Venice once before, as a backpacker with limited funds.
I stayed in a youth hostel miles out of town. It had bunk beds, a daytime lock-out and allocated chores.
Back then I imagined that the next time I visited it would be a more glamorous experience, like when my parents came here to celebrate my father's 80th birthday and stayed in a luxury suite overlooking the Grand Canal.
Instead, I have returned still with a backpack, still with limited funds and now with four children in tow.
Where to stay
Our accommodation, however, does have proper beds and, while it may not have water views, it is centrally located.
"Your apartment is right here near the 'Titty' Bridge," explains our landlady Lorenza who, having met us at the ferry, is now leading us through the labyrinthine streets to the Ponte delle Tette or 'Breast Bridge'.
We learn that the bridge is so named because of the prostitutes who resided here back in the 15th century and who would stand at their windows topless to encourage business.
Six hundred years later, the ladies are long gone and our apartment is homey and welcoming with two spacious bedrooms and a pretty garden courtyard.
Having followed Lorenza here blindly, she now marks out what she calls a "Map of Gold" for us, adding suggestions on where to eat and what to visit.
Where to eat
We venture out for dinner (map in hand) but in no time are completely disoriented.
As we crowd under the light of a lamppost arguing over which way to go next, a debonair gentleman appears at my shoulder. Dressed in a black overcoat and fedora hat, he asks in a deep, rich voice: "Are you lost?" Sighing with relief we admit that we are, hopelessly. "Fantastic!" he responds and disappears into the mist, chortling heartily as he goes.
With tummies now growling, we wander aimlessly until a more sympathetic local comes to our rescue and wordlessly leads us in what seems like endless circles to the restaurant door.
Lorenza's suggestion turns out to be worth the search and our mood quickly brightens as we peruse the menu.
My husband and I order the local specialty of spaghetti al nero di seppia (pasta in black squid ink) but the kids are resolutely unadventurous.
Twelve-year-old Julia gags at the sight of our black, slimy meal and sticks to lasagne; Claudia, six, orders spaghetti bolognaise and the boys discover calzone pizza and vow to never eat anything else ever again.
We decide to make the rule that everyone has to try at least one new food each day. Claudia takes this to mean a different flavour of gelato daily but the others become more daring.
We buy unidentifiable and still squirming creatures at the 700-year-old Rialto fish market and cook up a feast in our apartment kitchen; we taste salamis, nougat and cheeses of all shapes and colours, and eat metre-long pizza with neither ham nor pineapple.
Julia even tries some spaghetti al nero di seppia and manages to keep it down; it is also good to see those drama classes have paid off when she has a sip of my espresso.
Where to play
In between meals and gelato stops we mix touring museums and galleries with ice-skating, mask shopping, climbing clock towers, feeding pigeons and, of course, riding in a gondola with a singing gondolier.
We get lost so many times we learn to embrace it.
It is during one of our stray meanderings that we happen upon a glassblower in a tiny shopfront. He has the children mesmerised as coloured straws of glass are transformed into miniature monkeys, dolphins, penguins and elephants.
"How do you do that?" they ask amazed. "I have been practising for 32 years," he says nonchalantly.
With the kids suitably entertained, my husband and I sneak off for a drink, pretending we are on our honeymoon again.
It is not long before they sniff us out, however, and excitedly display their pocket-money purchases.
Their enthusiasm for the city is contagious, and I have to admit coming here as a family was not such a bad idea after all. It has been a surprisingly wonderful trip and, unlike my father, I didn't have to wait until I was 80 to experience it.
We eventually give up on the romantic drink – and the fantasy Venice in our heads – and happily go in search of today's gelato flavour instead.
LEAVE YOUR COMMENT