Review: Splendid Venice hotel, Italy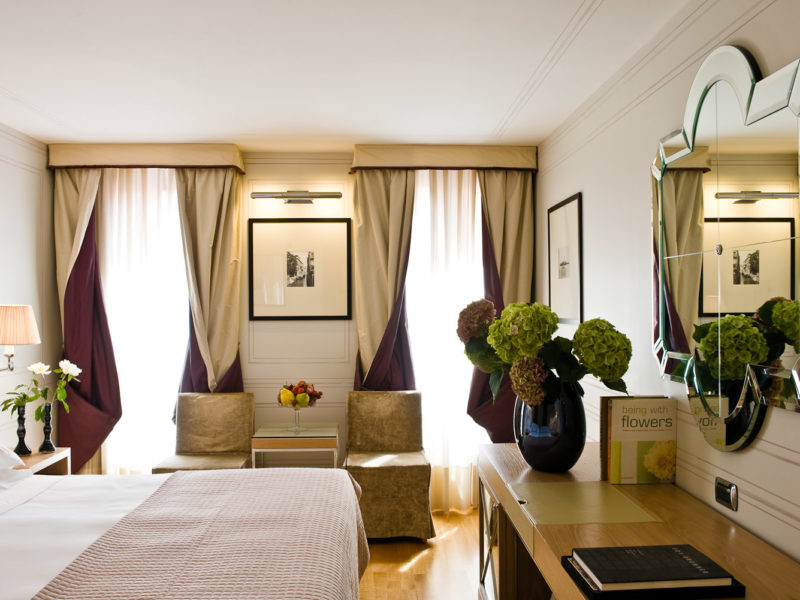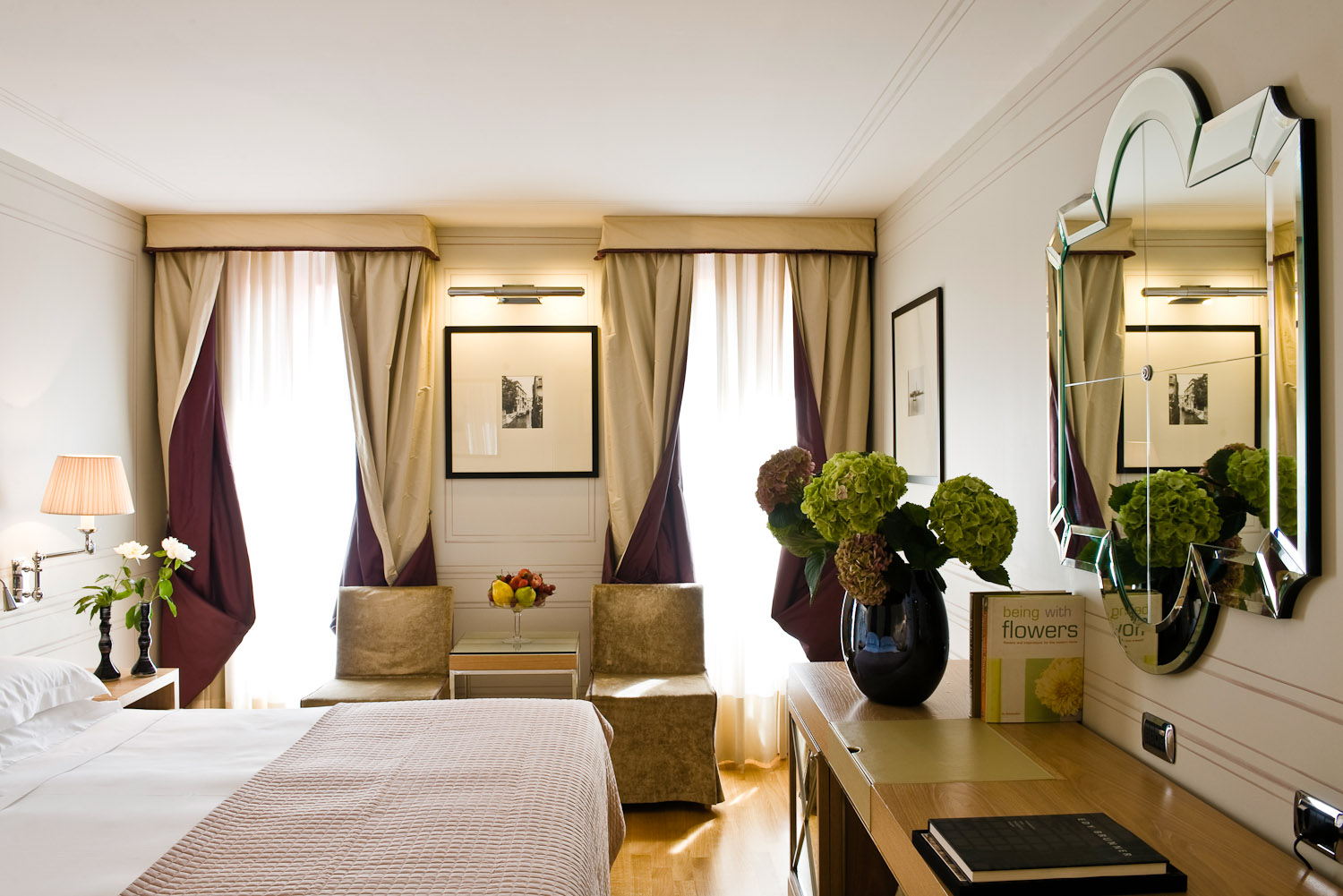 Finding an affordable hotel room in the late summer crush of Venice can be a challenge to say the least. But all the research and effort is worth it when you luck into a place this good. Words by Leigh Ann Pow.
There is nothing more wildly romantic than arriving to the front steps of your hotel in the back of a sleek motor boat that has just wound its way through Venice's canals.
It would be a shame to waste all this perfection by finding yourself delivered to a less than lovely albergo at the end of the journey.
But there is no such concern when we alight at Splendid Venice, part of the boutique Starhotels Collezione brand.
We are greeted by a smiling, uniformed doorman who ushers us into the chic, compact reception area to complete our check-in formalities (they are somewhat truncated given our luggage didn't actually arrive from Dubai with us so there were no bags to be wrangled off boats and delivered to our room).
As we stand waiting for our key, we dip into an overflowing bowl of tiny wrapped Italian mints as gondolas glide by outside at a leisurely pace.
Before heading up to our room, we decide to take a mini tour (it's not like we are in a hurry to get changed given we have nothing to get changed into).
Out of reception and across a narrow cobbled laneway, we enter the lobby proper, a collection of chic and cosy salons with big picture windows and generous seating areas of wingbacks and overstuffed velvet sofas.
There's a chic little library with shelves of coffee table books to flick through, a cute lounge bar, and past the lifts, a generous paved indoor/outdoor (thanks to its retractable glass ceiling) eating area and the stylish restaurant.
As we leave the tiny lift on our floor we are greeted by warm smiles and whispered greetings from the chamber staff.
Our room is light and bright, rendered in a calming palette of blonde wood and cream upholstery, with bevelled Venetian mirrors and voluminous satin drapes on the windows.
The bed is firm but pleasingly soft, and there is a pillow menu should the standard issue feather down not suffice (hotel pillows are always my favourite thing about staying in a hotel).
The bathroom is marble and comes with the obligatory inclusion of a bidet, which only serves to prevent the bathroom door from opening fully.
The entry-level Superior Room is European compact but not claustrophobic in any way. But given the generous lounge areas downstairs and the breathtaking beauty of Venice waiting beyond the doors, there's not really much need to dwell in our room for too long. St Mark's Square is a five-minute walk away; the Rialto Bridge is seven minutes in the other direction.
Having been provided with a map at reception (and a few of those dainty mints to take with us) we spend most of the day sightseeing, returning to the quiet of the hotel to take up position in the lounge.
A gondola glides past the window just as a nervous young man goes down on bended knee, proffering a box to his surprised girlfriend. Before they slip out of view she nods yes and a shower of red rose petals, scattered from the little bridge nearby, flutter past on the breeze.
Dinner in the hotel restaurant is a typically elegant Venetian affair, but as I am travelling with a pizza-loving 10-year-old, we opt to eat out.
The very helpful front desk staff give us directions (and more mints) to Rossopomadoro for the best pizza nearby (the atmosphere is funky-cool with not a chintzy red-and-white gingham tablecloth in sight).
We also discover a hole-in-the-wall pasta place a five-minute walk from the hotel; you order from a straightforward menu of pasta and sauce and then collect it from a little window around the side from the kitchen.
Back at the hotel we cruise past reception (and pick up some more mints) to be told our luggage has finally arrived; when we leave a day later we have more bags and more of the tiny wrapped mints (the concierge happily upended the whole bowl into a carry bag when we asked if we could buy them anywhere), all of which is loaded onto another sleek motor boat.
Apparently there is nothing more wildly romantic way to depart your hotel either.
DETAILS
Splendid Venice
San Marco Mercerie, 760, Venice Italy
The IT Verdict
The sheer beauty and drama of Venice itself is matched in this stunning hotel, with its chic appointments, attention to detail and the incredibly warm and helpful staff.
Location = 8/10
Really, how could it be better?
There's a gorgeous, gondola-laden canal outside and all the best bits of Venice are just a stroll away.
Style/character = 9/10
The décor is impossibly stylish, but in a very inclusive, welcoming way.
Overall it's light, bright and cosy.
Service = 8/10
Everyone was so helpful, but special mention goes to the front desk staff for their excellent local knowledge, spot-on dining recommendations and generous mint distribution.
Rooms = 8/10
Our superior room was small but not in a restrictive way, more a warm, cocooning way.
The one and only hiccup was the bidet blocking the bathroom door from opening fully – we chose to view it as quirky rather than troublesome.
Food and drink = 8/10
The breakfast was a stand out, taken in the terracotta-hued atrium, with it's retractable glass ceiling looking up to wrought-ironed balconies above.
Value for money = 7/10
Decent rooms in Venice are notoriously expensive, especially during the summer months, but Splendid Venice manages to deliver a lot – style, comfort, service – for a relatively good price tag from $452.50 a night.
LEAVE YOUR COMMENT