The 8 best Tuscan villas for living the countryside dream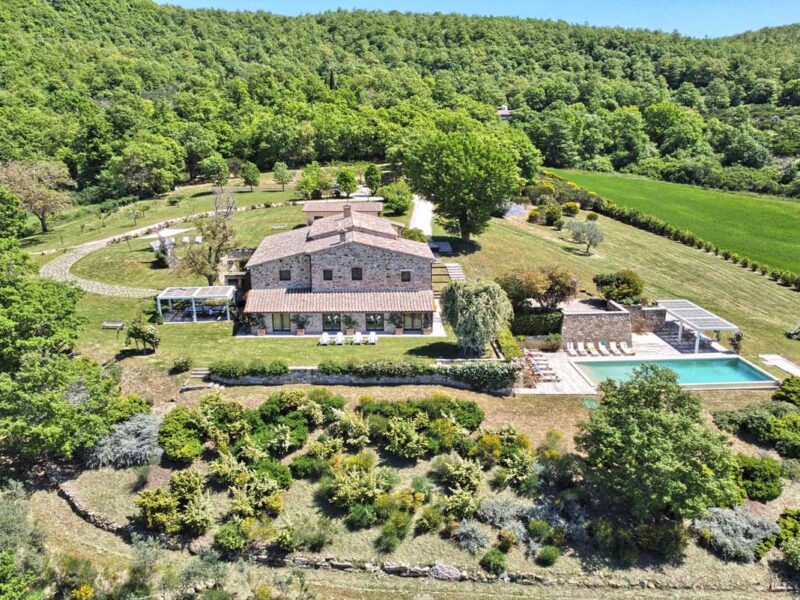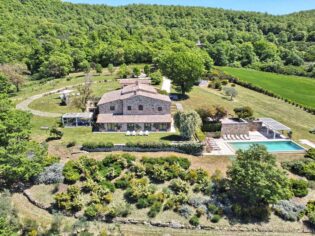 A Tuscan villa is still one of the world's great travel fantasies. We delve into 8 of the best villas on offer, each one their own piece of paradise.
Residing in a stunning Tuscan villa is repeatedly on too many people's bucket lists to simply ignore. It's something about the picturesque landscapes and feeling a sense of ownership of your dwellings that has everyone sharing the same dream, we imagine.
So when it comes to living out the fantasy, where does one start? Well, thankfully, we've researched for you, pulling together a list of incredible villas in Tuscany that'll give you the push you need to finally make your dream a reality.
1. Vespro
Vespro has a brilliant location – the quiet retreat is just 15 minutes away by bus from Florence, with its Renaissance riches (plus markets, food and fashion).
The stylish, design-savvy interiors of the converted farm building meld classic with just enough contemporary Italian pizzazz – feature wallpapers, edgy colours, fine Italian linens, and a hip pool for chilling out and captivating views.
Where: Walking distance from the borgo of Settignano, four kilometres from Florence
Best for: Art lovers, style mavens and those seeking refuge from Florence's summer madness
The details: Three bedrooms and bathrooms, sleeps six
2. Villa Laura
Villa Laura's movie-star credentials (Under the Tuscan Sun was filmed here before the 17th-century estate's meticulous restoration) and idyllic location just outside the hill town of Cortona make this a must-visit for film buffs who fell in love with Tuscany through the magic of the silver screen. The consummately Tuscan interiors are all low-key sophistication with plenty of thoughtful touches. Fantastic kitchens (there are two), well-stocked cellar, organic kitchen garden, pool table, garden-rimmed swimming pool, and more.
Where: Five minutes drive from Cortona, 116 kilometres from Florence in the Val di Chiana region
Best for: Friends and families, wedding parties and celebrations
The details: The villa sleeps 10, the farmhouse sleeps eight, the limonaia sleeps two
3. Villa Bordoni
Villa Bordoni, a 16th-century villa refurbished with brilliant colours and a certain hip flair, is Florentine shabby-chic at its best. Everything is bold, beautiful, bespoke – or sometimes just quirky.
We also like the thoughtful service, the smart but not stuffy ristorante, and its lovely position above Greve, rimmed by Chianti's olive groves and vineyards, hidden along an unmade road.
The effortlessly chic Florentine guests will do dolce far niente, but for others, there are walks, wine tours, tastings, the villa's Chianti Cooking School, or just sunbaking by the pool.
Where: Two-and-a-half kilometres from Greve in Chianti, 22 kilometres from Florence
Best for: Italians in the know, design aficionados, walkers, honeymooners, wine and food buffs
The details: Deluxe rooms are for two, and include breakfast
4. Villa il Poggiale
Villa il Poggiale exudes flawless Tuscan style – an ambience of aristocratic family tradition pervades the villa with its frescoes and tapestries.
There's a wellness centre (blissful treatments) and endless romantic vistas. You can take cooking lessons or dine on the restaurant's fresh-picked produce.
Visit Florence for its myriad treasures (cultural, culinary, retail), or explore smaller towns, such as Greve, Gaiole, and Castellina in Chianti. In autumn, join a truffle hunt.
Where: Seventeen kilometres south of Florence, in Chianti
Best for: Wine lovers, honeymooners, couples
The details: A Country Superior room sleeps two
5. Villa Le Porciglia
If you love the whimsical style – limed beams and blonde wood, grand spaces and eclectic décor with quirky chandeliers, weathered stone sculptures, and a gold bedhead – Le Porciglia is for you.
There's a separate pool guesthouse and a flourishing garden of lavender, rosemary and herbs. Beyond are wine-producing vineyards.
If you must tear yourself away from the infinity pool and its sublime views, the narrow streets of Casole d'Elsa are near or head to Siena for some serious cultural overload.
Where: Four kilometres from Casole d'Elsa, 20 kilometres from Siena, 58 kilometres from Florence in the Val'Elsa region
Best for: Those seeking a central spot for touring but a stylish abode to retreat to
The details: Five bedrooms, four bathrooms, sleeps 12
6. Villa Sambuco
The owners of a distinctive contemporary art collection have transformed this 18th-century farmhouse into a supremely comfortable yet hip villa – all white walls, edgy artworks and urbane furnishings, with an infinity pool and breathtaking views.
The surrounding World-Heritage-listed landscape of rolling hills (bleached in summer, emerald in spring, mist-shrouded in winter), fortress towns and castles are mesmerising in any season. Walk, cycle, tour, or just indulge in some zen-like chill-out time.
Where: In the Val d'Orcia, 136 kilometres south of Florence
Best for: Art aficionados, foodies, cyclists, wedding parties
The details: Six bedrooms, six bathrooms, sleeps 12
7. La Torre dei Belforti
Want to immerse yourself in old-world Tuscany? You need to stay at La Torre dei Belforti.
An actual historic tower where you can rent separate rooms or the entire property, the exterior may look straight out of the 14th century, but the interiors have been lovingly restored to offer comfort and charm for guests.
Where: Belforte, 45 kilometres from Siena, 77 kilometres from Florence in Val d'Orcia
Best for: History buff
The details: Three bedrooms, three bathrooms, sleeps six
8. La Quercia Estate
Location, location, location. La Quercia Estate is perfectly positioned close to Florence and driving distance from Siena and San Gimignano on a small estate near Impruneta.
The villa's comfortable summerhouse aesthetic features beautiful original stonework dating back to the 17th century, pale sofas, clever lighting and a central fireplace. The country-style cucina is well equipped, and the pool is perfect for Campari at the end of the day.
Where: Walking distance to Impruneta, 16 kilometres from Florence
Best for: Golfers, food and wine lovers, cultural tourists, families
The details: Five bedrooms, four bathrooms, sleeps eight