A millennial-style five-minute guide to Rome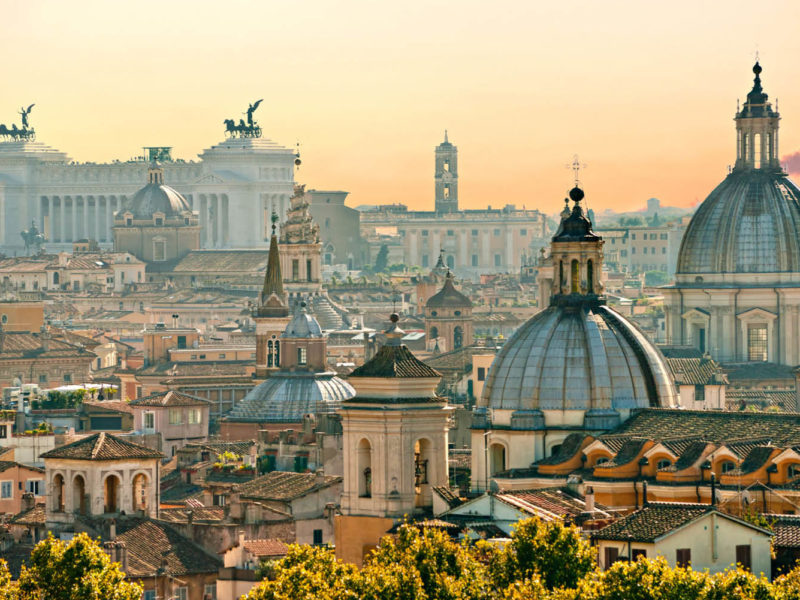 It's time to do as the Romans do in the Eternal City, with our guide to eating, drinking, shopping and everything in between.
Ciao, welcome to Roma
Getting from the airport to the city is easy:
From Leonardo da Vinci Airport
The Leonardo Express train (treno), which sadly does not lead to Mr DiCaprio, will get you to Rome Termini Station in comfort.
Departing from Platform 24 every 30 minutes, this non-stop, first class service takes around 30 minutes and costs only $16.
From Ciampino Airport
Terravision runs buses (autobuses) every 20 minutes. Travel time is 40 minutes and it's only $6.
Taxis
Taxis can be expensive with a set fee of $58 from Leonardo da Vinci and $43 from Ciampino with a luggage fee of $1.50.
Make sure they have a 'SPQR' city coat of arms as Roman taxi drivers are known to take tourists for a bit of a ride.
"Where is the bus?" = "Dov'è l'autobus?"
"Where is the subway?" = "Dov'è la metropolitana?"
"Where are the taxis?" = "Dov'è sono i tassì?"
Trasporto (transport)
By bus
ATAC buses are the only public transport option in the ancient centre with services running from around 5:30am til midnight.
Be sure to validate your ticket on board to avoid on-the-spot fines.
A 'Metrebus Ticket' is from $9 for a day to $35 for a week; they can be used on metro, buses and local trains and are available to purchase at metro stations, newsstands and kiosks.
By foot
Don your Roman sandals – or some comfy walking shoes – and hit the pavement. Book a hotel in a central area like Piazza Navona for reasonable walking distances to the major sites: Pantheon (7 mins), Trevi Fountain (14 mins), Spanish Steps (18 mins), Colosseum (25 mins), Vatican (28 mins).
By tour
Rome wasn't built in a day, but it can be seen in a day (well, kind of) with the hop-on/hop-off bus for sightseeing from $36; city-sightseeing.com
"A map, please." = "Una mappa per favore."
Mangia, Mangia! (Eat, Eat!)
Pizza
Pinsere Roma, Via Flavia 98 – Mon to Fri
Pizzarium, Via della Meloria 43
You'll pay around $1.50–6 per slice.
Gelato
Come il Latte, Via Silvio Spaventa 24-26
Gelato D'Autore Salaria, Via Salaria 260
You'll pay around $3–6 for a scoop.
Wine (vino)
Al Vino Al Vino, Via dei Serpenti 19
Cavour 313, Via Cavour 313 – closed Sundays in summer
You'll pay around $4.50 for a glass.
Coffee (caffè)
Caffe della Pace, Via della Pace 3/7
Rosati, Piazza del Popolo 4/5a
You'll usually pay around $1.50 for a coffee. Drink standing at the bar as it costs less than sitting at an outside table.
You'll also pay around $1.50 for a bottle of water (acqua), $4 for a beer (birra), $4 for a sandwich, $20 for a meal.
"The bill, please." = "Il conto, per favore."
Giro turistico (sightseeing)
We've all heard of the Colosseum, but have you heard of …
Ostia Antica
Around 30 kilometres from the heart of the city, Rome's forgotten harbour city, Ostia Antica, was once a thriving port at the mouth of the Tiber River.
Some of the ancient ruins date back to the 4th century BC. $12 entry; guided tours also available.
Basilica of San Clemente
A short stroll from the Colosseum, this relatively unknown Renaissance-era basilica is well worth the visit for what is hidden beneath its surface.
In 1857 excavations uncovered a fourth-century cathedral below the street level site; and below that again, a first-century building.
Incredibly, there are also remnants of a fourth stratum that was destroyed by fire in 64AD.
The main church is free to enter, but the lower levels cost $7.
"Where is the bathroom?" = "Dov'è la toilette?"
To il mercato (market)
Campo de Fiori Markets
A delightful open air market with flowers, fruit and veges and the scent of fresh pizza lingering in the air.
Monday–Saturday, 8am–1:30pm
Porta Portese Flea Market
The streets of Trastevere, just south of Vatican City, come alive every Sunday with peddlers selling all sorts of knick knacks.
Vintage reigns supreme here: scour around for retro sunglasses, second-hand designer clothing, hard-to-find records and used books.
Sundays, 7am–2pm. Get here bright and early to beat the crowds!
Via Condotti
Starting at the base of the Spanish Steps, this hub is arguably known as Rome's swankiest shopping street.
Max out your credit card or fog up the windows at designer stores like Louis Vuitton, Versace, Armani and Dolce & Gabbana, to name drop a few.
"How much?" = "Quanto costa/costano?"
The best albergo (hotel)
Piazza Navona is a great central spot to base yourself.
This maze of narrow alleys, dating from the Middle Ages, is buzzing with sidewalk cafés and bars, street artists, musicians and some magnificent architecture.
Our picks in this area:
Hotel Adriano
Located just steps from the Trevi Fountain, this cosy and neat hotel has smaller classic rooms to larger apartments.
Our fave is the deluxe room with its private terrace boasting views over Rome's roof tops.
From $319 per night for a deluxe room. hoteladriano.com
Hotel Abruzzi
This family-run hotel is worth booking for its view of the Pantheon alone, which is literally a stone's throw away.
All 26 rooms have been recently renovated.
From $370 for a double/twin room with a view. hotelabruzzi.com
Hotel de Russie
Described by Jean Cocteau as "Paradise on Earth" , this hotel is the definition of luxury with 122 individually designed rooms and suites, a divine spa and a beautiful garden restaurant headed by a two-Michelin starred chef – all located beside the Spanish Steps. From $896 for a classic room. roccofortehotels.com
J.K. Place Roma
The sister property of the gorgeous J.K. Place Capri is an elegant newcomer to Rome's luxe landscape.
It is located a stroll from Via Condotti and the Spanish Steps beyond, and boasts a mix of contemporary and antique designs.
From $1016 per night for a J.K Classic Room. jkroma.com
Portrait Roma
This hotel is part of the Lungarno Collection, founded by Salvatore Ferragamo, and is located above his store on the prestigious Via Condotti.
There are 14 unique guest rooms, some with views over the Spanish Steps, and a gorgeous rooftop terrace with an open fire.
From $1281 for a portrait studio. lungarnocollection.com
"Good night!" = "Buona notte!"
By Megan Arkinstall and Patrick Higgins
If you like the look of a Rome getaway, make sure you check out our Rome travel guide, so you can ensure you read up on the very best the region has to offer!
LEAVE YOUR COMMENT