The top 10 Rome hotels for your next la dolce vita getaway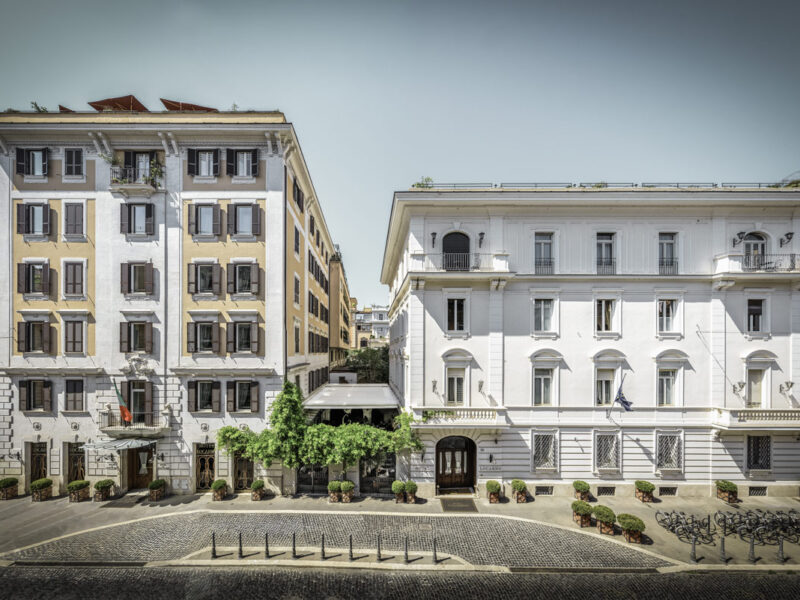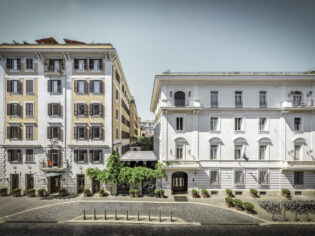 From romantic sojourns to immersive history, these Rome hotels are calling your name.
Paris may be the city of love and romance, but Rome definitely gives it a run for its money. When every corner you turn features ancient history, cobbled back streets and locals mingling with travellers, wining and dining at alfresco tables, it's surprising the city isn't the romance capital of the world.
Hotels in Rome can be on the expensive side, especially if you're travelling during peak season. It's worth paying the price if you want the full Rome experience, because the best hotels in Rome are in the most sought-after areas, close to all the top historical monuments, best restaurants and most beautiful streets. They're also often inside heritage buildings or feature great extras like panoramic rooftop bars and indulgent spas or the best views of Rome, the kind you want to take bulk Instagram photos of.
So, without further ado, here are the best hotels in Rome for those looking to have the true Italian experience.
1. Bulgari Roma
Bulgari has already made a Roman splash with its newest hotel in the heart of Campo Marzio – and we're not just talking about its floor-covering, Bisazza-mosaic swimming pool.
With a rooftop bar showcasing views across the city, sumptuous king-sized beds (with pillow menus) and impeccable service across all its offerings, the almost $3000 per night price tag is certainly worth the splurge.
Address: Piazza Augusto Imperatore 10, Rome
2. Hotel de Russie
Rome is no stranger to five-star hotels, but Hotel de Russie might be one of its most famous.
In 1917, Jacques Cocteau called it "paradise on Earth", no doubt due to its Mediterranean tiered garden, complete with miniature waterfall and generous rooms – rumour has it that he and fellow guest Pablo Picasso leaned out their windows to pick oranges from the garden during their stay.
Location-wise, you'll be close to the Spanish Steps, right in the heart of the luxury district.
Address: Via Del Babuino 9, Rome
3. Hotel Eden
Another hotel with a lengthy history, Hotel Eden has existed since 1889 near the beautiful Villa Borghese gardens.
Many rooms feature jaw-dropping views you can usually only access from historical hotels, with windows over St Peter's Basilica and the Spanish Steps.
Part of the famous Dorchester Collection, expect the utmost in service and luxury, with high ceilings, tall windows and marble accents.
Address: Via Ludovisi 49, Rome
4. The St. Regis Rome
Arguably the most famous hotel in Rome, the St. Regis remains a bucket list destination for many. It is fit for royalty – literally, given past guests have included Queen Elizabeth II and Princess Grace of Monaco.
The rooms and suites are tastefully decorated in pastel shades with gold accents and travertine marble, complete with Venetian chandeliers.
Address: Via Vittorio E. Orlando 3, Rome
5. Hassler Roma
If you really want the full Spanish Steps experience (Roman Holiday fans, anyone?), a stay at Hassler Roma is worth your while.
Situated at their very top, you'll also be minutes away from many other Rome attractions like the Trevi Fountain and The Vatican. The independently owned five-star hotel also has panoramic views over the city from their in-house restaurant, Imàgo.
Address: Piazza Trinità dei Monti 6, Rome
6. Portrait Roma
Owned by the Salvatore Ferragamo family, Portrait Roma is as stylish as it gets.
Once a sprawling townhouse, the property is now a series of bespoke rooms and suites, but you're really staying here for the rooftop terrace, which has views that stretch over Rome, plus the location – situated in the very centre of the high fashion district, one of the most beautiful areas in the city.
Address: Via Bocca di Leone 23, Rome
7. Hotel Locarno
One of the most storied hotels in Rome, Hotel Locarno has been home to famous artists since 1925, with director Federico Fellini and writer Jack Kerouac both frequenting its halls in the past.
Rooms are classic and comfortable, but it's the dining spaces that are really special, like the secret garden-style Bar Locarno and the rooftop terrace, Terrazza Locarno, both of which have all-day dining and booking options, whether its 3pm or 3am.
Address: Via della Penna 22, Rome
8. Hotel Artemide
Hotel Artemide might not be as luxurious as some of the other Rome accommodation options in this list, but it is one of the top-rated across many of the popular travel booking sites such as TripAdvisor and Google. Part of this is due to location – the hotel is walking distance to the Colosseum, Roman Forum and Spanish Steps, but it's also the staff, who are impeccably trained, knowledgeable about the city, and give guests a warm welcome.
Address: Via Nazionale 22, Rome
9. Augusta Lucilla Palace
Looking for affordable accommodation in Rome, that still places you at the centre of the action? Augusta Lucilla Palace is a great choice. Walking distance from Rome Termini station, the hotel features comfortable, clean rooms, a buffet breakfast option, and 24-hour reception. You'll easily be able to hop onto the subway to access all the best sites Rome has to offer, too.
Address: Via Massimo d'Azeglio 24, Rome
10. Generator Rome
Often named one of Rome's best budget accommodation options, Generator Rome is in the bohemian neighbourhood of Monti, close to the Colosseum and Termini station. It has a popular lounge and rooftop bar, making it a good choice for those looking to enjoy the city's nightlife. Rooms are basic but clean, comfortable and design-driven, and you can choose between hostel dorm accommodation if you're on a shoestring, through to private rooms with ensuites.
Address: Via Principe Amedeo 251, Rome
LEAVE YOUR COMMENT