Bordeaux proves it's about so much more than just wine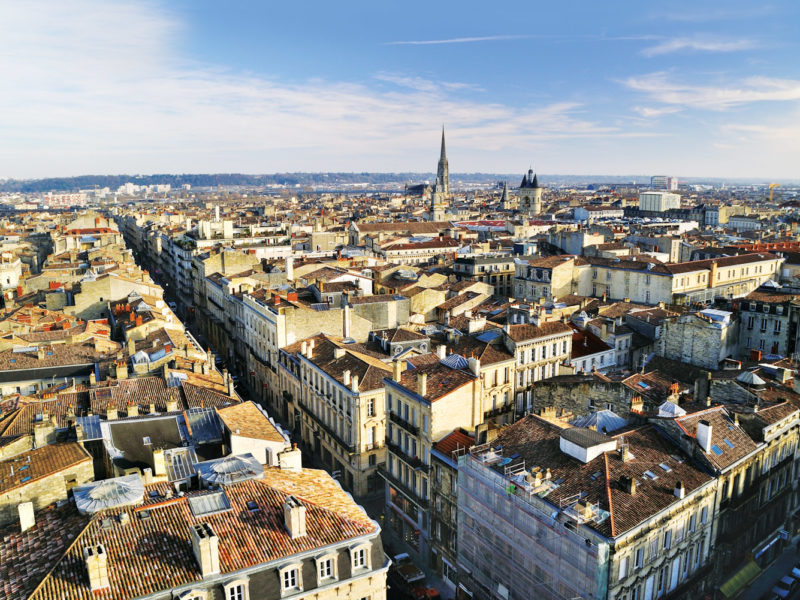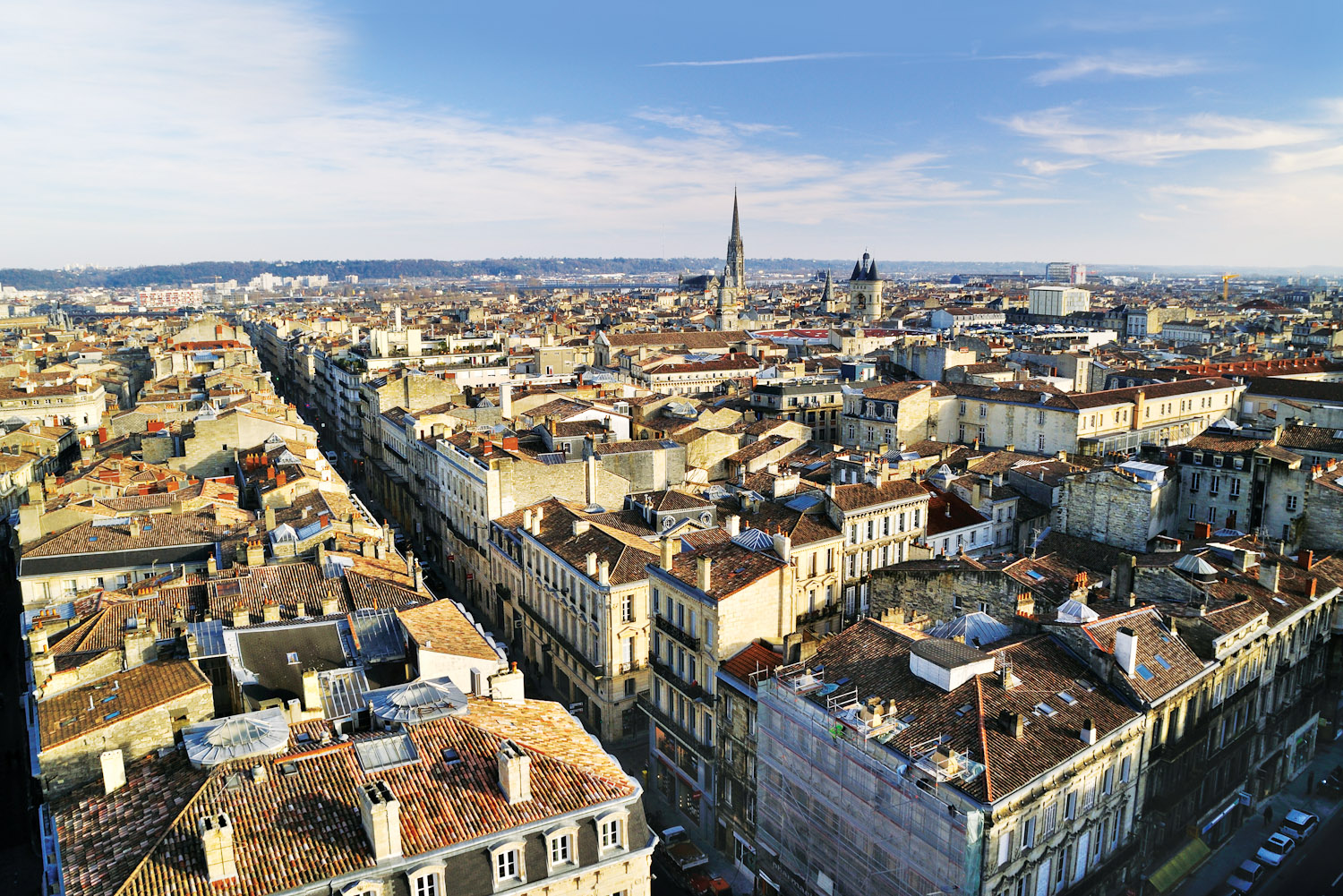 Ripe with new ideas and cutting-edge urban renewal, the wine Mecca that is Bordeaux has got its spark back. Words Susan Gough Henly.
It's dusk beside Bordeaux's Miroir d'Eau at the Port de la Lune and at my feet is a mirror image of Place de la Bourse's exquisite semicircle of neoclassical buildings.
Suddenly an ethereal mist rises out of the granite slabs before tiny fountains prick the world's largest reflecting pool.
Children run across it squealing with delight, tattooed skateboarders skim past a brass band of young musicians dressed in Hawaiian shirts, and couples shimmy during a free outdoor salsa class, their reflections rippling in rhythm.
The Water Mirror embodies the best of gleaming new Bordeaux, the original makeover Queen.
Bordeaux is the world's most famous wine city and wine region, and some say, the burgeoning skateboarding capital of France.
The founding fathers might turn in their graves about this last distinction but such delicious diversity is propelling Bordeaux into being one of Europe's most appealing destinations.
I'd known for some time now that the city was a scrubbed-up version of its gritty old dowager self, but I hadn't realised she'd become such a new-age grande-dame with attitude.
Ever since Eleanor of Aquitaine married Henry Plantagenet in 1152 and the English developed a taste for claret, Bordeaux has massaged its pedigree as the epicentre of the world's wine business.
The city's grand boulevards and neoclassical architecture even inspired Baron Haussmann when he remodelled Paris in the mid-19th century.
But, over the centuries, Bordeaux became suffused with a stuffy, conservative sense of its own self-importance.
By the late 20th century, the city had fallen into a coma, its beautiful buildings cloaked in grime, its streets clogged with traffic, abandoned warehouses blocking access to the river. It was dowdy, dreary, and downright boring.
Into this mess strode an unlikely shining knight in the form of Bordeaux mayor and former conservative Prime Minister, Alain Juppé.
He scrubbed down the buildings to burnish the beauty of the blond limestone, banished cars from the Old Quarter, established a sleek new tram system, and dismantled empty wine merchant warehouses to create a four-kilometre riverside park.
The investment certainly brought dividends. Bordeaux was granted UNESCO World Heritage status in 2007 for its 'outstanding urban and architectural ensemble created during the Age of Enlightenment'.
More recently, it was voted the Best European Destination for 2015. Even better, according to châteaux owner Sylvie Cazes, "People are more confident now. The city feels like it's opened up. Everyone celebrates everyday life and they're a lot nicer than they used to be".
"And," she adds, "there's more of an exchange of ideas and a fresher approach to a whole lot of things."
She should know: as Chairman of La Cité du Vin, she is supervising the construction of Bordeaux's $130-million cultural centre dedicated to the living heritage of wine.
Located in Bordeaux's new eco-district in Bassins à flot on the Garonne River, the building looks like the swirl of golden wine in a glass and will dazzle visitors with immersive multi-sensory experiences.
Opening this June, there'll be wine tasting workshops, touch-screens showing how wine is made, virtual ship voyages across the ages and oceans, as well as a wine bar, wine boutique and a wine tourism gateway where boats will dock to take visitors to châteaux all over the region.
On a building site tour, I get an eagle's eye view of Bordeaux, the spire of St Michael's Basilica rising above the neat rows of neoclassical limestone buildings hugging a bend of the river where wine has been shipped around the world for centuries.
Further south along the riverbank, one of France's largest urban renewal projects is well underway, anchored by a bold sandstone arch that will house the new MÉCA visual and performing arts centre. By 2017, this is where travellers will alight at the new TGV terminal after a mere two-hour train trip from Paris.
Near La Cité du Vin, edgy art installations repurpose the sombre Base Sous-Marine, a former German U-boat base, and Le Garage Moderne's participatory car and bike garage doubles as a place of art, culture and mint tea.
On Bordeaux's Right Bank, I can see the repurposed barracks that now house Projet Darwin, a collaborative space for green micro-businesses as well as a groovy organic restaurant and grocery store and, this being 21st-century Bordeaux, an indoor skateboard park. Of course.
Down at river-level, I glide in one of Bordeaux's space-age trams back to the CBD by way of another huge riverside skate park in the historic Chartrons wine merchants' quarter.
Not far away, a massive warehouse was converted 40 years ago into the CAPC, a trailblazing museum of contemporary art whose cavernous spaces are perfect for the likes of Richard Serra and Anselm Kiefer. Rue de Notre Dame, on the other hand, is an intimate antiques and design district.
This is what I like the most about Bordeaux: the new sits well alongside the old.
At the Place des Quinconces, one of the largest in Europe, I begin my exploration of this most walkable city on foot.
At the Place de la Comédie, the Corinthian-columned portico of the oh-so-grand Grand Theatre faces the Grand Hôtel de Bordeaux. The sculpture of a giant head by Spanish artist Jaume Plensa contemplates them both. So far so Bordeaux.
Plunging into the Old Quarter on the polished marble slabs of Rue St Catherine, I meander a labyrinth of narrow lanes. Bijou shops and fledgling concept stores beckon with hand-crafted clothes and curated homewares as cafes spill onto the street.
In the buzzy St Pierre neighbourhood, wine bars jostle hipster farm-to-table restaurants proffering biodynamic wines. Fountains gurgle in lively squares framed by pale stone buildings whose shutters are thrown open to reveal floor-length windows that soak up the sun. Above it all rise the gorgeous Gothic towers of La Grosse Cloche and La Porte Cailhau, all that remains of Bordeaux's Medieval past.
The city is like a mini Paris, without the traffic or the hordes of tourists, but so much walking builds up one's appetite.
Back in the dark ages of the 20th century, food in these parts played a mere supporting role to wine. Translation: it was pretty mediocre.
These days, Bordeaux is blessed with a diversity of dining options as Michelin chefs and Young Turks alike flock to the city. Take chef Tanguy Laviale and négociant Gaël Morand who opened Garopapilles last year offering hand-made wines and the finest cuisine on an equal footing.
You enter through a terrific shop that curates a fascinating selection of boutique wines to reach an intimate dining room with an open kitchen.
There is just one menu each day, offering delicacies like the pinkest magret de canard with roasted black figs and cèpe mushrooms, based on what Tanguy has personally sourced from the market.
At last, there is a refreshing openness to other culinary influences – from China and Vietnam to Israel and Japan – at restaurants throughout the city, which was unheard of in the stuffy old world of 20 years ago. And this new blood is enriching not only the restaurant menus but also the city's entire approach to the world.
Even the Michelin moguls are doing it differently. The irascible Gordon Ramsay has just set up shop at the Grand Hôtel, while Joël Robuchon is angling to have Bordeaux's first three-Michelin-star restaurant since the Second World War at Bernard Magrez's opulent hotel La Grande Maison.
His chef on the ground is Japanese Tomonori Danzaki, whose delicate aesthetic is a delight.
Directly across the street from the sumptuous hotel restaurant is L'Institut Culturel Bernard Magrez. Out front, Magrez's 1967 Jaguar has been hand-painted by New York-born, Paris-based street artist JonOne. Another 35 of his vibrant original works adorn the walls of the institute's 18th-century château.
Wine merchant, château owner, and arts patron, Magrez is not the only Bordeaux wine producer who is doing things differently. These days, châteaux from St-Émilion to St-Estèphe are welcoming visitors with interactive tours, food and wine pairing, art exhibits and stunning starchitect-designed cellars.
You can actually visit a surprising number of wineries within the city limits or just outside, from famous classified growths such as Château Haut-Bailly and Smith Haut Lafitte to low-key family owned properties offering personal tours. There's also a brand new Urban Wine Trail highlighting a string of eclectic wine bars, each offering a different window on the best of Bordeaux and beyond.
As always and as it should, talk returns to wine. Even with its new groove, wine is still the driving force and, like the grape vines that surround the city, Bordeaux still has deep roots in tradition.
Just look more closely at the 19th-century Three Graces fountain reflected in the 21st-century Miroir d'eau. They represent Zeus's daughters: Splendour, Mirth and Good Cheer.
I'll raise a toast to that anytime.
There's more to do in Bordeaux
• 6 ways to sample Bordeaux's wine culture
• Bordeaux on a plate: 5 unmissable places to wine and dine
• Our list of the the 5 best beds in Bordeaux
Get your European Roadtrip started with Peugeot Europe
LEAVE YOUR COMMENT