Uber cool Copenhagen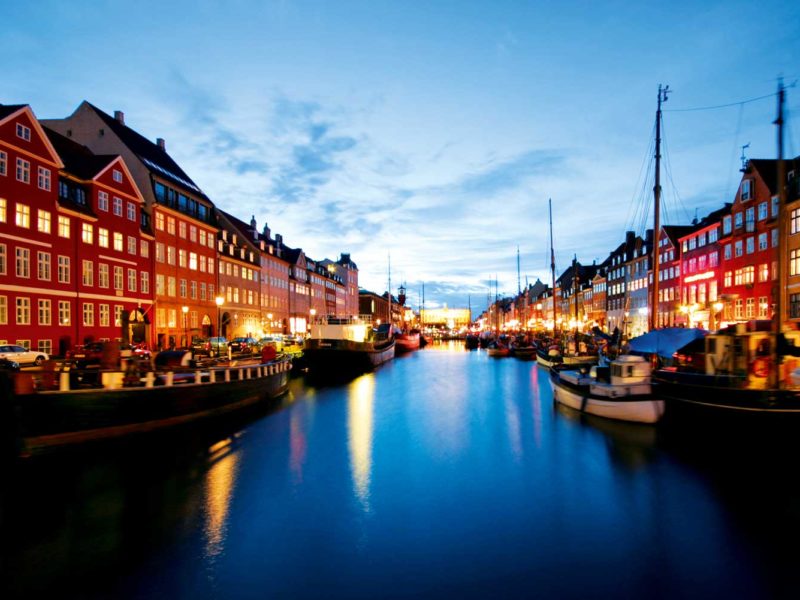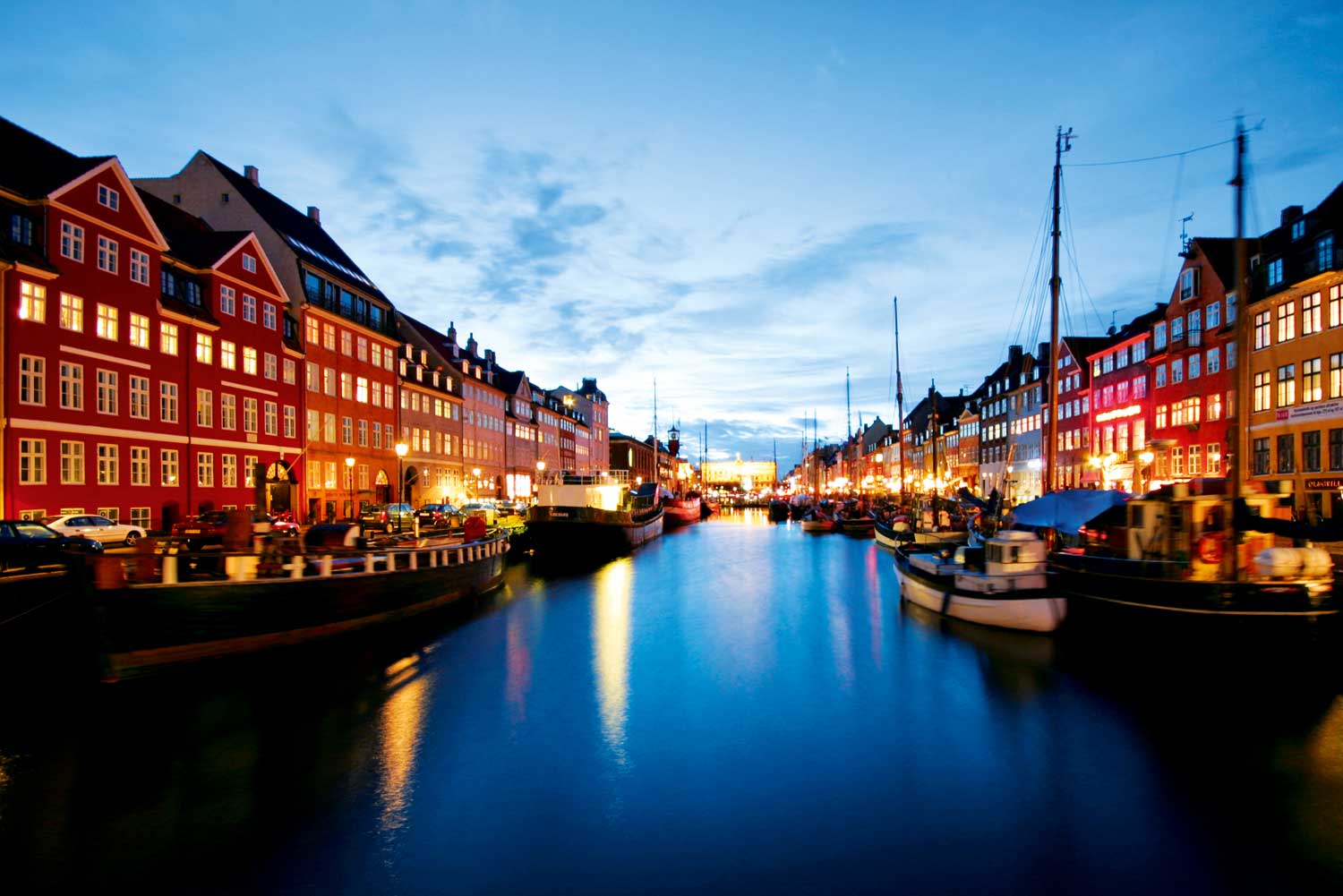 Try not falling in love with this city. We dare you. Words by Nikki Wallman
Five minutes in the back of a cab on a balmy, beckoning, spring Saturday evening and I fall hard and fast for Copenhagen.
Cruising past the twinkling, fairytale lights of the Tivoli Gardens; blinking wearily out the window at the impossibly gorgeous, fashionably-clad people milling on pavements and drinking at footpath tables, all laidback and happy and casually gorgeous; taking in the seamless juxtaposition of architecture and nature, I'm shocked by how quickly it creeps up on me.
It's kind of like that first date that feels like the tenth: you know the one, where "Maybe one glass of wine and a main" becomes "Champagne, starter, bottle of wine, mains, bottle of wine, dessert, coffee… one more back at mine?"
I've just never arrived in a city and felt so, well, at ease. This, I later realise, is because Copenhagen is almost certainly the coolest city in the world.
Copenhagen, I love you. Let me count the ways.
Cool people
Something hits me in the light of day as I venture into the stress-free streets.
Everyone – I repeat, everyone – is either outrageously good looking; ridiculously good looking; or just plain old good looking.
And not only are they really, really good looking: they're totally cool about it. They stroll or cycle around (55 per cent commute by bike), committing random acts of coolness without a hint of artifice.
A Ryan Gosling lookalike cycles past, his two mini-me children perched upfront in a little basket.
A few blocks later, at the entrance to the Botanisk Have (an urban oasis where hipsters and lovers lounge on the grass), a woman wearing Birkenstocks, a dress from Prada's current collection, and a battered leather backpack is being photographed by a street-style blogger. Cool.
Copenhagen girls can pull off white jeans with ease; mix floral skirts with tough ankle boots; and love Breton stripes and forest-green military jackets, subtly accessorised with the finest gold chains and rings.
Make-up is minimal – all that cycling seems to not only keep them trim, but beautifully glowing too (mental note: buy bike). The men may also be the only ones on the planet to be able to wear man-shorts and cardigans, and still look sexy.
In a bid to avoid being outed as a non-native, it's clear I must go shopping.
Strøget – the longest pedestrian shopping strip in Europe – is an obvious choice, with highlights including the posh Birger Christensen, a hit list of luxe and high-street chains and, just off the main strip, the department store Magasin du Nord, where I find global and local favourites including Day Birger et Mikkelsen and classics with a Copenhagen-cool twist from By Malene Birger.
For a boutique experience, venture into the sidestreets off Strøget or head to Gothersgade, a major street running from the Lakes past the Botanisk Have and Rosenborg Castle.
Here, I pick up a delicate burnished silver ring set with a tiny, perfect diamond from Line & Jo, a jewellery boutique beloved by Nordic fashionistas.
Just down the road at Lot #29, I admire their own-label, super-soft cashmere jumpers and sigh over Grecian leather sandals and silk print pieces from Danish label Nuit Comme Oui.
Finally, I hit up the affordable knitted jumpers, neon scarves and colourful coats at Superlove. Sorted.
Cool city
I'm pleasantly surprised to find that my Segway Tour with Tours CPH is not only ridiculously fun (once I forget about looking like a massive dork), but a fantastic way to get both an oversight of, and some brilliant insight into, the city.
Seamus, our small group's guide, is a wealth of insider information.
Zipping around the city streets on our upright chariots, he relays via microphones in our helmets just how bike-friendly Copenhagen is (cars are always at fault in car/bike accidents; green lights are guaranteed along certain stretches of road if cyclists keep to 20 kilometres per hour); and shows us the tiny café where Princess Mary apparently gets her hot chocolates (Kafferiet), and one of the prettiest parks in the city, the Kulturcentret Assistens – the final resting place of Hans Christian Andersen.
Cool design
I decide to brush up on my knowledge at Designmuseum Danmark.
It's a comprehensive collection cataloguing design in its various guises from around the world, from the Middle Ages through to today. And yes – there are heaps of original, über-cool chairs from Arne Jacobsen and co to gawk at too.
A couple of hours later, feeling decidedly design-savvy, I head back to Strøget to exercise my newfound design nous.
The hallowed, four-storey turf of Illums Bolighus has been lauded by the Financial Times as 'the best place in the world for furniture and design' and is artfully packed with homewares and furnishings from the big-hitters (Royal Copenhagen, Georg Jensen) to the up-and-coming.
I seriously ponder the cost and wisdom of shipping a white, ceramic moose head lamp back to Sydney before regaining my senses and heading to Hay, where I admire bright bobble carpets, geometric kitchen platters in a pastel rainbow of colours, and quirky office accessories.
Cool nights out
Things happen easily in Copenhagen; you stumble upon good times.
One night, I get talking to two guys who look like they might be plotting the new Facebook over a boutique ale outside one of Copenhagen's hippest drinking spots, microbrewery Mikkeller Bar.
They happen to have just met up with Dave, a chef at Relae in the super-cool Norrebro district. I've been dying to visit this offshoot from Christian Puglisi, a former chef at Noma, but alas, it's shut while I'm here.
"You wanna write about something cool?", asks Dave. "Go to Manfreds & Vin."
He also works in the kitchen at this tiny neighbourhood restaurant, across the road from Relae (also run by Puglisi).
So the next night I rock up to the unassuming, cosy underground restaurant.
I'm guided to a stool at the bar where two bartenders are busy opening, smelling, sipping and spitting bottle after bottle of organic wine.
I go for the seven-course 'Chef's choice' menu (matched with three glasses of wine, handpicked by the bartender), a parade of simple, perfectly formed dishes: baked beets in a vibrant green sorrel sauce; tender roulade of veal on shaved celeriac; green salad with elderberry capers and rye bread crisp; poached 65-degree egg on a mushroom compote with toasted buckwheat and edible flowers… I never want it to end, but it does so in spectacular fashion – with a decadent yet light-as-air chocolate mousse topped with crunchy chocolatey biscuit.
Two words: go here!
Cool café culture
I'm spoilt for choice when it comes to sampling the best smørrebrød – Danish open sandwiches – in town.
If you're on Strøget, head to Royal Smushi Café. The whimsical space is decorated with spectacular rainbow lighting, which hangs from the roof like the Northern Lights, and serves 'smushi' – a combination of smørrebrød and sushi.
I try three – shrimp with chive mayonnaise, herring marinated in a light curry sauce, and cockerel salad with olives and celery. They're mini pieces of art – small, precise and carefully constructed.
If you're after something more substantial, head to Aamanns Deli & Takeaway.
I bag a table out the front on the street (but you can also order a picnic to enjoy in a nearby park). It's here that I enjoy one of those serene, transformative moments that keeps you searching for the next one.
There's no fancy food or expensive bottle of wine. Just me in the sunshine; a pretty bottle of light Danish beer; and two perfect pieces of smørrebrød – a 'summer tartare', consisting of delicately minced raw beef topped with capers, tart yellow tomatoes, capers, splotches of sour cream and crispy, tiny potato chips for crunch.
It's everything I love about Copenhagen: restrained, balanced; cleverly planned for maximum enjoyment – yet with exciting contrasts; little surprises of genius and originality; style and substance in equal measure.
For all these reasons and many more, Copenhagen, I love you. I will be back for that second date soon.
The details
How to get there
You'll need to stop over somewhere, depending on your carrier.
www.singaporeair.com offers return fares from Sydney to Copenhagen with a stopover in Singapore from $1505; British Airways stops in London with fares departing Sydney from $1800.
When to go
Winter allows you to experience true hygge (cosiness), as the city cosies up against the brutal cold. Spring and summer are perfect for street, music and food festivals.
Where to stay
Affordable
Hotel Fox won't be everyone's cup of tea, but if you want to embrace Copenhagen's design obsession on a budget, try the Fox, with whacky rooms designed by different artists. Medium rooms from $148 per night.
Jarmers Plads 3, DK-1551; +45 339 577 55.
Comfortable
Bertrams Hotel Guldsmelden is a boutique hotel that has a bit of a Balinese vibe going on, with four-poster beds. From $240 a night.
Vesterbrogade 107
DK-1620; +45 33 25 04 05.
Luxury
Nimb Hotel has just 17 rooms and suites, situated in the fairytale grounds of the Tivoli Gardens, The Nimb – housed in a Moorish-inspired 'palace' – adds a little magic to any stay in Copenhagen. From $796 per night. Bernstorffsgade 5, 1577 Copenhagen; +45 88 70 00 00.
You can't leave without
Trying to get snapped by a street-style photographer. Observe the locals, dress the part and go for it!
Best bit
Feeling like you've entered some kind of modern day utopia, filled with beautiful, happy, healthy people; amazing architecture; cutting-edge food and fashion; and an overwhelming sense that this is the good life.
Worst bit
Christiania, the 'freetown' area of Christianshavn renowned for its liberal approach to drugs (and, seemingly, personal hygiene). Some hail it as a brilliant social experiment, but to me it felt like Nimbin after the apocalypse.
You should know
Walking or cycling around Copenhagen is cheap, easy and allows you to experience the city's street life.
Taxi drivers often ask for your credit card before your trip begins – they pre-authorise it and you just sign before jumping out.
Many restaurants, museums and bars are closed Sunday, Monday and/or Tuesday so plan accordingly to avoid disappointment.
A Copenhagen Card gives you free public transport and free or reduced entry to a number of museums and attractions for 24, 48, 72, or 120 hours.
For more information see visitcopenhagen.com