Review: Hotel SP34, Copenhagen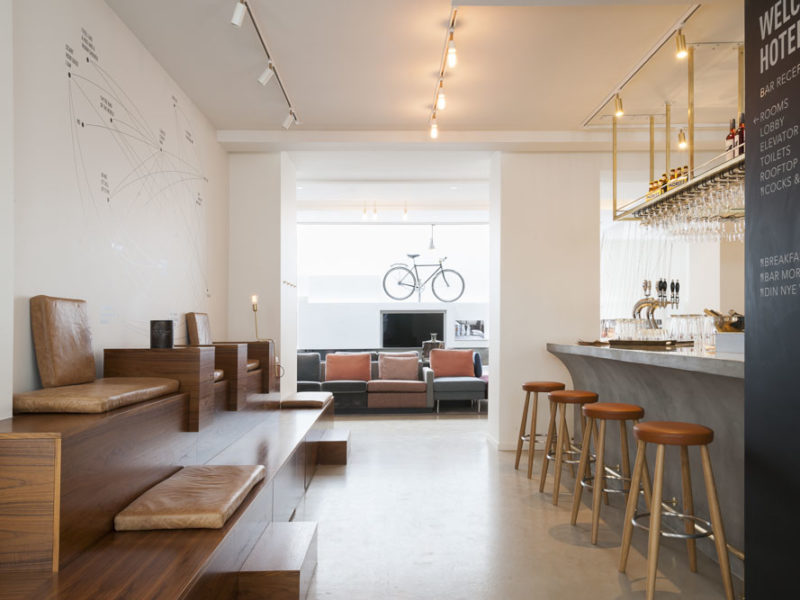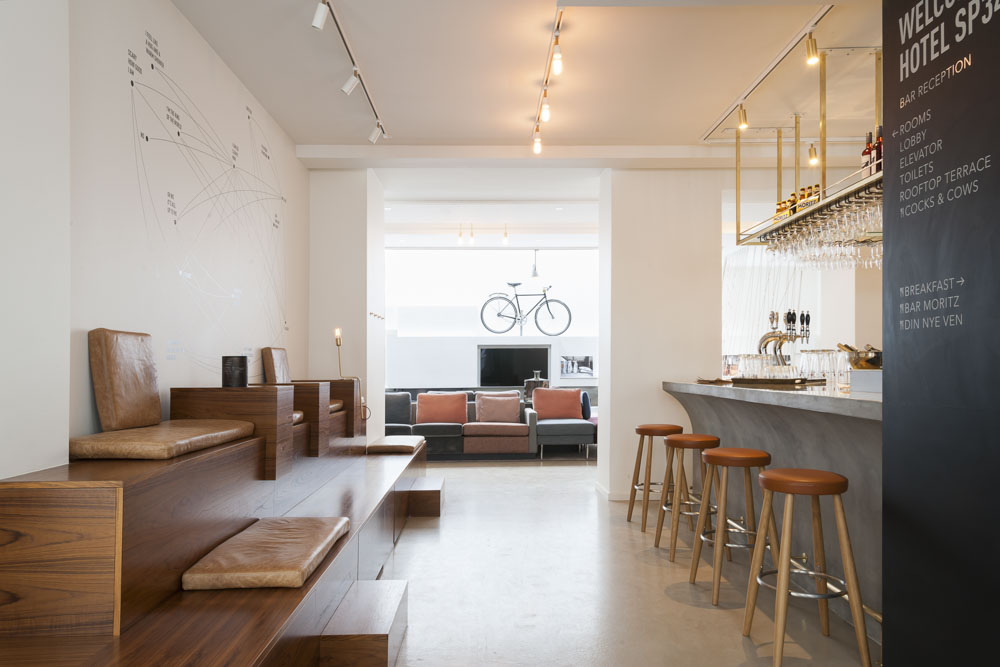 Cindy Bingley-Pullin is so enamoured by bolthole hotel SP34 in the Danish capital that she finds it hard to leave.
Denmark has topped the World Happiness Report three times since 2012, which may have much to do with hygge (pronounced hoo-ga); a Danish word with Norweigan roots that translates to cosiness, contentment and wellbeing. It refers to the unique way that the locals have of enjoying life's little pleasures.
My sister and I are in Copenhagen to experience a weekend of hygge – our version of which involves wandering the streets of this appealing city, indulging in wholesome, hearty meals, and finding somewhere to sleep that defines the Scandinavian aesthetic the region is so well known for.
Research on 'stylish Scandi stays' leads us to Hotel SP34, and while its name may be an unimaginative abbreviation of its address, it's far from bland.
Positioned on a quiet street parallel to one of the city's main roads, its unassuming entrance belies what's inside. Everything about the place oozes warmth. Timber accents and minimalist lighting set off an inviting space of white walls and polished concrete floors, furnished with soft-cushioned lounges, tan chairs and tulip side tables.
Creative quirks include a bicycle displayed as art, a waif-like cactus in a terracotta pot, and a 'Choose your own adventure' wall of tongue-in-cheek expressions.
The hotel lobby bar doubles as reception, where flaxen-haired millennials, dressed in a funky uniform of what looks like black silk pyjamas, cheerfully hand out room key cards and scrawl directions on paper maps for guests.
Check-in is seamless; and our accommodation in a 'Superior Comfort Room' is relatively spacious and supremely comfortable with classic Scandinavian interiors: leather-backed wooden chairs, parquet floors, and elongated windows that let in abundant natural light.
There is plenty to smile about with this hotel. The breakfast buffet is a bountiful spread of fruits, pastries, cereals, cold cuts, cheeses and other ingredients to create our own smørrebrød (open rye sandwiches), and almost everything served is organic. Bottomless glasses of bubbly are even included in the price but for those who don't want to splurge on brekkie, complimentary coffee and croissants are on offer at reception from 6am to 11am daily.
To kick off evenings, there is a free 'wine hour', where decent bottles of red and white are poured for guests to enjoy while mingling or chilling in the communal lounge area. A lovely way to get toasty before heading out for dinner!
We take advantage of the hotel's location in the hip Latin Quarter and venture out to recommended restaurants nearby; but with 24-hour room service, three on-site dining venues, the convivial aforementioned lobby bar and an al fresco rooftop bar (open during the warmer months), there is hardly the need to eat or drink out at all. The in-house cinema – nightly movie screenings, velvety red seats and a snack buffet – offers another reason to stay in.
Hotel SP34 epitomises everything that is to love about Nordic culture. Cool yet cosy, simple yet sassy, it brims with an atmosphere of welcome – a place where life's simple pleasures are enhanced and savoured.
Details: Hotel SP34, Copenhagen
Sankt Peders Stræde 34, 1453 Copenhagen, Denmark.
The IT Verdict: Delightfully Danish in design and spirit, Hotel SP34 is a boutique bolthole that is beautifully put together; it perfectly captures hygge.
Location: 8.5 / 10 A peaceful yet central location, it is an easy stroll, cycle or public transport ride to most of Copenhagen's famous attractions.
Style/character: 9 / 10 Design conscious, with common spaces that encourage connecting with guests (think the daily free 'wine hour').
Service: 9 / 10 Efficient and unpretentious, yet effortlessly cool.
Rooms: 9 / 10 Comfy yet chic rooms that run the spectrum from snug to large, accommodating all budgets.
Food and drink: 8.5 / 10 Nordic dining, burgers, cocktails, and the nation's largest port wine bar are all available here. Breakfast is a highlight.
Value for money: 9 / 10 For $304 per night with breakfast, you get a host of standard freebies, trendy vibes without the attitude, and definite bang for your buck.
All IT reviews are conducted anonymously and our writers pay their own way – so we experience exactly what you would.
LEAVE YOUR COMMENT