Koh Phangan - more than just a Full Moon Party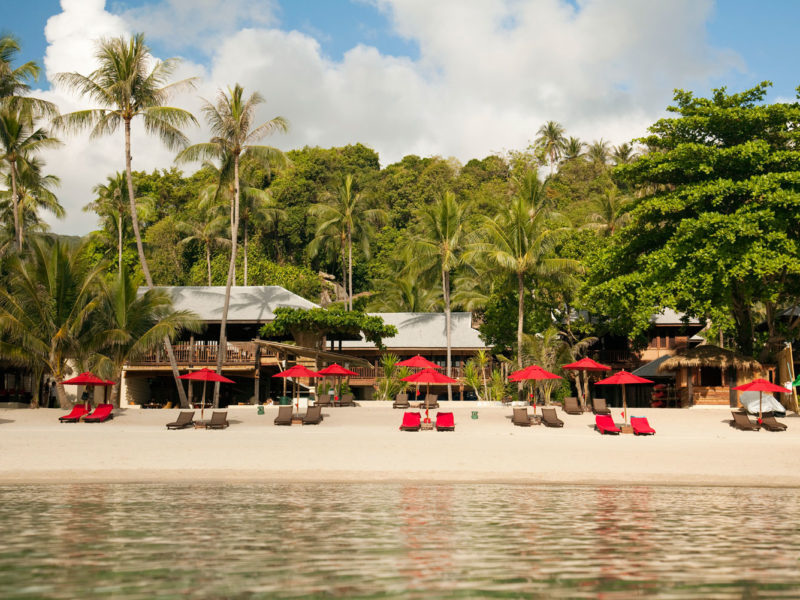 Koh Phangan's Full Moon Party is an infamous monthly event drawing backpackers from all over.
Two things happen when you tell people you are of to Koh Phangan.
The first is they surprise you with their intimate understanding of the lunar cycle. "Really, you will only be there for the waxing gibbous? You'll miss THE PARTY by a couple of days."
And the second is that look; a searching stare where they try and imagine you covered in fluro face paint, eyes as round as the full moon above, euphorically parading up and down the Haad Rin beach with glow sticks tucked into a bright golden G-string.
To put it bluntly and as much as I wish it weren't true, I am too old for that sh…….. enanigans.
Koh Phangan and its Full Moon Party
The Full Moon Party has a deserved reputation for being a relatively lawless escapade for backpackers in paradise.
The obvious irony is that the paradise becomes quite ugly when the sun rises on the detritus of human bodies, fluids and waste strewn across the tiny beach.
But the party takes place on the southern tip of the island.
What about the other 160 square kilometres?
Rumour has it that the other side of the moon is the quintessential Thai beach life, like Samui and Phuket before their overdevelopment; peaceful, beautiful and blissful (and not manufactured from Draino and bleach in an underground lab in Bangkok).
Koh Phangan for non Full Moon party goers
The backpacker-style life is concentrated on the southern coastline of the Phangan closest to Samui. To avoid these bed-bug-infested, hygienically-challenged travellers I am taking a speedboat straight to the north-eastern tip of the island.
My first sight of the island is the infamous Haad Rin. It's fairly empty at 11am and the new moon phase is two days old.
Huddles of bungalows stretch west for as far as the eye can see. The speedboat swerves past the beach and heads directly north, away from the bungalows and up the (hopefully) remote, calm east coast.
Except for the odd shack, bungalow and maybe villa, all I can see is idyllic beach after idyllic beach without a human.
Forty minutes after leaving Samui, the boat arrives at Thong Nai Pan Noi: a butterfly-wing-shaped enclave with fantastically white sand, fringed by coconut palms and a couple of long boats idly bobbing in the bay waiting for passengers eager to explore the beaches.
There are a couple of resorts on the bay, each with a different coloured type of umbrella, ensuring strolling guests can find their way back home.
Rasananda Koh Phangan
The red Anantara Rasananda umbrellas are like landing lights, guiding us into their stretch of sand and the waiting arms of luxuriant service.
Bags are lugged up the beach by the waiting staff. Mark Eletr, the jolly and jovial Aussie GM, warmly greets the glamorous couples with whom I shared the boat ride. Seeing me he calls me by my name.
I'm not sure if it's my obvious lack of travel companion or lack of glamour that makes me so easily identifiable. Probably both.
I have that curious moment where relief is mixed with joy as I take in the resort ambience and like what I see and feel. I end up smiling inanely at Mark.
"It's not like Samui or Phuket. It never will be." Mark tells me 90 minutes later, as I bury my face into my third cool towel.
Lunch of soft shell crab with Thai dipping sauce and a crisp Australian riesling arrives as the towel is whisked efficiently away.
I give Mark the 'don't bullshit a bullshitter' look and he explains; "The cost of land, construction and materials here is just too high."
"There is no road access to most of the east coast – the best part of the island – so it makes it prohibitively expensive to develop," he says. He should know – he has been GM of some of Australia's most prestigious properties, including Bedarra Island, before joining the Thai hotel and resort chain.
"This is the relaxed, laidback luxury that travellers are all looking for, and that's the way it's going to remain," he continues. I've only been here two hours, but I can't disagree.
Infrastructure or not, the northern tip of the island is everything the south is not. Quiet, sophisticated, beautiful and, here at Rasananda in particular, luxurious without ostentation or pretension.
We are sitting in the restaurant just metres from the beach. Barefoot diners feast on tasty resort food seated at tables or at plush rounded lovers' lounges, with their feet in the sand.
Soft breezes on the relatively empty beach swish coconut palm leaves in harmony with the lapping of the warm seawater.
A glamourous couple sit at the swim-up pool wearing the requisite Prada sunglasses, while sipping cocktails and picking at bar snacks. It is the very essence of the barefoot bohemian boutique property – surprisingly affordable for the quality offering.
Day trip around Koh Phangan
Painfully, to get to the northwest tip of the island from Thong Nai Pan Noi in the northeast, I have to travel back down to the southern coast, which is full of backpackers and their cringeworthy insights.
"I have come to the realisation that you have to stop worrying and just let go," croons Lulu from Cape Town. "You have to stop trying to make things happen. If you can commit to a massive change like that, it changes your whole brain."
I have run into Lulu at the only temple worth a look on the island, Wat Kow Tahm, which also acts as a meditation centre. Lulu is so obviously not meditating enough – she's obviously too busy backpacking her way through that horrible-to-witness (and worse to listen to) journey of self discovery.
I had been tempted to hire a scooter to make the journey south, but Mark warned me against it. Good move – I find deep ruts formed by heavy rain that would swallow a scooter wheel in an instant on steep unsealed roads.
Still, there are several helmetless backpackers scootering the road as I slide the four wheel drive up and down the steep climbs.
The southern fringe that I must traverse to head north is an unsurprising ramshackle of ordinary local business interspersed with bars, bungalows, ziplines and elephant trekking companies. Fluoro signs advertise various reincarnations of the party; a half moon, blue moon, black moon and any moon party.
The promise of 20-somethings looking for a good time is an insatiable market in this part of the island; though it used to be coconuts and the signs of this trade are still obvious. Huge piles of shells are dotted along various work yards on the road.
I eventually wind my way past the chaotic, decrepit bungalows and reach the northwestern tip, Haad Mae Haad, where the Island View Cabana and its Beachfront Club are mostly taken with relaxing backpackers.
The beach massage cabana is doing a roaring trade (those backpackers really work themselves into knots partying). The sundrenched Beachfront Club is full of travellers sipping Thai beer and eating local lunches. But it's a magical spot – even if it is run for the backpackers.
Just around the corner, Chaloklum is a huge bay where local fisherman still go about their traditional business. The village has a mix of bars, a jazz club and an abandoned hotel that would have been a fantastic find if it was still a going concern, but obviously the sophisticates required to make the hotel viable never quite found it.
The village has no pretenses and the fishermen's wives are busy processing the day's catch.
Mark insisted I came here for three very good reasons. Firstly, for lunch at the so-white-the-glare-hurts-your-eyes Malibu Beach; secondly, for the island's best secret beach, Haad Khom and finally, for the jaw-dropping beauty of Bottle Beach – not a secret, but too remote for most people's effort levels.
A quick and easy Pad Thai lunch is worthwhile at Malibu (and the sand really is that white). Getting to Kohm requires a little navigation, but I eventually find it by parking in a local resort and descending the stairs to a paradise fringed by palms and wispy trees.
A small bungalow bar is staffed by Italians. A pig snuffles around the stools. Someone decides to give the pig a little clean with the hose. It is all utterly uncontrived.
Experiencing the jaw-drop promised by Bottle Beach proves a little harder – it's only accessible by long boat. In truth, that's probably all that saves it from being a tourist icon – it's gorgeous. (Though in truth, my favourite remains Rasananda's).
Like Western Australia, when you are spoilt for choice a great beach needs something a little special and for me Rasananda is exactly that; perfect beach with luxurious service.
I don't want to admit it, but I came to Phangan somewhat snobbishly, ready to dismiss it as 'just another Thai island'; overrun with travellers, spoilt by greed and necessity and compromised beyond belief.
Sure there are pockets like that, but on the northern side, cynicism and jaded disappointment are replaced by that travellers' holy grail: unspoilt Thai island life.
How to get to Rasananda Koh Phangan
The easiest way is to fly with Bangkok Airways from Bangkok to Koh Samui and then take the Rasananda speedboat.
Flights to Samui from $108.
Make use of the free lounges for all Bangkok Airways passengers at both airports. Speedboat transfers with Rasandana are $118 return.
Alternatives include the ferry from the mainland at Surathani or one of the three ferries from Samui to Phangan which are not that much cheaper at $83 return.
Anantara Rasananda, Thong Nai Pan Noi, Pool suite from $212, phangan-rasananda.anantara.com
Best thing about Koh Phangan
Finding that magical island life is still possible.
Worst thing about Koh Phangan
I can't say the party because I didn't go, so I'll say bumping into painful backpackers