Ideal itinerary for 48 hours in Shanghai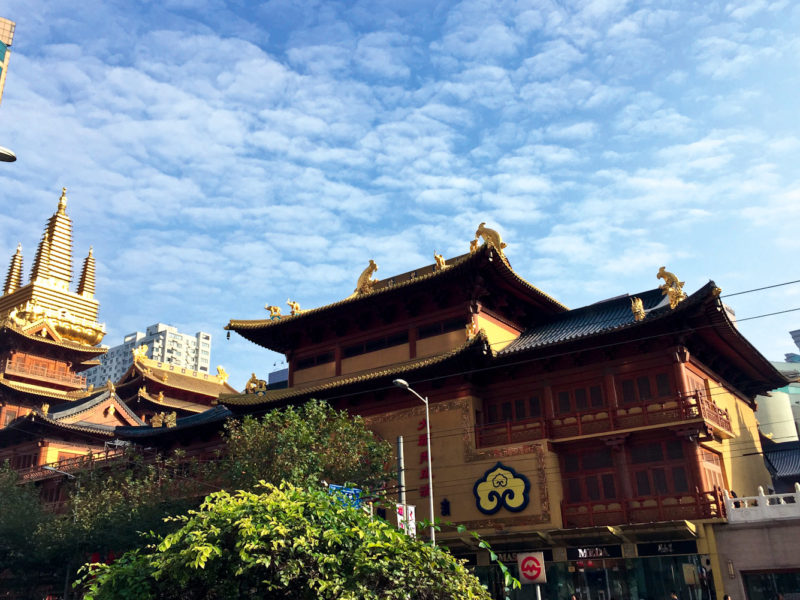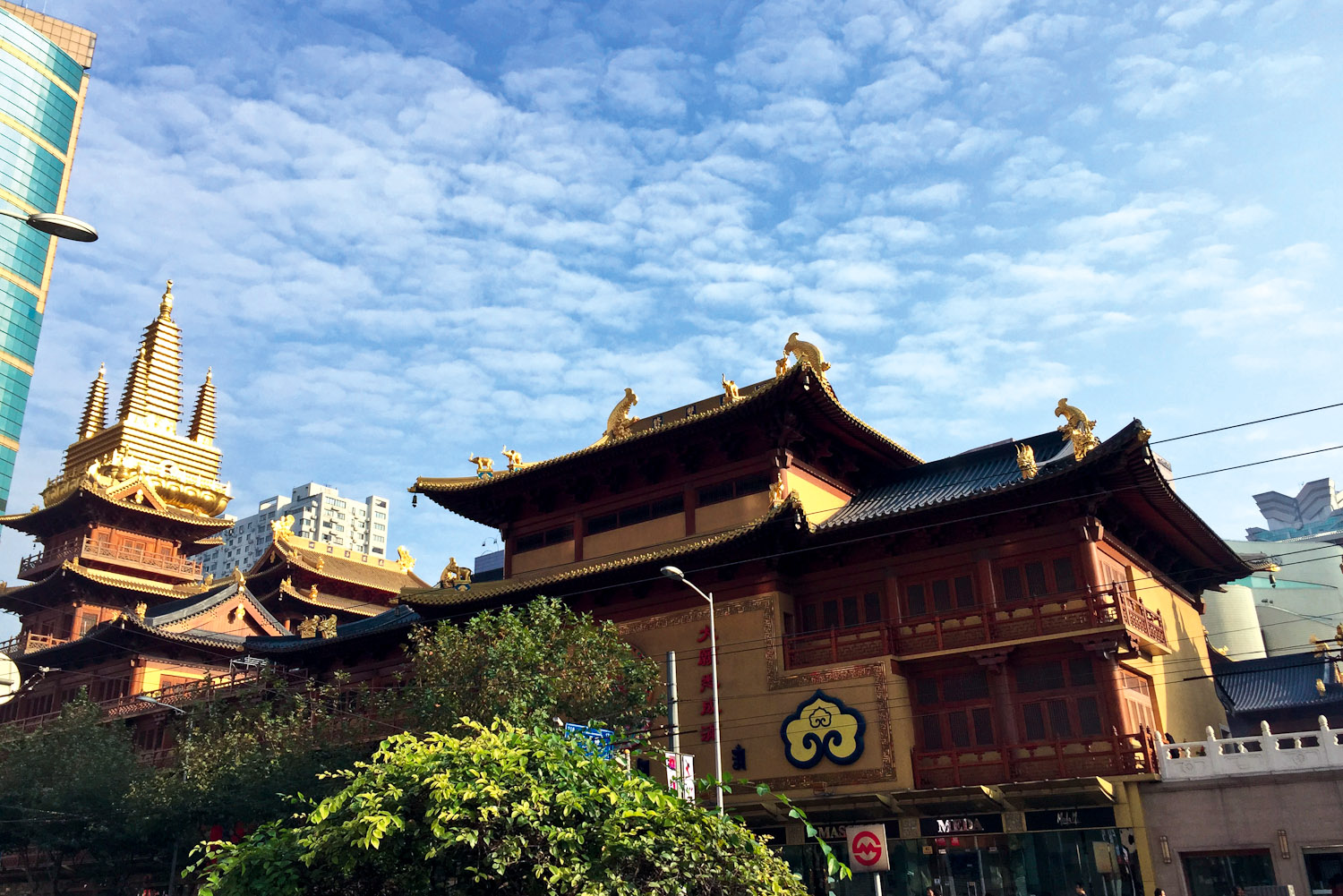 Planning a super-speedy trip to Shanghai? We've got your itinerary sorted… Words by Leigh-Ann Pow.
The hyper-lit metropolis of Shanghai is a fascinating city to survey from afar; all those flashing lights and sharp-edged skyscrapers each trying to be taller than the last – but hit the streets (face mask optional) and you will find a modern city thriving on change but still retaining its soul.
Here's what to do with a spare 48 hours.
DAY ONE
7.30am –
Wake up nice and early in the brilliantly situated and suitably luxe Jing An Shangri-La (shangri-la.com), in the heart of the buzzing West Shanghai area, and head straight out to take in the local neighbourhood.
The stunning gilt-roofed Jing'an Temple, with its hulking lions standing guard at its entrance on West Nanjing Road is a delightful respite from the peak hour bumper-to-bumper traffic outside.
More quiet can be found across the road in Jing'an Park, where crowds of smiling senior citizens form exuberant dance troupes under the wide trees that line the footpaths or squish together on benches gossiping and laughing.
8.30am –
Head back to the Shangri-La for breakfast at Café Liang & Mezzanine, with its booth seating and myriad buffet choices.
(While you're here take a look at the sweets counter with its pastries, macarons and gelato and make a mental note of what you want later in the day.)
If you have time, pop next door to Mao Space (purpleroof.com.cn), a little house that stands incongruous but resolute amongst all the modern buildings.
Chairman Mao slept here in 1920 before he was Chairman Mao, and it is now a tiny but fascinating museum.
10.00am –
One of the most fun ways to see large bits of the city in a relatively short space of time is from a sidecar; Insiders Expeditions (insidersexperience.com) conducts tours on vintage bikes with sidecars concentrating on different parts of the city.
My guide, the insanely handsome Belgian ex-pat Max (blue eyes, blonde quiff, Raybans), takes me to 1933, a former abattoir that has been converted into a retail, restaurant and exhibition space.
The architecture here is completely foreign to its surroundings, but completely compelling: it was the first reinforced concrete building in the city, a riot of curved and geometric concrete lines zig-zagging this way and that.
The space is largely empty: Max explains that the locals believe it has bad feng shui because of all the blood that used to flow here.
12.30pm –
Dumplings are big business in these parts so a trip to one of Din Tai Fung's dumpling restaurants is a must.
There is a method to eating the hot, juicy little parcels (xiao long bao) with a step-by-step guide on the table detailing how diners should dip the dumpling first, then pierce it to release the piping hot soup stock inside, then slurp it down in one go.
Pork is the original but the chicken are quite delicious too.
2.00pm –
Old Shanghai can be found in abundance at Yu Garden, a complex of stunning historic buildings in Ming and Qing dynasties' style, with a water pavilion and tranquil garden filled with Swiss cheese-like limestone rock formations – very auspicious to the locals who flock here.
In the surrounding area are endless souvenir shops selling all manner of trinkets.
4.00pm –
The former French Concession, with its wide tree-lined streets and hybrid Euro/Chinese architecture, has become a haven for the hip and haut, with funky fashion boutiques and cafés rubbing shoulders with fine dining restaurants and luxury brands like the recently opened Hermès boutique (Middle Huaihai Road).
For something delightfully quirky and resolutely funky, take the time to wander the narrow, higgledy-piggledy alleys of Tianzifang Art Centre, a congregation of craft, design and fashion stores, restaurants and cafés that are a joy to get lost in.
6.00pm –
If the shops at the Tianzifang haven't satiated your appetite for shopping, the Jing'an area is a luxury brand nirvana with everyone from Loewe to Saint Laurent to Marni to Tory Burch to Milan-native 10 Corso Como plying their lovely wares.
7.00pm –
Considered the best steakhouse in Shanghai right now, as well as one of the hottest restaurants in town, 1515 West Chophouse & Bar is an expansive open-kitchen space serving gigantic portions of Australian-reared beef (where else) that are delivered to the table sliced up and piled high with sides and designed to be shared.
9.30pm –
Check into the Shangri-La Pudong in East Shanghai, the brand's flagship property with its stunning views to The Bund and the adjoining Oriental Pearl Radio & TV Tower.
DAY TWO
7.00am –
Grab an early breakfast in the vast Yi Café, which serves anything and everything you could possibly want to eat in the morning, and then head straight to the ferry terminal, a 10-minute walk from the hotel.
Buy a ticket for the 10-minute journey across the bustling Huangpu River (about 40c; it goes back and forth to the same place all day so no need to be specific about destination).
Take up a position on the top deck with the commuters and school children to get a view of the Pearl Tower on one side and The Bund on the other.
8.00am –
Walking The Bund, taking in the gorgeous architecture in the early morning sunshine is a joy (the smog is not usually as bad in Shanghai as it is in Beijing, so there is often lots of blue sky on show).
But once you are done strolling the wide walkway along the river, cross the road and take one of the sidestreets leading away from the river to glance the real Shanghai, with its hole-in-the-wall dumpling shops, lines of washing flapping in the wind above the streets and push-bikes dashing every which way.
9.30am –
Shopping in Shanghai is not a cheap proposition if you busy yourself exclusively with luxury brands, but if you are looking for serious bargains for serious kitsch then Dongtai Road Antique Market is a must.
The first thing you need to know is that nothing here is actually antique (the dust and rust are part of the charade), but if you can see past that then this place is huge fun. Bargain hard; they love it.
My absolute favourite buys? The Chairman Mao statues (I paid $12), old advertising posters (a few dollars each) and blue chinoiserie ginger jars (I came away with two for what I thought was the price of one).
11.00am –
The frenetic pace of the city can be relentless, so a treatment at Chi, The Spa back at the Shangri-La Pudong is a great way to decompress.
The seductively lit space is vast and extremely zen, with a gentle waft of incense filling the air and the most delicious spa tea I have ever tasted.
If you're not a huge fan of massages, try the Calming Oxygen Facial ($175) instead.
1.00pm –
Much has been made of China's modern art scene and one of the best places to track the next generation of artists is M50 Shanghai Creative Industry Clustering Park (50 Moganshan Road), an art collective of over 100 galleries and studios spread across an old industrial site in the Putuo district.
Ducking in and out of each gallery and building can fill hours as you browse modern art and design pieces, most of which can be bought, wrapped up and taken home.
There is a convivial, artistic vibe to the place, with artists and gallerists coming and going, large scale works of art shrouded in bubble wrap being loaded into delivery vans and tourists strolling and browsing and enjoying the whole pedestrianised scene.
4.00pm –
Coffee culture has caught on in a big way in China, with local hipster baristas serving up some seriously strong brews from locally roasted beans.
Local chain Baker & Spice (bakerandspice.com.cn) has café/bakeries around the city, including the IFC Mall in Pudong, where you can sit at wide communal tables and sip a latte while chowing down on a delicious freshly made pastry.
5.00pm –
After coffee, it's worth exploring the mammoth IFC Mall, a shiny, soaring cathedral of retail featuring absolutely every designer label you can think of. The award-winning space is strictly for window shopping, unless you have been saving your pennies big time.
If you want to see where the locals shop, cross the street to Super Brand Mall (superbrandmall.com), 13 floors of shops, cinemas and restaurants that is bustling with people all day.
7.30pm –
Hot spot Mercato at Three on The Bund is a new Jean-Georges Vongerichten restaurant with moody lighting, a sexy, rustic fit-out (all reclaimed wood, warm leather and industrial exposed brick) and a divine seasonal menu of 'coastal' Italian shared plates.
The homemade ricotta and cranberries entrée ($15) drizzled with olive oil and sprinkled with cracked pepper, is a sweet and sour joy that will change your perspective on every other entrée you have ever eaten. Really!
LEAVE YOUR COMMENT