A guide to Hong Kong's best neighbourhoods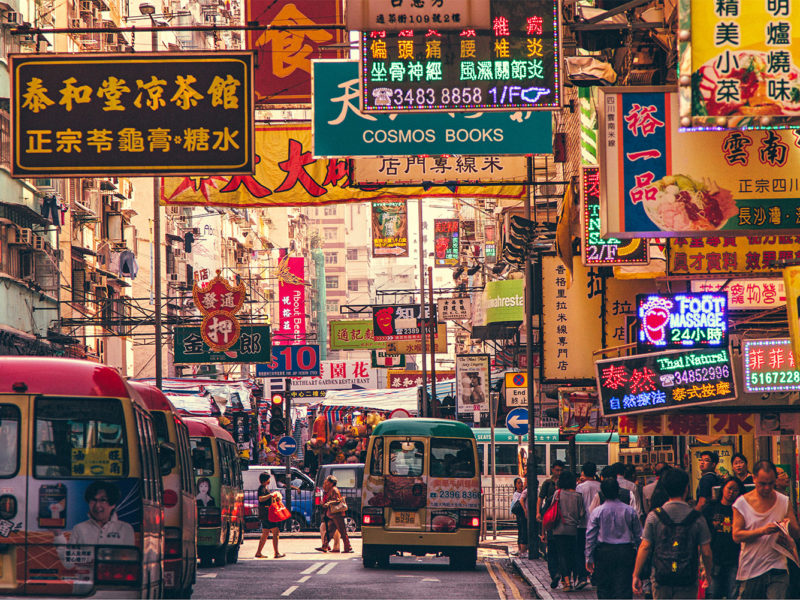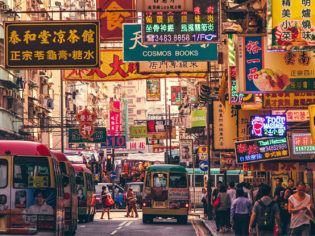 Hong Kong is one of the most hyper-lit and compelling cities in the world, a landscape of jutting skyscrapers rendered in metal and glass.
But at ground level, the spaces between these futuristic obelisks are populated by bustling communities living life on a much more human scale.
Setting out on foot is the perfect way to see the metropolis in all its colourful, quirky and aromatic glory.
Central and Sheng Wan
Hong Kong Island is the beating commercial heart of Hong Kong, but it also possesses a sense of soul that is often missing fr om business districts.
One of the reasons for this is its rich colonial history. It was in Old Town Central that the British first planted their flag in 1841; the spot known as Possession Street was once situated on the waterfront but thanks to land reclamation it's now surrounded by buildings.
Any exploration of Hong Kong Island requires a good deal of time spent wandering the streets and alleyways of Central and Sheung Wan, where an eclectic mix of historical sites, restaurants, shops and markets are crammed together in a wondrous harmonious jumble.
Hollywood Road
The first thing you need to do is arm yourself with an Old Town Central self-guided walks booklet from the Hong Kong Tourism Board and set off along Hollywood Road, the busy main thoroughfare from which you can dart off in different directions depending on your whim.
Tai Kwun Heritage and Arts Centre
Your first stop should be the newly revitalised Tai Kwun heritage and arts centre.
Made up of the former Central Police Station, Central Magistracy and Victoria Prison, the historic buildings now house dedicated museum space detailing the chequered history of the complex; you can wander the old cells and find out things like what the prisoners were fed through interactive exhibits, as well as lofty exhibition spaces and a collection of shops (check out the Taschen store with its shelves stacked with beautiful art tomes), restaurants and bars, including the aptly named Behind Bars, where drinks are served in the old cell blocks.
If it is too early to stop for lunch, make a mental note to return later in the day or in the evening to sample Madame Fu's imaginative dim sum menu.
In the old prison exercise yard a resolutely modern building clad in an intricate web of woven metal is an arresting contrast to the historic buildings it sits next to. I find out that it actually houses the infrastructure for the air-conditioning units required to cool the complex to cater to modern tastes; keeping the prisoners comfortable in the past obviously wasn't a priority.
Where to find: 10 Hollywood Rd, Central
PMQ
Another historic building given a new lease on life is the PMQ, the former Police Married Quarters on Aberdeen Street.
Built in 1951 on the former site of the first government school in Hong Kong, the mid-century architecture is all clean lines stacked on top of one another and grouped around a central courtyard. The former married quarters that would have housed serving police officers and their families have now been given over to young artists and designers to develop and sell their creations, and well as a number of restaurants, bars and shops.
Where to find: 35, Aberdeen St, Central
PoHo and SoHo
Two of the most interesting neighbourhoods to get lost in are the catchily named PoHo and SoHo.
Short for South of Hollywood Road, SoHo comes alive at night with ex-pats and locals heading out to the bars and international restaurants that serve up cuisines as diverse as Lebanese, pub grub, Vietnamese and Italian. During the day the whole scene is quieter, with boutiques and antiques shops to browse.
The charmingly boho PoHo is concentrated around a collection of streets lined with funky little shops, galleries and cafes and teahouses.
Where to stay
Located on Pottinger Street, known as 'stone slab street', The Pottinger is a gracious 68-room luxury boutique hotel with generous rooms and the prettiest lobby I have even seen, filled with chinoiserie vases of flowers and foliage. Afternoon tea in the restaurant if a must even if you aren't a guest.
Mong Kok and Prince Edward
Arriving into Mong Kok at night is possibly the best introduction you can have to this Kowloon neighbourhood, famed for its bustling streets lit with countless flashing neon signs for every imaginable service and establishment, as well as its density of people.
This is where the workers who flock to Hong Kong Island on a daily basis return to at the end of the day, so the vibe is a lot more local than across the harbour, although the sheer number of people on the streets can be confronting at times. Exploring here and in neighbouring Prince Edward offers up sights, sounds and tastes that are sure to intrigue and delight.
The Bird Market
One of my favourite places to visit when I am in Hong Kong is the Bird Market, located on Yuen Po Street.
Here myriad traditional bird cages containing tiny, colourful songbirds hang in rows, and a weird and wonderful array of bird food can be purchased including live crickets and grubs. Older gentlemen gather here to socialise and show off their prized pets, which trill away in the sunshine while they chat.
The cages on sale at the various stalls are fabulous souvenirs, although they can make for ungainly carry-on luggage on the flight home.
Where to find: 37 Flower Market Rd, Mong Kok
The Flower Market
Another market worth taking a wander through is the flower market that stretches along Flower Market Road in Prince Edward. The footpaths here are festooned with fresh flowers and plants, creating a heady scent in the air.
Make sure to take a closer look in the stores that specialise in phalaenopsis orchids if for no other reason than they are absolutely beautiful to see.
Where to find: Flower Market Rd, Prince Edward
The Goldfish Market
Rounding out the trio of fascinating markets in the area is the Goldfish Market along Tung Choi Street North. Each of the shopfronts is covered in bulging plastic bags filled with water and all manner of fish, while inside tropical breeds of every colour and size attract top dollar from collectors.
Where to find: 43-49 Bute Street, Bute St, Prince Edward
Tung Choi Street
One of the best places to see Mong Kok's characteristic neon lights, which are strung up over the busy streets below in the hope that they will grab the attention of passersby, is Tung Choi Street.
hile the lights alone are enough to mesmerise, illuminating the streets below with their glow, the array of services they advertise is also diverting, from beauty products and cameras to restaurants and hotels.
Sham Shui Po
One of the latest neighbourhoods to start generating a buzz (and get its own handy self-guided walks book) is Sham Shui Po, a working-class area of Kowloon where you can see locals go about their everyday business, shopping for tofu made fresh on Fuk Wing Street or stocking up on dinner provisions at the local wet markets.
The whole place has a wonderfully worn aesthetic, but at the same time is packed with personality.
Where to shop
Shopping in Sham Shui Po is one of the major attractions of the neighbourhood, and it's easy to find exactly what you want given that many of the streets are named for the goods that are found there – Leather Street (Tai Nan Street), Bead Street (Yu Chau Street), Button Street (Ki Lung Street); you get the idea.
One of the most colourful of these shopping streets is Ribbon Street (Nam Cheong Street), where narrow shops display spools of brightly coloured ribbons, rope and cord, as well as all kinds of craft supplies.
The area is also a mecca for budding fashion designers who come here to rummage through the bolts of fabric for sale at the slightly ramshackle Yen Chow Street Hawker Bazaar, or shop for fashion pieces at wholesale prices along Cheung Sha Wan Fashion Street.
Another fun street to promenade along, especially if you have little people you are trying to entertain, is Toy Street (Fuk Wing Street), where some 30 stores overflow with dolls, balls, board games and all manner of Disney characters.
The Man Fung Building
One of the neighbourhood's most Instagrammed sights is the Man Fung Building, a skinny block sandwiched between nondescript concrete constructions that got a statement-making makeover during HKwalls' 2016 festival.
Madrid-based street artist Okuda covered the building in colourful geometric shapes, crowned with an animal face (some people think it's a dog, some think it's a wolf) that looks out over the streets from a lofty height.
Depending on where you view it from (up high is said to be best) the muzzle of the animal seems to be almost 3D, an optical illusion that has resulted in a wave of Instagrammers risking life and limb climbing over security fences on neighbouring buildings to get a better selfie.
The practice made the newspapers during my visit.
Where to find: 180 Tai Nan Street, Sham Shui Po
Bo Wah Effigies
One of the most interesting places to duck into while walking is Bo Wah Effigies, a cramped studio where nimble-fingered artisans fashion paper effigies to be burnt to honour the dead.
The intricate creations are miniature works of art, depicting everything from cars to sushi to vintage coffee flasks.
Where to find: 2C Fuk Wing Street, Sham Shui Po
LEAVE YOUR COMMENT