Chengdu: China's happy capital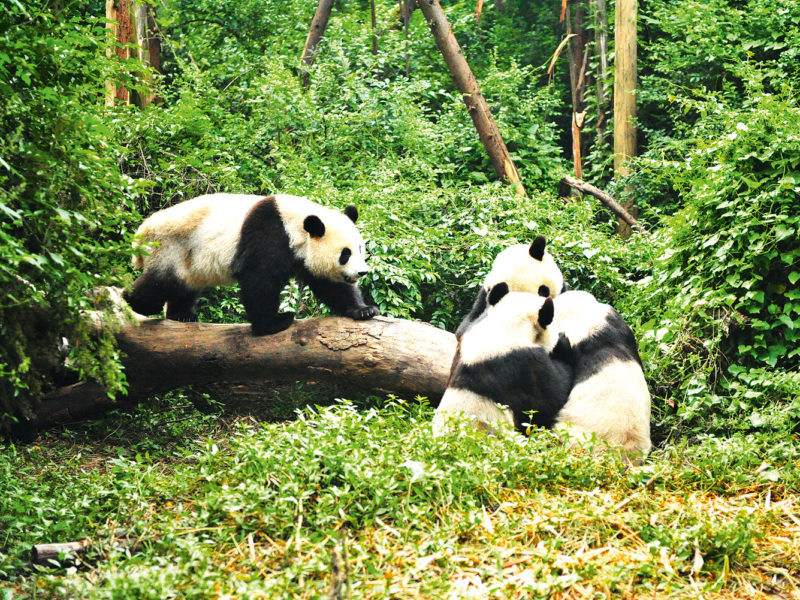 This ancient city has evolved into what more than one billion people have voted the happiest city in China. Are they onto something?, asks Rob Woodburn
The two 'big guns' of Chinese travel are Shanghai and Beijing. But the country's southwest city of Chengdu, capital of the Sichuan province, is climbing the ranks.
It has been nominated in domestic polls as "best tourism city", "happiest city", and bestowed with "the supreme honorary award of China's model city for people's livelihood".
Chengdu is a city of splendid temples, restful teahouses and famously spicy food – but is perhaps best known outside China as the gateway to Tibet and more popularly, the place of the panda.
But there is much more to this city. In keeping with a turbulent 2300-year history, Chengdu again finds itself in the throes of significant change. The construction of 30 new skyscrapers and 90 huge commercial complexes promises to radically alter the city skyline.
For the moment, however, pockets of a timeless Chengdu can still be seen down serpentine alleys where gnarled doorways open onto the compact courtyards of ancient wooden houses. Chengdu's venerable, tranquil temples also provide relief from the fast forward velocity of the streets.
Wenshu Monastery is the perfect example; serene and soothing, the air perfumed by plumes of incense smoke. Wenshu dates from the 6th century BC and contains some 300 Buddhist statues carved in stone, clay, bronze, copper or gold.
Saffron-robed monks conduct daily worship in one of the monastery's halls, their chanting punctuated by the resonant chimes of a brass gong. The monastery garden has a small pagoda and fishpond, perfectly suited to meditative moments. Wenshu also has a teahouse and a popular vegetarian restaurant.
At the centre of Chengdu is Tianfu Square with its landmark statue of Chairman Mao – at 30 metres tall, it is reputedly the biggest Mao statue in China. The founding father of the People's Republic gazes perpetually with arm outstretched down Renmin Nan Road where, ironically, both a McDonalds and a Starbucks are in his line of sight.
Tianfu's fountains and vibrant flowerbeds inject movement and colour into this vast community space. It can be particularly lively in the evening, especially when singers, dancers and musicians perform.
The side streets of Chengdu are a constant whirr of commerce. Customers bargain animatedly over the cost of vegetables, fruit and cooking oil. Pots of noodles brew on the pavement, hawkers peddle snacks and drinks, and scooters whizz past weighed down with bulging sacks. Apartment balconies overlooking the street are strewn with washing lines, the buildings festooned with garish billboards. A group of men squat on the kerb playing cards, impervious to their surroundings.
Another local cultural gem, Qinyang Palace in the city's west, is the oldest Taoist temple in the Chengdu region. Statues of snarling lions guard a complex of wooden halls resplendently detailed in gold and turquoise paint. In nearby Huanhuaxi Park are the Shu Brocade and Sichuan museums as well as Du Fu Thatched Cottage, the replica home of a famous Tang Dynasty poet.
Taking tea is core to Chengdu tradition and there's no better place to join in than the teahouse on a lakeside deck in People's Park, a green oasis just a couple of blocks west of Tianfu Square. The locals don't just sip tea and read newspapers but also engage in communal Tai Chi, dancing and singing.
The path beside the Jin Jiang River is another regular social hub where games of wei qi (Go), mahjong, chess or cards are played in the riverside shade and attract knots of curious spectators. In a cool spot by the water a professional wax remover uses thread-like wires to delve delicately into his patient's ears.
Wuhou Memorial Temple, south of the river, is another major religious site but it's an adjacent attraction that draws the crowds. Jinli Ancient Street is the restoration of a Shu Kingdom shopping street. The grand entrance is a period-style palace gate, albeit one housing a Starbucks.
Along Jinli you can buy all sorts of folksy souvenirs. Two females in Miao (minority group) traditional dress with splendid headgear attract a steady audience to their silver shop. You can also buy bangles, beads, paper lanterns, painted fans, blown glass, plaster animals, shadow puppets, silk brocade pillows, panda toys and bamboo baskets.
Jinli is fun but more fulfilling are the Sichuan snacks available from the adjacent food street. These include delicacies such as tofu dusted with nuts and chilli flakes, fried octopus, spiced pork slices, dan dan noodles, tiny deep-fried birds and offal soused in chilli oil.
Three years ago UNESCO handed Chengdu the plaudit of Asia's first City of Gastronomy and local food mag Sichuan Cuisine estimates there are now some 40,000 restaurants and teahouses.
Sichuanese cuisine is famously fiery. Nothing beats the intensity of the Chengdu hotpot; a deep bowl of bubbling, viscous dark red liquid sprinkled with mouth-numbing chillies and potent Sichuan peppercorns. Slices of meat, seafood and vegetables are cooked in this broth then dabbed in crushed garlic and coriander before eating. Caveat emptor!
Other worthy suggestions for sampling the essence of Chengdu include the Jinsha archaeological site of ancient graves filled with treasures, some of them on display; the Shufeng Sichuan Opera for singing with acrobatics, an acquired taste but unforgettable; and Chunxi Road for shopping. Look for handbags, bed sheets and pillowcases decorated with Shu embroidery or brocade, Qingcheng silk rugs, silverware, fine lacquer ware and bamboo products.
And of course, the pandas. One of the best places to see these pandas is Chengdu Research Base of Giant Panda Breeding (or Chengdu Panda Base), which lies north of the city and consists of numerous low-walled enclosures within 106 verdant, shady hectares. It's worth devoting a whole morning here – this is their feeding time and when they are most active.
At last count the base was home to 83 indolent yet adorable bamboo munchers. The base also has beautiful, sleek Red pandas but they simply don't have the pulling power of their tubby black-eyed cousins. And an extra $220 may buy you the opportunity to have a Giant panda cub sit on your lap for a photo.
Digital boomtown
The three state-telecom giants – China Mobile, China Unicom and China Telecom – are together spending $US47 billion to create the world's largest cloud-computing base at Chengdu Tianfu Software Park.
One fifth of all computers in the world are now made in Chengdu. Local factories produce most of Apple's iPads and 50% of Intel's global supply of chips.
New and remarkable architectural wonder The New Century Global Centre, a glass and steel pagoda "big enough to hold 20 Sydney Opera Houses", will open in time for the Fortune Global Forum of top CEO's this June.
Work will soon begin on the futuristic Tianfu Cultural and Performance Centre and MoMA Chengdu is to rise "under the nose of Mao's statue" in Tianfu Square.
A city that had no luxury hotels now has 27. The Sofitel Wanda and the Shangri-La are five-star neighbours. New business hotels include Fraser Suites, Crowne Plaza and the period-style Old Chengdu Club. In the pipeline are Mandarin Oriental (opening 2015), Four Points by Sheraton Chengdu (2016) and Western China's first Waldorf Astoria (2016).
The details
How to get there
China Southern flies from Sydney to Chengdu via Guangzhou twice a day with minimal connection times. Return economy fares from $1094 and business class fares from $3929, including taxes. There are 10 flights a week from Melbourne, daily from Brisbane and three flights a week from Cairns and Perth. flychinasouthern.com
Wendy Wu Tours offers independent itineraries like the Chengdu Short Stay, from $685 per person twin share including three nights' accommodation, breakfasts, guide, entrance fees and two lunches. wendywutours.com.au
When to go
The best time for travel to Chengdu is in spring, between March and May, or in autumn, between September and November, when temperatures average between 19-25 degrees Celsius.
Where to Stay
Boutique: Old Chengdu Club: 20 period-style rooms with Ming and Qing Dynasty furnishings and décor. Rooms from $142 per night. 28 Wuyuegong Street, Qingyang District; +028 8695 6688
Luxury: Sofitel Wanda Chengdu: French elegance beside the Jin Jiang River within easy walking distance of Tianfu Square. Rooms from $110 per night. 15 Binjiang Middle Road; sofitel.com
Where to eat: Visit a teahouse at least once, not necessarily for great food but to soak up the local atmosphere.
Affordable: Baguo Buyi Restaurant: A vast selection of local dishes along with other regional choices. Renmin Nan Lu 20, 4 Duan
Memorable: Chuan Jiang Hao Zi: A popular Chengdu hotpot hangout in the Yulin area south of the river and known for its restaurants. 131 Fangcao Street
High End: For a big night out locals will often choose a top hotel restaurant like the Sofitel Wanda's The Palace and La Brasserie (sofitel.com) or Shangri-La's Shang Palace (shangri-la.com).
You can't leave without
Seeing the Giant pandas. Most tours will collect you from your hotel. panda.org.cn/english/
Best thing about Chengdu
Away from your hotel, a low headcount of foreign tourists on Chengdu's streets allows for a delicious sense of exploring a 'new frontier'.
Worst thing about Chengdu
Deciphering the urban sprawl can be difficult so most visitors rely on a local guide and usually retrace well-worn paths. Where possible, get out and about on your own.
You should know
Australian passport holders need a pre-arranged visa to travel to China. A single entry visa costs $60, must be obtained in person from a Chinese visa application service centre and takes four to five working days to process. For more information visit smartraveller.gov.au
The Chinese currency is Renminbi with the Yuan as its basic unit. It can be purchased with AUD or USD on arrival. Visa, Mastercard and Amex are accepted in China.
Make sure your holiday to China is one to remember – contact the expert team at Selective Tours at www.selectivetours.com
LEAVE YOUR COMMENT