Abercrombie & Kent: travelling with a conscience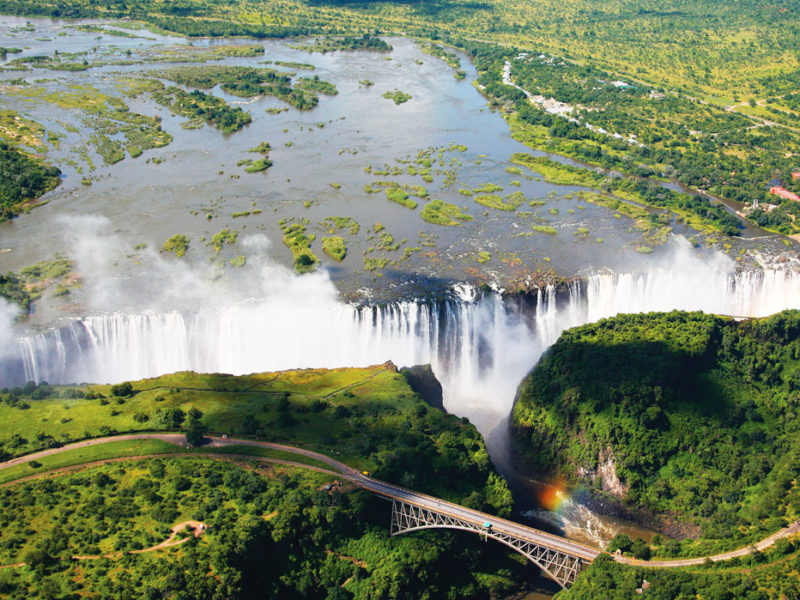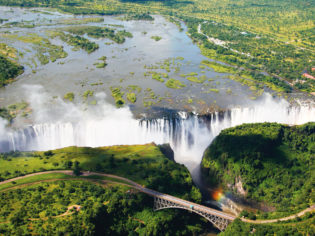 |

This Article was created in partnership with Abercrombie & Kent

|
Abercrombie & Kent understands that travelling consciously requires an holistic perspective, balancing the needs of guests, the environment and the people who call each destination we travel home.
Travellers come from all over the world to marvel at the resident rhinos, elephants, giraffe, zebra, buffalo, baboons and other iconic African species in Zambia's Mosi-oa-Tunya National Park. It wasn't until recently, however, that most of the children at the Nakatindi Community Primary School, whose village borders the park in Southern Zambia, had the same opportunity to visit the wildlife reserve.
That's not to say these inquisitive children had not come face-to-face with these animals before. Like all people in the Nakatindi Village, they live with potential human-wildlife conflict every day. Their most common interactions with these animals are when elephants, baboons and monkeys come into the village to raid fruit-trees and destroy vegetable patches. Or in drought years when hippos and hyenas encroach on the village in search of food and water.
Of course, Mosi-oa-Tunya ('The Smoke That Thunders') is also home to the remarkable Victoria Falls – a favourite destination for the guests of luxury travel pioneer Abercrombie & Kent (A&K) and home to the fabulous Sanctuary Sussi & Chuma safari lodge, built on a dramatic bend of the Zambezi River twelve kilometres upstream from the world famous falls.
A commitment to travel that enhances lives
Abercrombie & Kent is famous for delivering life-affirming luxury adventure experiences for its guests. It also believes communities like Nakatindi Village deserve to benefit from tourism industries that rely on the continued willingness of these communities to coexist with potentially dangerous wildlife.
Over the past decade, Abercrombie & Kent Philanthropy (A&K Philanthropy) has been working with Nakatindi Village leaders on a range of projects that encompass conservation, education, health care and enterprise development to positively impact lives and livelihoods at the household level, ensuring the people in these communities can play a meaningful role in protecting their own valuable natural and human resources.
"At Abercrombie & Kent and through A&K Philanthropy, we believe we can have the greatest impact in protecting critical ecosystems and iconic species, by focussing on communities living on the edges of these bio-rich environments," says Sujata Raman, Regional Managing Director of Abercrombie & Kent in Australia & Asia Pacific.
"If these communities – the ancestral stewards – can see the tangible benefits of preserving these habitats, they are more likely to fully engage in the need to protect these assets, and our assistance is also more likely to lead to long-term beneficial outcomes."
Conservation efforts
As the future guardians of Zambia's natural heritage, young people in communities such as Nakatindi are vital to local conservation efforts.
A&K Philanthropy has worked on Conservation Education workshops at Nakatindi Primary School since 2014, founding a Conservation Club programme to teach and inspire children to appreciate and protect wildlife and natural resources.
On Rhino Watch Trips, the children in the Conservation Club see a variety of wildlife, including the great white rhino, and gain an understanding of the threats facing these species and the importance of protecting them.
Luckson Situmbeko, now a guide at Sanctuary Sussi & Chuma Lodge, says his passion for wildlife started at the Conservation Club. "I was the Secretary of our Conservation Club at school and this gave me a deep passion for wildlife and led me to pursue my career as a Safari Guide. Educating Zambia's youth on the importance of conservation is vital as they are the future guardians of our natural heritage. I love taking the kids out into the Mosi-oa-Tunya National Park as I know it will inspire them."
Health care
Since 2013, A&K Philanthropy has also supported a number of health-focused projects in Nakatindi, including the Nakatindi Health Clinic which sees an average of 50 patients a day.
In 2018, A&K Philanthropy helped to build a maternity ward for the village which has delivered more than 120 healthy babies in its first two years. The ward also provides daily family planning advice and support, pre- and post-natal check-ups, and 'mama packs' full of donated items for newborns, including blankets, nappies and clothes. A staff of 20 trained healthcare professionals run the clinic and maternity ward with support from the Zambian Ministry of Health, with whom A&K Philanthropy works closely.
Education
In addition to the Conservation Club, A&K Philanthropy has also provided significant support to Nakatindi Primary School, refurbishing classrooms, building a school kitchen, and expanding the school's vegetable garden to generate income and supplement the Nakatindi children's diets.
No child learns well when they're hungry, so A&K Philanthropy provides lunch to the school's 850 students on every school day. And each graduating student receives a bicycle from the A&K-supported local bike shop in order to make the six kilometre journey to secondary school.
Enterprise
Bicycles are not only a necessary mode of transportation in the village, but they're also a livelihood for many people in the village. In 2015, A&K Philanthropy invested in the first female-run social enterprise in Nakatindi – the Chipego Bike Shop – collecting and shipping hundreds of bicycles to Nakatindi which (along with the shipping containers they arrived in) have been used to establish a village bike shop and a bicycle tour enterprise run by five local women.
Since Chipego's official opening in September 2015, the business model has been replicated by A&K Philanthropy across seven countries. Over the past four years, the Chipego Bike Shop has generated an income of more than US$100,000 from the sale of over 3000 bicycles, repair services and donations from generous visitors.
A major expansion for this programme occurred in 2019 in Nakatindi with the launch of a second women-run business, Sishemo Beads, as well as continued work with an existing women's soap-making group. The income generated by the enterprises' 25 direct beneficiaries supports over 200 family members and household dependents.
"Our Abercrombie & Kent Philanthropy projects in Nakatindi are among the 46 philanthropy projects we currently support in 24 countries," says Sujata Raman. "These projects provide sustainable income for the women who run them, and act as a catalyst for self-sufficiency with more people from within the community employed as guides, as teachers in schools we've helped establish, or as doctors and nurses in maternity wards we've helped build.
"We are also committed to creating opportunities for our guests to learn about and experience our philanthropic investments as an integral part of their travel experience, with opportunities to meet and engage with the communities encouraged as part of A&K journeys to many regions. In order for travel to be sustainable, we need to take an holistic perspective, and balance the true costs – financial, environmental and social – against all the potential benefits of tourism. A&K is stepping up to this challenge, and working toward a better, more sustainable travel future."
LEAVE YOUR COMMENT