Hotel Review: SALT of Palmar, Mauritius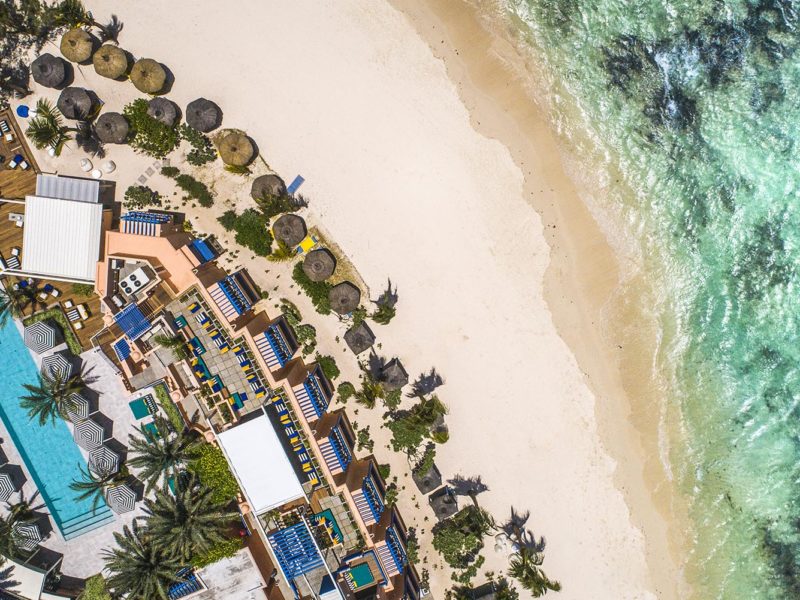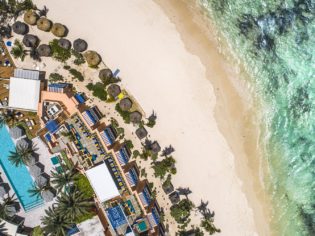 SALT of Palmar, Mauritius, is the new luxury boutique hotel with a green point of difference.
From its bamboo toiletry products, soy ink labels, coffee ground bathrobes, non-toxic paint, rubber yoga mats and woven beach bags, to hand-crafted pottery, hand-caught seafood and locally produced soap, have we just stumbled upon the planet's most eco-friendly hotel?
Details
SALT of Palmar, Mauritius, a luxury boutique hotel opened in late 2018 as part of The Lux Collective, situated on the north-east coast of this exotic Indian Ocean destination. It also made the 2019 TIME'S list of the World's Greatest Places.
Arrival
This apricot-coloured hotel has been designed like a Moroccan riad with plenty of breezy hallways and open-plan areas. Upon arrival, your passport is scanned with a gizmo not unlike the memory loss zapper or 'the neuralyzer' used in the Men in Black movies. Then you are invited to log into the SALT app, which not only tells you everything you need to know about the hotel, from menus to daily events, but has an electronic key, used to access your room.
But before this, you are escorted to the beach for a private meditation where you'll sit on a beach bag and be invited to slow down and embrace your Mauritius experience.
The rooms
These light and bright rooms have been designed to capture the best of this location. Every bed in this 59-room hotel has been strategically placed so that it is facing the ocean. The bed (about the only non-local item you'll find in this resort) is made of organic cotton from Sweden.
There's a small sound system playing soothing Mauritian tunes and plenty of beautiful books about this tiny island nation, but no TV or mini bar in a bold move that encourages guests to explore. There's a breezy balcony upon which to sit and gaze at the lagoon and a plump armchair inside on which to slouch.
The room is divided by a galley-style 'wet room' with sink and mirrors, which leads into a massive walk-in shower. A separate toilet is near the door. The room has been painted with non-toxic paint.
The sustainability
It's all about the local and greater global environment here. In the cupboard is a colourful locally woven basket for use as a beach bag, as well as a yoga mat made entirely from rubber. SALT ensures it plants one rubber tree for every mat it has bought.
There are handmade treats in the drawer that can be eaten off the hand-crafted crockery made by a local potter. But it's in the bathroom where the sustainability really sings. Here, you'll find soap produced by a local soap maker as well as a body scrub and hair mask, in addition to shampoo and conditioner, all in eco-friendly, reusable containers.
The thoughtfully provided toothbrushes and razors are made from sustainably found bamboo and packaged in a paper alternative made from crushed limestone, with the labels printed in soy ink. The soft bathrobe in made from an unbleached organic-cotton fabric derived from coffee grounds. There are also cinnamon-sledge slippers with non-slip, massaging rubber soles.
The food
SALT grows as much of its own food as possible, right down to bottling its own pickles and kombucha, and what it cannot produce it relies on local suppliers for. The fish is hand-caught by a local fisherman (who you can also go fishing with) and there's no beef on the menu as it would need to be imported from too far away, negating the eco ethos.
The menu is divided into small, medium and large sections in order to reduce as much food waste as possible and there's even a delicious raw food menu to encourage guests to eat more sustainably. Bio flour is used in all the homemade bread and pastry products.
The bars
This hotel has three bars, one by the pool, one by the sea and one on the rooftop, which are inspired by the land, sea and clouds. Each bar makes 10 different cocktails and tells a different story about the exotic location in which you find yourself.
Due to its tropical climate there is no wine grown in Mauritius, although there is plenty of local rum, a by-product of its plethora of sugar cane, one of its largest industries aside from tourism. But wine lovers fear not.
SALT's parent company, The Lux Collective, imports barrels of fair-trade varieties from nearby South Africa to prevent as little travel as possible, bottling it locally under its exclusive Scrucap brand. Try the full and flavoursome merlot or the buttery chardonnay.
The spa
The local soap maker has also produced some beautiful products for the spa where all treatments start with a 15-minute foot spa and end with 15 minutes in the Himalayan salt room, the first of its kind in the Indian Ocean. The salt room, with ever-changing coloured lights designed to balance your chakras, is said to be excellent for detoxifying.
The community
A true highlight of a visit to SALT is its Swap Skill program in which guests are encouraged to share their skills with locals, who, in turn, share their skills with visitors. This could be anything from meeting with the local potter, who handmade each of the 950 pieces of crockery for the hotel, the local soap maker, the bag weaver or fisherman.
A lovely addition is a traditional Mauritian dinner and rum tasting at the home of a local woman, who has nine daughters.
The activities
The large pool steals centre stage at this hotel around which everything else flows.
Take a stretch or yoga class on the beach, use the gym, learn to cook a traditional Mauritian curry in the state-of-the-art kitchen with the chef, or even join a SALT host on a trip to the capital of Port Louis during which you can sample street food, stroll the chaotic markets, or even visit the renowned Mauritian fortune teller Madam Kwok.
The sister property
Just down the road, SALT's sister property, LUX Belle Mare, is also worthy of a stay.
Sporting a similar sustainability ethos to SALT, you'll find some quirky traits at this 174-suite property such as an old red telephone booth from which you can phone anywhere in the world, for free, for three minutes; a wishing tree upon which you can pin your hopes and dreams; a daily message in a bottle treasure hunt; and a 1933 Rolls Royce food truck.
Brickbats
It's hard to fault SALT: it has seemingly thought of everything. If one must be pedantic, it's the only powerpoint in the bathroom, which has strangely been place as far away from the mirror as possible which makes drying your hair a little bit more challenging. The electronic room key on your phone app, while great for reducing plastic, sometimes took several swiping attempts to work.
Bouquets
SALT is the ultimate storyteller of the hotel world and a class above the rest when it comes to sustainability measures. The fact the brand has managed to combine both community and the environment in one perfect package makes this a holiday not to miss.
The cost
Rates start from $285 per double room per night on a bed and breakfast basis.
Getting there
Mauritius is closer to Australia than it looks on the map. Air Mauritius has up to three flights a week from Perth to Mauritius with a flight time of around eight hours.
For more on ethical and sustainable travel and wildlife experiences visit our Conscious Traveller section.
LEAVE YOUR COMMENT