How to spend 48 Hours in Cape Town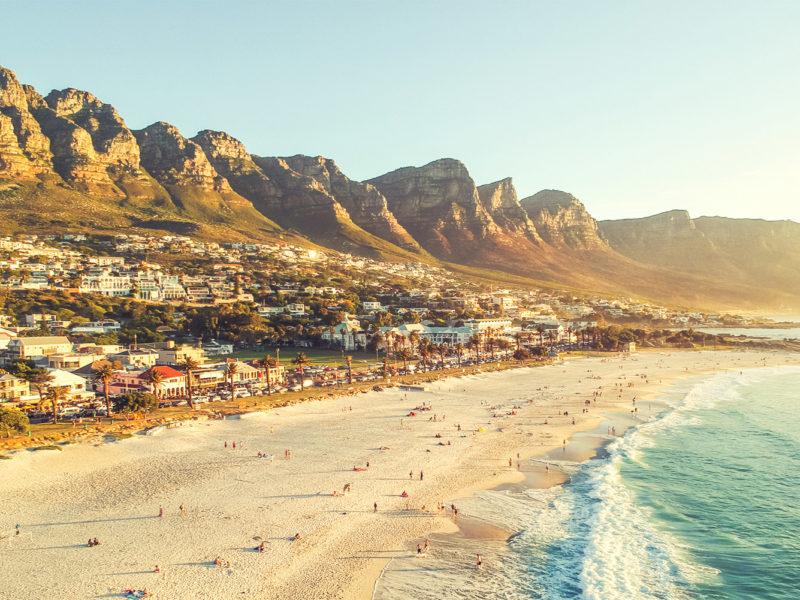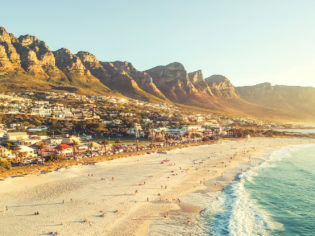 Hide Map
The South African city's dining scene serves up everything from artisan coffee to buzzing bazaars, hipster eat streets and fine diners. Embarks on a food safari.
DAY ONE
9.30am: Coffee confidence
"Do I look focused?" asks Nasha, star graduate of Origin Coffee Roasting's barista school and a self-described modern coffee wayfarer. "Well, I am." The Zimbabwean loves an audience, and coffee-tasting demonstrations here provide a pre-converted one.
"Mum had a white friend who used to drink coffee obsessively and I was fascinated because we didn't drink it," he says. "When I came here, I saw it everywhere. I thought, I'm gonna be an expert."
The fact that 12-year-old Origin, on Hudson Street in the trendy De Waterkant district, lays claim to being the city's original 'good coffee' place tells you just how recent the 'scene' here is. The 22 year old raves about the relative merits of the aeropress versus the yama siphon, and then explains why Rwandan and Tanzanian beans are better than the altitudinally challenged local ones.
"I'm just an expert in ratio and time," he says. The brews he serves up over the post-industrial counter confirms his substance matches his style.
10.45am: Looking for 'bunny'
Nowhere lays this city's cultural idiosyncrasies on the table better and faster than Eastern Food Bazaar on Longmarket Street in the city centre. To the sheltered traveller, the canteen is a cave of chaos, but it has its own natural flows and rhythms; queues sprout and wither equally speedily in the dual-entrance mall.
Ten shops purvey shawarmas, tandoor dosas, local sweet biryanis et al, celebrating Cape Town's Asian and sub-continental food heritage. Local carb-and-curry overload 'bunny chow' best represents this: a loaf of white bread, de-cored, then filled with the not-too-spicy, fragrant and sweet Cape Malay curry.
It should sate a couple comfortably for 50 rand ($5).
12.30pm: Bree there or be square
Legend has it that if you walk from one end of Bree Street to the other, at least one brand-new boutique will have sprung up by the time you walk back down it again. This is Cape Town's coolest foodie corridor, a breath of culinary fresh air compared to tourist-magnet Long Street, a couple of blocks over.
The pick of Bree's eateries is Chefs Warehouse and Canteen, with its ever-changing tapas menu. It doesn't take reservations, but you can wait at No Reservations bar for a free table. For a side of something different with your lunch, check out cafe and art space Red! The Gallery or FOLK COFFEE ANTHROPOLOGY, which has plenty of books to thumb through over coffee.
Or join the Cape's beautiful people at Clarke's Bar & Dining Room, with its fresh juices and all-day breakfasts, or at purveyor of 'slow fast food' Cafe Frank. Don't miss nearby Bree Street institution Jason Bakery, where you can tuck into a 'bacon chilli popper' sandwich with freshly baked bread, a hand-made bagel with all the works, a filled brioche doughnut or carrot cake cheesecake.
3.45pm: Grown-up shakes
Where Bree Street peters out to the south, pop over one block to the Fire and Ice bar at Protea Hotel on New Church Street to peruse the 'grown-up' milkshake menu. Distrust your initial instincts; the marshmallow, caramel and pumpkin milkshake is the bomb. No, really.
6.45pm: Sushi surprise
This may be the first time that I've recommended dinner at a shopping mall restaurant, but always eat where the locals do, as the maxim goes. Walk past the well-heeled stores at the Gucci end of Victoria Wharf Shopping Centre (V&A Waterfront) to the weirdly sophisticated Willoughby & Co for hands down some of SA's finest sushi.
The '4×4 rainbow reloaded' selection is on another level, especially the spicy and creamy rock shrimp roll. If sushi's not your thing, try the line-fish curry.
There may be a queue, but you can order (and drink) a glass of wine to make the time fly.
8.45pm: DRINK IN the View
Head back to your accommodation on the V&A Waterfront for a nightcap. The five-star Silo Hotel is located above the Zeitz Museum of Contemporary Art Africa (which houses Africa's largest collection of contemporary African art), in the elevator portion of a historical grain silo.
The hotel's new-look exterior was designed by Heatherwick Studio, its 28 rooms are funky and art-focused, and its sixth floor Willaston Bar – serving cocktails and local and international wine – affords majestic views of the city and Table Mountain through its pillowed glass windows.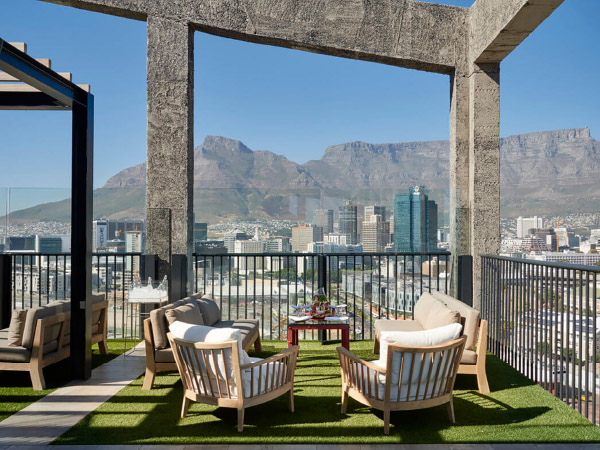 DAY 2
9am: Pastels with flavour
Working-class Bo-Kaap (literally, 'above the Cape') district has the prettiest gathering of pastel houses in Africa, which will live long in your Instagram feed. Traditionally the hue of each house represented the trade of the householder (or which colour paint was on sale that day, so goes the local gag).
Start your morning's exploration of the area on a high at Harvest Cafe & Deli, an airy plant-filled space that serves beautifully presented dishes so tasty you might forget they're good for you too.
Try a signature smoothie bowl (think spirulina, avocado, lime and banana with homemade salted chocolate granola, pomegranate and coconut) or pumpkin fritters with Greek yoghurt, berries and maple syrup, a twist on a South African classic. Best enjoyed on the building's rooftop, with its panoramic views of Bo-Kaap and beyond.
11am: Visit mom and pop
Bo-Kaap, where freed Malay and mixed-race slaves settled, also happens to be its own mini food safari.
The trick is to poke your nose into all the little mom-and-pop cafes and tuck shops. Atlas Trading Company is a nice education in Cape Malay spice culture. Don't miss the wee corner shop next to Biesmiellah restaurant for a traditional koeksister (deep-fried doughnut with honey glaze).
11.45am: Garden of eatin'
For the first time in 300 years, edible plants return to the Cape's CBD. The traditional botanic Company's Garden (the old Dutch East India Company property) hosts allotments for nearby Bo-Kaap families.
The permaculture veggie patches overflow with everything from gooseberries and grapes to wild garlic and sour figs plus a plethora of indigenous plants used in the prolific home-remedy industry.
It's supposed to be look-but-don't-taste, unless of course you chat to one of the gardeners.
1.15pm: The Devil's drink
Frankly, you'd have to be an idiot not to find a quality bottle of wine in Cape Town, but traditionally the same could not be said for beer.
Thankfully, the whole micro-brewery party is underway in earnest. On the cusp of mercurial Woodstock, you'll find taprooms for party-starter Devil's Peak Brewing Company, a vanguard that helped instil in South Africans that there is more to life than Castle lager.
The hero of the five micro-brew-and-food pairing is the nuptial between the zesty King's Blockhouse IPA and extra-zesty Sriracha chicken. The view over actual Devil's Peak (mountain) becomes more intense with every sip.
3.45pm: The Woodstock revival (for the rest of the day)
Woodstock used to be the wrong side of the tracks (literally), a seedy side of town to say the least. Artists started to colonise it during the early noughties, redefining the vibe, until the multicultural neighbourhood became an artisanal circus of cafes, gin distilleries and galleries, with something different happening every night of the week.
All roads lead to cuisine-and-art-hub The Old Biscuit Mill. Shop for presents of thought-provoking homewares in its artsy shops, then take a tour of the bean-to-bar Cocoafair for some pre-dinner Fairtrade 71 per cent ginger dark choccy.
Fortuitously, The Old Biscuit Mill happens to house two of South Africa's most innovative and best restaurants, both brainchildren of chef Luke Dale-Roberts. The star is craftily designed Test Kitchen, which as the name gives away, is 'a creative world of experimentation'.
Suffice to say, whether you choose this one or the Pot Luck Club – where sharing dishes are divided into five basic tastes: salty, sour, sweet, umami and bitter – this last stop on your food safari should be booked thoroughly in advance.
LEAVE YOUR COMMENT