How to travel in the 'Age of Fear'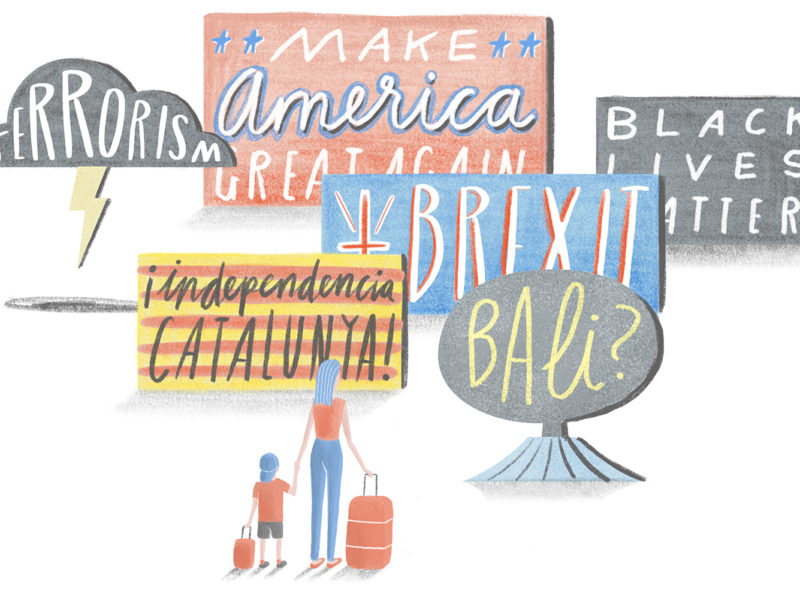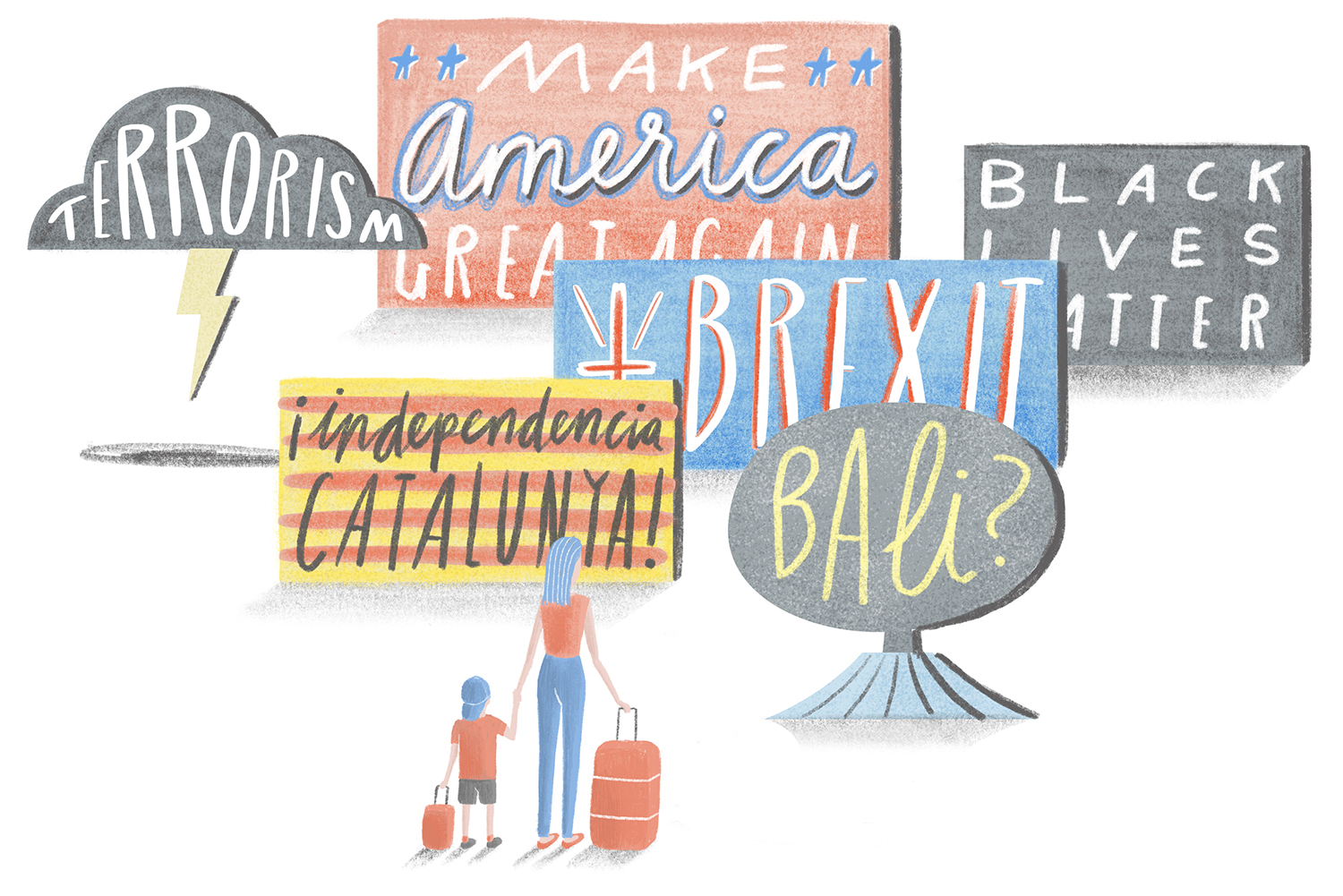 How to share the fear and embrace travel with open – fearless – arms…
Earthquakes, hurricanes, volcanoes and terrorism: the planet feels like a precarious place to be – and that's without even considering the nuclear stand-off between Donald Trump and Kim Jong-un. You could be forgiven for wanting to hide under the covers until it's all blown over, but that's no way to live. Here's a look at the impact that world events have had on tourism this year, and how to stay positive about travel in the age of fear. Writes Imogen Eveson.
The year in bad news stories
Where 2016 was the year of high profile celebrity deaths and gobsmacking political developments (Brexit, the US presidential election), 2017 has felt like a year of successive knocks – with everything from natural disasters to political unrest and terrorism affecting popular tourist destinations.
Britain was hit by a series of five terror attacks, including near London's Houses of Parliament in March and Borough Market in June, and New York suffered its deadliest attack since 9/11 in October. Cities previously considered safe from Islamic State-inspired terrorism were targeted too; Stockholm suffered a vehicle attack in April and Barcelona saw its most famous street, La Rambla, hit in August. In October, Barcelona was the site of further unrest as police violence and protests broke out during the Catalonia referendum. Political and civil unrest reverberated around the US – from the white nationalist rally in Charlottesville in August, to the bitterly polarising effect that Trump's presidency has had on the country. Between hurricanes and earthquakes, natural disasters have had devastating effects on parts of the US, Caribbean and Mexico; and Bali has spent months anticipating the eruption of its Mount Agung volcano (which finally blew in November, causing the closure of Lombok airport and cancellation of flights).
The immediate impact
Unsurprisingly, tourist figures typically decrease in the wake of a natural disaster or an attack (one anomaly appears to be the UK: July was its highest month ever for inbound tourism since official records began in 1961 – perhaps due to the post-Brexit fall in the value of pound sterling, which has made the country a more affordable destination for overseas visitors). The Catalan Tourism Agency has estimated a 10 to 12 per cent drop in tourist numbers to the region in the fourth quarter, while Atout France reports that worldwide visitor numbers to France dropped from 84.5 million in 2015 to 82.6 million in 2016, having previously been growing year-on-year since 2011.
"It's not unusual to see a dip in sales for a destination impacted by an event, whether a natural disaster or terrorism related," says Fiona Dalton, managing director of Uniworld, the boutique river cruise line that kept its boats on French rivers when many other operators were pulling out of the region after a wave of attacks shook France in 2015 and 2016. "However, Australians have time and again shown that we are one of the first countries prepared to resume normal booking patterns," she says. Despite testing conditions, Uniworld continued with the build of a new, luxury river ship; the (purposefully named) S.S. Joie de Vivre was launched earlier this year, and sales of the company's river cruises in France have rebounded strongly. Worldwide, visitor numbers to France are also up: Atout France expects 2017's to be back on par with 2015.
Resilience in the face of fear
Dalton believes the reason that we resume our booking patterns quickly is because we are a country of curious and resilient travellers. "Even though Australians are definitely [more] self-aware of the risks when travelling than ever, we're a nation that continues to see travel as an entitlement, not a luxury," she considers.
Being defiant in the face of a general threat is one thing, but what about travelling to destinations still recovering from the physical impact of a natural disaster? "Images of disasters do make shocking news headlines," says Gillian Monahan, the global communications manager for Intrepid. "So often travellers are concerned about visiting in the immediate wake of an incident because they are understandably concerned about their safety but also about whether locals will want tourists." In most cases, she says, locals do want tourists to return quickly.
The key is to return at the right time, when it's safe and when the country is welcoming visitors. A month after the recent magnitude-7.1 earthquake in Central Mexico, the Mexico Tourism Board's CEO, Hector Flores, made a statement to communicate that its tourism destinations are open and welcoming visitors, to counter the inevitable: "Mexico has also seen a drop in demand since the earthquake," Monahan says. "[Bookings are] down seven per cent since the quake, with a further drop in the last two weeks of around 50 per cent. We'd expect bookings to decrease before they increase."
In many cases, tourism is needed to help a country get back on its feet in the wake of a disaster. Visitor numbers to Nepal plummeted following its major earthquake in April 2015. But Intrepid's concerted effort to encourage travellers back has seen numbers up to April 2017 increase by nearly 70 per cent compared to the same period in 2015 : it's a vital lifeline for the country when you consider that tourism is its largest industry.
How to be as safe as possible and still love travel
There are various tools available online to help you assess risk levels and keep yourself informed: from Smart Traveller, which issues travel advice and news bulletins on every country, to the Institute for Economics and Peace's Global Terrorism Index 2017, which will help you ascertain destinations at lower risk from terrorism. Countries including Mongolia, Portugal and Botswana, for example, have recorded no impact from terrorism this year.
An interactive map created by International SOS and Control Risks details the security, medical and road safety of every country in the world, and reveals that the countries in Europe that record an 'insignificant' security risk (as opposed to 'low' in most other parts of the continent) are Norway, Finland, Denmark, Slovenia, Switzerland, Liechtenstein and Luxembourg. But if you were imagining your Euro trip a little less 'tax haven' and a little more 'dolce vita', you might consider giving your criteria some slack.
And in terms of natural disasters, Monahan points out, "There are more than 50 countries around the world that have recorded earthquakes, so if travellers are looking to avoid countries where there might be natural disasters, their bucket list is going to be short! The reality is that there is an element of risk wherever you travel (or live)."
Dalton expresses the same sentiment. "But there are steps one can take to reduce or even in some cases mitigate the risks significantly," she says. "My advice is simple: take the right steps to ensure you have a support structure around you when you travel – this includes making sure you travel with a reputable company, you book through a reputable agent and you purchase comprehensive travel insurance. These are things that will make a difference in the event something doesn't go according to plan."
Overall, Monahan considers, risk is a part of life in the age of fear. "Everyone has their own level of comfort, a level of risk that they're prepared to take," she says. "For some people that might be driving a motorbike at home but they wouldn't be prepared to go to South America."
Guard your wanderlust in the age of fear
"The world can seem like a much scarier place before you get out and explore it," Monahan continues. A news story will present us with a photograph of a quake-damaged building in Mexico City, but from afar we won't see the life that carries on around it: the churrería on the opposite side of the street that's heaving with families and groups of friends enjoying sweet treats and hot chocolate. We'll read alarming headlines of martial law and Duterte's war on drugs in the Philippines, but it's not until you visit that you encounter the other stories: the kind-natured locals who are passionate about preserving and promoting their beautiful home, or the comedic tour guide who smiles as he recounts his remarkable life story, hostage situation and all.
"I encourage all Australians to zealously guard their wanderlust – because this is what ultimately makes us all so unique – and helps us become better humans," says Dalton on why we should try not be fazed by upsetting global events. "Travel enriches the soul, it helps us appreciate and respect diversity, and it helps us make a difference for the people who live and work in the destinations to which we travel. Life is too short to stay in one place, it's a big wide world out there with much to see, do and appreciate. Be careful, take the right precautions, but don't stay at home for the world has too much to offer."
MORE: Need help getting off the ground? How to beat your fear of flying
LEAVE YOUR COMMENT