Why these six luxury Fijian resorts are the perfect getaway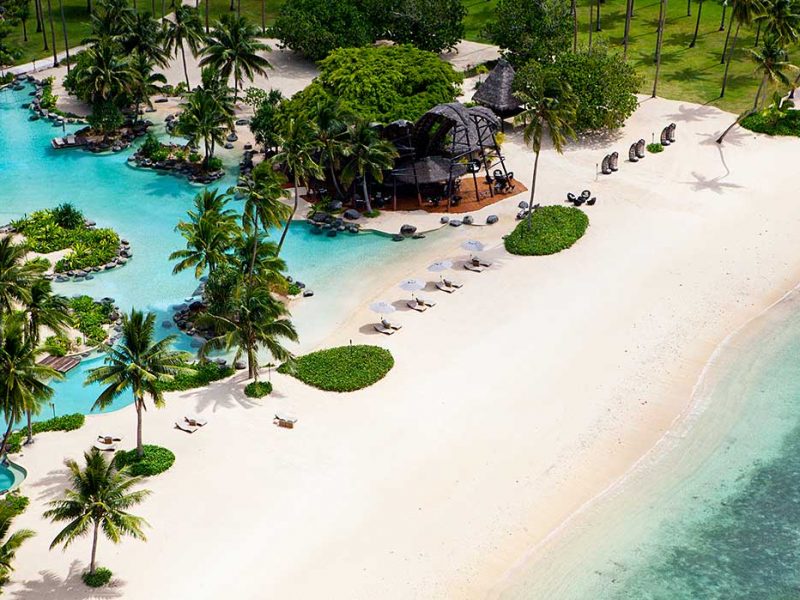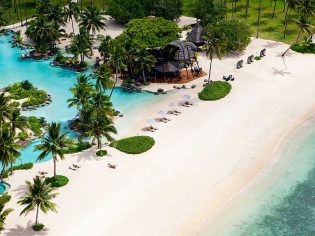 The South Pacific is peppered with island resorts offering a slice of the finer life, but no country nails barefoot luxury as well as Fiji. Add a chilled-out vibe, smiling locals and a growing focus on wellness and sustainability, and Fiji makes the ideal destination for dusting off suitcases. And where better to celebrate the freedom to travel than in these amazing resorts.
Six Senses Fiji
Sustainability is at the heart of Six Senses, one of Fiji's newest luxury resorts. Guests can tour the on-site farm, dine on the catch of the day – courtesy of local fishermen – and sign up for a wellness analysis for a stay that's all about improving your wellbeing on your holiday and when you return home.
Where is it & how to get there
Six Senses is located on Malolo Island, in the Mamanuca group of islands, not far from the mainland of Viti Levu. It's only 25 kilometres from Nadi International Airport and a 35-minute speedboat ride from Port Denarau. There are also helicopter transfers available.
Services and amenities

Part of Six Senses' wellbeing program are fun and informative workshops in which guests can make their own tonics and kombucha, as well as natural beauty products such as papaya scrubs. The resort itself is fully serviced and luxurious, with accommodation ranging from beautiful one-bed villas to five-bedroom residences that are great for big groups and families seeking privacy while still having access to the resort's facilities. Those facilities include a stunning beachfront pool, a couple of restaurants, a day spa, yoga and meditation classes, and a water sports tour desk. You can't ask for more.
Perfect for:
Wellness travellers keen to reconnect with themselves, others and nature, and who want to do so in the finest of surrounds. Multi-generational families and large groups will also love the spacious residences.
Kokomo Private Island
Barefoot luxury at its best, Kokomo's large villas, impeccable design, scrumptious meals and plethora of activities will have you wishing you'd booked longer.
Where is it and how to get there
The celebrity treatment starts immediately as you're whisked onto a seaplane or helicopter moments after touching down on Viti Levu, Fiji's largest island. Situated in the remote Kadavu group, you'll enjoy a 45-minute flight over islands and reefs before touching down at this exclusive resort.
Services and amenities
Staff attend to your every whim at Kokomo. Along with the five luxury residences, there are beachfront villas with pools, dock-to-dish dining in the two main restaurants, a full day spa, gym, creche, scuba diving centre, and yoga classes, paddleboard hire and plenty of tours, including coral planting on the house reef (which I highly recommend for ocean lovers).

Perfect for:

Travellers seeking glamour without pretension. The resort has a laid-back vibe and professional staff, and being all-inclusive makes it ideal for those keen to keep their holiday decisions as simple as "SUP or surf?".
Raiwasa Private Resort
Surrounded by tropical rainforest with magnificent ocean views, Raiwasa is an exclusive 1.2-hectare retreat where a stay is all about being pampered in between exploring the local hiking trails, waterfalls and dive sites.
Where is it & how to get there
You'll find this private residence resort on Taveuni, known as the 'garden island', in Fiji's north-east. You can reach Taveuni via a one-hour public flight from Nadi airport or you can book a private plane or helicopter transfer.
Services and amenities
Raiwasa has two suites with a shared living area, and guests are spoiled with personal chefs serving up across eight dining locations, with five-course dinners and all-day room service on the menu. There are also massage and skin-care therapists, activity coordinators, the option of hiring a private car or chauffer, and even a free cooking class.
Perfect for:

Families and groups who are craving an island holiday but don't want to stay in a resort. It's basically a big, luxurious house, where you're independent but have staff you can call on that can tailor your days how you wish. It's also a fantastic option if you're after isolation and love being surrounded by nature.
Laucala Island Resort
Laucala is the most exclusive property in Fiji and a stay here is unparalleled. It's where celebrities spend their down time, traipsing from their private beach to one of several resort pools. Laucala is the ultimate indulgence.
Where is it & how to get there
Off the northeast coast of Taveuni, Laucala Island appears to be remote, yet the resort makes getting there easy for guests, scooping them up from a private lounge at Nadi International Airport for an hour-long flight.
Services and amenities

There are 25 private residences perfectly poised beside white beaches and green lagoons, or atop the island mountain. The resort's environmental focus is obvious through the natural materials used in the design and the use of organic produce across the five restaurants and bars. Guests are also invited to create their own essential oils and beauty products, or play a few rounds on the 18-hole championship golf course.
Perfect for:
Couples and families who want nothing but the best. Laucala's dedication to perfection goes beyond luxury services such as the private aircraft and island yacht to a sustainable food offering that includes an on-site piggery and farm for fruit, vegetables and honey.
Vatuvara Private Islands Resort
The seclusion offered at Vatuvara is unrivalled and you'll soon be spellbound like visiting British royals before you. Private villas, beaches, infinity pools and organic produce will impress.
Where is it & how to get there
The resort is only accessible via a private aircraft from either Suva or Nadi. You'll find the resort on Kaibu Island, in Fiji's Northern Lau group.
Services and amenities
If it's good enough for the Duke and Duchess of Sussex, then it's a good chance you won't find any faults with this all-inclusive resort. The trio of villas have their own area on Kaibu Island, guaranteeing seclusion in the beauty of private beaches. Standout resort features include the organic greenhouse, frequented by chefs who wow guests with custom meals. There are also two restaurants, a fitness and wellness centre, four-hole golf course, cooking and basket-weaving classes, and numerous activities, including a giant clam nursery snorkel tour.
Perfect for:
Well-heeled environmentalists who appreciate Vatuvara's green credentials, as well as the rich and famous who really need to get away from it all.
Sofitel Fiji Resort & Spa
Sofitel Fiji Resort & Spa is one of Fiji's most popular resorts and fans will be stoked to learn that a full renovation was completed earlier this year (2021). There's now an adults-only beach club and club rooms, Denarau's first nightclub, and refreshed dining and entertainment options.
Where is it & how to get there

On the beach on Denarau Island, on the western side of Viti Levu, Sofitel Fiji Resort & Spa is the perfect starting and finishing point for your holiday as it's only 20 minutes' drive from Nadi airport.
Services and amenities

This Sofitel is what Aussies have come to love and expect from a Fiji holiday – it's big, beautiful and great for high-flying families. The new Nui Beach Club for Kids has a splash area, climbing wall and trampoline, while the Teenage Zone has a stack of games. There's also a new adults-only poolside bar and grill, a rum bar with more than 50 local and infused rums, and a seafood restaurant. As for the rooms, there's everything from twins to luxury family rooms and suites with personal butlers, plus an adults-only wing with private check-in.
Perfect for:
Sofitel caters to all types of travellers but families who love luxe escapes will especially find themselves at home here. It's also great if you're looking for somewhere to stay on the mainland.