Musical road trip across America's Deep South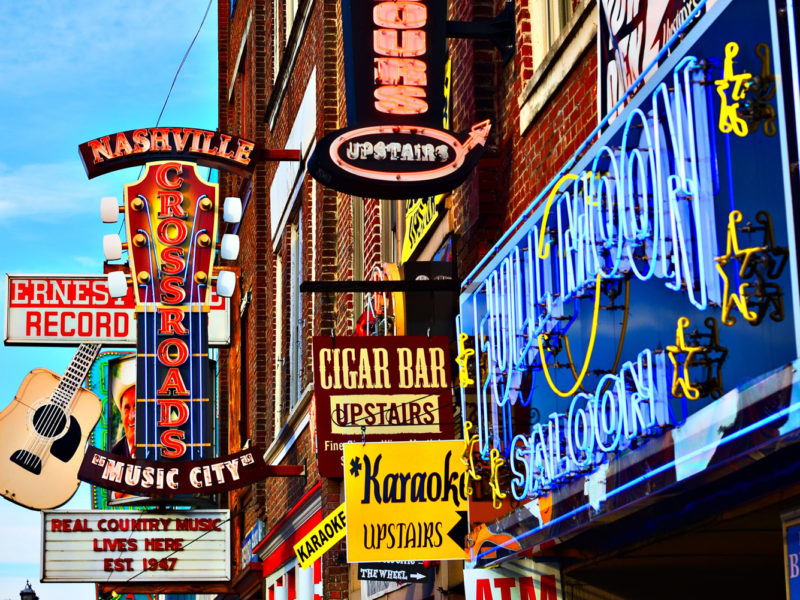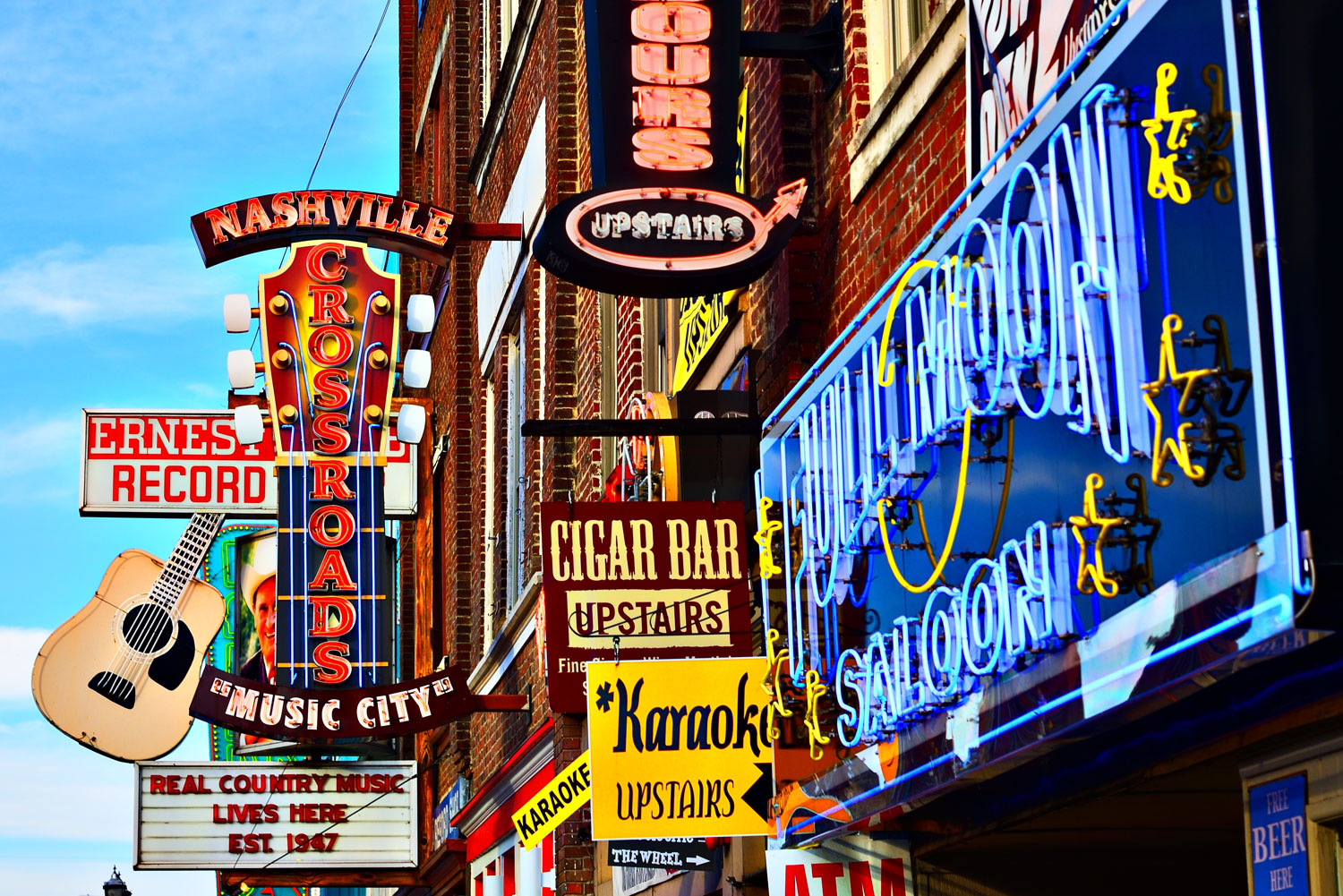 Laura Greaves gets her motor running and heads out on the highway for a musical road trip across America's Deep South.
Texas
Anthem: Deep in the Heart of Texas by Perry Como
Mix tape: Brooks & Dunn, Waylon Jennings, Lyle Lovett, Kris Kristofferson, Kenny Rogers, Willie Nelson, the Dixie Chicks, Buddy Holly, ZZ Top, Johnny Mathis, Meat Loaf, Roy Orbison, Sly and the Family Stone, Stevie Ray Vaughan, Beyonce.
They say everything is bigger in Texas, and they're right – starting with my enormous rented 4WD. I quickly learn that the trickiest part about motoring in the United States isn't driving on the 'wrong' side of the road; it's keeping this high-speed monolith, quickly nicknamed The Beast, in its own lane.
Plenty of people told me to skip Texas all together. 'There's a whole lotta nuthin' out there,' was the common refrain. But strange as it may seem, the 'nothing' is what I've come to see. I want windswept cowboy country, longhorn cattle, lone rangers – and happily, that's exactly what I get.
First stop is the pretty northwestern city of Lubbock, better known as the birthplace of rock 'n' roll legend Buddy Holly, who died in a 1959 plane crash aged just 22. Housed in a former railway depot on the aptly-named Crickets Avenue, the fantastic Buddy Holly Center is a small but comprehensive celebration of his enormously influential career.
But the museum leaves me feeling surprisingly sombre. The glass cases filled with his high school report cards and basketball boots are a stark reminder that Holly's was a life cut tragically short. No artefact drives this home more sharply than those famous black-rimmed spectacles; their lenses missing, the frames are still flecked with mud from the frozen Iowa field where Holly died 54 years ago.
Driving south from Lubbock down US-84, the prairie soon gives way to the strip malls and motel chains that herald major cities across America. This is Dallas, a city with a chequered history, at least in popular culture terms.
On November 22, 1963, President John F Kennedy was assassinated as his open motorcade drove through the streets of downtown Dallas. His killer (depending on which conspiracy theory you believe) was Lee Harvey Oswald, a native of neighbouring Fort Worth, who shot Kennedy from a window on the sixth floor of the Texas School Book Depository.
Now home to The Sixth Floor Museum, the building is the lone high-rise on a block long since razed to make way for parking lots. The museum itself is full of hyperbole about JFK's many achievements; entirely bereft of any mention of the failures and scandals that engulfed the Kennedy family.
It's also a little macabre. The corner of the room from which Oswald fired the deadly shots is set up exactly as it was when discovered by police. On the road below, an 'X' marks the place where Kennedy was struck. Tourists dart into traffic to snap pictures on the spot.
I can't leave Dallas without paying tribute to another late legend, bluesman Stevie Ray Vaughan. My father is a diehard SRV fan, and I grew up with his music. I also share Vaughan's birthday – October 3 – and the 35 year old's death in a helicopter crash in 1990 deeply affected me. Visiting his grave at the Laurel Land Memorial Park, on the outskirts of Dallas, seems like the least I can do.
I ask everyone I meet whether Texas is truly a part of the South. Almost everyone gives me the same answer: 'Texas is Texas.' And you can't argue with that.
Sleeping
Sheraton Dallas Hotel, 400 N. Olive St, Dallas.
From $92 per night (traditional room, prepaid). sheratondallashotel.com
Eating & drinking
The Standard Pour, 2900 McKinney Ave, Dallas.tspdallas.com
Renfield's Corner Irish Pub, 2603 Routh St (at McKinney Ave), Dallas. renfieldscorner.com
Tillman's Roadhouse, 324 West 7th St, Bishop Arts District, Dallas. tillmansroadhouse.com
Arkansas
Anthem: Mary Queen of Arkansas by Bruce Springsteen
Mix tape: Johnny Cash, Al Green, Glen Campbell, Conway Twitty, The Band, Levon Helm.
Another 'is it strictly the South?' state (Arkansans answer with an emphatic 'yes'), Arkansas has strong ties to country, bluegrass and rockabilly. It's also the home state of both Johnny Cash and former US President (and saxophone enthusiast) Bill Clinton.
In the northwest corner of the state is handsome Bentonville, the birthplace of the Walton family's ubiquitous Walmart discount empire. Love it or hate it – and plenty of people claim it's at least partly responsible for the homogenisation of America – Walmart is a big deal in Bentonville.
As I trace the history of the retail giant at the Walmart Visitor Center, which occupies the original 'Walmart 5&10' variety store opened by Sam Walton in 1962, a local tells me that every single person involved in the company's humble beginnings – from the checkout girls to the floor sweepers – is today a millionaire.
Arkansas also has the Walton family to thank for its newest tourist attraction, Bentonville's Crystal Bridges Museum of American Art. It was founded – and personally bankrolled to the tune of $317 million – by Alice Walton, daughter of Sam and heiress to the Walmart empire.
The museum houses an impressive collection of American works spanning the Colonial era to the present day. Norman Rockwell's 'Rosie the Riveter' is just one of the pieces whose acquisition by Crystal Bridges reportedly put the collective noses of several important galleries across America well out of joint.
Even with its new 'must visit' status among art lovers, Arkansas remains refreshingly free of airs and graces. I dine at Bentonville's Flying Fish, where all the food is served in baskets, the walls are plastered with photos of locals' fishing triumphs and the beer is ice cold; fortunately for me, Benton is one of just 10 Arkansas counties where it's legal to buy alcohol.
Sleeping
21c Museum Hotel Bentonville (opening March 2013) NE A St, Bentonville.
From $183 per night (Deluxe King room). 21cmuseumhotels.com/bentonville
Eating & drinking
Flying Fish, 109A Northwest 2nd St, Bentonville. flyingfishinthe.net
Tennessee
Anthem: Walking in Memphis by Marc Cohn
Mix tape: Aretha Franklin, Tina Turner, Dolly Parton, Dinah Shore, Carl Perkins, Justin Timberlake, Isaac Hayes, Booker T Jones, Lady Antebellum, Kenny Chesney.
If Mississippi is the self-proclaimed birthplace of America's music, then Tennessee is its nursery. Not only is it home to two of the most famous musical cities in the world, Memphis and Nashville, Tennessee has also proven especially fertile ground for female stars including Aretha
Franklin, Dolly Parton (whose theme park, Dollywood, is a leading tourist attraction here), and Tina Turner. Girl power!
Tennessee's largest city, Memphis bills itself as both the 'Birthplace of the Blues' and the 'Birthplace of Rock 'n' Roll'. Grand claims they may be, but they're not without merit; the city's musical pedigree is palpable. Blues composer WC Handy wrote what is thought to be the first commercially successful blues song, Memphis Blues, in a bar on Beale Street in 1912, while Elvis Presley recorded his first song at Sun Studio in 1953.
Beale Street remains the 24-hour party centre of Memphis. Like New Orleans' Bourbon Street, it is intrinsically linked to the city's musical heritage, though today it's strictly tourist territory – which isn't to say it's not a hell of a lot of fun. I spend a raucous evening propping up the bar at the Blues City Café while local trio The Memphis Three sing the blues.
Just off Beale Street, but well off the beaten track in tourist terms, is the Gibson guitar factory. As the daughter of a musician and dyed-in-the-wool Gibson obsessive, I feel compelled to take the 45-minute factory tour, which is led by a staggeringly knowledgeable employee who fits the 'guitar geek' stereotype to a tee.
Back on the tourist trail, it's a 20-minute drive from downtown Memphis to The King's Graceland mansion. The house today is exactly as it was when Elvis died here in 1977. From the infamous Jungle Room, with its green shag-pile carpet and waterfall, to the Pool Room, where the walls and ceiling are covered with intricately folded fabric, Graceland is a symphony of 1970s bad taste.
A lesser-known pilgrimage for Elvis fans, which happens to be directly opposite my hotel, is Lauderdale Courts, the rough-and-ready public housing development in downtown Memphis where he was living when he paid $3.98 to cut his first record at Sam Phillips' Sun Studio.
Now completely renovated, Elvis devotees can pay $250 a night to stay in his 1950s-styled former abode.
When Phillips moved his operation to larger premises in the 1960s, he simply locked up and left, leaving Sun Studio entirely untouched – and its future as one of Memphis' best and most authentic musical attractions assured. There is an 'X' taped to the floor, marking the spot where
Elvis stood when he recorded. And, The King's microphone is still there, too; guides tell the story of one enthusiastic fan who, believing it might contain traces of Presley DNA, licked it.
Sleeping
Crowne Plaza Memphis Downtown, 300 North Second St, Memphis.
From $135 per night (flexible rate, includes breakfast). www.ihg.com/crowneplaza
Eating & drinking
King's Palace Café, 162 Beale St, Memphis. King's Palace Cafe Facebook
Blues City Café, 138 Beale St, Memphis.bluescitycafe.com
Rockabilly's Diner at Graceland, 3765 Elvis Presley Blvd, Memphis. elvis.com/graceland/dining_and_shopping.aspx
Mississippi
Anthem: Midnight in Mississippi by Blue Mountain
Mix tape: Muddy Waters, Elvis Presley, BB King, John Lee Hooker, Sam Cooke, Bo Didley, Robert Johnson, Howlin' Wolf, RL Burnside, Mose Allison, Big Time Sarah.
Crossing the Mississippi state line, it's as if the landscape knows it's the cradle of the famed Delta Blues. There's fertile green farmland, corn and cotton fields as far as the eye can see, all dotted with tumbledown shacks and white-steepled churches of every denomination.
One of my favourite Mississippi myths involves blues legend Robert Johnson, who reportedly made a deal with the Devil at a local crossroads: he promised his soul in exchange for fame and fortune. Johnson encouraged the tale with songs including Me and the Devil and Cross Road Blues before dying mysteriously at just 27.
No one can quite agree on the precise location of Johnson's crossroads, though the most popular theory is that it's the intersection of Highways 61 and 49 at Clarksdale. It's easy to believe.
Clarksdale is broken down, boarded up and grim – ironic, or perhaps appropriate, given it gave us some of the Blues' biggest names, whose stock in trade was their pain and suffering.
Blues fans flock to Clarksdale from around the world for the quirky Delta Blues Museum, a lovingly curated collection celebrating bluesmen and women from the obscure to the world famous. In fact, the genial chap manning the gift shop tells me he retired from Kansas to Clarksdale simply to be closer to the blues. Artefacts include BB King's guitar, 'Lucille', and an electric guitar made from a piece of wood taken from Muddy Waters' childhood home.
Down the highway, leafy Indianola is as vibrant and well kept as Clarksdale is unkempt. BB King, feted as the world's greatest living blues artist, is Indianola's most beloved son, and he still returns every year to play a free concert for the loyal residents.
The vast BB King Museum and Delta Interpretive Center is an inspiring and uplifting journey through his life. "I wonder," muses singer John Mayer in a star-studded film about King, "will anyone in my generation be as devoted to anything as BB is to the Blues?"
Singer Rufus Thomas succinctly sums up 87-year-old King's enduring impact on the genre: "He's not a star – stars burn out. He's a moon, and they never do."
Sleeping
Old Capitol Inn, 226 North State St, Jackson.
From $96 per night (Standard room). oldcapitolinn.com
Eating & drinking
Mayflower Café, 123 West Capitol St, Jackson. mayflowercafems.com
Underground 119, 119 South President St, Jackson. underground119.com
Louisiana
Anthem: Callin' Baton Rouge by Garth Brooks
Mix tape: Louis Armstrong, Fats Domino, Buddy Guy, Jerry Lee Lewis, Dr John, Harry Connick Jr, Britney Spears.
For most people's money, Louisiana is the 'real' Deep South. Famous for gators and swamps, bayous and Blues, the Pelican State's crowning glory is undoubtedly 'the Big Easy': New Orleans.
But the living has been anything but easy in NOLA (New Orleans, Louisiana) in recent years. The city was ravaged by Hurricane Katrina in 2005 and recovery has been painfully slow. Many low-lying settlements outside the city have been abandoned all together, while many inner-city properties are still scarred with a telltale grey-green line just under their rooflines: Katrina's high water mark.
But in the picturesque French Quarter, Katrina is all but forgotten. Here, in the city's beating heart, jazz, blues and rock 'n' roll spill from open doorways at all hours of the day and night. The famed Bourbon Street is always teeming with brightly-coloured Mardi Gras beads raining down from balconies and plenty of skin on display. At Bourbon's eastern end, Lafitte's Blacksmith Shop Bar has been doing a roaring trade since 1722, making it the oldest bar in the US.
For a taste of the real New Orleans, I head to the 7th Ward and Frenchmen Street, home to the city's best live music venues. I visit Blue Nile, Café Negril and The Maison, where the Big Fun Brass Band has the joint jumping.
Across the street, the Frenchmen Art Market is bustling with shoppers snapping up watercolour prints, hand-poured candles and unique jewellery, all made by local artists. The soundtrack is provided by busking collective Sweet Street Symphony's interactive, pantomime-style performance art.
After the decadence of New Orleans, quiet and ordered Baton Rouge is a refreshing change. Perched alongside the wide, brown Mississippi River, the road into Louisiana's capital includes a 20-mile stretch of elevated interstate that winds through uniquely beautiful swampland.
I duck into Poor Boy Lloyd's for a famous Louisiana po' boy sandwich. Enormous and dirt cheap, the po' boy is a lunchtime staple in these parts. Baton Rouge is justifiably proud of its Cajun cuisine. "This area is where you'll find real Cajun cooking," says Fred, Poor Boy Lloyd's jovial cashier. "In New Orleans all you'll get is Yankee chefs with bottles of hot sauce." I consider myself schooled.
Sleeping
Hotel Provincial, 1024 Chartres St, New Orleans (French Quarter).
From $135 per night (Standard room). hotelprovincial.com
Eating & drinking
Lafitte's Blacksmith Shop Bar, 941 Bourbon St, New Orleans. lafittesblacksmithshop.com
Blue Nile, 532 Frenchmen St, New Orleans. bluenilelive.com
The Maison, 508 Frenchmen St, New Orleans. maisonfrenchmen.com
Alabama
Anthem: Sweet Home Alabama by Lynyrd Skynyrd
Mix tape: Nat King Cole, Emmylou Harris, Hank Williams, Wilson Pickett, The Commodores, The Temptations, Lionel Richie.
In Alabama, I swing The Beast through appealing decrepit Mobile to catch a glimpse of a real rarity: a white, female blues star. Flame-haired Bonnie Raitt is performing at the historic Saenger Theatre, and sleepy Mobile has come alive for the evening.
After the show, I wander across the road to funky junk shop Papillon, where I stock up on vintage Beatles 78s and try unsuccessfully to convince owner Shar Begnaud to part with her classic Vespa scooter.
In Alabama's capital, Montgomery, things take a turn for the literary. Montgomery was the birthplace of the beautiful, spirited and ultimately tragic Zelda Sayre – better known as Zelda Fitzgerald, wife of The Great Gatsby author F. Scott who dubbed her 'the first American Flapper'.
Zelda, Scott and their daughter, Scottie, lived at 919 Felder Avenue, in the well-heeled Montgomery suburb of Cloverdale, while Scott worked on what would be his final novel, Tender is the Night. The house has since been divided into flats, but a suite of rooms on the ground floor now serves as the fascinating Scott and Zelda Fitzgerald Museum.
Montgomery is historically important for other reasons, too. In 1955, a young African-American woman, Rosa Parks, refused to give up her seat on a Montgomery bus to a white man. The impact of Rosa's actions, and Montgomery's role in the wider Civil Rights movement, are explored at the contemplative Rosa Parks Museum and Civil Rights Memorial Center.
Downtown, I visit the quirky, and slightly macabre, Hank Williams Museum. A Montgomery native, Williams gave us such classic country tunes as Hey, Good Lookin' and Your Cheatin' Heart. He was just 29 when he died in the back seat of his Cadillac while being driven to a gig in 1953. The baby blue car is the museum's centrepiece, along with the clothes he was wearing when he died.
Sleeping
Hampton Inn & Suites Montgomery Downtown, 100 Commerce St, Montgomery.
From $96 per night (Standard guest room). hamptoninn3.hilton.com
Eating & drinking
TP Crockmiers, 250 Dauphin St, Mobile. tpcrockmiers.com
Buck's Pizza, 350 Dauphin St, Mobile. buckspizza.com
Leroy Lounge, 2752 Boultier Ave, Montgomery. leroylounge.com
Sinclair's 1051, East Fairview Ave, Montgomery. sinclairsrestaurants.com
1048 Jazz Club, 1104 East Fairview Ave, Montgomery. 1048jazzandblues.com
Georgia
Anthem: Georgia on my Mind by Ray Charles
Mix tape: Ray Charles, Otis Redding, Little Richard, The Allman Brothers Band, REM, The B-52s, Travis Tritt.
We can thank Georgia for Ray Charles, Martin Luther King Jr and Coca-Cola. The Peach State is also the setting for Margaret Mitchell's Pulitzer Prize-winning 1936 novel, Gone with the Wind, which arguably did more to put Georgia on the cultural map than anything else.
I detour through Macon to visit the Allman Brothers Band Museum; it seems only fitting since one of the band's biggest hits was Ramblin' Man, which celebrates the joys of the open road. Ironically, guitarist Duane Allman died in a motorcycle accident in Macon in 1971. In a grim twist, his bandmate Berry Oakley also died in a motorcycle accident a year later, just three blocks away from the site of Allman's death. Allman and Oakley are buried side by side in Macon's Rose Hill Cemetery.
In Savannah, at last, I discover the Deep South I've always dreamed of. With its immaculately-preserved antebellum architecture, white weatherboard houses and Spanish moss-draped trees, this is 'Southern Gothic' to the max.
Having long reveled in its relative isolation, Savannah enjoyed (or perhaps 'tolerated' is a fairer assessment) a flurry of global interest in the 1990s thanks to John Berendt's best-selling non-fiction novel, Midnight in the Garden of Good and Evil.
The book tells the story of Jim Williams, a Savannah socialite and antiques dealer who shot and killed troubled young hustler Danny Hansford at his home, the stunning Mercer House, in 1981. A guided tour of the house is a must for anyone who enjoys stickybeaking at rich people's houses (which, let's face it, is all of us).
Four sensational trials saw the late Williams convicted and eventually cleared of murder, so it feels oddly clinical when, as the tour moves into the study where Hansford died, our guide says only that 'a serious incident' occurred in the lavishly decorated room. Serious indeed.
On my last morning I spend a deliciously creepy morning wandering through the 100-acre Bonaventure Cemetery, dotted with towering obelisks and elegantly wasted mausoleums. Permanent residents include Jim Williams, Academy Award-winning songwriter (and Savannah's most famous son) Johnny Mercer and poet Conrad Aiken.
It's somehow appropriate that a frenetic journey of almost 2500 kilometres should come to an end at a place of eternal rest. I return The Beast to the rental car depot feeling stuffed full of music, art and inspiration – and yet still ravenously hungry for more.
Like the parasitic Spanish moss strangling Savannah's sturdy old oaks, modern America is – for better or worse – steadfastly encroaching on the southern culture that Margaret Mitchell, John Berendt et al wrote about.
But if you're willing to look for it, that mythic vision of the Deep South is still there, just below the surface.
Sleeping
Mansion on Forsyth Park 700 Drayton St, Savannah.
From $208 per night (Guest room, prepaid). mansiononforsythpark.com
Eating & drinking
local11ten, 1110 Bull St, Savannah. local11ten.com
Rocks on the Roof at the Bohemian Hotel, 102 West Bay St, Savannah. bohemianhotelsavannah.com
Gallery Espresso 234 Bull St, Savannah. galleryespresso.com
Getting there
QANTAS flies daily from Sydney, Melbourne and Brisbane to Dallas/Fort Worth. Return flights start from $1798 ex Sydney.
When to go
The states of the Deep South enjoy scorching, humid summers (late May to early September). Late September through to early April tends to be the most temperate time for travel. The peak period for tornadoes in the southern states is from April to June. As an Atlantic state, Georgia's hurricane season runs from 1 June to 30 November.
Best thing about the Deep South
America's 'have a nice day' culture is at fever pitch in the genteel South, where nothing is too much trouble and everything comes with a smile. And that accent is pretty hard to beat.
Worst thing about the Deep South
It may be steeped in history and culture, but the Deep South is as choked with strip malls, fast food outlets and high-speed freeways as the rest of America. You'll see so much more if you avoid the interstates and stick to highways and state roads. Bypass the chain-motel-and-burger-joint satellite metropolises that surround even the smaller cities; the 'real' south is found downtown and off the beaten track.
You should know
The South is one of America's poorest regions, and even the most handsome and historic cities and towns have high crime rates. Take care when out and about: stick to busy thoroughfares, especially at night, and don't flash your cash. Public transport can be hit-and-miss, especially in the smaller cities, and taxi ranks can be hard to find, so pre-book your return transport before heading out for the evening or take the number of a cab company with you.
LEAVE YOUR COMMENT