Where to eat, stay and play in DUMBO, New York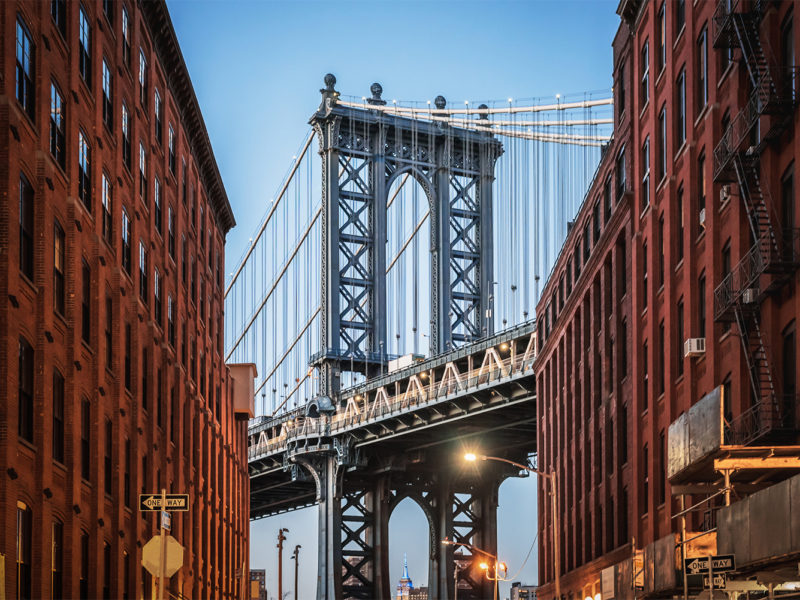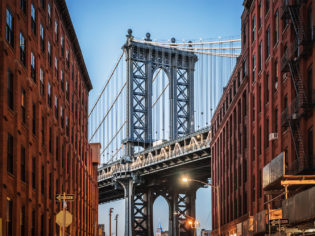 Look out, Williamsburg. DUMBO is making a run at the unofficial title of best Brooklyn 'burb.
The buzzing district, which you will find 'Down Under the Manhattan Bridge Overpass' (New Yorkers sure do love an acronym, eh?), has put its cobblestone streets and stellar Manhattan views to good use, transitioning from an industrial hub to become the neighbourhood of the moment.
It is said that the name DUMBO was concocted in the 1970s by residents who wanted an unmarketable moniker to protect their turf from developers. History shows the plan didn't work, but development (so far, at least) has allowed DUMBO's creative character to live on. Here's just some of what the neighbourhood has to offer.
Eat
You've probably heard of Grimaldi's and perhaps you're wondering why that's not the famous pizza name highlighted on this finger-licking list. Well, Grimaldi, the person, no longer runs Grimaldi, the pizza chain. But he does run Juliana's, the pizzeria next door. Complicated? Maybe. But you'll soon forget about that once you've wrapped your laughing gear around a slice of Patsy Grimaldi's coal-oven perfection.
Sitting riverside (as you might have guessed) and with front-row seats to DUMBO's spectacular views, the Michelin-starred River Café is a neighbourhood stalwart, delivering classic American cuisine since 1977. Meanwhile, the restaurant's wine list, curated by long-serving wine director Joseph DeLissio, is the subject of national acclaim. This is special-occasion stuff.
Far from an original recommendation, and certainly not exclusive to DUMBO, burger chain Shake Shack still earns its place on this list because the food is so damn good. Forget the Colonel's 11 secret herbs and spices, I want the secret to the moreishly tangy ShackSauce… and apparently, I can have it. There's a Shake Shack cookbook. *Makes immediate Amazon purchase.
Simple but delish Mexican fare and tequila- and mezcal-based cocktails to match – olé! Gran Electrica serves up authentic Mexican flavours (think: ceviche, tacos, quesadillas) in a lively setting with tasteful nods to the colour and flair of the Central American nation (and completely devoid of the usual paraphernalia, which is noted as a positive – sorry to lovers of the sombrero).
A DUMBO mainstay, Superfine moved into the neighbourhood well before it was on-trend and has survived despite the influx of competition thanks to reliably tasty food and a warm community atmosphere. The converted warehouse space provides the ideal environment for live art, live music and fab food, which is exactly what the Superfine team has been delivering since 2001.
Stay
Mission-driven luxury hotel brand 1 Hotels aims to combine sustainable design and superior comfort across its portfolio, and its DUMBO outpost certainly delivers. Opened in 2017, 1 Hotel Brooklyn Bridge blends beautifully into its waterfront surrounds, its striking design making ample use of native greenery and reclaimed materials. Add unbeatable views of the East River and Manhattan skyline, and this is a dream stay.
Play
Art has been critical to DUMBO's transformation and the Klompching Gallery, established in 2007, is one of the spaces making a strong contribution to this scene. Contemporary photography is the gallery's focus and a solid roster of artists has evoked critical acclaim. Diane Meyer's mesmerising Berlin series, a unique combination of photography and cross-stitch embroidery, is next on the exhibition agenda, opening 14 November.
You'll find Harriet's at 1 Hotel Brooklyn Bridge, so you know the big sell here is location, location, location. There is arguably nowhere better for a cocktail with a view. Order a Manhattan for the complete meta experience. There's even a selection of 'wellness' cocktails such as Nature's Selection (cucumber-mint vodka or gin and Italian bergamot liqueur with cucumber, coconut water and greens). Confirming, it is delicious, but how well it'll actually make you feel might depend on how many you enjoy.
Left desolate when industry moved out of town, DUMBO's waterfront has since been transformed into a 34-hectare greenspace and its success is illustrated daily as locals and visitors enjoy the tree-lined paths, bikeways, gardens, sport and playground facilities, and – yes, again – those views.
It might be off off Broadway, but this decades-old cultural institution hosts acclaimed avant-garde productions featuring both artists of great distinction and exciting emerging talent. Housed since 2015 in a 19th-century Tobacco Warehouse, the space is an attraction in itself.
Set under the Manhattan Bridge, the DUMBO edition of Brooklyn Flea runs every Sunday between April and October. (It's in Williamsburg on Saturdays.) You'll find furniture, vintage clothing and antiques, as well as jewellery and art from local designers. And food, of course. Wander aimlessly or spend up big – either way, it's time well spent.