An emotional love letter to Istanbul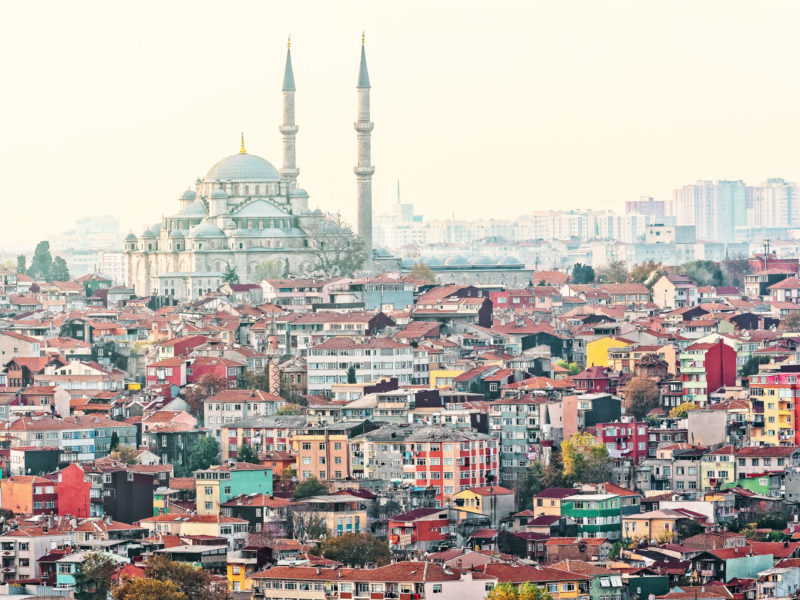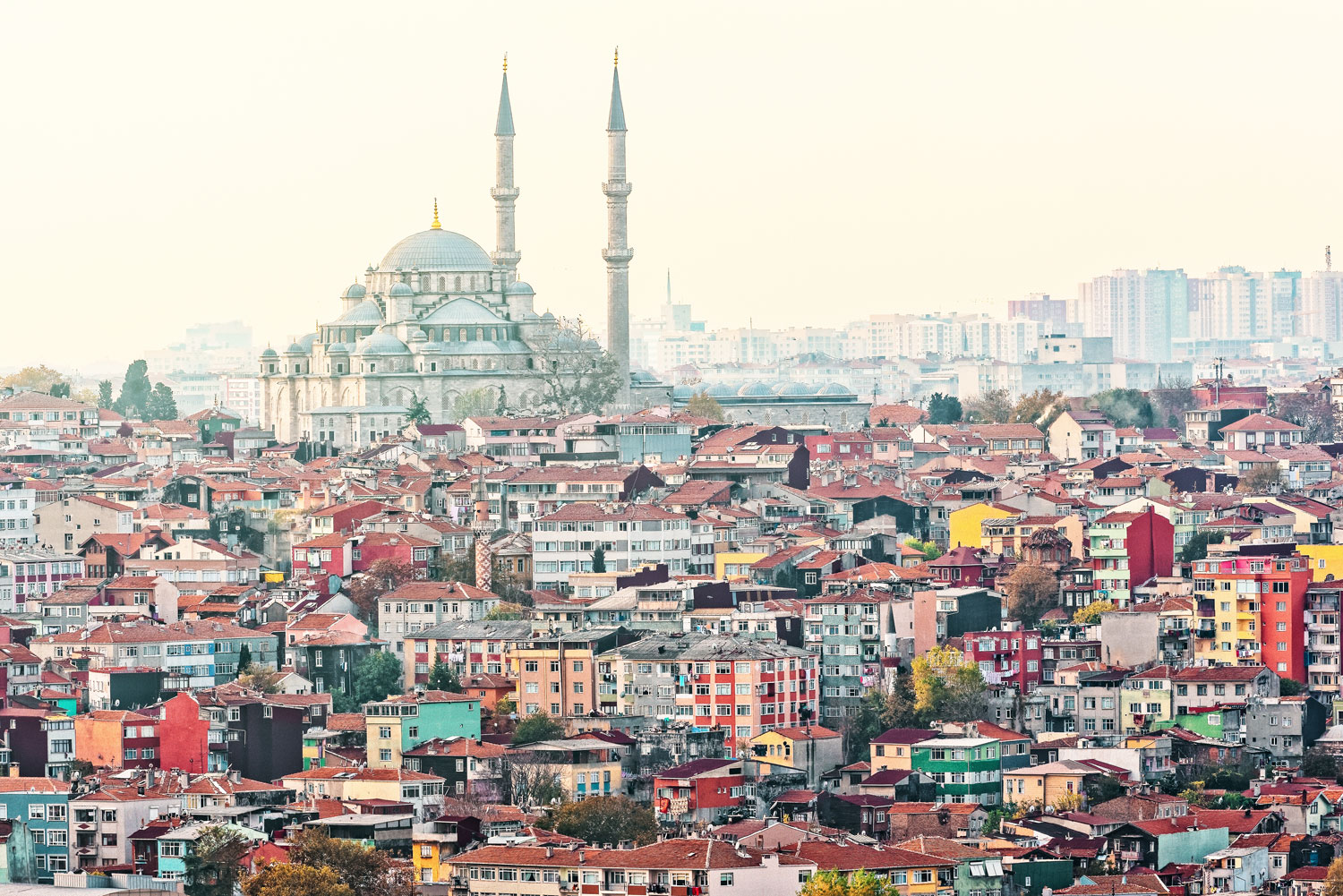 When Dilvin Yasa introduced her children to her ancestral home of Istanbul recently, she couldn't have predicted just how emotional the trip would be.

Oh God, it's happening again," mutters my husband Lee to no one in particular as he looks at his wife laying face-down on the tarmac of Istanbul's Atatürk Airport, kissing the ground like a deranged, Middle-Eastern version of the Pope.
He's used to it – I do it every time we land here – but this strange behaviour is a new one he's going to have to try very hard to explain to our daughters, six-year-old Cella and two-year-old Ivy, who are being introduced to their maternal grandparent's homeland for the very first time.
"Don't mind your mother girls," he says as he points out the security guards advancing (as they always do) for my swift dressing down.
"She's just really happy to be back in Istanbul."
"No kidding," spits Cella, her tiny face contorted with horror at the sight of me.
Ivy just stares at me like I'm something to be inspected in a Petri dish.
"I just can't believe you girls are finally here!" I shout before promptly bursting into tears.
It's almost two hours later as we're driving down the motorway past the city's rolling hills crammed with crumbling apartment blocks that I take a moment to ponder how it is that I evolved (devolved?) into becoming the kind of woman who behaves that way at an airport.
Born in Australia to parents who'd emigrated from Turkey almost 10 years prior, I'd married an Englishman with whom I'd had two children we lovingly refer to as 'wog-lite' (as in, they look like Turks, but sadly cannot speak the language we pay tutors to teach them).
Ordinarily this wouldn't be a problem, but Turkey – Istanbul particularly – is in my blood and plays a large part in my identity.
I lived here for a period once I finished high school, and, up until I had Cella, returned for a month every year to embrace my Turkish side and feel closer to my family, almost all of whom continue to reside here.
So when the opportunity finally arose to introduce our children to the country that means so much to me and my parents… Well, let's just say it's enough to make you lie face-down and cry on airport tarmac.
The first problem we identify with our trip is ascertaining which kind of Istanbul to show the kids.
Of course, most visitors who come here are (rightfully) all about taking in the views of the skyline dotted with silver-tipped minarets and wandering ancient streets teeming with exotic bazaars and elegant Ottoman mansions.
But for locals and quasi-locals like me, the real pleasure of Istanbul often lies in the little things that make the city so unique: eating 'balık ekmek' (fish sandwiches) at a ferry wharf, getting your hair done for $7
at salons with unintentionally funny names ('Ars salon' is a personal favourite), and meandering around crumbling suburban streets littered with faded ice-cream umbrellas and fifth-generation pastry shops.
It's clear we're going to have to make a compromise between the two.
Joy might have kicked in for me as soon as we entered Turkish airspace, but it kicks in for the rest of the family shortly after we check into the opulent Çıragan Palace, a former Ottoman palace turned five-star Kempinski property, located on the European shores of the Bosphorus.
Yes, it's impressive in that it has a spa complete with marble hamam, tastefully appointed suites overlooking the familiar landmarks, and an array of chic restaurants, including the award-winning Ottoman restaurant, Tugra, but as any parent knows, it's often about the kids and here they do not disappoint: a playground, children's pool (complete with ice-cream stand at the ready), a chocolate room as part of the Sunday buffet, and a baby items room menu as long as your arm are all on offer.
For three days, I lull my family into a false sense of security as they play, eat and swim under the sun and I work on the finer details of 'Operation: Revisit mummy's childhood'.
It's on day four that the dynamic of our trip changes, when I'm thrown an emotional curve ball I couldn't have seen coming.
That's the morning I dress the kids and hail a taxi over the bridge to the Asian suburb of Saskın Bakkal, a typical Turkish neighbourhood located a hop, skip and a jump away from renowned strip Bagdat Caddesi.
It is here in these streets that I played hopscotch as a child, running between my now deceased grandparents' apartment to my (also deceased) great aunt's across the road. It is here I staggered drunk in her gutters in my late teens, having fallen heel-first into an 'a la Turka' toilet during a date (he turned up in a Wicked Willie, the talking penis T-shirt, so I think we were even).
And in my 20s, it is here that I brought my new husband to introduce him to the clan and my cousin threatened him with a gun as he simultaneously welcomed him to the family.
I don't think I'm exaggerating when I say Saskın Bakkal's streets helped shape me into the person I am today.
But my biggest mistake? Expecting everything to remain the same, despite my lengthy absence.
As we turn into the street to begin the (heavily edited) history tour, I am struck dumb to find a shiny new complex where my grandparents' white-washed apartment once stood.
My great aunt's place across the road?
It's a pile of rubble surrounded by yellow construction tape.
Even as I begin to scream, I tell myself that they're just buildings and it doesn't really matter now that my loved ones have passed on, but I don't really believe it.
They might be buildings to the developers, but to me they're the only tangible links to the people I loved and love still. Suddenly I feel as though my personal history has been wiped clear, my ties to the country, severed.
"I'll never be able to walk past and imagine my grandmother at her window ever again," I wail, feeling the loss of her as if for the very first time.
In the middle of the street the four of us hug and cry.
Eventually, it's Lee who puts a stop to the tears.
"Maybe this is a good thing," he tells me as he ducks.
"Rather than using this as a trip to look back at your memories, maybe it's the universe telling you to use it to create new ones instead."
He's right of course. And also, Ars salon is still there, so we'll call it a win.
With the goal shift comes new possibilities and over the course of the next few days, we take to Istanbul's sights witha vengeance.
To give the kids an initial overview of the sheer scale and wonder of the city, we start with a Bosphorus boat tour, tea and gözleme in hand, and make grand plans over which pastel, waterside Ottoman mansion we'll purchase just as soon as we can will the economy to crumble.
Quick trips are made to the majestic Hagia Sophia and the Blue Mosque where I discover the joys of negotiating midday crowds with a 20 kilogram pram tucked under my arm.
And we drink endless cups of tea at Set Üstü Çay Bahçesi, a tea garden at the top end of Gülhane Park, Topkapı, which has long been my go-to when I need an oasis of calm in the bustle.
Rather than visit the Grand Bazaar (my idea of hell even without children), we head to Kadıköy's Salı Pazarı (Tuesday market).
Here the kids learn to haggle with moustachioed men standing on tabletops and discover what strawberries and tomatoes tasted like back in the day 'when mum was young' (thanks Cella).
Perhaps the thing I find most interesting about visiting Istanbul with my kids, however, is that on this trip, I discover elements to the city I've never seen before.
For example, instead of meandering down Istiklâl Caddesi, the famous shopping strip in the heart of Beyoglu, and hitting up the stores and bars like I always have, this time we ride the historic red tram and sing at the top of our lungs.
We find and play in countless waterside playgrounds, and make endless trips to the local supermarket to buy packets of biscuits to hand out to the poor Syrian refugees that have made many street corners their homes.
Difficult conversations are had, ideas exchanged and every day we appear to come back to our hotel with a new understanding – not only of the city we're in, but of each other.
Of course for every Topkapı, there are family pit stops: breakfasts and dinners in waaay out suburbs where my relatives attempt to hug and feed the life out of my children who remain alarmed at these larger-than-life characters with their squeals and frantic hand gestures (my cousin, I'm happy to note, has left his gun at home this time).
There are trips to the cemetery to visit family graves and David Attenborough-style commentary sessions as we walk past locations unremarkable to anyone but me.
We play in the streets of Büyükada, the largest of the Prince Islands in the Sea of Marmara, where I once played with my own mum only yesterday (or so it seems) and it's this particular photo I post that makes my father – all the way in Sydney – emotional.
"You don't know what it's like for me and your mother," he tells me.
"Seeing you take those steps with your kids is like watching things come full circle and makes us so very happy."
I'm still thinking about his words on our last day in Istanbul, when I catch Cella staring at me as though trying to look behind my sunglasses.
"What have you loved most about Istanbul?" I ask her as I stroke her hair.
"The mosques, the markets? Çıragan?" She shakes her head slowly.
"I've just realised I'd never seen you cry before this trip mum," she tells me and my heart sinks.
Oh, you haven't seen anything yet, I want to tell her.
Wait until you see me at the departure gates…
LEAVE YOUR COMMENT