Interlaken, Switzerland; Essential city guide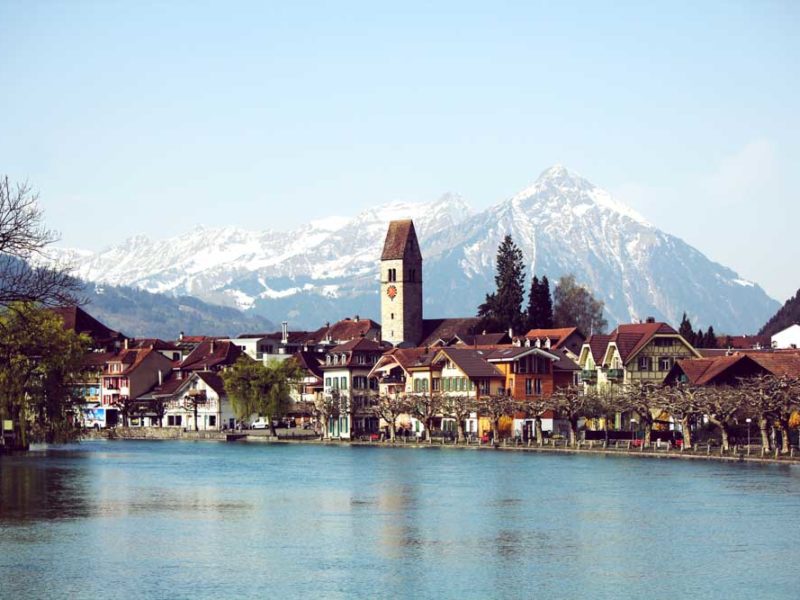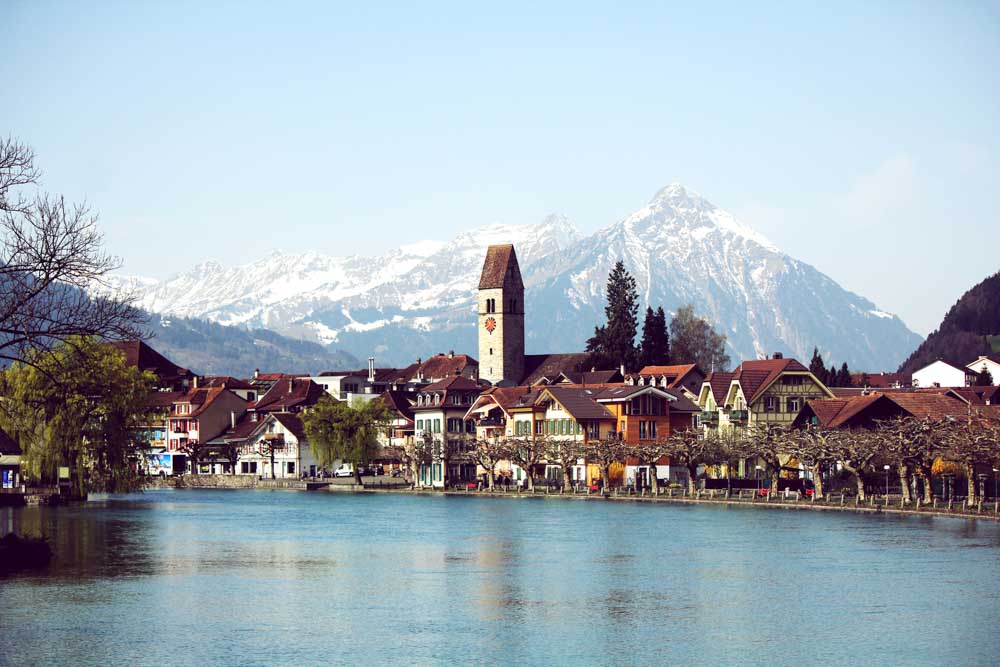 This picture-postcard town is a mecca for adventure seekers, outdoor types and chocolate lovers. Leigh-Ann Pow navigates this underrated gem of Switzerland in our essential Interlaken city guide.
Known for
The views, outdoor pursuits, and its charm.
Eat streets
Restaurant The Verandah at Hotel Royal St. George is a posh five-star option for dining out.
OX Restaurant & Grill is one for the carnivores with a meat-heavy menu, much of it roasted on a spit in the open kitchen.
Meanwhile, Panorama Restaurant at the top of Harder Kulm looks like a little fairytale castle with its turreted roof and mountain-top location; sit on the outdoor terrace enjoying platters of cold meats (including a local cured beef that melts in your mouth), cheese and a cold beer.
Out & about
If you aren't up for paragliding (if you are, try paragliding-interlaken.ch) spread out a blanket on the grass in Hohematte Park and look up at the amazing views of Jungfrau mountain instead.
Next head to Funky Chocolate Club to do a fun chocolate-making course with lots of taste-testing along the way. Or go straight to the source of the milk that makes Swiss chocolate so good by visiting a nearby farm (interlaken.ch).
Insider's secret
Come December the centre of town is transformed into a giant ice-skating rink for the duration of Top of Europe ICE MAGIC Interlaken.
Completely unmissable if you are in the area in the winter months, there are various ice rinks to try out, events like Bavarian curling to watch, and the cosy IGLU restaurant to recover in.
Retail reconnaissance
There are lots of stores in the centre of town, where well-heeled tourists browse watch shops in pursuit of some Swiss precision.
For something a little more affordable, search for little carved wooden cows to take home.
The ultimate experience
Hire a car and check out the gorgeous neighbouring towns of Thun, Lauterbrunnen, Brienz and Grindelwald, with their impossibly picturesque centres and lovely scenery. You can also explore the area by boat on Lake Thun.
Caffeine hits
The Grand Café Restaurant Schuh is a local institution; there's coffee and a cake, but the real hero here is the chocolates, made by hand on the premises.
A quaint little cafe in the old town area, Cafe Treff has outdoor seeting on a quiet square. Head to AEK Cafe in neighbouring Thun for great coffee.
Stay & play
Affordable
Maisonbergdorf is a pop-up guesthouse melding the historic and the modern to brilliant effect.
Moderate
The funky Hotel Interlaken offers lots of room types, modern Swiss cuisine, a schmoozy bar and more than 600 years of history.
Luxe
Victoria Jungfrau Hotel has elegant rooms and suites, a spa, a range of restaurants and bars, and views of Harder Kulm.
LEAVE YOUR COMMENT