Inside the Camino de Santiago luxury train pilgrimage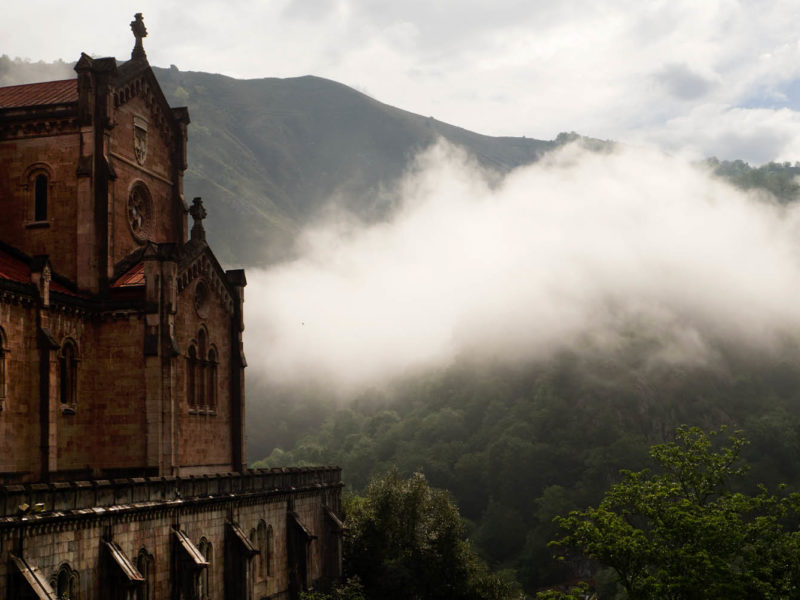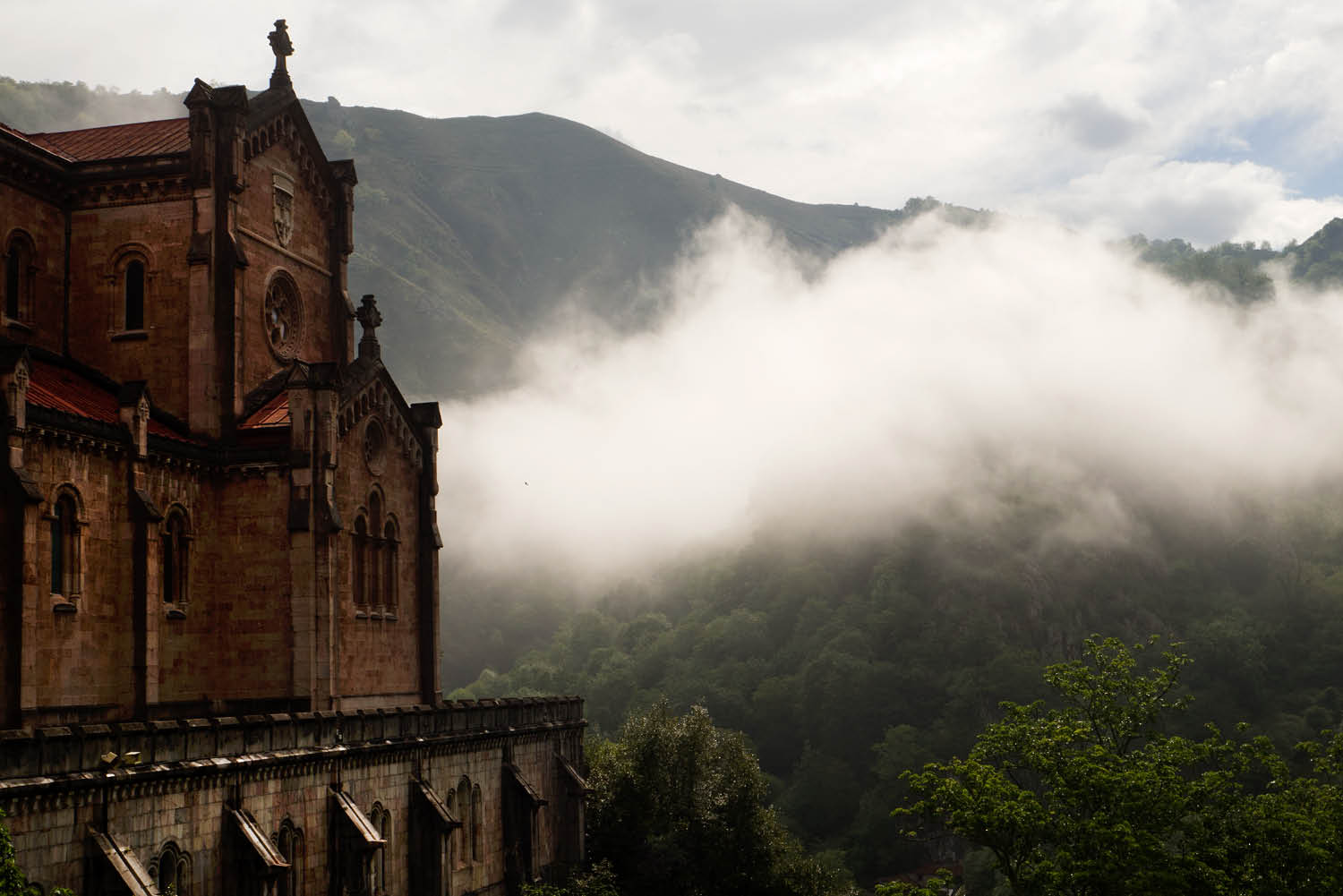 A nostalgic train journey through Green Spain, tracing the path of the ancient Camino de Santiago, reveals a surprisingly contemporary city at its end.
Words by Imogen Eveson.
Many people who travel to Santiago de Compostela do so by foot. The capital of Galicia, a wild and green region in Spain's north-west, is the conclusion of the Camino de Santiago. Pilgrims walk from all across Europe but each places their foot on the same brass scallop shell – the centuries-old symbol of the pilgrimage – at the centre of Praza do Obradoiro to mark their journey's end.
Today, I'm a curious observer in the city's grand main square, and I note how the place crackles with a sense of culmination. It feels electric; although that could be due to the thunderstorm that looms in the hills nearby. I'm one of the few here without a heavy backpack and weary feet, because I arrived, well rested and even more well fed, by train: the luxury El Transcántabrico Clasico.
The inside is like five-star hotel
The oldest tourist train in Spain dates from 1983, when it was set in motion to recapture the nostalgic pleasure of rail journeys and the ambience of decadent trains like the Orient Express or South Africa's Blue Train. It is composed of remodelled antique carriages, including four original 1923 Pullman cars, and along with its sister train, El Transcantábrico Gran Lujo, it travels through some of the most beautifu l but less-visited parts of Spain, along its own metre-gauge track.
Over eight days, we cut a path through the ancient kingdoms – now autonomous communities – that comprise the north coast's Green Spain, setting out from Castile and León, through the Basque Country to Cantabria and Asturias, along the shores of the Bay of Biscay and into Galicia to reach Santiago.
This is not the Spain of popular imagination – hot days and balmy nights, flop-and-drop Mediterranean beaches, sangria and flamenco. Instead, we'll find equal parts sun and lashings of rain, a rugged Atlantic coastline, cider and bagpipes, all of it even more intoxicating in many ways than the stereotypes.
After a guided tour of the historic city of León, and the first of many five-course lunches – this one at the 11th-century Hotel Real Colegiata San Isidoro – my fellow travellers and I are welcomed on board El Transcántabrico by its charming crew and a Champagne reception.
The cabins are small but perfectly formed and subject to the kind of service found at a five-star hotel. Our departure from the station feels ceremonious: outside, dogs bark and people wave. The train, with its elegant livery – in cream, gold and navy – and its curtained windows that give glimpses into our velvety, lamp-lit saloons, captures imaginations everywhere it goes. It's a blast from the 1920s, and a pleasure to call home.
The train stands still at night
El Transcántabrico remains stationary at night, which ensures a good night's sleep, and travels a few hours per day – the changing landscape unfolding with hypnotic rhythm. We alight for daily excursions, led by either our trip's guide, Nina, or a local guide on the ground.
In the Palencia province of Castile and León, we visit the ruins of a Roman villa, La Olmeda, and spectacular churches in unassuming towns like Fromísta; a major stopping point on the Camino. Here, its 11th-century Romanesque San Martín de Tours is just one of three churches in a town with a population of around 800, and is testament to the impact the pilgrimage has had, and continues to have, on Spain's infrastructure.
Back on track, our journey heads into Basque Country, with its proud people and unique language of no known linguistic relatives, and a visit to Bilbao, whose Guggenheim Museum by architect Frank Gehry has helped revitalise the city in the 20 years since it opened. We spend the evening in Cantabria's elegant city of Santander, with its long seaside promenade and atmospheric plazas.
The following day we visit the Museum of Altamira, a compelling reconstruction of the nearby Paleolithic Cave of Altamira that is home to the first cave paintings ever discovered. The vivid renderings of animals and human hands date from as far as 22,000 years ago. Nearby, Santillana del Mar could take the title of the prettiest town in Spain, with its cobblestones, buttery-coloured buildings and flowerpots resting on balconies.
In Asturias, we ascend into the Picos de Europa, northern Spain's majestic mountain range, and visit the Covadonga Sanctuary. A special place of worship and pilgrimage, a shrine is built into a cave here and a salmon pink neo-Romanesque basilica gives the appearance of a castle in the clouds.
The town at the foot of the sanctuary is Cangas de Onís, and its striking medieval bridge is one of many that were built along the way to Santiago to ease the flow of pilgrims.
We move on to Avilés, a steel-making estuary city that retains an attractive old town and is home to a futuristic-looking cultural complex designed by Brazilian architect Oscar Niemeyer.
In Oviedo, we find both history and art: the capital of the region marks the start of the first route to Santiago ever established, the 'Original Way', and boasts a mini Prado to rival Madrid's in the shape of the Asturias Museum of Fine Arts, with works of seminal artists including El Greco, Goya, Picasso, Miró and Dalí held within its permanent collection.
You eat locally, too
Over the course of the week, meals are eaten at local restaurants (including the Michelin-starred El Corral del Indianu in Arriondas, Asturias), in Paradors (state-run luxury hotels housed in heritage buildings such as castles, palaces or monasteries), or on the train itself.
Food is a highlight of the El Transcantábrico experience and is modelled as a gastronomic journey through each region we visit. A morning in Cantabria, for instance, means that sobao appears on the breakfast buffet: a cake-like signature delicacy of the region that is traditionally served with a glass of milk by vendors in Santillana del Mar.
In Asturias, we're treated to an entrée of assorted Asturian cheeses (this region alone has 40 different types); and an evening coasting through the Basque Country yields a main course of cod prepared in two local styles, pil-pil (salt cod cooked with olive oil and garlic to produce a thick, emulsified sauce) and vizcaína (a rich sauce made with roasted red peppers or tomatoes; the question of which provokes heated debate among Spanish chefs).
Meals are cooked each day in the train's galley kitchen by well-regarded Spanish chefs, using fresh produce supplied along the route. Wine is selected daily – often hard-to-beat Rioja from the south – and is in such abundant supply that it even makes an appearance on the breakfast menu. In Asturias, we drink cider, cloudy and crisp, from dedicated sidrerías. It's our first hint of the strong Celtic culture very much alive in this region of Spain.
The next clue announces itself when we arrive in Santiago de Compostela to the unmistakable call of bagpipes. While most of the Iberian Peninsula was conquered by the Moors in the ninth century, the kingdoms of Galicia and Asturias were not, and their ancient Celtic traditions endured.
Our El Transcantábrico journey ends after a morning spent touring the old quarter of Santiago, by foot, but it would be a shame not to use such an auspicious method of arrival as an excuse to linger a while.
The adventure is rich in history
Santiago de Compostela is steeped in history and much of it stems from its cathedral. Pilgrim mass, which is held at noon most days, is an essential experience and an episode of Catholic high-drama. It culminates in the swinging of the Botafumeiro, a giant censer (incense burner) that takes eight men to operate and was originally introduced to purify the air when hygiene levels among pilgrims left much to be desired. This ritual is mentioned in the 12th-century Codex Calixtinus, which contains detailed advice for pilgrims walking the Camino, and is considered the world's first travel guide book.
Despite the city's storied history and its long legacy of tourism, today's Santiago is not the museum town you could expect it to be. Away from the cathedral, in its archetypically old and winding backstreets, there is plenty of tradition: in darkened taverns and traditional restaurants, like A Barrola, serving Galicia's finest seafood.
But there's also a palpable new energy. Contemporary restaurants and tapas bars like Auga e Sal, Abastos 2.0 and O Curro da Parra breathe new life into Galician heritage; a trendy cinema and bookstore, Numax, screens arthouse movies; contemporary art galleries, such as Trinta Arte Contemporánea and Galeria Metro, are housed in timeworn buildings; and fashion boutiques like Ela Diz showcase the wares of local and international designers.
Santiago: the friendly city
A common thread wherever I venture in Santiago is the universally warm welcome I am given. It's something the city does well, having had centuries to hone its hospitality. In fact, I am staying in one of the world's oldest hotels: the spectacular Parador de Santiago de Compostela, also known as the Hostal dos Reis Católicos, was built in 1499 as a royal hospital to provide pilgrims with lodging and shelter. Entire days could be spent exploring its surrounds, based around four gorgeous cloisters, and learning about its history.
Established in the ninth century, the pilgrimage enjoyed a heyday between the 11th and 13th centuries, and in 1993 a new era began when the Camino de Santiago was inscribed on the UNESCO World Heritage List. Today, pilgrims travel from all over the world to embark on the Camino for a variety of reasons; including non-religious ones. Last year alone 277,854 official pilgrims arrived in Santiago de Compostela, of which, 4441 were Australian.
Outside the Pilgrim Reception Office on a typical Sunday in May, I meet Steven, from Sydney, who has walked the French Way (one of multiple official routes) over 38 days. "I've known about it for a long time and I've wanted to do it," he says of his personal motivation.
"Initially it was the challenge, to walk the 800 kilometres [that appealed], and in walking it, it has become something of a spiritual pilgrimage. I'm amazed that I'm walking in the footsteps of millions of other pilgrims. But more importantly, I'm leaving my footprints, which will be followed by countless others."
Purists will tell you that Santiago de Compostela is not the true end of the Camino. Eighty kilometres west of Santiago, with a name that translates literally to the 'end of the earth', Finisterre has drawn 'pilgrims' since before the days of Christianity. The spirit of its pagan roots is reflected in the town's new-age inflections. I walk out to the cape – on the Costa da Morte, or Death Coast – and meet Lucien, aged 70, from Belgium, who is at the end of his 14th Camino.
When asked why he makes the trip every year, his answer is unsurprisingly well-practised. He has five reasons: "I like to walk; I like nature; I like to meet other people; I like the food and the wine in Spain; and I'm raised Catholic. I'm not practising, but when there's a church or chapel open, I go inside and I say – 'Hello God, how do you do? With me it's fine, thank you'".
There's perhaps a sixth reason, too, he ponders. "Saint James, Santiago, says come back next year – and so I always come back." It calls to mind the word Morriña, unique to the Galician language (which is similar to Portuguese), that is used to express the deep connection Galicians feel to their land; of missing it when they are absent and longing to return. I have a hunch that it's not just locals who feel this way. Galicia, and its Green Spain neighbours, are places that beguile with their wildness and warmth and leave you promising to return.
The origins of the Camino de Santiago
The Camino de Santiago, which translates to Saint James's Way, sprang from the legend that Saint James the Apostle's relics were once carried from Jerusalem and buried under the site of what is now Santiago de Compostela. This discovery was made in the ninth century, during the reign of King Alfonso II who commissioned a small chapel at the site and established the first pilgrimage route from Oviedo (the relics are now housed in a tomb within the cathedral).
A dose of marketing was at play here too: at the time, religious buildings across Europe were competing for the best relics as a way of attracting pilgrims (who in turn sought forgiveness for sins) – a good business prospect. By the pilgrimage's peak in the Middle Ages, a huge infrastructure had developed including bridges, hospices and all manner of commercial businesses; from which modern-day pilgrims still benefit.
Details: El Transcantábrico Clasico
Getting there: Qatar Airways flies to Madrid via Doha from Sydney, Melbourne, Adelaide and Perth. A two-hour train journey will connect to León. Alternatively, you can connect to Santiago de Compostela via a one-hour flight or a five-hour train journey.
The journey: El Transcantábrico Clasico runs between May and October each year. Choose between the eight-day and seven-night León to Santiago de Compostela itinerary or reverse. Shorter journeys of four days and three nights can also be booked.
Stop 1: Santiago de Compostela
Staying there: Parador de Santiago de Compostela
Santiago's spectacular Parador, located at the heart of the city on Praza do Obradoiro, blends five-star luxury with history and culture and makes for an unforgettable stay.
Eating there:
Playing there:
Walking (or cycling) the Camino: Australian tour operator (and Camino experts) UTracks connects to Galician specialists to offer group, self-guided and personalised itineraries.
Stop 2: Finisterre
Staying there : O Semaforo: An exceptionally well appointed lighthouse-cum-boutique hotel (with just five bedrooms) and restaurant, perched on Cape Finisterre.
Eating there: O' Fragón: A trip to hidden-gem O' Fragón, just out of town, is worth it for the bread and butter alone (Galicia makes arguably the best bread in Spain), but the ocean views and the finely prepared 'new Galician' cuisine seal the deal