How to enjoy the mild side of Ibiza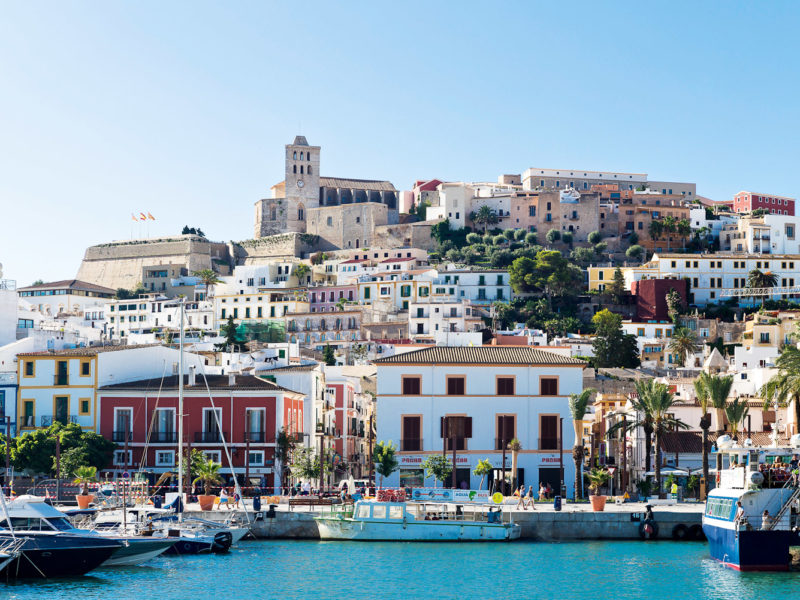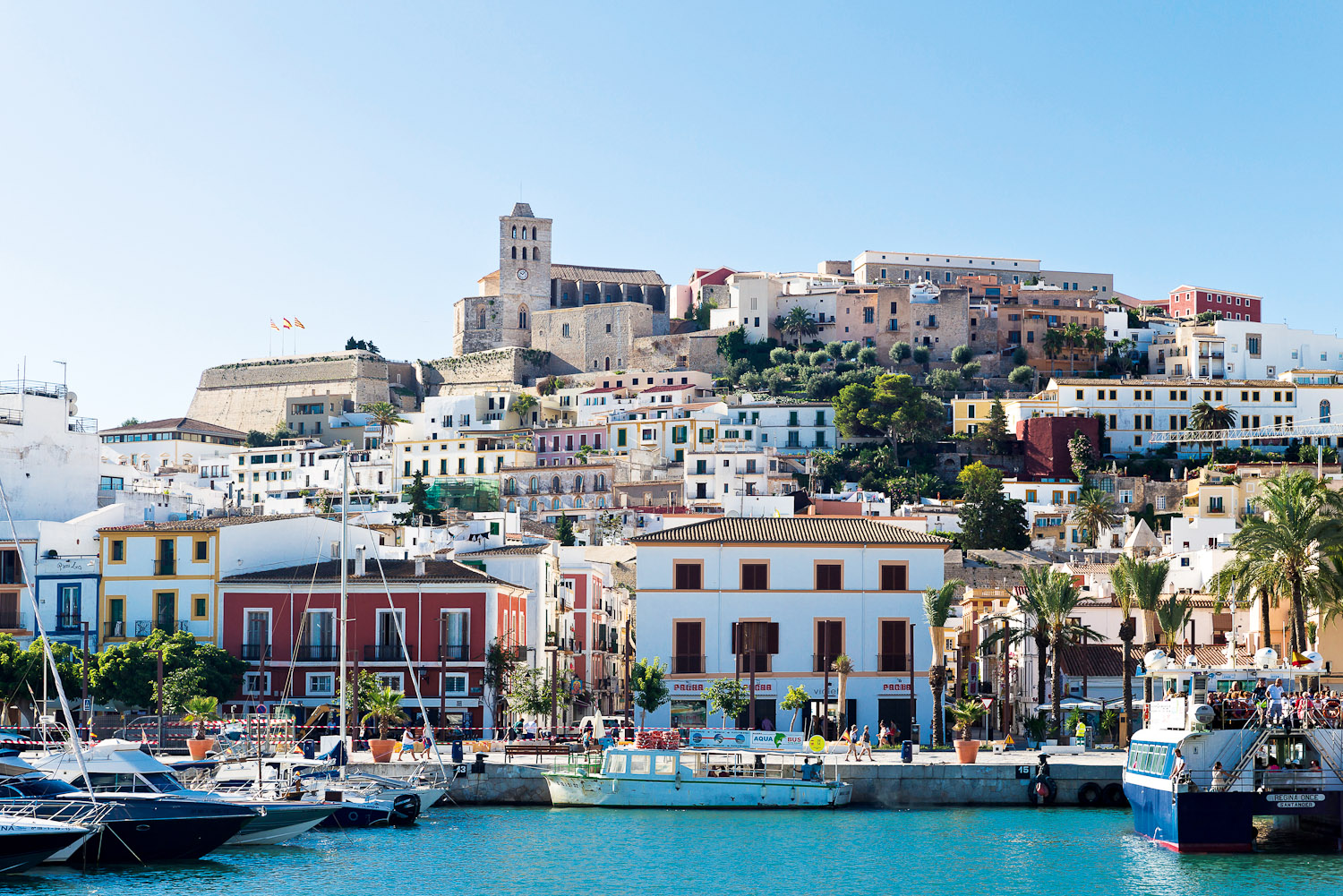 A haven for party people on one side, Ibiza is a sanctuary of calm and quiet serenity on the other. Annemique de Kroon explores the charms of the latter, guided by three locals.
Getting there
Fly to Barcelona or Valencia and take a plane or ferry from there.
Staying there
A boutique hotel in the north (about half-an-hour from the airport) with five suites where 'tradition meets fashion'.
It also has a cafe on the nearby square (Plaza de España).
Calle Principal 3-5, San Juan
An old orange farm turned into an elegant oasis, with Buddhas and bougainvillea, a lovely pool and a great restaurant.
Carretera Sant Joan, Km 15
A simple but stylish rural hotel (15 rooms) in a centuries-old finca.
It also has a nice shop of the same name with clothes and accessories in nearby Santa Gertrudis.
Cami des Pla de Corona 110, Santa Agnés de Corona
Drinking there
The 'first hippie bar' of Ibiza continues to serve tapas, beer and wine in a welcoming ambiance.
On a corner opposite the church, San Carlos de Peralta
Sunset Ashram
Mingle with the party people and the young at heart for a sunset Indian dinner and massage.
Cala Conta, Carretera San Augustin, San José
Bars at Cala d'Hort
Crazy for sunsets? The bars and restaurants at Cala d'Hort offer an additional bonus: Es Vedrà is an imposing rock in the sea, 400 metres high, right in front of the beach.
Eating there
Serving delicious, organic lunch and (usually, but not always) dinner in the countryside, Aubergine has to be the loveliest newcomer on the scene, with a farmers' market on Sundays.
Sant Miquel Road, Km 9.9, between Santa Gertrudis and Sant Miguel
Located in an old finca with a garden enveloped by citrus trees.
San Lorenzo
Raw, vegan, plant-based deliciousness in cool and airy surroundings with friendly staff.
Calle Venda de Llatzer 9, Santa Gertrudis de Fruitera
Taco Paco
Mexican/German/Ibizan couple Dario and Franziska run this popular 'Mexiterranean' restaurant where favourites include nachos with guacamole and prawn ceviche.
Carrer de Sant Jaume 34, Santa Eulalia
Can Cosmi
Established in 1951 and renowned for its tortilla, Can Cosmi is surrounded by almond orchards that bloom in January and February.
Opposite the whitewashed church in Santa Agnes
For a more sophisticated outing dine in (Asian) style at Bambuddha, superbly attended to by dozens of friendly waiters dressed in black.
Carretera de San Juan, Km 8.5, Santa Eulalia del Río
Shopping there
A neighbourly bookshop in a residential area of Santa Gertrudis; German owned, with quite a large selection of English books.
Carrer Venda de Parada 21, Santa Gertrudis
The Rose
Contemporary artwork and handmade silk clothes in vibrant colours.
Venda de fruitera 2, Santa Gertrudis
Te Cuero
On the village square of Santa Gertrudis, Te Cuero has a good selection of bags and belts.
Plaza de la Iglesia 6, Santa Gertrudis
Dutch-owned furniture shop or, rather, slightly megalomaniac warehouse: a never-ending display of design and fun accessories for the home.
Carretera Ibiza – San Miguel, Km 4, Santa Gertrudis
What to do
The first time I set foot on Ibiza was about 15 years ago. I arrived by boat from mainland Spain on a quiet day in the indeterminate days between Christmas and New Year. This time, I arrive by
plane during the ebb of the high season and I have a hard time recognising its capital, Ibiza Town.
The old city is drowning in modern additions: a marina with yachts surrounded by hotels and apartment buildings. It is clear to me that the Ibiza I knew all those years ago has moved on but, as I am about to discover, there are still many new delights to discover in La Isla Blanca's old heart.
Why Ibiza is known as La Isla Blanca, the white island, is not entirely clear. It could be because most of the houses are painted white, or the fact that white mists cover the fields on winter mornings, making sailors claim that, from the sea at sunrise, Ibiza looks like a bank of clouds.
Regardless, the so-called white island is actually made up of red earth; the hills are covered with pine trees and the valleys blanketed with olive, orange and almond groves. And because of its modest dimensions, the turquoise waters of the Mediterranean are never far away.
Driving the roads that snake through the mountains offers scenery fit for car commercials; villages are not so much quaint as filled with character, with bright white churches and happy locals.
Heat and silence
Aubergine is a new restaurant; its concept is farm to table. Every inch of it and its garden is Instagram-worthy, and the food is as pleasing to the palate as the surroundings are to the eye.
There is an on-site gallery with paintings by Italian artist Simona Marziani. Though the subject matter of her art is inspired by her travels to India and Bali, Simona's paintings are infused with a spiritual sensitivity and luminosity that those places and Ibiza seem to have in common.
"Being in touch with nature and a more contemplative lifestyle in harmony with my environment are essential to me," says Simona. "Perhaps my paintings reflect a sense of peace and comfort that the island gives me."
Slender with sun-kissed curls, Simona came to Ibiza in 1997 to stay with a friend and felt so happy and relaxed she missed her flight home. "To tell the truth, I've never been attracted to Ibiza for the parties, craziness and nightclubs; that side has never resonated with me," she explains. "What I find special here is the sense of freedom and the open-minded and curious people from all over the world. Living on an island surrounded by the sea is a nice feeling; problems seem far away."
Driving from San Joan towards San Antonio, taking in views of farm houses, vineyards and fig trees and seeing rosemary bushes and wild fennel growing alongside the road, I pass through Santa Agnes.
Opposite a luminously white church sits Can Cosmi, where people have been coming to eat tortillas for over 60 years.
It is well after noon on a hot day as I sit on the verandah; the silence makes it possible to notice the chirp of the cicadas. María Costa y Pep Boned, the original owners, sit quietly inside in the shade. The only movement is the sudden jerk of María's head as she resists sleep.
After I eat my tortilla, during the long scorching hours of the afternoon, I have to fight the temptation to surrender to the heat and the silence in a long siesta.
The hippie trail
Until the 1950s life on Ibiza was quite archaic, but in the '60s the hippies came – locals speak of 'antes' (before) and 'ahora' (now) to distinguish the two eras.
They were on their way from London and Amsterdam to India and Afghanistan. Traces of hardcore flower-power life are not easy to find; maybe it is more the spirit that lives on.
People smile easily here and seem to have an open and adventurous spirit. Las Dalias started as a hippie market, but it has developed into a well-run operation that is occasionally transferred in its entirety to mainland Europe. In May this year, for example, the market will be set up in Amsterdam. Be it silver, mother of pearl, amethyst, rose quartz, lace, linen or leather, the market is filled with art, clothes and accessories to adorn the body and the home.
Evelyn Noan sells scents and perfumes at Las Dalias. Originally from Montevideo, Uruguay, she moved to Ibiza over 15 years ago.
"I chose Ibiza for the Mediterranean nature and its history. I am interested in Arabic culture and Ibiza has been home to Phoenicians, Punics and Arabs," she says. "My favourite places here are in the north of Ibiza, around San Juan, with stone houses from past centuries hanging on to the mountains; the terraces with citrus orchards offer amazing views. I also love to sail around the island, imagining how it looked to sailors and ancient traders of salt, raisins and wood."
One of Evelyn's beloved memories is of a day of spring rain in the old Arab settlement of Buscastell, an untouched area with 10th-century irrigation channels, old Aleppo pines and orange trees.
One of the fragrant resins in her shop comes from these local pines.
"The resin from the Pinus halepensis has been used since ancient times by indigenous people on Ibiza and all around the Mediterranean," Evelyn explains. "The trees produce a fragrant resin that is extracted from old trees in our finca [agricultural land with farmhouse] by experienced locals during the warm months of the year." It is the ultimate souvenir, allowing visitors to bring home the scent of the island, which was called Pitiusas by the Greeks: the pine-covered island.
Night and day
The hippie vibe has never completely left Ibiza. Away from the raves and parties with millionaire DJs, whose faces stare at motorists from giant billboards along the highway, there is a softer, more bohemian side to the island. But the two do often intercept.
This is illustrated to me early one morning when I go to Cala Benirrás, a beach steeped in hippie history. While a girl practises yoga on the roof of a boathouse, a tourist boat enters the bay, its passengers gaping and snapping pictures of her in a perfect downward-facing dog.
The beach of Benirrás was recommended to me by Pepe Loscertales, the owner of Casa Naya, a 'casa rural' for guests in the hills near San Lorenzo.
Born in Huesca, near the Pyrenees "with lots of snow", Pepe moved to Ibiza over 40 years ago. Though the island has changed a lot over the past four decades, he is still enchanted by it.
"I think it is significant that this place still delights me after all these years. I like the summers when lots of people come to stay and enjoy everything Ibiza has to offer. Witnessing their joy can fill me with emotion," he says in his deep, tobacco-scorched voice. "And I love the calm winters, with pleasant temperatures and lots of little corners and places full of peace, freedom and tolerance. I feel very much alive on Ibiza and even though I wasn't born here, I hope to spend the rest of my life here."
That night when I drive past a quiet street in Santa Gertrudis, I see a 'cantina' where, under fluorescent lights, local men are passionately playing a game of cards. Next to it sits a stylish restaurant with subdued light and atmosphere.
On Ibiza, locals, foreigners and visitors – the old and new – live peacefully side by side.
LEAVE YOUR COMMENT