The 12 most incredible Rome restaurants, from pasta to antipasto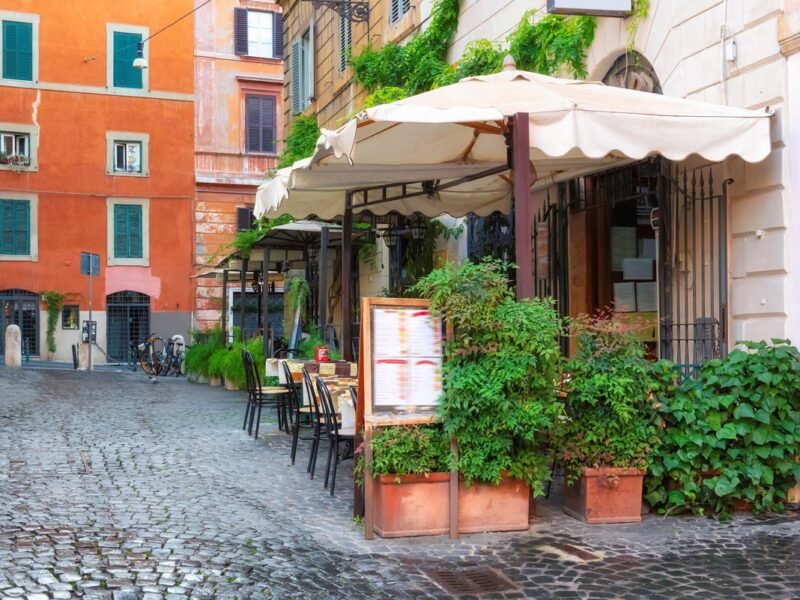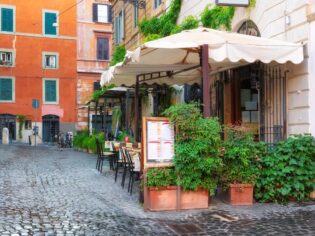 Whether it's melt-in-your-mouth cacio e pepe or perfectly cheesy slices of pizza you're looking for, you'll find it at these delicious Roman dining spots.
If there's any city in the world that you visit for the food, it's Rome. Yes, there is the history, the romantic cobbled streets and the Italian wine scene, but let's be honest – we're here for pasta. And pizza. And bread, cheese, artichokes, olives… the list never ends. Rome restaurants are the stuff of legends, places where you all but recreate the When Harry Met Sally scene, over and again, as you indulge in al dente tagliatelle and creamy burrata.
The actual list of incredible Rome restaurants would be miles long and could never be written, but these are some current favourites we've recently tried and loved.
1. Roscioli
Best for: Ticking a world favourite off the bucket list.
Chances are you've heard of Roscioli – it might be the most famous dining name in Rome. It's also in a great, convenient location – right near Campo de Fiori.
Part delicatessen, part Rome restaurant, the best way to order is to share a selection of creamy, fresh cheeses, sliced meats and pickles. Just be warned, it's always busy – this is one restaurant you need to book way ahead!
Address: Via dei Giubbonari 21-22, Rome
2. Osteria da Fortunata
Best for: Instagram photos – their serving ware is gorgeous!
TikTok has gone wild for Osteria da Fortunata, and while the hype means long queues and a lot of people snapping away at their food, it's not unfounded. Known for its handmade pasta, it's also a massive restaurant with expansive indoor and outdoor seating, so even if that queue is long, it won't be difficult to get a seat.
Address: Via del Pellegrino 11/12, Rome
3. Gino Sorbillo Pizza Gourmand Roma
Best for: Eating the best pizza in the world, without having to visit Naples.
Gino Sorbillo is famous in Naples – known as one of the best places to visit for an authentic Neapolitan slice, with queues constantly out the door, even during torrential rain. If you're not able to make it down south, you can get your pizza fix at the institution's Rome haunt, which serves the same crisp, delicious slices as its original venue.
Address: La Rinascente in Via Tritone 61, Rome
4. Supplizio
Best for: A quick bite to eat.
Suppli are delicious little rice balls, essentially the Roman version of arancini (which is actually originally from Sicily), and if you want to try one, you go to Supplizio. Founded by renowned chef Arcangelo Dandini, it's a casual spot where you can sample a few different flavours, plus try other fried specialties before finishing with the only dessert you could possibly choose here, the absolutely outstanding crema fritta, also known as deep-fried Italian custard.
Address: Via dei Banchi Vecchi 143, Rome
5. Trattoria da Cesare al Casaletto
Best for: Experiencing a side of Rome many tourists miss.
Looking to escape the bustling city crowds? Trattoria da Cesare al Casaletto is further out from the usual tourist spaces, but it's worth the tram ride. Expect to rub shoulders with locals as you chow down on cacio e pepe, polpette and other traditional dishes.
Address: Via del Casaletto 45, Rome
6. Mercato Testaccio Roma
Best for: Those who can't decide (try everything!).
There are two food halls everyone raves about in Rome – Mercato Centrale and Mercato Testaccio. We picked Testaccio because the neighbourhood is known for its fresh produce, so if you're heading to Rome for the food, it's a must-visit even just to walk around and pop into other stores. Open every day except Sunday, a few notable stalls worth heading to are Mordi e Vai for delectable sandwiches based on family recipes and Casa Manco for some of the best pizza you'll ever eat.
Address: Via Aldo Manuzio 66b, Rome
7. Alfredo alla Scrofa
Best for: You guessed it – die-hard Alfredo fans.
Fettuccine Alfredo was born at Alfredo Alla Scrofa, so if you're a fan of the creamy Italian dish, you cannot visit Rome without a meal here.
This is the real deal – just two simple ingredients, sharp Parmigiano Reggiano, and loads of butter, all prepared right next to your table. We're salivating just writing about it.
Address: Via della Scrofa 104/a, Rome
8. Piperno
Best for: Admiring the decor.
We love a good family-run restaurant, especially one that has a history. Piperno has existed for over 150 years and is still housed in a stunning 19th-century building complete with frescoes and historic decor. This is where you come to try the Roman antipasto staple, fried artichokes. They're a must when in town, and Piperno is known for doing them the best.
Address: Via Monte dè Cenci 9, Rome
9. Felice a Testaccio
Best for: Laid-back, classic Italian.
While you're visiting Mercato Testaccio, save room for lunch at Felice a Testaccio. A classic restaurant with a reputation for delicious, unfussy traditional dishes, you can't go past the cacio e pepe; it's a go-to for locals and visiting foodies alike.
Address: Via Mastro Giorgio 29, Rome
10. Trattoria Da Enzo al 29
Best for: Romance among the fairy-lit Trastevere streets.
Trastevere is a fantastic neighbourhood to wander through on a warm Roman evening and is home to some of the best restaurants in Rome. However, there are a lot of restaurants, many clamouring for your attention. Da Enzo is an unassuming eatery with long queues because it just does traditional Italian so, so well. Pick anything on the menu, and you won't be disappointed – portions are generous, so share a few dishes and roll yourselves home.
Address: Via dei Vascellari 29, Trastevere
11. Osteria Nannarella
Best for: A long lunch with a few carafes of wine.
Another excellent Trastevere choice (and yet another TikTok favourite) is Osteria Nannarella, where you'll find handmade pasta, cheap wine and crusty bread with rich Italian olive oil at prices that won't haemorrhage the travel bank. Try to get an outdoor seat for the best people-watching.
Address: Piazza di S. Calisto 7/a, Trastevere
12. Dogma
Best for: Foodies who want to be in the know.
Dogma has landed a spot on many lists of the best Rome restaurants, which is impressive considering it only opened in 2022.
Founded by celebrated seafood chef Gabriele di Lecce and sommelier Alessandra Serramondi, the restaurant is committed to ethical food sourcing and local produce and dedicated to grill-focused meals – even the tiramisu, which is a must-try.
The combination of a skilled seafood chef and talented sommelier means the wine pairings are perfection, too.
Address: Piazza Zama 34, Rome
LEAVE YOUR COMMENT