The ultimate guide to Crete, Greece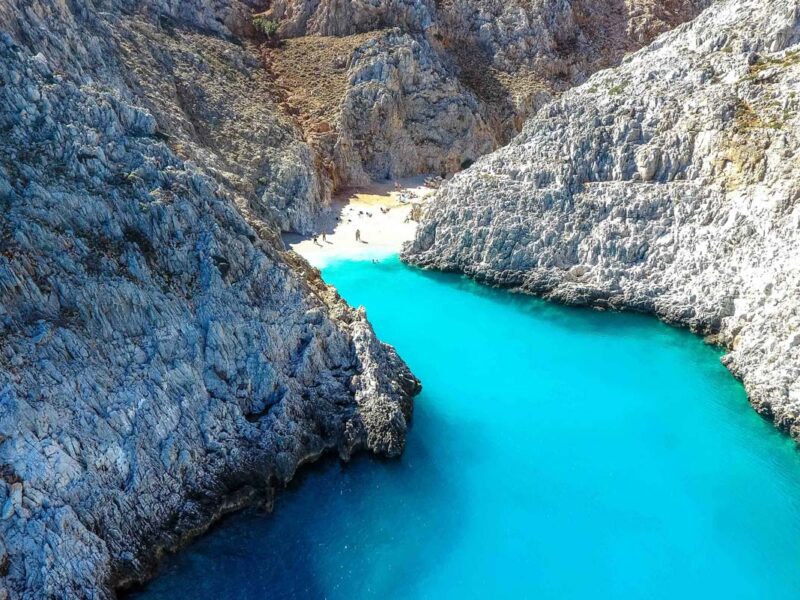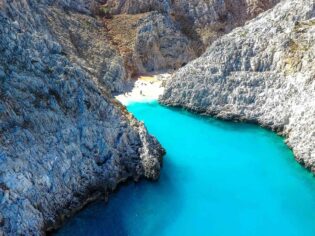 One of the furthest islands from Greece's mainland, Crete's magnificent landscape and unique blend of Turkish and Greek culture make it a must-visit.
The Greek island of Crete has a fascinating history. Situated close to Turkey, you'll find a strong influence from the Middle Eastern country, including a shift in post-meal aperitifs. Forgo the ouzo and indulge in a glass of raki, a potent spirit made from distilled grapes and aniseed. It's also one of the most populated islands in Greece, making it an excellent choice to visit during the off-season, as unlike some of the smaller islands, Crete doesn't shut down over cooler months.
The two most popular areas to stay in Crete are Chania and Heraklion. Chania is a beautiful port town popular with tourists thanks to its retention of historical sites, winding back alleys and proximity to many of Crete's best beaches.
Heraklion is the largest city on the island and is close to the busiest international airport. It is, however, jam-packed and has less of a relaxed energy than Chania. That said, it is a short drive from Knossos, so history buffs will want to spend a few nights there.
Considering a visit? Find the best places to stay, eat, and play in Crete here.
Getting there
It's easiest to fly or catch a ferry to Crete. Given its distance from Athens and the Greek mainland, if you're going from the airport, a flight is best. It takes approximately 50 minutes from Athens, and flights leave regularly daily.
However, given Crete is a popular tourist destination, you'll find plenty of ferry routes from other islands. From Athens, the ferry will take you at least eight hours. However, a ferry from Santorini will only take around two hours, or if you are staying in Mykonos, a ferry will see you in Crete within four hours – so it's worth considering other islands you would like to visit, then booking a ferry if you want a more affordable and practical way to arrive in Crete.
As an island, Crete can be difficult to get around without a car. It's beneficial to rent one if you want to visit multiple cities and sights. Alternatively, many tours from Chania and Heraklion will take you to the most popular sites and beaches.
The best beaches in Crete
If you've come to Crete, you've come (at least in part) for its spectacular beaches. Given the island's best swimming spots are dotted across the whole island, it's best to hire a car and plan them as day trips from either Chania or Heraklion.
Seitan Limania
If you've planned a holiday in Crete, you've likely seen Seitan Limania's jagged cliffs and zigzag of cobalt blue water all over the internet. In person, it's even more incredible. Approximately 40 minutes' drive from Chania, it's worth noting that the road is treacherous and narrow and runs along the cliff edge, so go slowly and only attempt it if you are a confident driver.
Additionally, the hike down to the beach is rocky and difficult, so should not be attempted by small children or those with unsure footing. That being said, it's a worthwhile hike to be met with a small, pebbly beach, deep blue waters for swimming, and even resident goats (who will try to get into your bag, so keep it zipped shut).
Loutraki Beach
This might be our favourite beach in Crete for families. Loutraki is extremely child-friendly, with shallow waters, a lifeguard on duty during the high season, and an organised beach section with shaded sunbeds you can rent from the kiosk.
The kiosk itself is cheap and cheerful, with lunch and drinks on offer. Alternatively, a short walk to the car park entrance will find you at a small, quiet taverna, which does delicious traditional Greek fare.
Elafonissi Beach
This is the most Instagram-worthy beach in Crete, largely due to its famous pink sand. It's not entirely pink, but the areas where sand meets water are particularly beautiful and will delight photography fans.
It's also a very calm place to swim, with warm, shallow waters and a sandbar that leads all the way to the small island of Elafonissi.
You may even spot loggerhead sea turtles as they frequent the area. It is, however, quite a drive – an hour and a half from Chania and over three hours from Heraklion.
What to see in Crete
Knossos
Go searching for the famed Minotaur at the Palace of Knossos, one of Greece's most magnificent ancient sites. Home to King Midas, the ruins have been painstakingly preserved and restored, showcasing the original colours of the palace. Book tickets in advance from the official website to avoid lengthy queues or join an organised tour for a more in-depth exploration of the site.
The Old Venetian Port of Chania
Whether you stay in Chania or not, visiting the famous Old Port is a must. While its edges are filled with tourist stores and hawkers, it maintains a romantic look and feel, especially at sunset.
Instead of eating at one of the oceanside restaurants, venture into Chania's winding back streets to find one of the alfresco tavernas – they're both more affordable and of higher calibre.
Samaria Gorge
Adventure-lovers, take note. Crete has one of the most incredible hikes in all of the Greek islands. Traversing Samaria Gorge will take you a full day, but the hike, which begins in Omalos and runs through Crete's White Mountains, part of a UNESCO Biosphere Reserve, has plenty of beautiful resting spots, including some with small cafes. When you finish, you'll catch a ferry back to Chora Sfakia, where you can then catch a bus to Chania.
Where to eat in Crete
To Xani, Chania
Chania's cobbled back streets are full of gorgeous restaurants with plentiful outdoor seating, but To Xani has the best of both worlds – a great location and fantastic food.
Order the house wine by the litre, the lamb kleftiko and the Cretan salad, and be sure to leave room for seasonal dessert and raki.
Tamam, Chania
Tamam really showcases the Cretan mix of cuisines, with homestyle Greek dishes on the menu alongside Egyptian, Venetian and Turkish-inspired meals.
Produce is locally sourced, and the owners have a particular interest in art, with various works adorning the walls and, on certain occasions, live music and theatrical performances.
Vasili's Taverna, Mononaftis Beach
If you're staying in Heraklion, visit Vasili's Taverna, known for having some of the freshest fish in town. Run by three generations of the same family, it has everything you could want in a Cretan restaurant – beach views, fresh produce, and affordable prices.
Avli, Rethymno
You may pass through Rethymno if you are driving between Chania and Heraklion, and if so, you should make a stop at Avli.
This fine dining restaurant and luxury hotel has a beautiful setting in a historic Venetian villa and utilises the very best of Crete's produce. Expect creative, fresh fare like squid confit, free-range goat and fish carpaccio.
Where to stay in Crete
Crete has a wealth of accommodation, whether you're seeking solitude or want to be in the middle of the action. There are plenty of holiday rentals if you want your own place, especially around the beaches. If you're after something more central, go for one of the boutique hotels.
Casa Delfino Hotel and Spa, Chania
Once a 17th-century Venetian mansion, Casa Delfino Hotel and Spa is now a luxury hotel with only 24 rooms and suites, meaning it never feels overcrowded and provides a peaceful escape from the busy streets of Chania.
It's known for its individual level of care for each guest and its superb location in the middle of the historic area, close to popular restaurants, bars and shopping.
Domus Renier Boutique Hotel, Chania
Another hotel that maintains its Venetian history is Domus Renier Boutique Hotel. You'll find it right on the harbour, inside what was once the home of the Renier family.
Most rooms feature an ocean view of the Egyptian lighthouse, and decor has been meticulously selected to honour the Cretan Renaissance period when the original building was initially constructed.
Giorgi's Blue Apartments, Chania
While Giorgi's Blue Apartments are quite simple and forgo the luxury of some other popular Chania town accommodations, the property makes up for it with dazzling proximity to one of the best swimming spots on the island. Walk down the rocky path to a secret bay that feels like your own private pool. The water is clear, azure-blue, and great for snorkelling. Plus, there are straw beach umbrellas and lounges set up to maximise views and privacy.
Zeus Hotels Neptuno Beach, Heraklion
Escape Heraklion City and book one of the beachside hotels in town, like Neptuno Beach. You'll be a stone's throw from Ammoudara with its long, sandy shore, or enjoy the sunset views from the property's swimming pool if you prefer. You're close enough to Heraklion to be within walking distance of shopping, nightlife and dining, too.
GDM Megaron, Heraklion
Established in 1920, before Crete really took off as a popular Greek island holiday destination, GDM Megaron Historical Monument Hotel has one of the best positions in Heraklion, right in the heart of its shopping district. Rooms are modern but retain their high ceilings and ample space, with many featuring balconies and great city views.
LEAVE YOUR COMMENT