How to choose which Greek islands to visit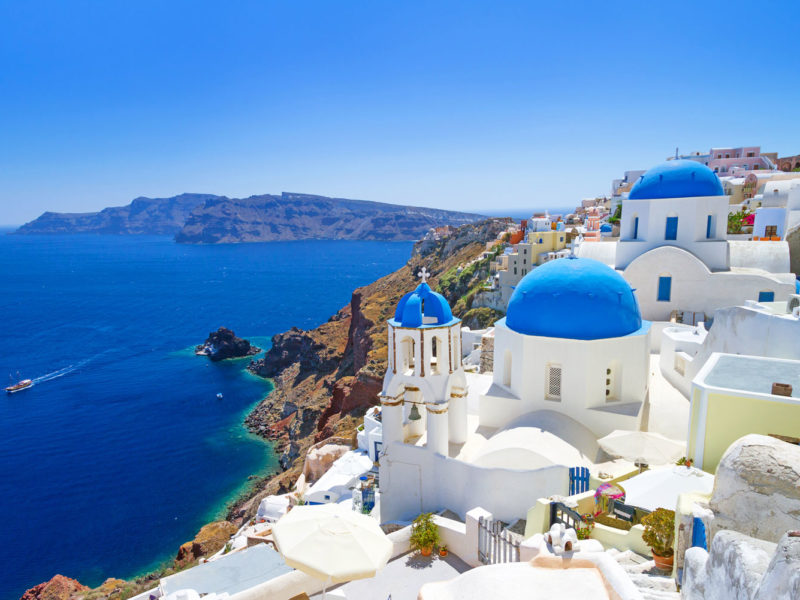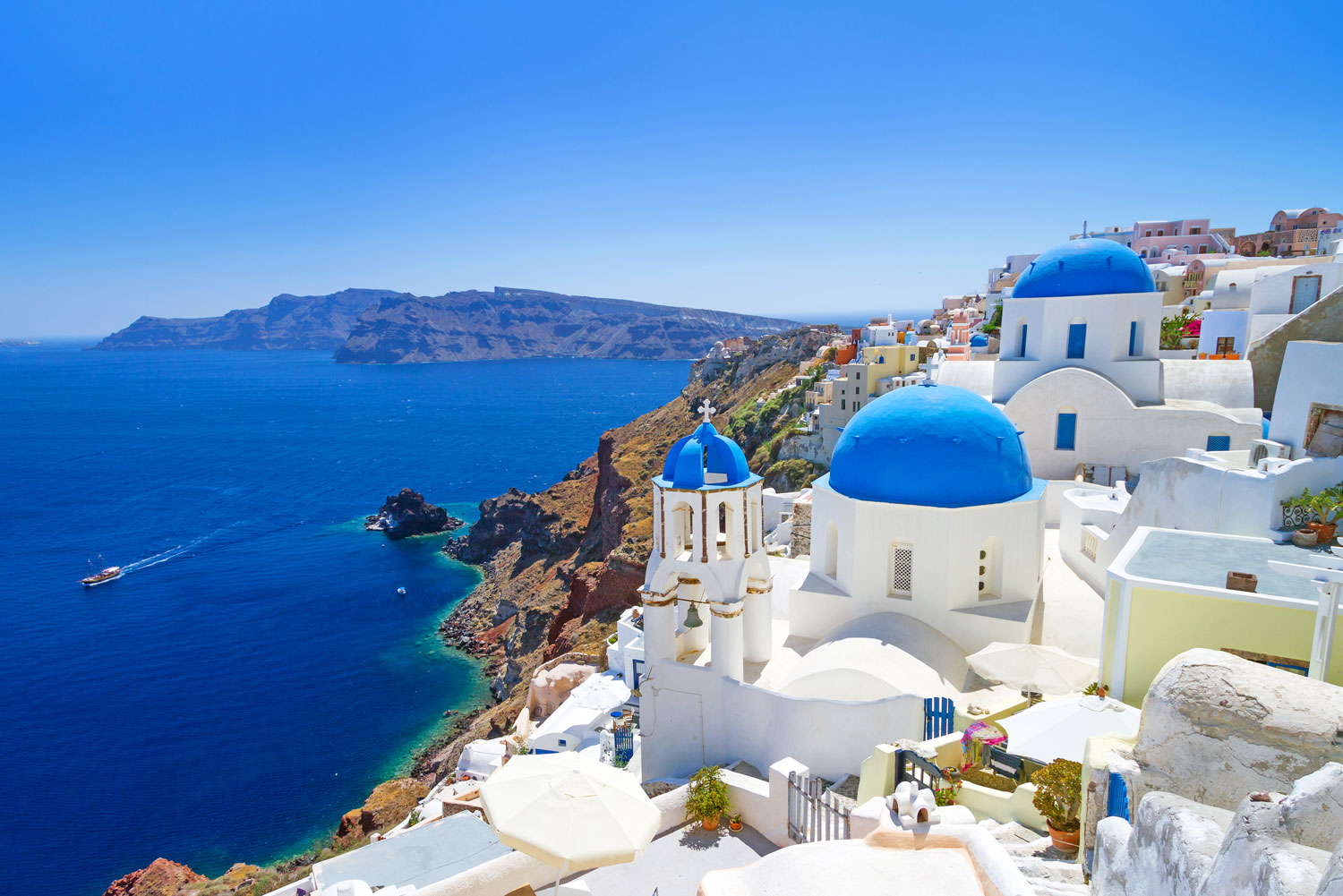 With some 6000 islands and islets surrounding Greece, each boasting irresistible waters, myriad landscapes and varying degrees of development, the question begs just which island is for you?
Here we speak with the good folk from Sunsail (sailing holiday specialists) to get their take on which islands suit what type of traveller.
Santorini
Located: in the southern Cyclades.
Best known for: pure white villages, craggy cliffs, volcanic black-and-red beaches and stunning sunsets.
If Santorini was a person: she'd be a popular sort renowned for her exotic good looks, often spotted socialising in town with a local wine in hand, or reclining on a beach.
Ideal for: photographers, couples and sunset lovers.
Must see: At the northern point of Santorini is the instantly-indentifiable township of Oia. Here you'll see the Cycladic white-and-blue buildings contrasted against the rusty red cliffs that has made Santorini famous the world over. Bring your camera!
Hot tip: Looking for the best spot to snap a picture of Santorini's celebrated sunset? Oia is best-known for the view but if you want to avoid crowds, the outlook from Thira in the south also deserves serious travel-bragging rights.
Mykonos
Located: in the Cyclades between Tinos, Syros, Paros and Naxos.
Best known for: its pumping nightlife, shopping and celeb spotting.
If Mykonos was a person: she'd be a loud, proud social butterfly who plays beach babe by day, party animal by night, with a healthy bank balance to boot.
Ideal for: oiled-up beach bums, fashionistas and party goers.
Must see: The whitewashed windmills overlooking Mykonos Town are iconic Cycladic buildings – a prime photo opportunity once you've recovered from the night before.
Hot tip: Avoid the crowds and visit in the early morning or off-season to soak in the quieter, small-town atmosphere.
Corfu
Located: off the northwest coast of Greece.
Best known for: golden beaches and emerald green mountainsides.
If Corfu was a person: they'd be a lover of the outdoors, hiking mountains by day then partying until dawn – recovering the next morning by heading to the nearest beach and diving into some watersports.
Ideal for: active explorers, thrill seekers and party animals.
Must see: Dassia is the place for watersports, but history fans should explore the UNESCO-listed Old Town of Corfu.
Hot tip: Looking for quiet beaches away from the crowds? Head to the west and north coasts of Corfu.
Paxos
Located: around 11 kilometres south of Corfu.
Best known for: its twenty-plus pearl-white beaches and olive groves.
If Paxos was a person: she'd be a laidback, Mediterranean beach babe who enjoys the simple things in life, like reclining on a secluded beach or wandering barefoot through an olive grove.
Ideal for: travellers in search of some peace, quiet and an empty beach.
Must see: Paxos' adorable postcard-perfect harbours are a must see, as are the island's restaurants, which boast locally-grown olives and wine from nearby Antipaxos island.
Hot tip: Three kilometres south is Paxos' little sister Antipaxos, which is covered in vineyards – make sure you sample some of the local produce!
Ios
Located: in the Cyclades, halfway between Naxos and Santorini.
Best known for: golden beaches and sapphire waters, hillside villages and a surprisingly raucous nightlife.
If Ios was a person: she'd be a lazy beach dweller by day, lapping up the Mediterranean sun and serene waters, but then as the sun goes down she'd liven up and party the night away…only to do it all again the next day.
Ideal for: beach lovers and party goers.
Must see: Take a boat trip to one of Ios' many secluded caves and swimming holes for respite from popular beaches.
Hot tip: From July to August, Ios is a much-loved stomping ground for hedonistic younger crowds, so aim for the shoulder season for a quieter pace that appeals to more mature travellers and families.
Lefkas
Located: off the west coast of Greece, around 20 kilometres from Preveza airport.
Best known for: beaches, forest hiking trails and a small collection of lavish resorts.
If Lefkas was a person: she'd be a nature-lover at heart, with a particular knack for hiking and swimming. She'd also be quite the bookworm, with a library full of history books.
Ideal for: hikers, beach bums and history buffs.
Must see: See the history of Lefkas captured in the castle of Agia Mavra, from its Greek builders to its Turkish and Venetian occupiers.
Hot tip: If you have a head for heights, clamber 80 steps down a sheer cliff face to the stunning golden-sand beach of Porto Katsiki – it's Lefkas' best kept secret. Alternatively, you can skip the hike and sail there.
Kefalonia (Cephalonia/Kefallonia)
Located: in the Ionian, just west of Ithaca and north of Zakynthos.
Best known for: its pretty beaches, striking caves and delectable local cuisine.
If Kefalonia was a person: she'd be a warm-hearted social type, whose world revolves around life's simple pleasures – good food, local wine and beach dips in between.
Ideal for: Greek cuisine aficionados and those seeking a more laidback lifestyle.
Must see: Don't leave the island without visiting Melissani Cave – a unique cavern with an underground lake that glows a stunning blue-green when sunlit.
Hot tip: Myrtos might be beautiful but it's also Kefalonia's most famous beach, so get here early because in summer it gets busy quickly.
Ithaca (Ithaka/Ithaki)
Located: in the Ionian, east of Kefalonia.
Best known for: ancient legends and hidden beaches.
If Ithaca was a person: she'd be much more quiet than her big sister Kefalonia, but no less beautiful. She'd enjoy life in the slow lane, relaxing with bike rides through scenic countryside or pondering life at a traditional harbour.
Ideal for: cyclists and historians.
Must see: Kioni is a picturesque little harbour frequented by sailors, and is an idyllic stopover on any trip. There are plenty of secluded pebbly bays nearby too for a quiet swim.
Hot tip: Ithaca's handful of museums are the place to go if you want to find out more about Ithaca's history – Greek legend depicts this island as the home of the heroic Odysseus.
Meganissi
Located: in the Ionian, southeast of Lefkas.
Best known for: laidback island life, quiet beaches and sea caves.
If Meganissi was a person: she'd be a traditionalist who enjoys peace and quiet, sampling olives and taking boat rides out to secluded beaches.
Ideal for: beach bums and people searching for traditional Greece.
Must see: Meganissi is most famous for the sea caves that dot the island, the largest of which – Papanikolis – is easily big enough to accommodate a tour boat.
Hot tip: The most remote bays and beaches are only accessible by boat, so take a trip out to find your own private slice of paradise.
Kalamos
Located: off the western coast of mainland Greece.
Best known for: hiking trails, history and snorkelling.
If Kalamos was a person: she'd be quiet and reserved, but most in her element when diving into deep turquoise waters or wandering thick pine forests, away from human civilisation.
Ideal for: hikers and those seeking a side of Greece that's untouched by tourism.
Must see: Port Leone in the south of Kalamos was abandoned after the 1953 earthquake, but if you stop here now you can see a village preserved in time.
Hot tip: Keep your eyes on the sea – dolphins are frequently spotted in the serene waters around Kalamos.
Aegina (Aigina)
Located: in the Saronic Gulf, southwest of Athens.
Best known for: amazing beaches and ancient history.
If Aegina was a person: she'd be a sun-loving beachgoer, where you could often find her devouring novels inspired by ancient history.
Ideal for: any sun-seeking, would-be Indiana Jones.
Must see: Aegina's greatest attraction is the Temple of Aphaia, an incredibly well-preserved ancient temple perched on a hilltop. The trip up is well worth it for the spectacular views alone.
Hot tip: Aegina is only a short trip from Athens so it's popular with daytrippers – get here early if you want to avoid the crowds.
Poros
Located: at the entrance of the Saronic Gulf, south of Aegina.
Best known for: its traditional villages, citrus groves and history.
If Poros was a person: she'd be a sophisticated type who enjoys museums, walking amongst neoclassical buildings and a glass of wine on a traditional waterfront.
Ideal for: history buffs and walkers.
Must see: Head inland to see the Theatre of Epidavros, a perfectly preserved theatre with incredible acoustics that have to be heard to be believed.
Hot tip: Want to dodge the crowds? Across on the mainland is Lemonodassos, a huge lemon grove that makes for a quiet – and fragrant – walking route.
Kithnos (Kythnos)
Located: in the western Cyclades, between Kea and Serifos.
Best known for: stunning beaches, snorkelling and remote traditional villages.
If Kithnos was a person: she'd be quiet and traditional, keen to stay off any tourist trail and find secluded beaches.
Ideal for: sun seekers and beach bums.
Must see: Kolona beach is Kithnos' most famous or having two sides! This narrow peninsula is characterised by its fine golden sand and blue water on either side.
Hot tip: Fancy an open air bath? Loutra, in the northeast, is famous for its thermal springs, which is an idyllic place to unwind at the end of a long day.
Kea
Located: in the Cyclades, north of Kithnos.
Best known for: clear blue waters, ancient ruins and peaceful beaches.
If Kea was a person: she'd be laidback but hate crowds, opting for deserted beaches over bustling towns.
Ideal for: snorkelers and swimmers.
Must see: The crystal clear, warm waters of Kea make this a great place for snorkelling or diving. Join a local tour operator or head out by yourself.
Hot tip: Hiking Kea lets you see ruins of its ancient past, including city foundations and the stones of temples, dedicated to Greek legends Apollo and Athena.
LEAVE YOUR COMMENT