What it's like to visit the Faroe Islands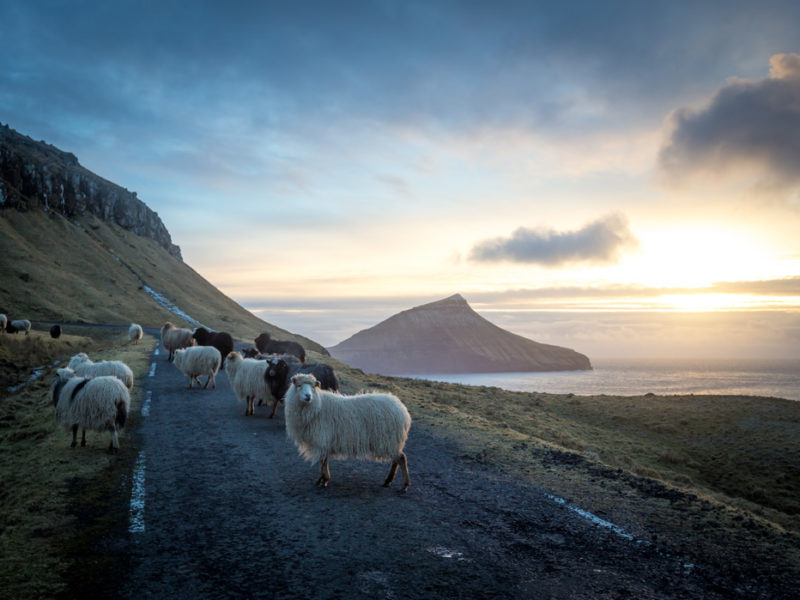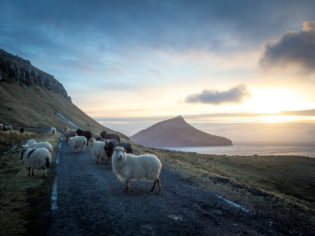 From its raw natural beauty to its reputation as a food frontier, the Faroe Islands in the north atlantic ocean is wild in every sense of the word.
Here, conventions are proudly defied and centuries-old traditions don't merely survive, but thrive: sheep graze on the grass roofs of houses, locals rarely lock their front doors, the concept of dining out is still largely considered unorthodox, and the prime minister's number is in the phone book.
Stranded in the frigid and fickle waters of the North Atlantic, halfway between Scotland and Iceland, the Faroe Islands is unlike anything you've explored before.
A devastatingly beautiful cluster of 18 volcanic isles separated by narrow sounds, this self-governing nation of 50,000 has its own language, currency and identity, but officially remains part of the Kingdom of Denmark.
Like its Nordic neighbours, the Faroes harbours many a whimsical landscape: with dramatic, verdant mountains, bleak weather and treeless vistas, it feels like the improbable love child of Hawai'i and the Siberian steppe.
Get there before the tourism boom
Yet unlike Iceland and Norway, the Faroe Islands is lacking in tourist hordes. While numbers have been increasing steadily over the last five years, only about 100,000 visitors set foot here in 2018 – a fraction of the 2.3 million that Iceland received
that same year.
Word on this windswept archipelago is only just starting to get out, but that's not because the Faroe Islands is hard to reach.
Beyond the busy Copenhagen route (the Danish capital is only a two-hour plane ride away) national carrier Atlantic Airways offers flights from Edinburgh, Paris, Barcelona, Reykjavik and more.
In the sleepy town of Æðuvík (population 102), however, there is still little sign of tourism. Harriet Olafsdóttir av Gørðum and John av Gørðum moved here in late 2014, once Harriet decided to assume the mantle of fifth-generation sheep farmer. Her grandparents live across the road, her parents on the hill behind, and the farm land that surrounds them is where her 75 sheep graze.
I'm here thanks to the local supper club concept known as heimablídni, meaning 'home hospitality'. For a set fee, visitors dine at a local home, with local people, eating local food, as if an adopted family member for the night.
It's a privilege that affords a look under the skin of the Faroese – a people that are notoriously seen by outsiders as quiet and reserved.
We feast on an ink-black moon of homemade lamb blood sausage, fried in butter and dusted with cinnamon sugar. Each village has their own take on this typical dish, says Harriet, and this is her family's recipe. Despite an aversion to all things offal, I'm surprised by how moreish it tastes: crumbly yet not dry, sweet but not rich.
The isles' infamous skerpikjøt also makes an appearance at the table: marbled, ruby-red morsels of the wind-dried mutton planted on squares of buttered rye bread.
Such is the heritage of this culinary tradition that almost every family in the country has their own hjallur – a small, well-ventilated wooden shed, where food, such as skerpikjøt, is preserved and fermented.
This particular specimen had been hanging in Harriet's parents' shed for four months.
The wild landscapes
Beyond the joy of dipping our toes in the local culture, dinner at the Hanusarstova farm allows us to bathe in the otherworldly landscapes of a remote Faroese hamlet that we would otherwise never have clapped eyes on. Standing atop cliffs at the south-easternmost corner of the isle of Eysturoy, Æðuvík feels as if it's at the edge of the Earth.
At dinner, we watch as the unobstructed ocean views disappear from the windows in a matter of minutes, a thick white cloud of fog rolling in.
On our drive back to the capital, Tórshavn, come 10.30pm, the sun is slowly beginning to set behind the mountains to the west, a rosy glow flooding the sky. We stop on the fringes of Æðuvík to soak up the ethereal light and stillness.
Bar the blades of a wind turbine that rhythmically sweep into view above the hillside, there's not a single speck of manmade development on the horizon, the silence broken only by the occasional shriek of seagulls, or bleat of sheep.
To the north, the road that leads back down through the valley now descends into a pool of mist seemingly suspended between hilltops.
Wherever you venture in the Faroes, it's practically impossible to avoid wildly beautiful views. Towering, wrinkled mountains carpeted in grass wear fluffy white halos, navy waters lashing at their feet.
Valleys are studded with quaint, clapboard houses that are tarred black or painted in red ochre. Yellow rivers of buttercups, the Faroes' national flower, adorn mountainsides. Craggy, spindly fingers of rock rise out of the sea.
The wildlife
Vast colonies of seabirds – puffins, gannets, European storm petrels and more – perch precariously on vertiginous basalt cliff faces. And sheep with shaggy mops can be found grazing almost everywhere.
The untamed scenery of the Faroe Islands has been shaped by the elements. Here, you're never more than five kilometres from the sea and, thanks to a glut of rainy days – as many as 300 a year – these shores bristle with lush green grass.
But climate and geology haven't just influenced the landscapes of this island nation – they've determined the local diet and food culture, too.
Local cuisine
Little grows on these isles beyond root vegetables and rhubarb, which you'll find on almost every restaurant menu. Lamb and seafood, however, are in plentiful supply, and have long been local staples. So abundant are sheep that the very name Føroyar (Faroe Islands) derives from an old Norse word that literally means 'Sheep Islands'.
The mammals outnumber locals 70,000 to 50,000, and even the country's oldest surviving record – a royal decree known as the Sheep Letter that dates back to 1298 – concerns sheep husbandry.
One culinary legacy outlined in the Sheep Letter has since found much less favour internationally: whaling.
A history of whaling
Records of organised whale drives in the Faroe Islands date as far back as 1584, the practice becoming enshrined in local culture over the centuries. While commercial whaling was outlawed in the early 1980s, a community hunt continues each summer, which sees
some 800 long-finned pilot whales slaughtered.
The catch is distributed evenly among the local community for consumption, however, whale meat and blubber can be found on almost every restaurant menu in the Faroese capital of Tórshavn.
Though the annual grindadráp is regulated by local authorities, the practice has come under increasing criticism by animal rights groups, while medical concerns regarding the levels of mercury found in whale meat and blubber have also been raised.
"The only argument you can give is that it's food," says Poul Andrias Ziska, the young chef at the helm of the Faroes' most illustrious restaurant, KOKS.
"Globally there are a lot of cultural legacies that shouldn't [happen]… that's not an argument. [But] this is something that has kept us alive throughout the centuries."
He notes that pilot whales are today not considered endangered, the north-east Atlantic population numbering almost 800,000. And as such he suggests that the practice, in its current form, is sustainable.
Dine at KOKS restaurant
Pilot whale meat and blubber are among the cornucopia of curious dishes that typically feature on the two Michelin-starred restaurant's 17-course degustation menu.
Translucent slivers of blubber sit atop a rainbow of julienned pickled root vegetables. Dainty, dark red, heart-shaped crackers made of spiced, dehydrated lamb's blood cradle tiny morsels of smoked whale heart and dehydrated lingonberries.
Other unusual odds and ends crowd the seasonal menu, too: cod's head terrine, roasted puffin, razorbill Wellington.
For fussy eaters, dinner at KOKS is a panic-inducing obstacle course; for those with adventurous tastes it's a culinary wonderland, diners wearing their visits like a badge of honour.
KOKS' small timber dining room now books out months in advance, but the restaurant wasn't always on everyone's lips.
"When we first opened [local] people were really laughing [at our] small dishes on big plates and raw things, and not being accepting at all," says Ziska. "It's not until somebody from the outside says: 'This is probably one of the best ingredients in the world and we're gonna pay you a lot of money for it' that people say, 'Oh, OK'".
Why the Faroe Islands are only just gaining popularity
Given the humility of the Faroese, perhaps it's unsurprising that these wild isles are yet to gain the acclaim they're due.
At Hanusarstova farm, for example, Harriet explains that others were initially confounded by the concept of local supper clubs, or heimablídni: "The Faroese are a very modest people," she notes. "My grandma would say to me, 'Why would people
come to your house for dinner?'
We used to think we barely have anything to offer. Now we know that's not true.
What to know before you go
Getting to the Faroe Islands
Emirates flies daily to Copenhagen via Dubai from most Australian capital cities. Atlantic Airways operates daily flights from Copenhagen to the Faroe Islands' Vágar Airport, which is a 45-minute drive from the capital, Tórshavn.
Where to stay on the Faroe Islands
A beautiful, boutique hotel, HAVGRÍM occupies a plum spot on the shoreline of Tórshavn.
Powered solely by geothermal energy, the property takes its design cues from the sea and sky and still retains many of its original, late '40s features.
Transportation around the Faroe Islands
Although there's an extensive bus and ferry network in the Faroe Islands, services are often infrequent. Strandfaraskip Landsins offers a multi-day Travel Card, which you can use on all buses and most ferries.
Hiring a car is by far the best way to get around the islands, many of which are connected by bridges and undersea tunnels. 62N is a reputable local company that offers automatic and manual vehicles for hire.
When to visit the Faroe Islands
The best time to visit the Faroe Islands is from May to September, when the weather is at its warmest, the days are at their longest, and the wildflowers are in bloom.
As this period represents the peak travel season, it's important to book accommodation and car hire in advance.
Where to shop on the Faroe Islands
The abundance of local wool means there's no shortage of knitted gear for sale here; and Faroese wool is known to be exceptionally warm and water-resistant, if a little itchy.
Pick up cosy hand-knitted clothing from FØROYA HEIMAVIRKISFELAG, or designer wool wares from homegrown brand GUÐRUN & GUÐRUN. Local emporium ULLVØRUHÚSIÐ also sells accessories made from fish leather and seaweed.
Currency
There are two currencies accepted in the Faroe Islands: the Faroese króna and the Danish krone. The Faroese government prints its own bank notes, but only Danish coins are used (Danish notes are also acceptable).
Visa requirements
Australian passport holders do not require a visa to enter the Faroe Islands; you do have to have at least three months validity on your passport beyond your planned stay.
LEAVE YOUR COMMENT