Beginner's guide to exploring Nha Trang, Vietnam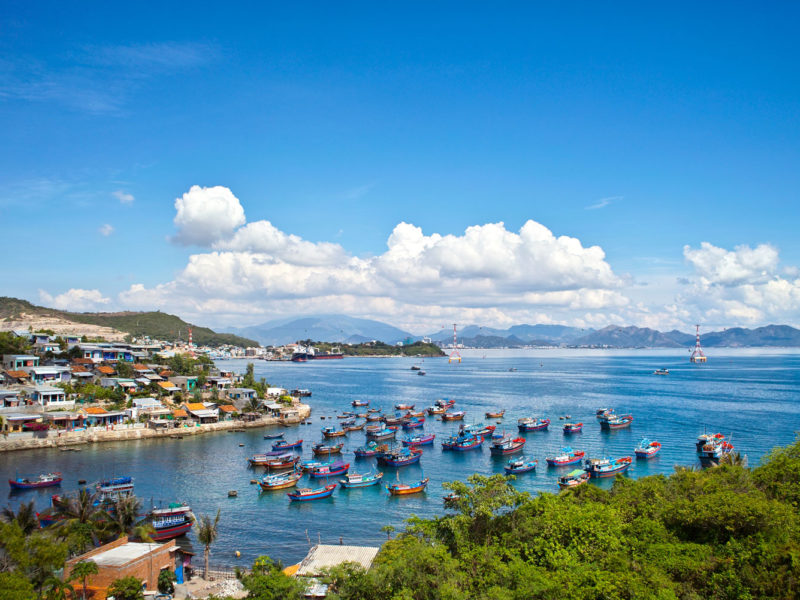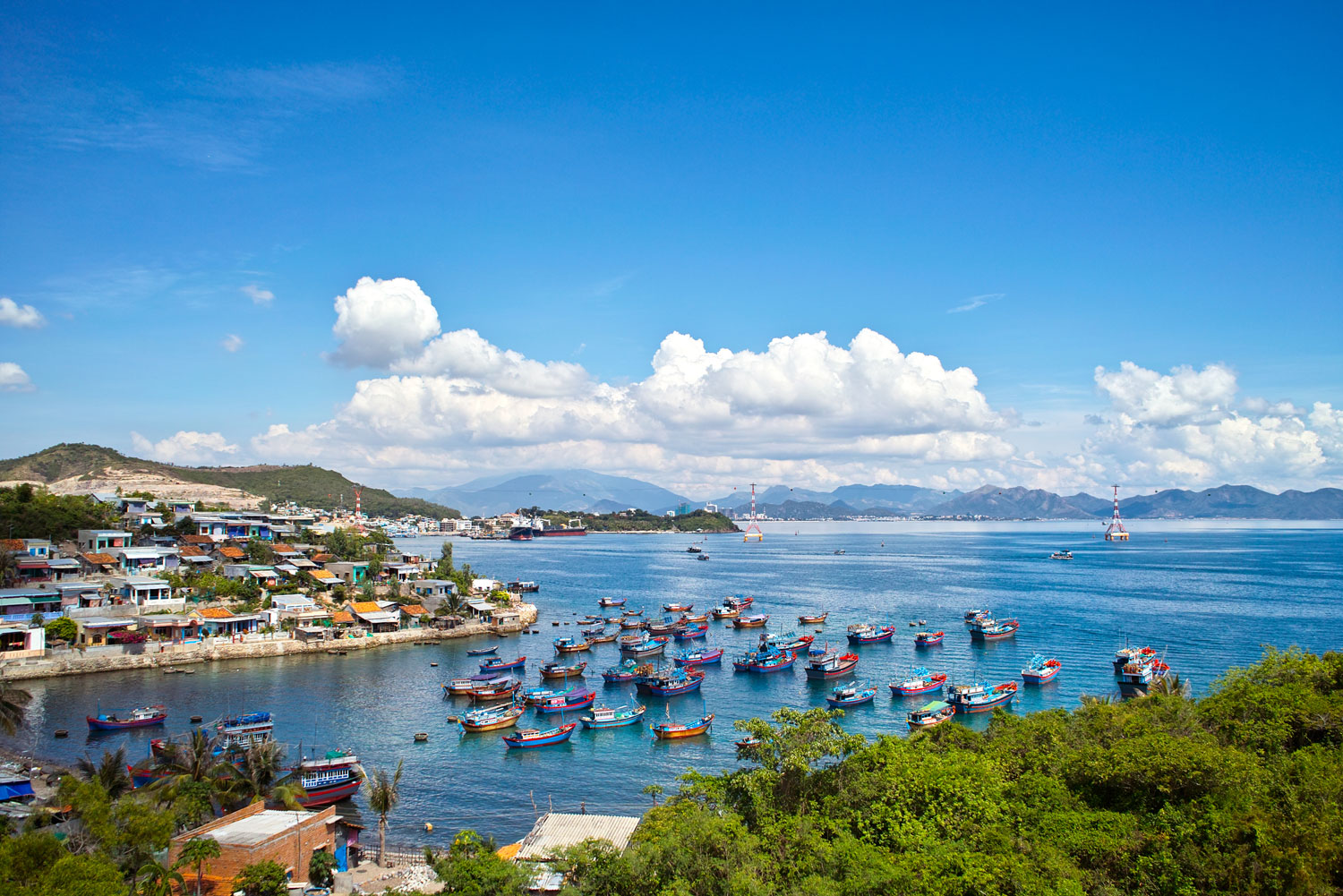 With a sweeping crescent beach and world-class diving on the doorstep, Nha Trang also boasts an abundance of bars, temples and local landmarks to entertain any first-time traveller.
Welcome to Vietnam's hustling, bustling beach capital, situated some 440 km north of Ho Chi Minh City.
Eat
Galangal
Arguably one of the best places authentic Vietnamese cuisine, Galangal's menu has a strong focus on street food.
Try the street food buffet, with a tasty array of dishes crafted some fresh ingredients and traditional cooking methods.
Address: 1A Biet Thu
Louisiane Brewhouse
Set right on the beach, this open-plan brewhouse serves delicious homemade beers as well as an assortment of local and international cuisine, including an in-house sushi bar.
Almost as good as the food is the music and atmosphere – visit on Wednesday for flamenco, Friday for pop or Saturday for rock and blues, from 8:30pm.
Address: 29 Lot Tran Phu
Lac Canh Beef BBQ
No trip to Nha Trang is complete without stopping at Lac Canh Beef BBQ.
This fast paced, cook-it-yourself restaurant serves Nha Trang specialties, such as bo lac canh (marinated beef).
For a real treat, order a bread roll to soak in the remaining marinade and grill it for a few minutes. Garlic bread never looked so passe.
Address: 44 Nguyen Binh Khiem
Bo Ke Seafood
Sampling local seafood doesn't get much better than this.
Taking in both river and ocean views, this relaxing waterside restaurant showcases seafood the local way, with everything on the menu caught fresh each day.
Address: 42B Cu Lao Trung
Shop
Artful Collection
The handiwork of French photographer and designer Thiery Beyne, Artful Collection is a gallery and souvenir shop in one.
Housing a collection of Beyne's work, here you can pick up limited-edition, originals and black-and-white prints portraying his impression of the country he now calls home.
Address: 1 Tran Quang Khai
Saigon Pearl
Here you can pick up a pretty little pearl keepsake, produced in nearby Van Phong Bay, using modern techniques from Japan.
All of the pearls sold at Saigon Pearl have matured over two years, providing top-notch quality.
Be sure to ask the shop assistant for a demonstration on how the pearls are cultivated.
Address: 150 Hung Vuong / InterContinental Nha Trang, 32 Tran Phu
XQ Hand Embroidery
Quickly becoming the most recognisable embroidery brand throughout Vietnam, XQ has been a driving force behind the art of embroidery becoming ingrained in Vietnamese culture.
Some of the embroidered works here are so exquisite, you could be forgiven for thinking it's a photograph.
Address: 64 Tran Phu
Visit
Thap Ba Mud Bath Hot Springs
A concept that has existed for thousands of years, Nha Trang's mud baths are the result of natural hot springs combined with volcanic ash.
Swimming in these mud baths is believed to have beneficial health properties, then you can rinse off in hot mineral water.
Address: 15 Ngoc Son, Ngoc Hiep
Po Nagar Temple
Located at the mouth of the Cai River in Nha Trang, this ancient temple features the unique architecture of the Champa culture.
Built between the 8th and 13th centuries during the prosperous reign of Hinduism in the Cham kingdom, the temple is the largest left in Central Vietnam.
Twice a day beautiful Cham girls perform traditional Cham dancing at the temple from 8am to 11am and 2pm to 5pm.
Hon Khoi Salt Field
Situated about a 45-minute drive from Nha Trang city, between January and June this salt field is quite the spectactle to witness.
From 4am to around 9am, women work here carrying heavy baskets of salt on their shoulders from shallow pits, and piling them up for the trucks to distribute across the country.
Try to arrive before sunrise for a spectacular and unforgettable view.
Address: Ninh Au Co Quang An Tay Ho
Tu Van Pagoda (Shellfish Pagoda)
Built around 1968, Shellfish Pagoda became famous for using solid ocean matter in its construction.
The 39-metre Bao Tich Tower alone took five years to contruct, using only coral and decorated with shells and clams.
Much of the materials used over the years was collected by the pagoda's monks, found along local beaches.
In recent years, the landmark has grown to include more towers, caves, tunnels and bridges, all decorated with findings from the beach. Check out the 500-metre tunnel leading to 'Hell' while there.
Address: Thang 4 Street, Cam Ranh, Khanh Hoa
Ho Mun island
Nha Trang is famed for its world-class diving sites, regarded at the scuba diving centre of the country.
But the pinnacle of local dive sites is the marine park of Hon Mun – boasting over 350 listed varieties of hard and soft corals, as well a rainbow of tropical fish and other marine life.
STAY
Intercontinental Nha Trang
Situated on the golden street of Tran Phu in Nha Trang City, Intercontinental Nha Trang is just one of the luxury hotel brand's outposts in Vietnam.
The property features 279 guest rooms, all of which feature a spacious balcony with private sitting area.
Guests can also make use of the complimentary Wifi provided, while those who are a part of Club InterContinental are also treated to private check-in and check-out, complimentary afternoon tea, and all-day non-alcohol beverages.
The hotel's signature restaurants and bars promise a range of gourmet experiences too. Cookbook Café for instance (the main restaurant), serves all-day dining a-la-carte menus and buffet at night.
Guests can also indulge in cocktails at Lobby Bar or Aqualine Bar or soak up glorious Nha Trang sunshine at the poolside lounge.
Other facilities include a dedicated fitness centre, three outdoor swimming pools, a spa and kid's club to entertain younger guests.
Advice
Exchange rate
Vietnamese Dong is the local currency. So $1AUD is equal to about 17,000 VND (check here for the latest rate).
Gratuity
Whilst there is no expected amount for gratuity, a small tip will always be appreciated.
What to wear
Nha Trang is best known as a beach town and open to various forms of street fashion.
However, always dress properly with covered shoulders and knees when sightseeing, particularly religious sites.
Remember to remove shoes before entering temples or someone's home.
Weather
Nha Trang's dry season lasts from January through August, with a short wet season from September through December. The average annual temperature high is a pleasant of 30.7˚C.
LEAVE YOUR COMMENT