Forget Bangkok, visit undiscovered Northern Thailand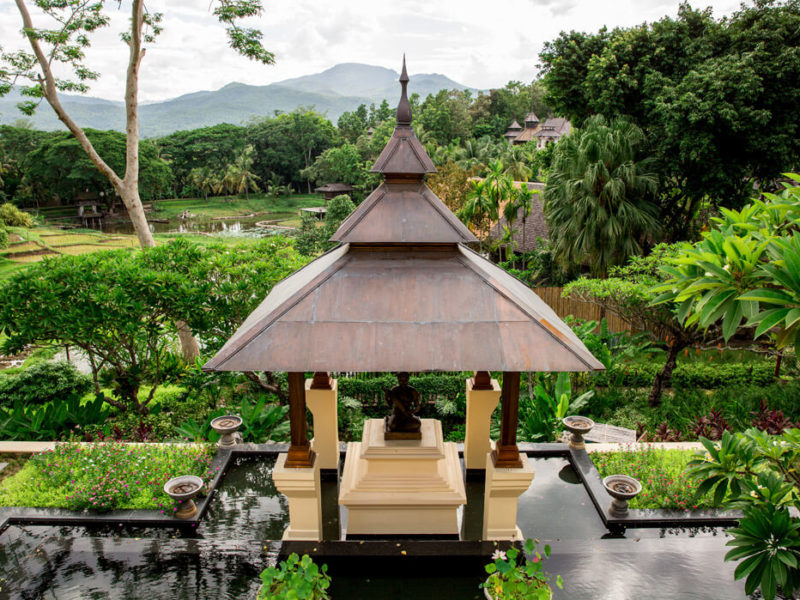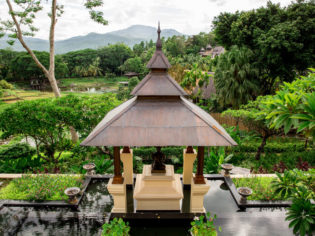 The mystique of Northern Thailand, from Chiang Mai to the Golden Triangle, can be found in its lush green landscape, its time-honoured traditions and the gentle giants that inhabit it.
A silent procession of orange-robed figures emerge from the morning mist that hangs over the tropical tree-lined pathway. With shaved heads bowed, they solemnly step into view through shafts of light. I rub my bleary eyes to check that I'm not imagining their appearance.
It's 6.45am; I've dragged myself away from the soft, silk pillows of my bed, where I slept peacefully to the steady thrum of cicadas, to participle in a daily Thai religious ritual. The Buddhist tradition of giving alms or almsgiving is a way of accruing good karma for this life and the next.
I've been kneeling for 10 minutes, earnestly anticipating the arrival of Buddhist monks, with fresh fruit and sticky rice at the ready. Each monk pauses in front of me and wordlessly reveals a brass bowl under a swathe of saffron-coloured material. I gently place the edible goods inside, then start a low, sonorous chant as their bare feet pad the leafy pathway to disappear from view as suddenly as they had appeared.
So tranquil are my surrounds, it's hard to believe I'm at the entrance pavilion of the Four Seasons Resort Chiang Mai. The 12-hectare property is set amid the forested mountains that surround Mae Rim Valley, about 30 minutes north of Chiang Mai. It's a haven of tropical foliage, waterfalls, lily ponds and Lanna-style pavilions dotted around terraced rice paddies.
The beautifully appointed Thai-style suites feature Siamese artwork and teak flooring, as well as private verandahs overlooking frangipani-scented gardens fringed by banyan trees.
A statue of Mae Phosop – the goddess of rice – sits overlooking the resort's glistening rice fields. 'The mother of rice prosperity' is an important figure in ancient folklore, as the grain is a staple of the region. The glutinous rice prepared for the monks this morning was sourced from the resort's own working rice paddies.
I squelch across the marsh to meet the farmers who tend to the crops with the help of water buffalo, or 'living tractors'. I watch as the resident buffalo are bathed to cool down in the sultry heat, before delving into a quick lesson in rice planting, which turns out to be back-breaking and a sure way to increase your appreciation of every single grain consumed during a stay here.
The North Star
While Southern Thailand has long attracted travellers with its idyllic islands and coconut palm-strewn beaches, the north is wildly different. It beckons with the promise of lush landscapes, cultural riches and deeply spiritual encounters. More than sand and sunshine, there's something here for your very soul.
Chiang Mai was once the capital of the 13th-century Lanna Kingdom (meaning 'one million rice fields'), which also covered neighbouring parts of Myanmar, China and Laos.
The province officially became part of Siam in 1933. It's the country's second largest city, yet only a fraction of the size of buzzing Bangkok. Buddhism is Thailand's official religion and Chiang Mai is the spiritual heartland, with more than 300 temples (wats) and giant gilded Buddhas scattered across the province. The 700-year-old city is steeped in spiritual heritage and ancient traditions, and is therefore regarded with reverence by many Thais.
Chiang Mai is an obvious starting point for those wanting to venture four hours further north to Chiang Rai. The confluence of Thailand, Burma and Laos, known as the Golden Triangle, or Sop Ruak to locals, is a mysterious land of teak tree forests and mist-shrouded mountains carved by the mighty Mekong River. In the age of mass tourism, it's not often one feels like you're getting off the beaten path.
However, the Four Seasons Tented Camp Golden Triangle, situated in a sleepy backwater on the northernmost edge of Thailand, is far-flung and exotic enough to entice intrepid travellers with the promise of adventure.
Searching for gold
The Four Seasons Tented Camp, dreamt up by the legendary American-born, Bangkok-based designer Bill Bensley, evokes the atmosphere of a 19th-century explorer's outpost. The sense of arrival is inimitable, as a long-tailed boat navigates through the tea-coloured waterway of the Ruak River, a serpentine tributary that divides Thailand and Myanmar.
We glide past fishermen setting rattan fish traps and buffalo wading through the water. An enormous male elephant with a piercing pair of ivory tusks appears in the tall grass on the riverbank and signals our arrival with thunderous trumpeting. It's an experience that is so perfect, it feels as though it's been staged for my benefit; it's rustic, remote and utterly romantic.
After clambering onto a small dock, I'm whisked away to my air-conditioned tent, chauffeured in a 1975 vintage jeep. By the afternoon I'm settled in one of the 15 canvas tents elevated among the treetops, with hardwood floors, handcrafted leather furnishings, a bed cloaked in mosquito netting and a freestanding copper bathtub.
To get a grasp of the infamous past of this region, I visit the Hall of Opium. It's a surprisingly vast museum – close to the fields where a sweeping carpet of poppies once bloomed and the sleep-inducing, sticky-brown sap was scored from unripe pods.
The province was notorious for opium trade, a dark chapter in Chiang Rai's history that began to change when the government intervened in the 1970s. Opium cultivation was once a major cash crop for highland tribal communities and, in recent years, swathes of hillside have been reforested with other profitable produce, such as Arabica coffee, macadamia, fruit trees and tea plantations.
The great escape
I return from my excursion just in time for the quintessential camp experience – sundowners at the Burma Bar overlooking the pink, orange and red painted sky illuminating the Rauk River. Languid evenings are spent sipping cocktails at the breezy bar with the thatched roof that is bedecked with tribal antiques, Siamese textiles and overstuffed leather lounges.
This is prime position for panoramic views over Myanmar and the faraway hills of Laos. The open-air design allows one to feel part of the elements, amid the chorus of jungle sounds.
It's the ideal setting for swapping traveller's tales with other guests. I've met up with the exuberant Tobias Emmer, the German-born general manager of the camp.
"You can't leave the tented camp without having a lemongrass martini," Tobias chuckles as we clink glasses. He's joined me for a drink so I can learn more about the elephants cared for by the Four Seasons camp, which works hand-in-hand with the Golden Triangle Asian Elephant Foundation, a sanctuary that rescues poorly treated elephants and gives them a loving home in their natural habitat.
Tobias explains that each elephant has a distinct personality. Linda, who was forced to work on the tourist strip of Bangkok's red-light district as a calf, has found her forever home at the camp. She often joins guests for breakfast in the morning, polishing off baskets of bananas and crunching on coconuts as 'glampers' sip their morning coffee.
"Linda is a very food-excited personality; sometimes she doesn't want to go until she has more bananas," says Tobias. Linda's insatiable appetite (elephants can eat more than 200 kilograms of food per day) almost led to a major border control incident. She picked up the scent of food in the air from yonder, eventually crossing international waters and stealing into Myanmar.
It wasn't long before she was found munching away on a Burmese farmer's crops, having left a trail of ruined fences along the way. They had to enlist the help of Linda's best 'ele-friend' Pumpoi to coax her back across the stream, dangling some sugar cane as additional bribery.
It rains heavily overnight. The sound of rain on the tent (one of the Earth's most blissful sounds when you're safe under the sheets) mingled with a peal of jungle noises – swishing leaves, an ensemble of calls from geckoes, frogs and birds – is both musical and mournful.
I wake up to the earthy, sweet perfume of petrichor. The sun's rays hit the water as I soak up my surrounds from the outdoor shower, catching a glimpse of the gentle giants wandering through the greenery below.
Walking with locals
I meet up with the lead mahout (keeper), Khun Seng, by the old barn for the 'Elephant and I' experience. Khun and I will be exploring the wilderness with a herd of elephants: a real bucket-list activity. I'm dressed in a denim mahout outfit tied together with a sash crafted by a nearby hill tribe community.
I'm in awe of the peaceful creatures that stand before me. I tenderly run my palms flat along an elephant named Yuki's trunk, her grey, crêpey skin is speckled pink and softer than I expected. She bats her long eyelashes and I get lost in her kind, amber eyes.
Our gaze is only broken as Khun Seng starts loudly listing a few rules: "You must not walk too close behind an elephant, as even the flick of a tail will hurt you." Check. "Don't hug their trunks as the underside is very sensitive." Check. "Don't feed the elephant and then tease them by taking the food away." Or, in my case, don't resist when four trunks swoop in from all angles to deftly prize away the bananas that have been discovered in my bag.
Khun and I amble through the forest and deep into the tall grasslands alongside the majestic mammoths who move in a relaxed and unhurried manner. They pause to strip sugarcane or rub their backsides against trees that bend and strain against their weight.
We'd never reach the river for their bath without some encouragement from the mahouts, who keep uttering the words "pai, pai", which means 'go'. As we near the swimming spot ahead, the mood changes and it's like watching a group of playful toddlers.
Their steps pick up pace as they gleefully frolic into the water and their trunks spurt out cascades of murky water into the air. I'm so enthralled I hardly notice I've been covered in mud.
The heat has hit hard by midday. While the herd of elephants flap their enormous ears to cool down after their bath, I'm left sweltering in my denim outfit. It's time to bid my four-legged friends farewell. Swapping the heavy denim fabric for a pair of swimmers, I take a quick dip in the lagoon-like rock pool back at the camp.
It's a magical final evening. Tobias has organised a small party of fellow glampers and we dine in a lamp-lit al fresco setting. The barn is flanked with palm fronds and draped in fairy lights. Musicians play traditional Thai music, and the relaxing sound of the khim (a stringed musical instrument) carries in the still air. We feast on freshly caught ruby fish, marinated with fragrant hillside herbs and steamed in a tube of green bamboo over the fire pit.
A typical Thai dessert of mango sticky rice drizzled in coconut sauce is a fitting finale. After the banquet, we relocate to the riverbank to release khom loy fire lanterns into the night sky for good luck.
There's a rustling of the rice paper as the lanterns catch flight and then they float, in slow motion, up to the heavens like giant, shimmering jellyfish. I make a wish to return to this endlessly enchanting place one day. Later that evening, I step out onto my deck for a nightcap.
Looking up, I see a dancing, incandescent object. My lantern is still toiling with its earnest task of carefully carrying my dreams to the ether. I stand there, transfixed, as I follow its movement with my eyes, until the lantern becomes a faraway firefly and then vanishes amid the twinkling stars.
For more Thailand travel inspiration, visit our Thailand guide for more information.
LEAVE YOUR COMMENT