Nishaville Resort, Thailand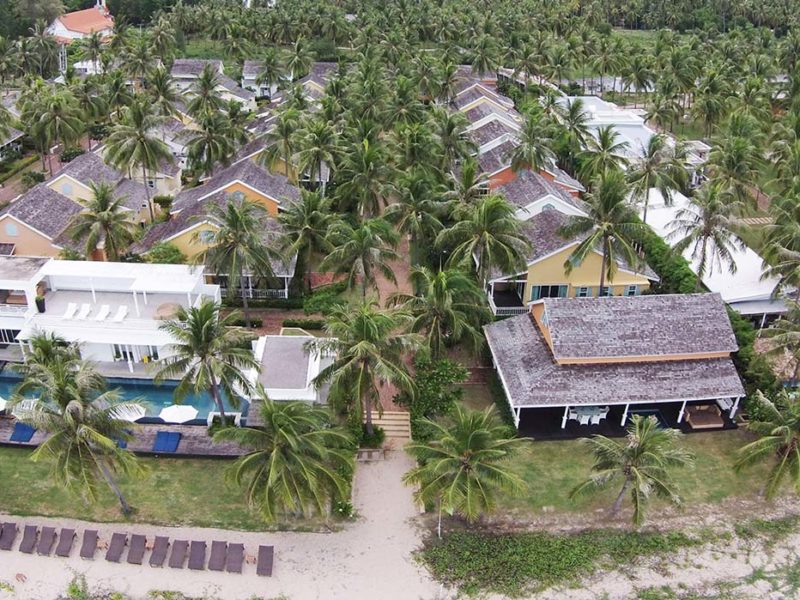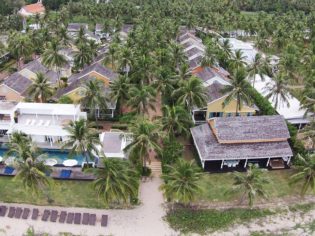 This may be Thailand's best-kept secret: absolute beachfront cottages at Huay Yang, ideal for snorkelling and hiking through a national park.
Overlooking the ocean at Huay Yang and about a five hour's drive south of Bangkok lies Nishaville Resort. This could be Thailand's best-kept secret. With 36 comfy candy-coloured cottages flanking miles of snow-white beach.
Well-kept lawns lead to shuttered cottages decked with breezy wraparound porches and wooden swings.
Spend your days watching the locals dig for periwinkles, snorkelling the crystal clear waters or hitting the trails in nearby Hat Wanakorn National Park, abundant in waterfalls and Asian Elephants.
The resort
Located within a private area on the Gulf of Thailand, Nishavile Resort is the place you want to head to when you want some peace and quiet. This 4-star resort is revered by locals and frequented by return guests. Each apartment or villa is self-contained and the resort has a green concept set in place for a more environmentally friendly stay. The electricity and water usage will add to your total bill but don't worry, it's won't be a staggering amount. This will just remind you to switch off the lights when you leave your villa.
There are six accommodation styles available for you to choose from. Coconut Villas, Lakeview Villas, Beachfront Cottage, Beachfront Pool Villas, Pool Access Suites and Seaview Suites. No matter which type of place you choose to book, you'll be getting free WiFi, LCD flat-screen TV's, air conditioning (because Thailand is hot as heck sometimes) and a European-style kitchen.
However, we think that if you want to splurge and you need room for a group of six, the Beachfront Pool Villa is the way to go. With a private swimming pool, sunbeds, full kitchen, living and dining rooms and this palace is a total for 210 square metres (and that's only indoors).
Every guest of the resort has access to the communal infinity pool and fitness centre. If you're wanting to get some intense relaxation on the board, book yourself into the Nishaville spa for a calming facial and massage. Breakfast is complimentary and served each morning in buffet style, with a huge line-up of international dishes.
The Nishaville Resort is truly one of a kind.
What to do around the area
Hat Wanakon National Park
This National Park covers almost 40 square kilometres of the Prachuap Khiri Khan Province and is empty most of the time. The beach, Wanakon Beach, is laid with white delicate sand and sea pine trees. If you walk through the woods of the park, you'll come across various species of birdlife.
And if you're keen on pulling out your snorkel gear, the Koh Jan is located off of Wanakorn and is one of the prime snorkelling areas of Thailand. Just make sure to watch out for the sea urchins and rock corals.
Prachuap Khiri Khan Night Market
These markets are relatively small but can go late into the night, grilling and frying up some local treasures. Known for their vast varieties of seafood on offer (and for unbelievable prices), you'll get the absolute freshest on the Island. Just prepare yourself for the possibility of a thirty-minute wait for food, you can't rush perfection and this place is absolutely bonkers on most nights.
The Walking Street
Known as the red-light district in the city of Pattaya, The Walking Street is a huge tourist attraction that you have to visit at least once. Located along the coast of the Gulf of Siam, you won't be able to miss it, because the street is strewed with massive neon signs on each corner. Filled with discotheques, go-go-bars, nightclubs, live music venues and sports bars, this place is a haven of fun. And if you have time and don't mind being confronted with some weird stuff, check out one of the 'special' shows (you know what we mean).
Huai Yang Waterfall
This small park is filled with six different waterfalls for you to hike and find. But if you want a real challenge, tie up your hiking boots and try to conquer the Khao Luang Mountain. It takes almost five hours to reach the summit and it's recommended that you stay overnight up there. You'll get the chance to witness some exotic wildlife that you wouldn't necessarily find in the visitor area.
Khao Sam Roi Yot National Park
Known as the first coastal national park of Thailand, the Khao Sam Roi Yot park contains Thailand's largest freshwater marsh (Thung Sam Roi Yot). Hike through the park to see the Phraya Nakhon Cave and the Kaeo Cave for large chambers with an incredible history. Khao Sam Roi Yot is also home to over 350 different species of exotic birds, fishing cats, dusky leaf monkeys, crab-eating macaques, Malayan porcupines and barking deers.
The details
Address: Huai Yang, Thap Sakae District, Prachuap Khiri Khan 77130, Thailand
Contact number: +66 32 616 333
When to go
The optimal time to book a trip to Nishaville Resort would be from November to March. During this time you can expect drier and cooler weather for a more comfortable stay.
LEAVE YOUR COMMENT