PARKROYAL on Pickering, Singapore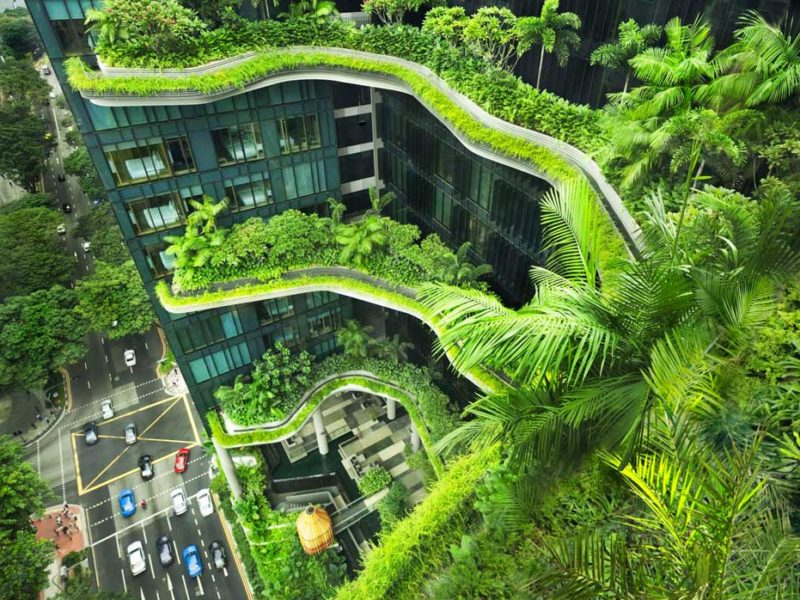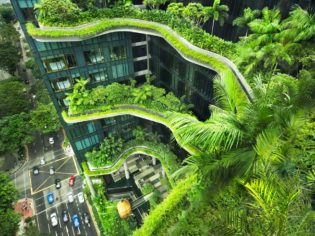 A new stay on the edge of the CBD which is equal parts garden and hotel.
This contemporary new hotel in Singapore is just as much a garden as it is a place to kip. The PARKROYAL on Pickering opened recently and has 15,000 square metres of gardens hanging off the walls and in the grounds. The gardens are more than just pretty, they give the hotel incredible energy efficiency and have earned it the highest green rating.
The rooms
The 360-plus-room hotel is on the edge of the Singapore CBD, Chinatown and near the river for some relaxation at Clarke Quay. The PARKROYAL on Pickering is a place where you don't have to sacrifice comfort for your budget. With a heap of affordable options and deals around, you'll be living the high life soon. Book into either a Superior, Deluxe, Premier or Junior Suite. All designed with modern furnishings and decor, it all seems like a dream. If you're feeling a little fancier, there are the Orchid Club Rooms and Suites up for booking. These include the presidential and executive suites, which both have sweeping views of the city.
The amenities
Like many hotels, the PARKROYAL on Pickering has a spa, pool and fitness centre. But their pool is infinity styled and comes along with poolside cabanas that'll give you unobstructed views of the city skyline. Once you've finished tanning, walk alongside the gardens in this 300-metre garden walk or, you can pop into the jacuzzi and then steam room. But if you're wanting to have a 'treat yourself' kind of day, the St. Gregory Spa within the hotel will do the trick. Using the top-skincare brands around the world for their treatments, Elemis and Thalion, each only contain natural active ingredients that extremely effective. With Elemis well-being massages, Oriental therapy and Thalion oxygen and radiance facials on offer, your body will feel as smooth as a baby's bottom.
The food
At the PARKROYAL on Pickering, they pride themselves on a well-cooked meal. They a dine-in restaurant inside the hotel and also offer 24-hour room service. You might think, room service? What's new? Well, this food is entirely fresh and unlike any other room service you've had before. If you're feeling peckish at one in the morning, order the Char Kway Teow (wok-fried flat rice noodles with seafood and Chinese pork sausage), Nasi Goreng Kampung (seafood and chicken satay fried rice) or the Australian Black Angus Beef Burger to satisfy any of your major cravings.
But if you're around the hotel during the day and want to dine into their iconic restaurant Lime, you've made a good choice. Serving a buffet breakfast in the mornings and then dishes a la carte until late, you can chomp down on the freshest food in the area. And for our plant-based friends, they have an entirely vegan-friendly menu as well. Feel like the beyond burger or the fishless fish & chips? Otherwise, if you're more carnivore than herbivore, the menu is swimming with the best in Singapore. Try their Singapore luxe-sa (laksa) with Maine lobster or the lobster risotto with blue swimmer crab meat and broad beans with citrus mascarpone.
What to do around the area
Gardens by the Bay
We've all seen images of the Gardens by the Bay and it has given us serious wanderlust. And now is the time to actually hop on a plane and head straight over. This iconic location is a national garden and a showpiece of horticulture and garden artistry in Singapore. Walk your way through Bay South, East and Central to see all of the beauty that is located inside. And if you start to get a little hungry while ahhing and oohing, The Gardens offer a heap of food establishments to fill you up. With the Hong Kong Sheng Kee Noodle House, Pho Street, and Majestic Bay Seafood Restaurant amongst the mix, you aren't strapped for choices. Heck, there's even a McDonald's in the area.
Cloud Forest
Another area of Gardens by the Bay, the Cloud Forest is a once-in-a-lifetime view for residents and tourists alike. With exotic plants and diverse vegetations, this mist-covered mountain is over 35-metres tall. It's also surrounded by the world's tallest waterfall and takes up 153,000 cubic metres. But just a warning, the humidity inside is around 80-90%.
Orchard Road
Orchard Road is renowned amongst locals for shopping, restaurants and hotels. Located only a 10-minute drive away from the hotel, you can find some epic eats and amazing boutique buys. There are over 5,000 retail, dining and entertainment establishments all on this road. Find anything that'll suit your style, from small boutique stores to high-end brands and street food sellers to expensive restaurants. You'll be occupied for days here.
Universal Studios Singapore
Feel like the biggest kidult in the world and head down to Universal Studios in Singapore. As the only theme park in Southeast Asia, this place has 24 blood-rushing rides and attractions in seven differently themed zones. Try your hand at the Transformers Ultimate 3D Battle Ride or the Revenge of the Mummy, where you plunge into total darkness for that thrill. When you need a little break between each ride, hop over to any of the shows like WaterWorld, Shrek 4D Adventure (trust us, this is a must-do) and Lights Camera Action by Steven Spielberg (a special effects show).
The details
PARKROYAL on Pickering, Singapore
Address: 3 Upper Pickering Street, Singapore
Contact: +65 6809 8888
LEAVE YOUR COMMENT