Why you should explore Indonesia's eastern islands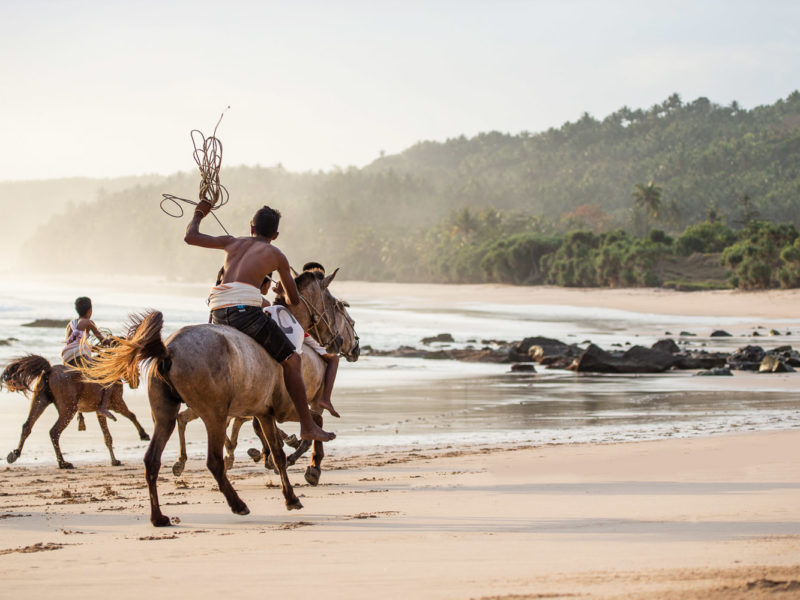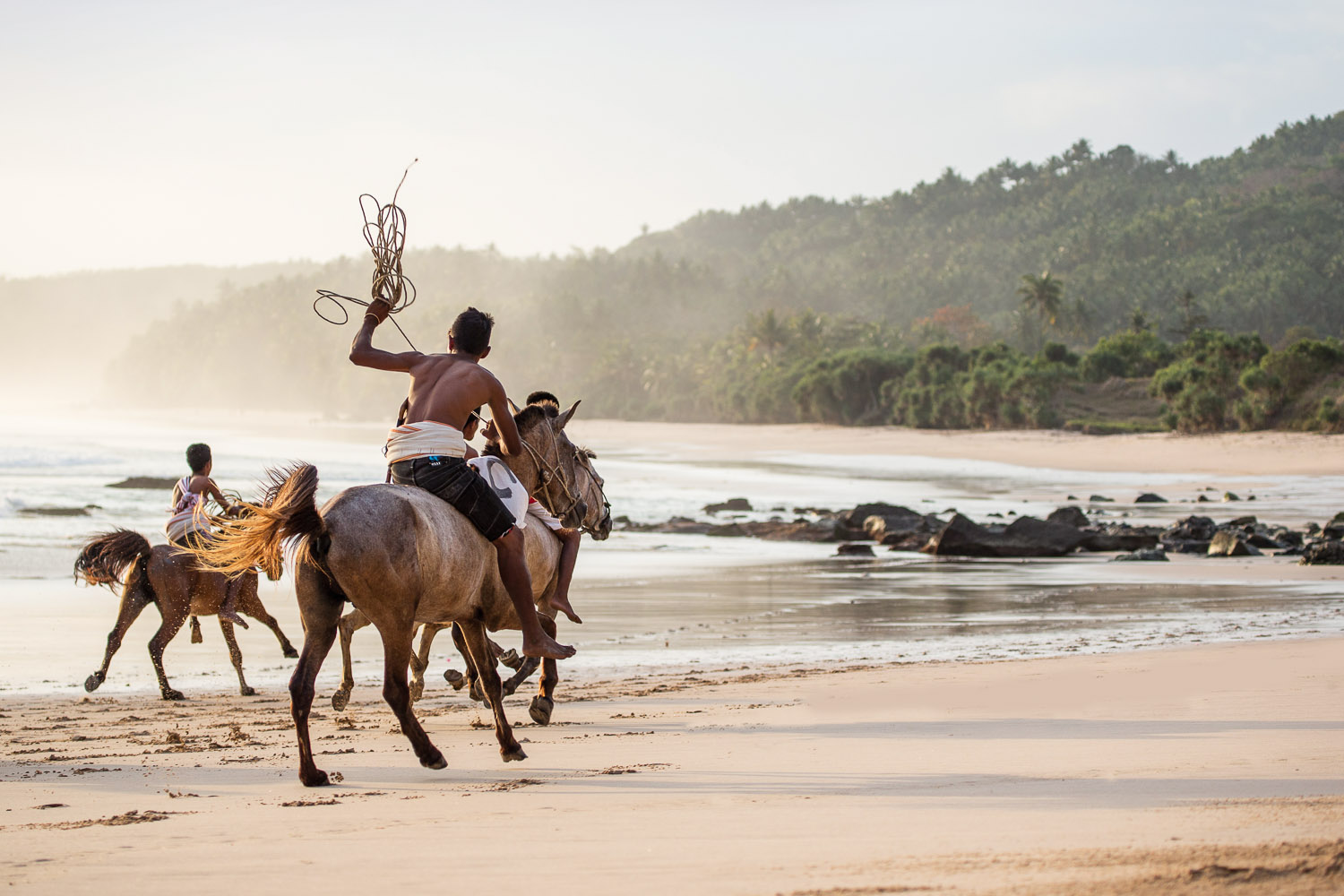 Countless Australians travel the well-worn trail to Bali each year, and then decry its crowds and commercialism, not knowing that just a quick flight east there's a clutch of unspoilt islands where hair braiding (and sometimes power) is nowhere to be seen.
Indonesia's Komodo National Park
A glistening manta ray leaps high above the roiling waters of east Indonesia's Komodo National Park; time stands still for a split second as it seems to hover, then it plunges back into the deep blue.
We've just chalked up another highlight to a day of many as we explore the park's archipelago of 29 islands (three larger islands and 26 smaller ones), just an hour's flight from holiday favourite Bali.
While Bali still holds magic worth pursuing, these days many visitors are left a little flat after a trip to the more congested destinations on the island.
Explore the eastern Indonesia
Instead, by jumping on one more flight, they could be sipping cocktails on one of many picture-perfect white sandy beaches that arch across Indonesia's much less frequented east.
Or frolicking with turtles, exploring the remnants of an ancient and unique megalithic culture. Or dining on delicious local cuisine featuring, say, luscious local honeys or fresh fish plucked from the ocean and grilled over fiery coconut husks.
Cruising Komodo archipelago
Today, we're cruising right through the Komodo archipelago on a day tour, stopping at Batu Bolong, Manta Alley and Komodo Island itself, to see the eponymous dragons prowling through the national park set up to protect them in 1980.
We snorkel with more than a dozen ghostly manta rays dappled by crepuscular rays piercing the waters, and splash into stunning Pink Beach to see sand flecked with, well, pink.
Kanawa Island
Our tour was organised through the friendly folk at Kanawa Beach Bungalows – our accommodation on Kanawa Island, a real castaway, back-to-nature oasis.
On the island power sputters via a generator from sunset for a few hours each day and fresh water is limited. For your troubles, however, you'll be well rewarded with not a single car or motorbike marring the soundscape.
We spend our days here lazing in the shallow waters of the island's main beach, where we glimpse baby blacktip reef sharks swimming just a metre or two from the white sandy beach – even closer to shore than us.
If you snorkel a little further out on the house reef you'll find sea turtles, larger reef sharks and a huge array of other marine life.
One afternoon, we follow a narrow winding path from the resort up a steep hill and across a ridge, to reach a viewpoint shared with a tribe of nanny goats; the view out to sea and the scattering of nearby islands leaves us picking our jaws up off the floor.
The island of Flores
After a few sybaritic days, we take the one-hour boat to Labuan Bajo on the island of Flores and hire a driver to head west.
Aside from the abundant jungle scenery glimpsed around every bend, Flores is home to intricate rice terraces that mimic the patterns of spider webs, and the 'hobbit cave' or Liang Bua, where the remains of a 106-centimetre tall female skeleton, thought to belong to be a member of the Homo floresiensis species, were unearthed in 2003.
Gunung Kelimutu, north-east of the Flores town of Ende, with its three distinctly different coloured volcanic crater lakes, is easily climbed – it's really more a lengthy amble along a well-paved path, then up some stairs.
It provides stunning, other-worldly dawn views of the mountainous surrounds.
Sumba Island
Nihiwatu Resort
Among the most exclusive of the resorts found in eastern Indonesia is the breathtaking Nihiwatu, located on Sumba, a sparsely populated island fringed with empty beaches and wild rugged coastline that was once home to sandalwood forests.
Surfing Sumba
The resort, overlooking a world-class surf break, was started by American surfer Claude Graves who camped on the beach here for a decade to win the trust of the tribes who eventually gave him custody of their land. While once low-key bungalows were thronged by surfers, these days the resort offers luxury villas with sumptuous interiors and private pools.
But Nihiwatu's not just for surfers-made-good; there's plenty to keep their partners and other travellers entertained.
What to do if you don't surf
Sunset bareback horse races along the beach showcase the amazing horsemanship of the locals; a secluded seaside barbecue offers a chance for romance; coconut tastings show how island geography impacts on the delicate flavour of the sweet water. And if you go scuba diving, deep-sea fishing or mountain-back riding to explore the surrounds, you won't come across another tourist all day.
The resort works with the Sumba Foundation, also set up by Graves, to help make a difference in the lives of the Sumbanese – life on the island can be less than idyllic for the locals – through various projects, including aiming to eliminate malaria, secure clean water and boost nutrition.
A visit to one of the projects allows for genuine interaction with locals and a feel for life here. You'll witness first-hand one of the world's last megalithic societies and see tombstones built next to traditional homes, while horses – brought to the island by Arabian and Chinese sandalwood traders centuries ago – graze on the picturesque rolling hills.
People here mostly practise an animist local religion fused with Christianity.
Sumbawa Island
We discovered another under-explored eastern island in Sumbawa, stretched between Lombok and Flores, where surfers have been flocking for years.
This place is best suited to the more adventurous traveller as there's little in the way of infrastructure aimed at tourists, but it rewards you with a feeling of exploring a genuinely far-flung destination where it's all about the journey.
Fly into the town of Bima – like most of eastern Indonesia it's just over an hour from Bali's airport – and find a driver to take you the two hours to Pantai Lakey, a long arc of sand boasting a selection of pounding breaks that lure surfers who are fed up with Bali's crowded beaches. We stopped here for a plate of sashimi plucked straight from the waters nearby.
And for the truly intrepid (and comprehensively travel insured), skim the coast from Pantai Lakey on a motorbike taking in deserted views of rugged mountains and foaming surf.
The west of Sumbawa is home to Gunung Tambora, where the largest volcanic explosion in recorded history occurred in 1815.
You can climb it during the dry season; it's challenging but those who reach the summit are afforded incredible views over this blissfully undiscovered corner of eastern Indonesia.
Details
How to get there and where to stay
Flores
Garuda flies twice daily from Bali's Ngurah Rai Airport to Labuan Bajo for around $240 return.
You can hire a car and driver for around $75 per day (you'll need to negotiate) to explore the island.
Golo Hilltop Hotel is a small boutique hotel 10 minutes from Labuan Bajo airport with bright and clean bungalows from $30 per night.
Bajo Eco Lodge is located on the beach and offers 16 air conditioned guest rooms from $63 per night.
Kanawa
From Labuan Bajo in Flores, it's about one hour on the daily boat to Kanawa Island.
Double bungalows at Kanawa Beach Bungalows are around $45 per night including your boat transfer.
Day trips out to Komodo National Park can also be arranged through the resort.
Sumba
Garuda flies from Bali's Ngurah Rai Airport to Tambolaka three times a day for around $150 return.
Prices at Nihiwatu Resort start at $530 per person, per night with full board.
The 90-minute transfer to Nihiwatu Resort is included in the rate.
Sumbawa
Garuda flies from Bali's Ngurah Rai Airport to Bima three times per day for around $180 return.
At the airport hire a car and driver for the two-hour drive to Pantai Lakey for around $70.
Hotels in Pantai Lakey are basic, but the Aman Gati has decent rooms with a pool from $56 per night.
You should know
August and September are the driest months, while the months from November to February are the wettest.
Take home
Local ikat weavings from Flores and Sumba, and local honey from Sumbawa.
LEAVE YOUR COMMENT