Cast away in Zanzibar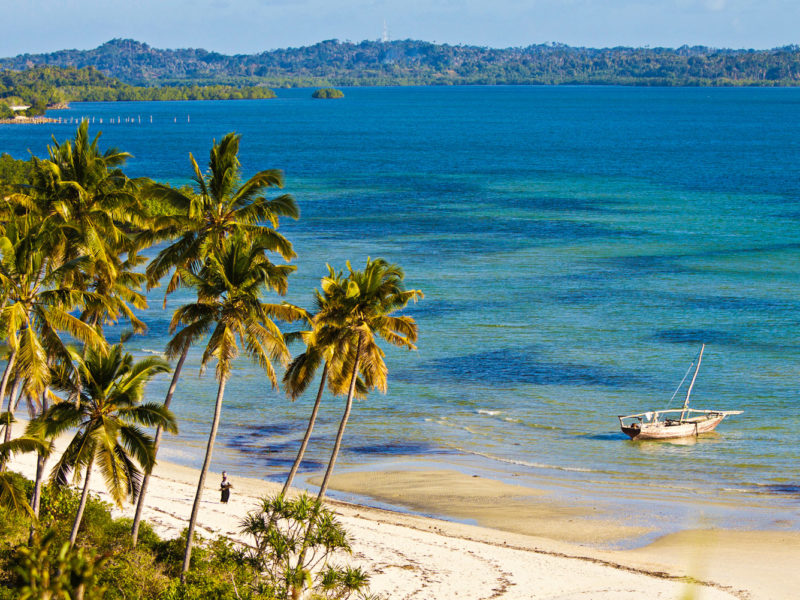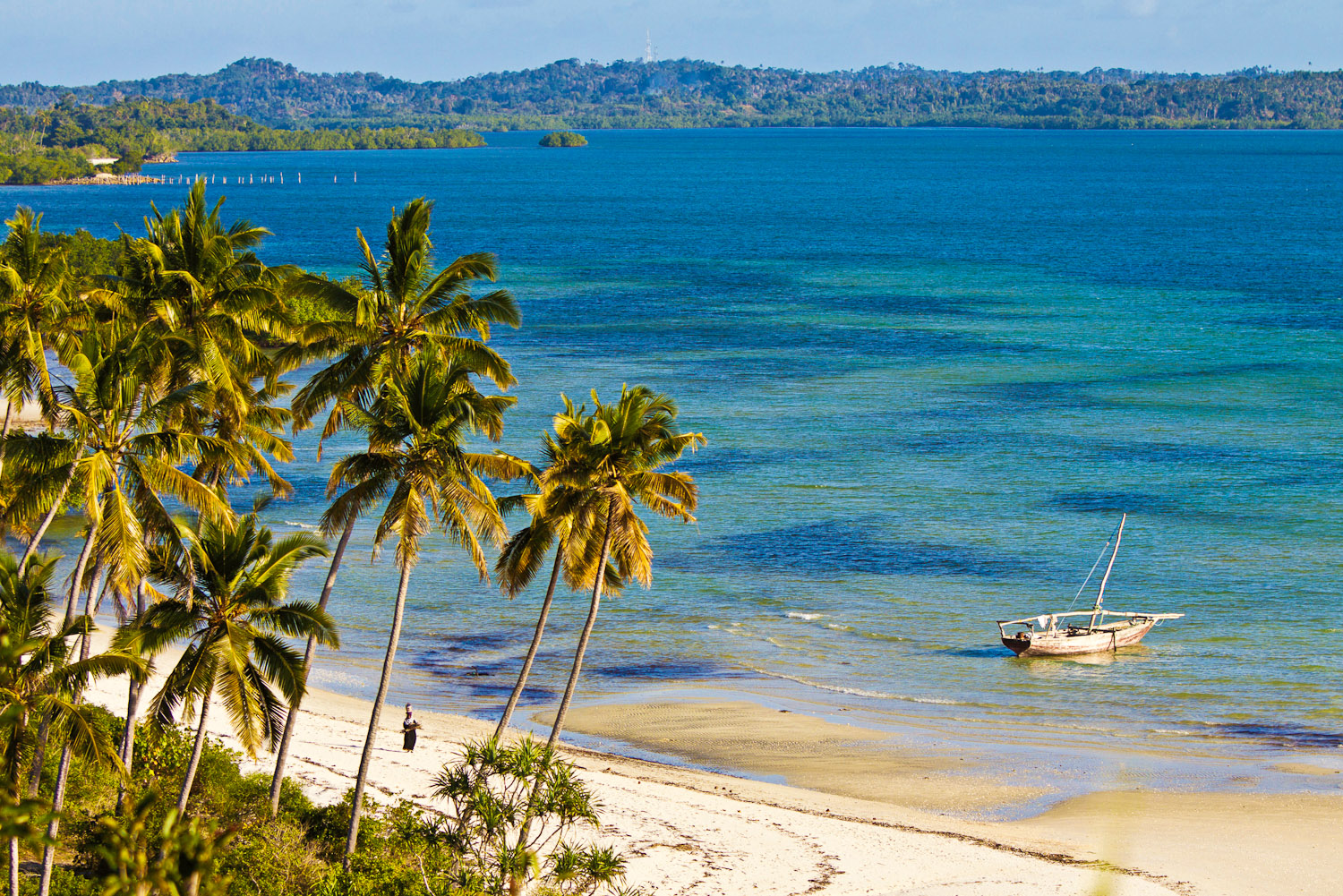 Forty kilometres off the Tanzanian coast lies an exotic paradise that's a little hard to get to but even harder to leave. Words by Jocelyn Pride.
We've all dreamt of being stranded on a deserted island at some point, right?
British fashion designer Ellis Flyte certainly did. Often.
So instead of lamenting through another bleak winter, she set sail in search of paradise. And she found it: in Africa.
Or as Ellis tells it now, it was more like paradise found her.
"One night we sheltered from a storm just over there," her eyes shining with the excitement of a child as she points to a row of date palms fringing the turquoise water. "I woke up the next morning and knew this was 'the' place."
That was in 1998, and what started as an off-the-grid-remote-part-of-the-world 'holiday house' has become a barefoot-luxe, multi-award-winning boutique resort.
However, despite the accolades, Fundu Lagoon remains completely untouched, virtually unknown and definitely unbelievable.
The ultimate in exotic
If just saying the word Zanzibar conjures up the archetypal image of exotic, then Pemba Island, the smaller of the two main islands (at 980 square kilometres), is in another realm.
Think Robinson Crusoe meets Jacques Cousteau. Icing-sugar sandy beaches stretch between hidden lagoons tangled with mangroves, dense African jungle creates a lush canopy and the Pemba Channel, part of the Indian Ocean, is a kaleidoscope of coral and fish.
Even getting to Fundu Lagoon feels like a scene from a James Bond movie.
After flying from Dar es Salaam, Tanzania's largest city, by light plane to Pemba's airport, we're whisked by mini bus an hour across the island to Mkoani Harbour.
"It's high tide so we'll be there in 20," says 'Captain' Maddy, his strong arms hauling up the anchor.
The small speedboat skims across the glassy water as we weave through the dhows (traditional wooden boats); children wave and shout 'jambo' (hello), their giggles and smiles melting my heart. The heady scent of cloves mingles with the balmy salt air.
"We grow most of the world's cloves," Maddy says proudly. Yet the three million plus clove trees, together with the majority of the 350,000 people who live here, aren't actually indigenous to the island.
Named 'Al Khundra' – the Green Island – by Arab immigrants in the 7th century, it was the Sultan of Oman who introduced cloves to the landscape when he moved his court here in the 1830s.
Perfectly positioned, with hilly, fertile terrain, Zanzibar also attracted Indian, Portuguese, English and African (mostly Swahili) merchants and became an important part of the spice trading route.
Those heady days are long gone, however the Swahili proverb still holds true: 'When you play the flute in Zanzibar, all Africa – as far as the lakes – dances'.
A resort like no other
The first hint of Fundu Lagoon's stunning architecture is the 300-metre private jetty.
Gobsmackingly sized posts support rows of grevillea wooden planks with thick rope handmade from plaited coconut husks lacing the edges.
Tucked into the jungle, each of the 18 villas fulfils the castaway dream.
Our beachfront villa is as intriguing and mysterious as the setting. I feel like a child exploring a giant treehouse.
Under the elaborate thatched roof and soft tent-style walls there's a four-poster king bed draped with mosquito nets, bath robes made from hand-dyed batik fabric and unique in-house toiletries featuring local herbs and spices.
A separate double-storey gazebo overlooks the deck complete with a private plunge pool, and the Indian Ocean laps in front of day beds tucked under a thatched umbrella.
Ellis Flyte's eye for design is the hallmark of the resort – but the community spirit is its soul.
"On that day when I first saw the beach, I went with an interpreter to the sheha (chief) of the village with the seed of an idea," says Ellis. "He listened and said he would speak with his people."
Ellis then sat on the boat she'd chartered with a group of friends and waited. And waited. Ten days later, the sheha paddled out in his dhow.
"He handed me a crumpled piece of paper. The words in Swahili simply said 'the people of Wambaa Peninsula accept you'. It was also my birthday."
Give and you shall receive
It then took Ellis, her three business partners and 300 local villagers (most of whom had never seen a white person), nine months to build the holiday-house-cum-resort.
"We shared resources and skills," says Ellis. "Pembans are great builders and love working with wood." As a totally sustainable resort, all the timber came from state-controlled forests on the island. "We didn't change one tree on the site. We simply built around them."
In addition to the buildings, pool and restaurants, all the furnishings and services needed to be sorted. They dug wells, installed solar panels and sewed raw cotton fabrics.
"I shipped out old treadle sewing machines from England and taught the women how to sew. And then we trained the resort staff in everything from cooking to speaking English."
Like 80 per cent of the staff at Fundu Lagoon, Eddie is from one of the three local villages near the resort. He was a young boy when the resort was built and now he's a waiter.
"Every village child dreams of working here," Eddie says in perfect English. "It's more than a job, we learn how to do things."
The resort also promotes and supports local farming, schooling and medical assistance. All the fruit and vegetables served in the restaurant are grown on the island and local fishermen source the seafood.
A walk with Eddie through the three villages – Kutukuu, Kwaazani and his home village of Kunguni – is humbling.
"Mzungu!" (white person) the children cry excitedly. Within seconds small hands wrap around each of my fingers, and they look up at me with eyes like melted pools of chocolate.
"Picture please lady; picture, picture picture," they chant. As a Muslim society, Eddie briefs me when it's OK to take photos. Every click of the shutter sends the youngsters into a frenzy as they vie for the best position to see themselves on the camera's screen. "We don't have mirrors," says Eddie.
Do it all or do nothing at all
Considered one of the top spots in the world for diving, many travellers come to Fundu Lagoon for the aquatic pursuits.
The PADI registered dive centre works hand-in-hand with the resort and is the perfect place to learn, especially as crocodiles and sharks are not known to visit this secret hideaway.
As the world's worst water baby, I'm tempted, but decide to do the dive master a favour and snorkel instead. We head to the best place, Misali Island, a quick speedboat trip away.
The sand is like snow and the water, which is teeming with iridescent fish, is so clear I almost don't need the mask or snorkel.
Another day we canoe through the mangroves and hike to the ruins of Jambangome. Here, the walls of the 'Bohoka' mosque, slowly being swallowed by vines, are the last reminder of what was once the largest settlement on Pemba.
We also take a boat ride to see the pod of resident spinner dolphins, watching as 50 or so ride our bow wave and generally show off in the early morning light.
Then there are the quiet moments of simply drinking it all in: sunset cruises on a traditional dhow; sundowners at the bar watching as Mother Nature paints the sky with smudges of red, yellow, pink and orange, reminiscent of a Turner painting.
In the mornings at low tide, women and children carry buckets and balance pots on their heads as they walk along the beach singing and gathering clams, their colourful buibuis (traditional dress) reflecting in the pools of water.
With just 36 guests sharing all this simplicity and beauty, Fundu Lagoon is the definition of idyllic.
Fortunately there are no plans for expansion, "although maybe one day I might get around to building that holiday house," says Ellis.
Details
Getting there
Emirates operates daily flights from Sydney, Melbourne, Brisbane, Adelaide and Perth to Dar es Salaam via Dubai (emirates.com) and Coastal Airlines has regular connections to Pemba Island (coastal.co.tz).
Staying there
Fundu Lagoon offers all inclusive packages usually with a minimum three-day stay.
Beachfront villas start from $710 per person including all meals, drinks (including alcohol) and many activities.
What to take
Luggage is limited to 15 kilograms per person (on the connecting flight to Pemba Island) and a fast laundry service is included.
Leave the high heels at home; this is a barefoot resort.
If you want to visit local villages, dress appropriately to respect the Muslim culture.
Adopt the 'pack for a purpose' scheme by taking pencils, exercise books etc. for the local school.
Helpful hints
The resort is unsuitable for children under 12 and closes from 5 April to 15 June each year.
LEAVE YOUR COMMENT