The best places to stay in Patagonia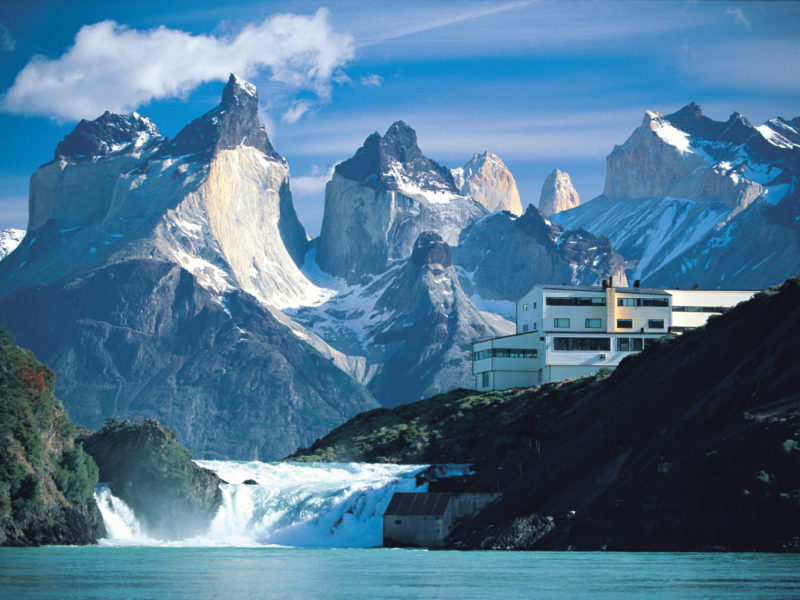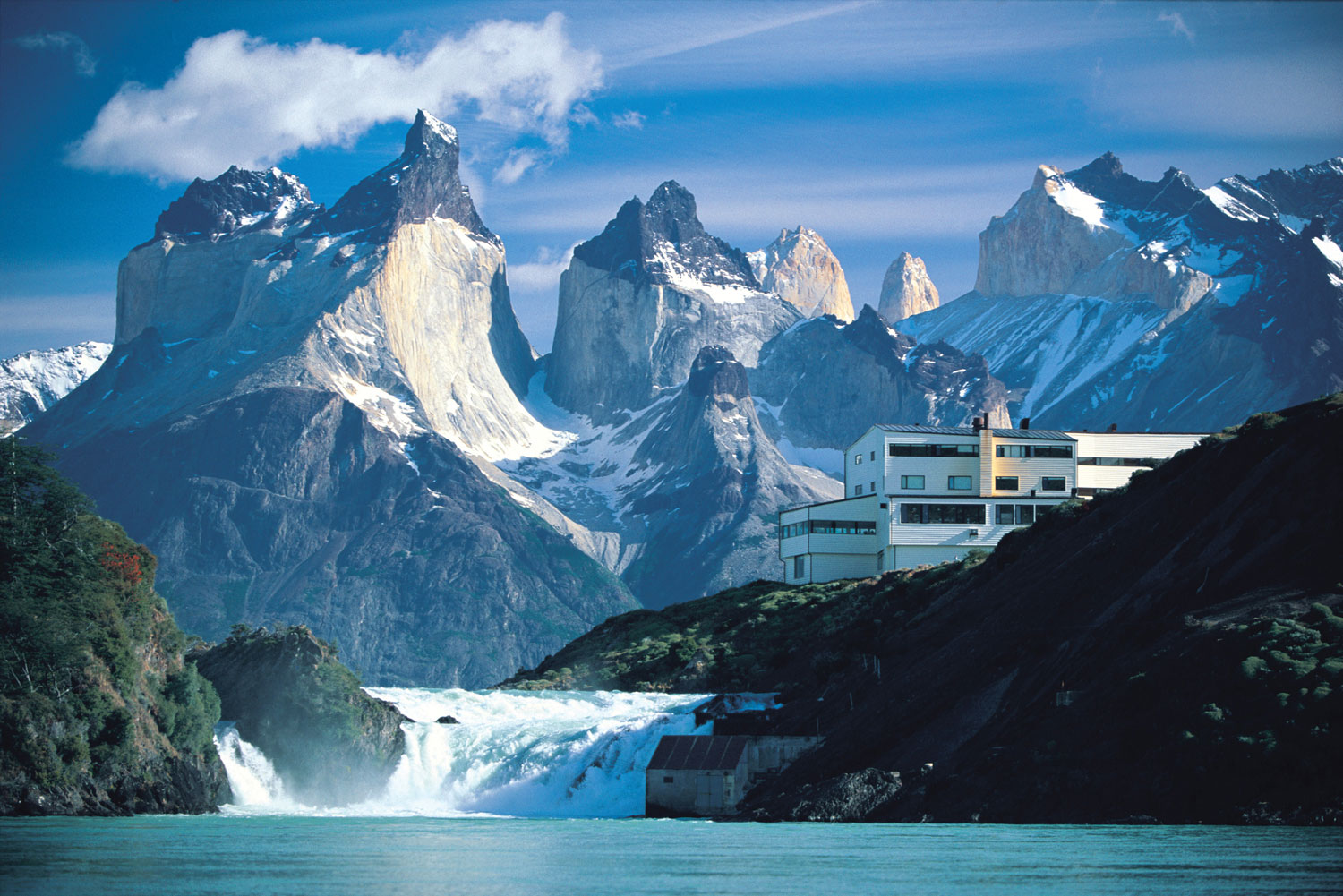 If you've never thought of visiting Patagonia, you should – there's hidden gems a'plenty.
Chilean Patagonia recently welcomed its first two new luxury resorts in over a decade. These are the four most dynamic digs at the end of the world.
Explora Salto Chico
A luxury trailblazer since 1993, Explora Salto Chico is still crazily beautiful after all these years.
Many of its 49 rooms and suites have private outdoor jacuzzis, and all have panoramic views of Lake Pehoé, the Salto Chico waterfall or the Torres del Paine range.
All programs include accommodation, transfers from and to the airport, meals and beverages, and a menu of more than 40 exploration routes designed by the outdoors team.
Expeditions include treks and horseback rides through the national park, comprising the Southern Ice Fields, Lakes Paine and Sarmiento, AsciendoRiverValley and Toro Heights. You'll get to see majestic mountains, turquoise lakes, glaciers, lenga tree forests, viewpoints, prairies and rivers, in addition to the most iconic spans of the trekking circuit known as "W".
Explora's dining room also serves an exceptional selection of Chilean wines, and offers guided tastings. If you're lucky you may get to experience The Quincho – a typical Patagonia experience available to guests from September to April –as weather permits– in which the hotel's gauchos prepare a spit-roasted lamb in a privileged location with panoramic views to Torres del Paine.
From $2660 for a minimum of four nights.
Address: Torres de Paine, Región de Magallanes y de la Antártica Chilena, Chile
The Singular
Opened in 2012, The Singular has 57 rooms overlooking the Andes, a chic spa and unparalleled connections to Chile's culinary history.
Located in an impeccably renovated, 1915-era sheep processing plant, the industrial-chic property is run by descendants of the 19th century Spanish agriculturalist who first brought lambs to Patagonia.
Friendly guides lead exclusive excursions to the nearby fjords and mountains, and the exemplary onsite restaurant serves the best of the local bounty – like Patagonian hare, white strawberries and, yes, pasture-raised organic lamb.
Similar to the russet-red exterior of the new building where the rooms are located, both options are decorated in earthy tones and elements that give a nod to the Singular's industrial past: picture polished concrete ceilings and straight-from-the-factory-floor copper lights.
Under a polished concrete ceiling, the hotel's glorious indoor pool looks out over Last Hope Sound through floor-to-ceiling windows. There's also a spa, hammam and sauna onsite, perfect for unwinding after a long hike.
From $550 per night.
Address: Km 5, 5 Norte S/N, Natales, Región de Magallanes y de la Antártica Chilena, Chile
Tierra Patagonia
The 40-room Tierra Patagonia resort also debuted in 2012, within southern Patagonia's breathtaking Torres del Paine National Park.
Interiors have a Scandinavia-on-Lake-Sarmiento vibe, with sleek furniture made from indigenous blond wood alongside the occasional sheepskin throw or cowhide rug.
Floor-to-ceiling windows provide sweeping views of the lake, sky and grassy plains filled with grazing sheep and guanaco.
The resort also has guided excursions throughout the park, a welcoming restaurant and the fantastic Uma Spa, where an outdoor jacuzzi and indoor cascade pool overlook the park's eponymous peaks.
The hotel's restaurant is a welcoming space. Warm lighting and softwood tones feel as if you are dining in a true nature sanctuary, particularly as the wild, Patagonian steppe unfolds on the other side of the restaurant's windows. The cuisine is traditional Patagonian cuisine with a modern twist – think hearty stews and slow-cooked soups sourced from the nearby estancias surrounding the lodge.
From $1870 for a minimum of three nights.
Address: On the edge of Torres del Paine National Park, Torres de Paine, Chile
Indigo Patagonia
The most urban of the group, Indigo Patagonia, is located in charmingly scruffy port town Puerto Natales.
Nestled between fjords and snow-capped mountains, Indigo Patagonia Hotel combines the warmth and personal service of a lodge with the modern comforts of an upscale resort.
In 2006, the boutique hotel underwent a major renovation by Chilean architect Sebastián Irrazával.
The result is a funky mix of Nordic furnishings, unadorned woodwork and a multi-story eucalyptus wall. The hotel boasts sweeping views of Ultima Esperanza Fjord, the Balmaceda and Serrano glaciers and mountain as far as the eye can see.
The 29 rooms are sparse but comfortable, and the knockout rooftop spa has three outdoor jacuzzis with views of the grey fjords and glaciers.
Savour authentic Chilean cuisine at the hotel's bistro, with wraparound windows facing the fjord. This particular eatery is known for its inspiring views and locally sourced ingredients. Each day guests enjoy a complimentary breakfast buffet of homemade pastries, fresh fruits, bacon, sausages, omelettes and more. The lounge bar is a great place for a cocktail before dinner.
From $265 per night.
Address: Ladrilleros 105, Natales, Región de Magallanes y de la Antártica Chilena, Chile
LEAVE YOUR COMMENT