Ancient Peru: Return of the Moche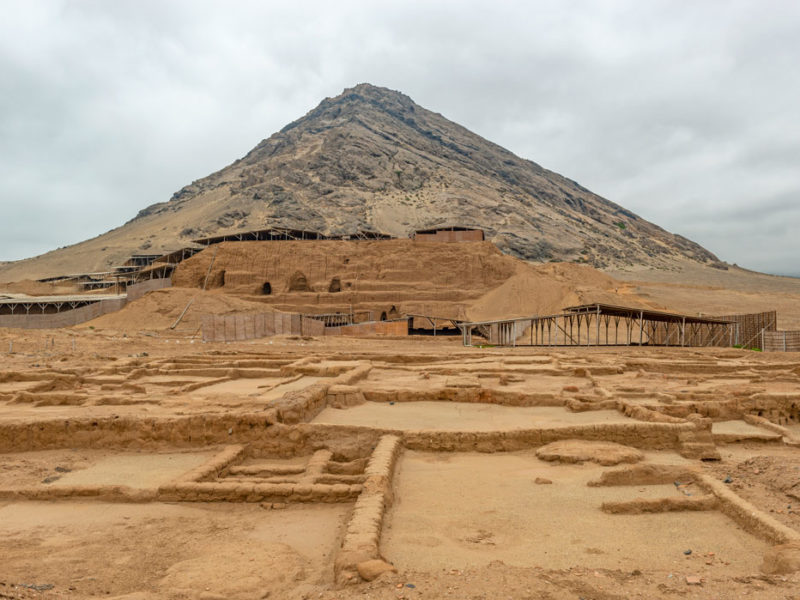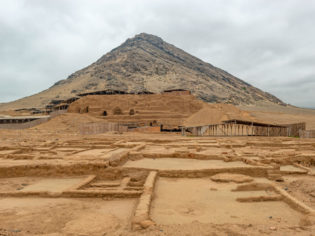 Uncovered remnants of an ancient civilisation in Peru brought up many questions about the country's history, geography, culture and its people.
Everyone knows about the Inca of Peru and the trail to Machu Picchu, but who knows about the Moche? This civilisation existed in northern Peru centuries before the Inca, from about the time Jesus was born until Charlemagne was crowned emperor in 800AD. The Moche was a highly organised society that excelled in the arts yet also practised ritual human sacrifice. Despite these conspicuous qualities, their story is the faintest blip on the traveller's radar. To find out more about this ancient culture we take the Moche Route, a nascent tourist trail linking several archeological sites between the cities of Trujillo and Chiclayo. Trujillo's main square is filled with splendid examples of Spanish colonial architecture noted for their signature wrought iron windows and vivid paintwork.
We visit the Museum of Archaeology, near Plaza des Armas. Its contents trace the timeline from Peru's first inhabitants to the arrival of the Spanish in 1532. The museum occupies the grand 17th-century Casa Risco house with its stately courtyard, graceful wooden columns and fine interior woodwork – a government gift to the National University of Trujillo in 1995. Further north of Trujillo, where the Moche lived, is mostly coastal desert; a flat and arid land with none of the grandeur of the Andes. The Pan American Highway that now links Trujillo with Chiclayo is heavily trafficked and strewn with rubbish. But our focus is the glorious past and the digs we visit are well off the beaten track.
Ancient adobe pyramid temples or 'Huaca' are common in the north. Most are eroded to the point where they look more like big termite mounds. Many are pockmarked with holes dug by optimistic grave robbers in search of treasure. No one knows what's been stolen over time because so few Huaca have been scientifically explored. But in the last 50 years, archaeologists have made astounding discoveries. It is uncanny seeing our first Moche relics only to realise that faces carved on these pottery artefacts – their chiselled features, square foreheads, high cheekbones and even some of the expressions – we'd already seen on city streets, in markets and restaurants, at the airport. This is living history; ancestry laid bare.
Exquisite work by goldsmiths and silversmiths include masks of beaten gold, silver and copper, bracelets of tiny turquoise beads, ornate brooches and necklaces of carved bone. Most amusing are the pottery jars and pots in the shape of dogs, ducks, frogs, birds, mice, monkeys and llamas. Sorting out the differences between llama and guanaco, alpaca and vicuna, we learn that in bygone days anything made of vicuna wool was strictly reserved for the elite. Nothing's changed. Only those with kingly riches can afford the earthy golden vicuna fibre. It's softer than the finest cashmere and three times the price. I hit this hard fact in Lima while shopping for gifts to bring home. At Huaca de la Luna, north of Trujillo, we see splendid murals that tell a fascinating yet creepy story. Guide Mercedes Castillo points to a procession of figures roped together by the neck. "Either slaves or vanquished foes," she tells us, explaining that rituals of worship involved hallucinogenic cactus, gruesome human sacrifice and the drinking of blood. It's a macabre chapter of the Moche story.
Values were markedly different in those days. "No one bothered much about gold because it was literally everywhere you looked," says Mercedes. "What you wore signified status, so textiles were precious." Dr Regulo Jordan, the chief archaeologist at the El Brujo dig, said it took seven months to delicately unravel the swathes of prized fine cloth tightly bound around a 1600-year-old mummy his team unearthed in 2004. Known as the Lady of Cao, it's estimated she ruled around 470AD. She's the only female ruler of pre-Columbian Peru to be found – an archaeological triumph that's been compared to uncovering King Tut in Egypt.
Few other remnants of the precious fabric have survived but a trove of pottery fertility figures, delicately painted ceramics and fine jewellery have been recovered from Moche tombs. These treasures are displayed at El Brujo and in the excellent Museum of the Royal Tombs of Sipan near Chiclayo, dedicated to the mummy of an elite Moche man dug up in the 1980s. The two museums act as bookends to the tourist route. Chiclayo's teeming Saturday market was great visual entertainment. The best souvenirs were colourful straw baskets. I also fancied a roll-up Panama hat but sadly none were the right fit. We were fascinated by the herbolarios selling a plethora of plants, flowers, gnarled roots and other natural potions to cure almost any ailment.
The fruit stalls were awash with colour; piles of orange persimmon, luminous yellow Cocona fruit and purple striped Pepino melon fought for space alongside baskets of mandarins, limes, pears and quince. Huge cobs of white and yellow maize were being ground on demand into a fine paste. The owner of the juice stall, Jugueira mi Rosita, looking splendid in her vivid pink dress and white apron, was bent over a blender whipping up juices using eggs, fruit, carrots, honey and milk. One concoction, according to a rough menu translation, was simply called a 'spurted special'.
Regional dishes were a daily treat. At Fiesta restaurant in Chiclayo, we devoured a 'knockout' – a hot interpretation of the classic Peruvian dish ceviche. Chunks of succulent, freshly-caught grouper were cooked over coals in maize leaves, topped with yellow peppers, coriander and finished with a sauce made from chicha – a corn beer that's as popular with Peruvians today as it once was among the Moche.
The northern landscape may lack the instant appeal of the Andes but by visiting with an adventurous spirit you'll soon unlock the secrets of an ancient culture every bit as remarkable as the Inca. To coin an archaeological maxim, the more you dig the deeper your sense of discovery.
The Details
How to get there
LAN Airlines has six flights a week from Sydney to Santiago (via Auckland) with onward connections to Peru. LAN also codeshares with Qantas on direct flights between Sydney and Santiago every Monday, Wednesday and Saturday.
When to go
Up north, the summers (November to April) are dry with temperatures 25-35°C+. From May to September, you'll experience milder temperatures but humidity produces coastal mists. The winter months are the most preferred for trekking through Machu Picchu or visiting Cusco.
Where to stay

COMFORTABLE
Hotel Libertador, Trujillo: In central plaza beside the cathedral, this modern hacienda-style hotel has with comfortable rooms, wi-fi, interior courtyard and pool.
LUXURY
Country Club Lima Hotel, Lima: English colonial manor-style hotel with golf course views, luxury room and fine dining.
LATEST HOT SPOT
Hotel B, Lima: Belle Epoque mansion transformed into luxurious 'arts boutique' hotel with 17 suites in Lima's hip Barranco district.
Where to eat

AFFORDABLE
The Fiesta restaurants: Located in Lima, Trujillo and Chiclayo, they specialise in regional gourmet cuisine and are great value for money.
HIGH END
Malabar, Lima: Head Chef Pedro Schiaffino's works magic with herbs, spices and edible plants sourced from the Amazon rainforest. The degustation menu is a unique pan-Peruvian adventure.
You can't leave without
Visiting the Larco Museum in Lima to see Peru's pre-eminent collection of pre-Columbian art. The garden restaurant is perfect for lunch.
Seeing Lima's St Francis Monastery for remnants of 15th-century murals and eerie catacombs filled with human bones.
Shopping at Kuna for the finest alpaca, guanaco and vicuna fashion.
The best thing about Northern Peru
Seeing the fabulous treasures of the Moche era.
The worst thing about Northern Peru
The arid coastal desert lacks the grandeur and the Pan American Highway is marred with piles of garbage picked over by vultures.
You should know
The Peruvian currency is the Nuevo Sol. US currency is accepted in some places but any foreign notes with the slightest blemish are not (so stock up on those fresh bills from your currency exchange consultant). You need a valid yellow fever vaccination certificate. Check out everything you need to know regarding safety, health and local laws at Smart Traveller.
LEAVE YOUR COMMENT