Up close with New Zealand's 5 best wildlife experiences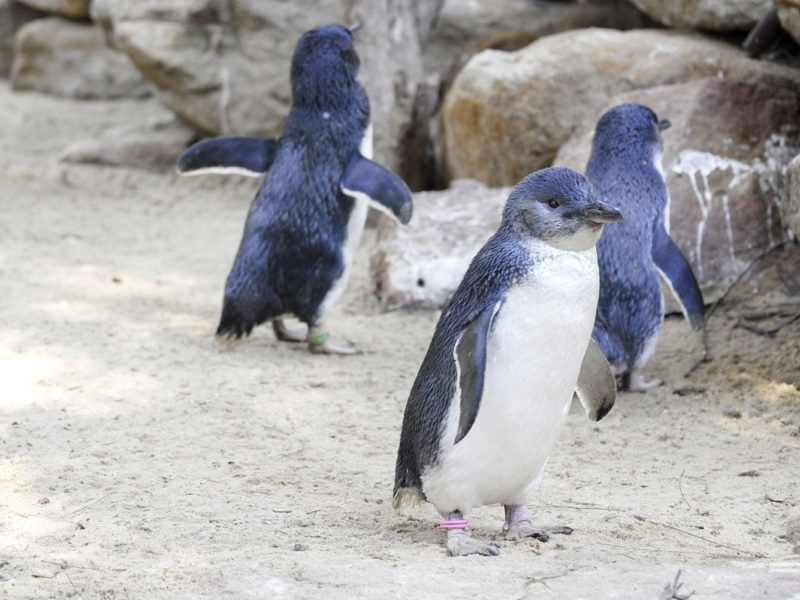 With no shortage of native creatures, great and small, we look at the best animal encounters you can have in New Zealand.

Penguins in Oamaru
There are many different kinds of penguins that flap around the cooler fringes of New Zealand's shoreline including Akaroa, Stewart Island and the Marlborough Sounds.
But it's around Oamaru, on the South Island's east coast, that is considered prime penguin-spotting territory, where you'll see both yellow-eyed penguins and the world's smallest variety, blue penguins.
Since yellow-eyed penguins are very shy, they're best spotted early morning or late afternoon from one of the public hides near the beaches.
Dolphins in the Marlborough Sounds
From the local Hector's dolphin (a New Zealand national treasure), to the compact common dolphin and the sleek bottlenose, there's no shortage of dolphins that call Kiwi waters home.
These playful and inquisitive creatures are often as interested in visitors as the visitors are in them.
All three species are found in the Marlborough Sounds year round, and in the warmer summer months you can also spot orca – the largest of the dolphin species – chasing stingrays around the bays too.
And if you fancy swimming with dolphins in these pristine waters, Nature Tours offer some once-in-a-lifetime experiences.
Whales in Kaikoura
These gentle giants of the sea have long called New Zealand home, featuring in ancient Maori myth and legend.
But the best place to whale watch is Kaikoura, where you can see pods of sperm whales throughout the year, and humpback whales as they make their yearly migration from the Antarctic up to warmer climes.
For a closer encounter, Whale Watch Kaikoura runs daily trips off the coast on specially-designed catamarans. Along the way are colonies of seals, rugged coastlines and breathtaking mountains.
Albatross on Otago Peninsula
Famed British naturalist, Sir David Attenborough, has described New Zealand's Otago Peninsula as "a very special place" and it's not hard to see why.
With the world's only mainland breeding albatross colony at Taiaroa Head, it's possible for travellers to see these majestic seabirds, with a wingspan of more than three metres, soaring at speeds of up to 120 kilometres per hour.
Chicks hatch from late January to late February and, aided by a strong gust of wind, take their first flight in September.
The Royal Albatross Centre is near Taiaroa Head, a 45-minute drive from Dunedin, and offers free 60 and 90-minute tours.
For all-day tours try Elm Wildlife Tours, with the opportunity to also see Hooker's sea lions and Blue Penguins.
www.albatross.org.nz; www.elmwildlifetours.co.nz
Kiwi birds on Kapiti Island
For such a well-known New Zealand icon, the kiwi can be surprisingly elusive.
This small, snuffly bird's shyness and nocturnal habits can make spotting a challenge, while predators such as dogs, cats and stoats have endangered the population.
Kiwis can sometimes be spotted in their native habitat at night on Stewart Island, off the bottom of the South Island, but for a better chance of seeing one, visit the sanctuary on Kapiti Island.
Here the kiwi population sits at about 1400, and they're routinely seen on the island's night tours. There's also accommodation for overnight stays.
Be aware though that in order to reach the island you'll need a permit from the Department of Conservation, which can be organised through Kapiti Island Nature Tours.
www.kapitiislandnaturetours.co.nz; www.kiwispotting.co.nz
LEAVE YOUR COMMENT