Five-minute guide to Miami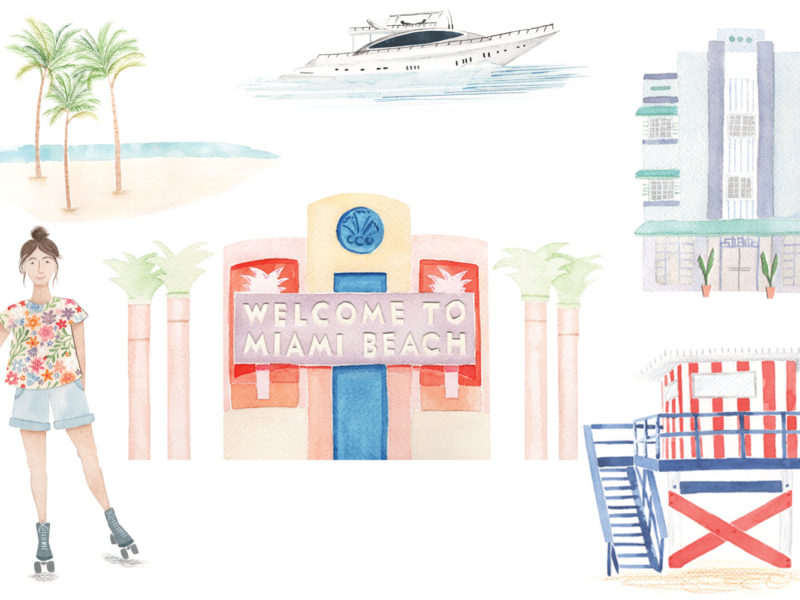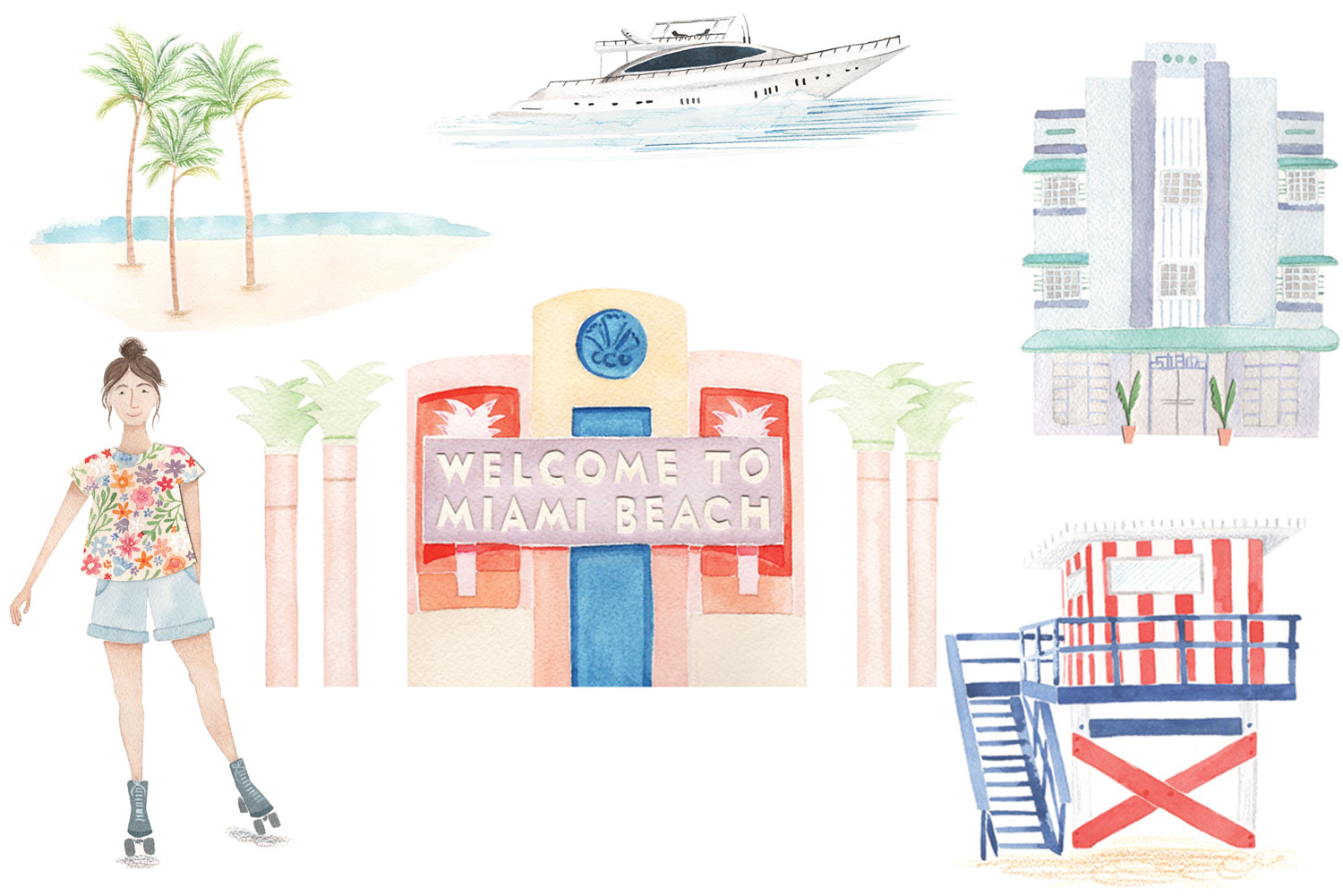 Bienvenido a Miami. Let go of any tacky preconceptions – Florida's Magic City is not just palm trees, bikini babes and beaches. Words by Megan Arkinstall, illustrations by Lauren Merrick.
Welcome to the Little Cuba
Miami has two main airports: Miami International (MIA), 10 kilometres to the west of the city and Fort Lauderdale-Hollywood (FLL), 24 kilometres to the north.
From MIA:
The best and most affordable option to get into the city or to the beach is to take the Miami Beach Airport Flyer bus, which runs every 30 minutes from 6am to 11:40pm every day for just $3.50 each way and takes around 35 minutes to South Beach.
A taxi will cost around $28–42 to Downtown/South Beach and takes around 20 minutes.
A Super Shuttle costs $15–20 ($10 per additional person in your party) – the duration depends on the number of passengers needing to be dropped off.
From FLL:
Take a Go Airport Shuttle bus for $27; it takes around 45 minutes.
A cab can cost up to $90 and, despite being cheap, public transport options (like the metro and local bus) are incredibly slow.
Getting out and about
By car:
Miami is not a walker's city because everything is so spread out, so hiring a car is a must to go exploring.
There are 16 car rental desks at MIA airport, with prices starting from as little as $150 for a week, but consider parking rates at your hotel, too.
(If you're planning to stay in the South Beach area, a bike is a better alternative.)
By metrorail/metrobus:
The metrorail has 23 stations from Dadeland South to Palmetto, with limited stops in between including South Miami, Coconut Grove and the Civic Centre.
The metrobus on the other hand is extremely extensive, but is known to be pretty unreliable.
By taxi:
Taxis are metered and aren't the most affordable option, but they're convenient for occasional trips.
For example, to get from South Beach to Coconut Grove will cost you around $38 while Downtown to the Convention Centre is around $20.
Sightseeing
We all know about the fabulous Art Deco district, but you may not have heard of…
The Wynwood Walls:
In this hip little neighbourhood just off the city's Midtown area, more than 7,400 square metres of wall displays street art and graffiti by more than 50 artists from around the globe.
The block of run-down warehouses was revitalised by legendary placemaker Tony Goldman (the man behind New York's SoHo and Miami's South Beach) in 2009 and has become one of the city's most vibrant areas.
Originally only displayed on the interior walls, the colourful murals have crept to the doors and the warehouses' exteriors.
thewynwoodwalls.com
The Venetian Pool:
You'd never go swimming in the canals of Venice, but this is close enough. (Sort of.)
Bathe in the Venetian Pool, which was built in 1924 as part of the Venetian Casino in Coral Gables.
Listed on the National Register of Historic Places, it's the largest freshwater pool in the US and is fed with spring water from an underground aquifer that's drained and refilled daily in the warmer months.
Head here to swim among waterfalls, grottos, under a replica Venetian bridge and relax on its small sandy beach away from the crowds.
Entry is $15 per adult, $9 per child; coralgables.com
Domino Park:
If you want a real taste of Little Havana head to Domino Park for some fascinating people-watching.
Here you'll find locals playing (and mastering) dominos, the national game of Cuba, as they roll and smoke cigars.
Grab a cortaditos (Cuban coffee) and simply soak up the Hispanic culture that has permeated this multicultural American city.
Shopping
Malls:
You'll be exhausted just planning your credit card assault on this city with the number of malls in existence.
Here's two to get you started. For all the luxe brands – Chanel, Alexander McQueen, Harry Winston – head to Bal Harbour Shops (balharbourshops.com) and be sure to keep your eyes peeled for celebs!
Or at the other end of the scale, Dolphin Mall is home to a wider range of affordable outlet stores including Michael Kors, Victoria's Secret and Kipling (shopdolphinmall.com).
Tropicana Flea Market:
This market is popular among set designers and stylists for its great furniture and homeware pieces from the '60s and '70s. But you'll also find everything from vintage clothing to cosmetics. Open Friday–Sunday, 7am–7pm.
Design District:
Stores devoted to the very latest trends in design and architecture occupy warehouse-like buildings in this über cool district. There's a host of antique stores, furniture and homewares stores, art galleries and luxury fashion. Once you've had your retail therapy fix, you can get your coffee (or wine) fix at one of 20 eateries/bars.
Eat & drink
Where to stay
If you're after sun, sand and surf, colourful Art Deco architecture, boutique shopping, an endless list of restaurants and bars, and a buzzy atmosphere, look no further than South Beach, baby!
Here are our fave accommodation options in the area.
LEAVE YOUR COMMENT