Road tripping from Denver to Colorado Springs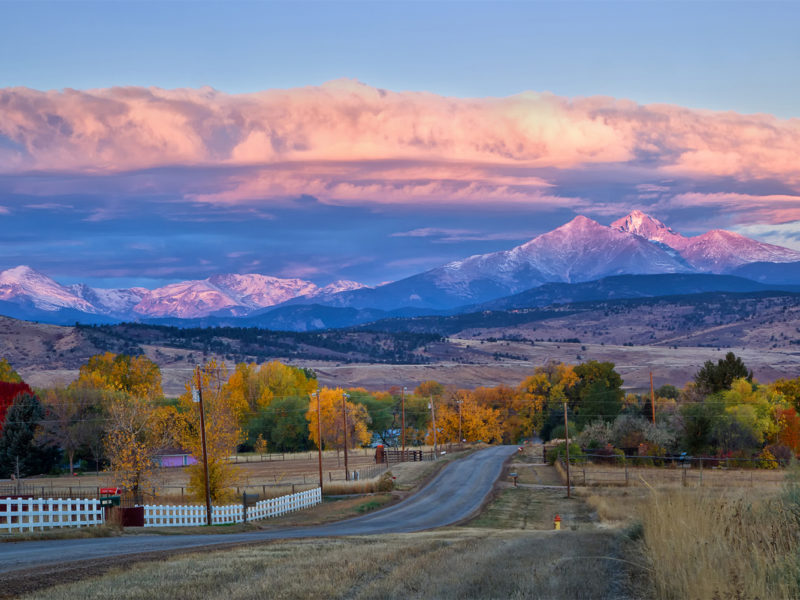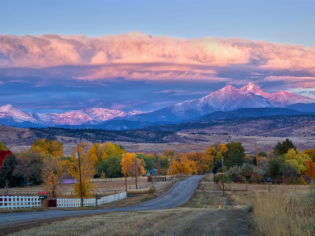 Driving around Colorado is like putting yourself in a Nat Geo documentary.
Spectacular landscapes dominate, characters, good food and craft beer abound… plus you'll learn a thing or two along the way. So here's an itinerary that will showcase just some of the places Colorado has to offer.
Stay a few days in Denver, the mile-high city with incredible street art, gastronomy and museums, before setting out for Loveland, Fort Collins and then backtracking to Colorado Springs, with a stop in Estes Park and the glorious Rocky Mountains National Park.
Days 1 & 2: Denver
Head to Morning Jones in the Milk Market for great coffee and try a heated brioche cinnamon bun before exploring this booming city. Once you lick the sticky stuff off your fingers, sign up for the Ultimate Urban Denver tour in an electric tuktuk made in Denver. You'll see some of the sights over 2.5 hours, including Mile High Stadium, home of the Denver Broncos, the historic Brown Palace Hotel, which has hosted a long list of famous people over its 125 years, the State Capital building, and some of the fantastic street art out in the RiNo district.
While in town visit the Denver Art Museum, The Clyfford Still, and the Kirkland, all very different. In between visiting the sights, sample some of the craft beers at the Wynkoop – one of the city's 100 brewpubs, breweries and tap rooms, or sip a local wine at the Infinite Monkey Theorem. For pre- or post-dinner cocktails, head to the Run for the Roses speakeasy, located in an old bank building, the Peaks Lounge atop the Hyatt Regency or the Ship at Brown Hotel. Try and sneak in lunch at the Buckhorn Exchange, a steakhouse that has been around since 1893 and has a huge amount of western memorabilia inside.
For dinner, make a reservation at TAG in Larimer Square, and afterwards, see if you can spot some of the 300 cat sculptures in and around the square. Alternatively, venture out to Acorn at The Source, a hotel in a brewery – they even have beer taps at reception when you check in. Acorn is next door, or head to The Woods restaurant and bar on the rooftop.
Must see: See a concert, do morning yoga or just look around at Red Rocks Ampitheatre. This writer was lucky enough to see OneRepublic there, and the ambience and the view back over the plains to Denver is astounding.
Tip: If you are in Denver in January, check out the National Western Livestock Show, which includes the parade of longhorn cattle down 17th street, driven by real cowboys.
Stay:
The Maven – A new hotel with serious swag, in a great location adjoining the Milk Market and right near Union Station and Coors Field.
The Crawford – A gorgeous boutique hotel in the refurbished Union Station building.
Day 3: Denver to Loveland
56 minutes via I-25 N
Have one of the signature breakfast burritos or pancake stacks at Snooze at Union Station, then head off to Loveland. Stretch your legs at the Benson Sculpture Garden, which has over 164 sculptures in gorgeous parkland, such as the Circle of Peace by Gary Lee Price. Every August the gardens host the largest outdoor sculpture show in the USA, attracting 400 sculptors from around the world.
After a wine tasting at the riverside Sweetheart Winery, get your cowgirl on at Sylvan Dale ranch, an authentic ranch on the banks of the pretty-as-a-picture Big Thompson River. When you saddle up and explore the nearby ridges, you may not be able to help bursting into song with a bit of Old Town Road by Lil Nas and Billy Ray Cyrus.
Dinner is at the fabulous Door 222 in the Foundry precinct, a downtown area that has been completely revitalised.
Tip: For some serious brownie points you can send your valentine's card to Loveland to have it hand-stamped with the "With Love from Loveland" stamp through their Valentine's Remailing Program. It will then be forwarded to your valentine by one of the many volunteers.
Stay:
Embassy Suites by Hilton Loveland Hotel Conference Center & Spa is well located and has everything you need.
Sylvan Dale Ranch delivers an authentic ranch stay in pretty surroundings.
Day 4: Loveland to Fort Collins
30 minutes on US287 N
The very short drive to Fort Collins has you in its beautifully coiffured town centre in no time at all. Check in to the historic Armstrong Hotel, and be totally distracted by Oreo, the hotel cat often lazing on top of the desk. Hop on a Magic Bus tour to see the main sights, and visit the last remaining buildings left from the original 1864 fort, then out of town to the scenic Horsetooth Reservoir, notice the beautiful painted pianos around town and learn how Main Street was the inspiration for Main Street USA at Disneyland.
After lunch at CooperSmiths, stroll around Old Town Fort Collins – a beautiful shopping and dining precinct in mostly historic buildings. It is so pretty with flowerpots, street art including beautiful utility boxes, and those beautiful painted pianos – all donated, painted by local artists and looked after by locals. Browse beautiful gift shops like Blue Moose and Little Horse Vintage and indulge in a 'flight' of chocolate at Nuance.
A wonderful dinner at Cache at Ginger and Baker, followed by a drink in the speakeasy-style Art Gillette lounge downstairs at the Armstrong, is a perfect end to a perfect day in this pretty town that could be straight out of The Truman Show.
Must see: Do a tasting at Nuance Chocolate – a 'bean-to-bar' chocolate shop to delight chocaholics. It has the largest selection of single origin chocolate in the world – all made in house, with 23 types of cacao beans flown in from around the globe.
Stay:
The Armstrong Hotel is a beautiful boutique hotel that has a cat. What more do you need to know?
Days 5 & 6: Fort Collins to Colorado Springs via Estes Park
67 minutes to Estes Park via US34 W, then 2 hours 35 minutes to Colorado Springs via US36 E AND I25 S
Leaving early after a breakfast at Mugs Coffee Lounge next door to the Armstrong, hit the road to Colorado Springs, with a diversion to Rocky Mountains National Park; the views over the snowy peaks from up Trail Ridge Road – a (very) Scenic Byway – are breathtaking. A stroll around Sprague Lake gives you a tiny taste of all the hiking trails on offer. Arriving in Colorado Springs, you can check in for a night in the Mining Exchange, which was the USA's stock exchange in the late 1920s – the old original vault doors are all still there.
A huge day then awaits as you head up to 'America's Mountain': Pikes Peak, the second most-visited mountain in the world behind Mount Fuji. The drive up (by shuttle bus from midway) is exhilarating, filled with head-spinning switchbacks, and once at the top – at a lofty 4302 metres – you can huff and puff at the panorama. There are big things happening up there with a new summit centre well underway, and the famous cog railway is being fully renovated, due to open in 2021.
Back down to another head turner: the Garden of the Gods, a spectacular landscape of spiny, sawtooth sandstone outcrops, that in turn have created a playground for the public. You can hike, climb, horse ride, stroll, or do a tour by jeep, Segway or trolley. You can also take a jeep tour to Manitou Springs, the number one hippy town in the USA.
Finish the day, and your Colorado road-trip adventure, at The Broadmoor, a spectacular and truly interesting property. It is fitting that when this writer sat down for dinner at the Ristorante del Lago, a rainbow revealed itself over the lake and a bagpiper, complete with kilt, serenaded all guests to pay homage to the setting sun.
Must see: The USA Olympic and Paralympic Museum will open in January 2020. It will be the most accessible museum in the world, and will have more Olympic torches and medals than the ICO museum in Lausanne.
Stay:
Mining Exchange housed the huge amounts of money that came in from nearby mines like Cripple Creek, and it retains some of its historic feel.
The Broadmoor is a destination in its own right, with five-star everything as well as its own wilderness properties, waterfalls and fly fishing.