How to navigate Hoi An's best restaurants and food stalls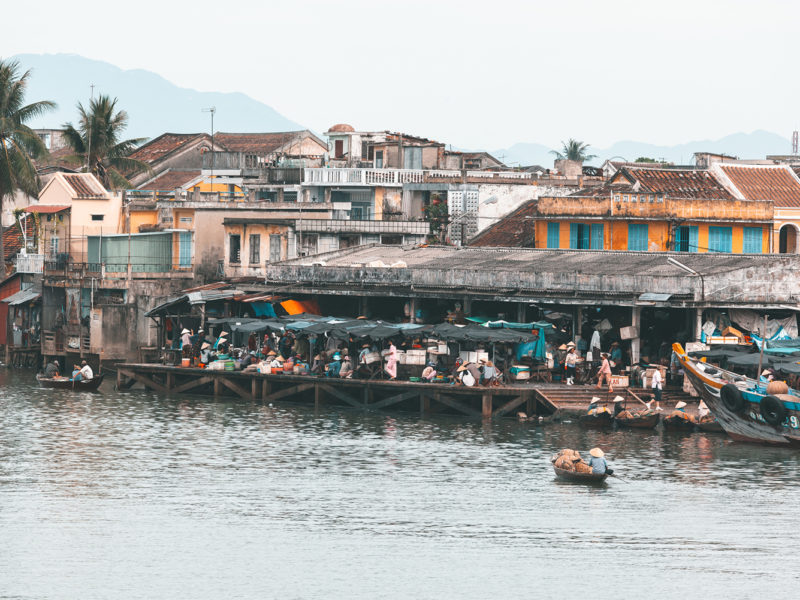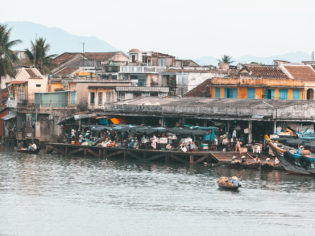 Heading to Hoi An on an empty stomach? Here's how to savour Hoi An's best restaurants and food stalls
Hoi An is a destination defined by colour, especially around its eye-watering picturesque old town.
There are flocks of colourful lanterns festooned over pedestrian streets lined by crumbling mansions painted ochre yellow.
Crowds of Korean tourists, their áo dài (silk tunics and loose trousers traditionally worn throughout Vietnam) popping against the dragon fountain that snarls outside the Quang Trieu Cantonese Assembly Hall. And of course, a rainbow of street food stalls, the legacy of the many nationalities (including Japanese, Chinese and Portuguese) that lived or traded here between the 15th and 19th centuries.
The verdant fleck of mustard greens, scarlet splodges of chilli sauce, noodles sizzling under a squeeze of fresh lime, marigold passion fruit floating on top of tea and the delicate pink of fresh prawns – all combine to create a vibrant symphony of street food that is a highlight of any trip to this picturesque city.
While attractions such as the famous Japanese Bridge and An Hoi Night Market are a must when you're in town, the highlights of my trip were in fact quiet moments stolen on street corners tucking into food cooked seconds before by someone who has lived in the city all their life.
Our favourite dishes in Hoi An and where to try them
White rose dumplings – These pretty prawn dumplings topped with fried onions are only made at White Rose Restaurant (533 Hai Ba Trung) to a secret family recipe using water from Ba Le Well. Although they are sold elsewhere in the city, nothing beats seeing the team of women deftly making them at the long table at the back of the buttercup-yellow dining room.
Banh xeo
Savoury beansprout pancakes wrapped in rice paper with fresh herbs. Ba Le Well (38 Phan Chu Trinh) specialises in them and has 12 gas stoves on the go at any one time, so they're always piping hot and fresh off the griddle.
Cao lau
Springy noodles made with water from the Ba Le Well and ash from trees grown on nearby Cham Island, served with pork, crackling, herbs and stock. For a very authentic experience pay a visit to the only cao lau vendor on Nguyen Hue Street, who has been a favourite with locals for more than 20 years.
Bánh mì
While not specific to Hoi An, crusty baguettes filled with slivers of pork, spicy sauce, pickled carrots and cream cheese are a Vietnamese street food classic that provide great value for money and punchy flavours. Bánh mì Phượng (2b Phan Chu Trinh) was made famous when the late Anthony Bourdain visited and is still a trusty option.
Top tips for safe street feasting
While many travellers end up sticking to well-trodden tourist restaurants because of the fear of food poisoning, in countries that have a thriving street food scene like Vietnam you are actually missing out on a key part of the culture – and in all likelihood paying over the odds for substandard food. That's not to say that you aren't taking a risk. Travelling in hot countries with unreliable water supplies and far fewer food hygiene checks than Australia can result in an unhappy stomach, but you can reduce the chances of getting sick significantly by following a few simple tips.
1. The old adage about eating where locals eat is absolutely true. Pick a street food stall with a long line that ideally includes women, children and the elderly.
2. Only eat fully cooked food. If you bite into something and it isn't piping hot all the way through, don't finish it.
3. Remember that fruit with a peel is your friend and to avoid salad leaves, as they might have been washed in tap water.
4. Carry portable chopsticks, a fork or combine both with this handy travel set. You might not end up using them often but it's always good to have the option if you're suspicious of the cleanliness of the cutlery provided.
5. Try and eat at places that have a high turnover of customers such as the food court at the Central Market, which is great for breakfast. Locals swarm here every morning to buy eggs, spices, clothes and other key supplies and therefore food is never sitting around for very long.
6. Pay close attention to the cleanliness of the stall and ideally choose somewhere with two people on duty. There should be a separate person handling money from the one doing the cooking.
7. I am absolutely evangelical about probiotics and never travel without them after a bout of food poisoning in Nepal that my stomach took around six months to recover from. Try ones that don't need to be refrigerated, such as Bio-Kult.
8. While getting ill is sometimes unavoidable, activated charcoal is a natural remedy that I find very effective to ease the symptoms of food poisoning, diarrhea, bus sickness etc.
9. If you're still feeling nervous, book a street food tour such as those offered by Vespa Adventures. You'll be taken to corners of the city you'd never discover on your own and the stalls will have been vetted thoroughly.