Review: Autocamp, Sonoma County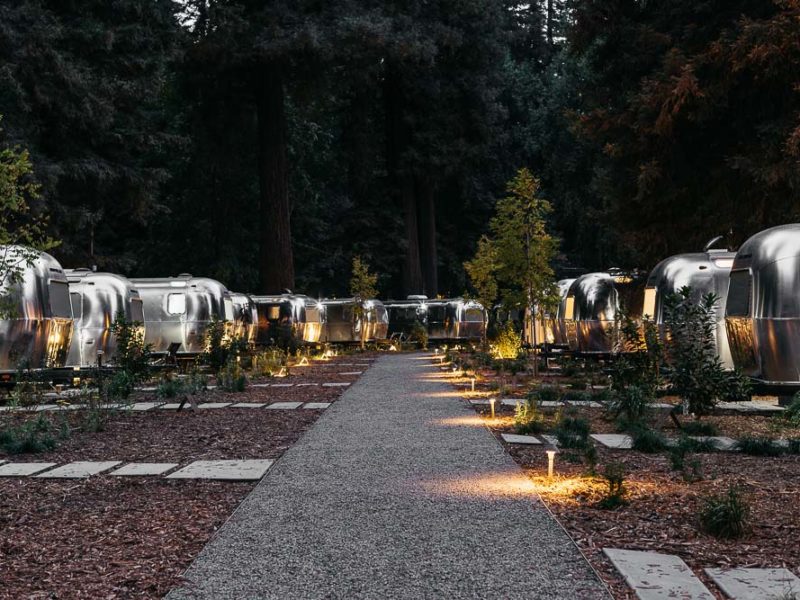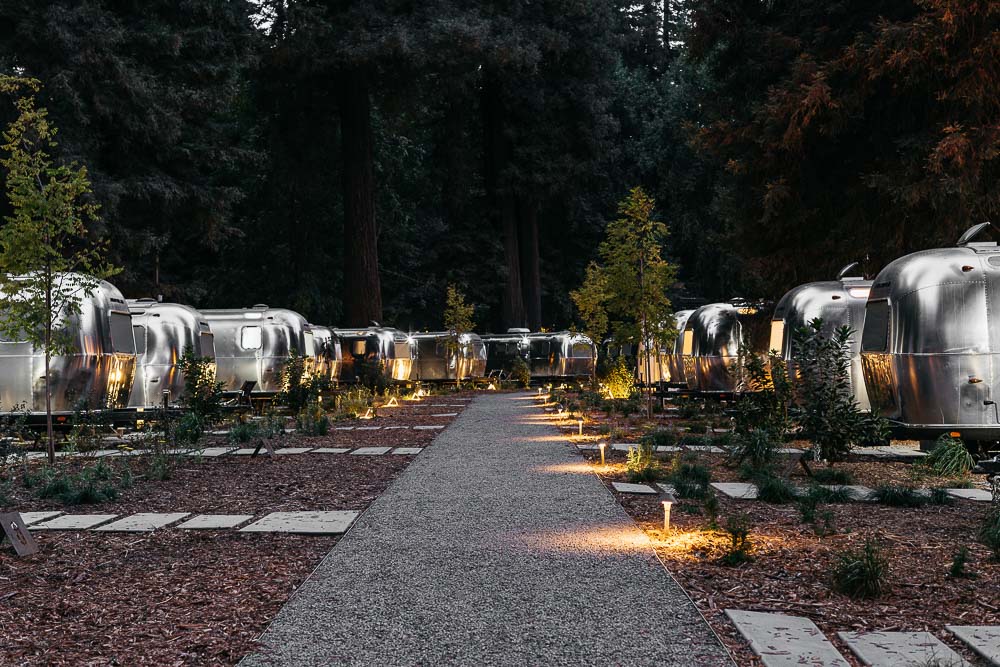 Jo Stewart finds a slice of mid-century modernist magic at AutoCamp, a retro auto retreat in Sonoma County, California.
Ninety minutes north of San Francisco, the Russian River area is home to towering redwood forests, summer camps and hamlets filled with old-fashioned diners and small wine bars showcasing the Sonoma region's finest drops.
It's also the venue for a new luxury trailer park, AutoCamp, not afraid to lay the nostalgia on thick. Satisfying the growing thirst travellers have for recapturing the simpler times of America's golden age of motor travel, modern-era trailer parks have sprung up across the USA everywhere from Texas to Arizona, and now California.
I make my way to AutoCamp's clubhouse to check in. As a multipurpose space used as a reception and chill-out area, the clubhouse is clearly channelling the log cabin vibe with decorative wooden logs adorning the exterior and an indoor, smoke-free faux fire pit replacing the traditional camp fire.
Out the back of the property there's a collection of luxe tents flanked by redwoods but the show-stopping rows of custom-designed silver Airstreams are the drawcard. The designers have cleverly taken the hip, mid-century modernist aesthetic to the limit without sacrificing functionality.
Contained within the iconic chrome shell is a warm and inviting mini-home complete with double bed, TV, lounge, kitchen and a generous bathroom (with shower and plush robes). Old school lighting from Schoolhouse Electric casts a warm glow while a memory foam mattress guarantees a good night's sleep.
With rain pitter-pattering down onto the roof of my Airstream, I abandon the idea of taking one of the in-house pushbikes for a spin and head to the cosy clubhouse instead. Sitting by the indoor fire pit, I read a book while other guests use the unexpected rain to catch up on emails. The clubhouse also has a fridge full of local wines, craft ales and snacks for purchase, but AutoCamp is otherwise a self-catering affair.
From paddock-to-plate bistros to sleek oyster bars, there are plenty of places to eat along Guerneville's main drag. I decide that Dick Blomster's Korean Diner is the dinner spot I've been dreaming of.
Heading back to my Airstream for the night, I turn on the heating, pop on the kettle and trawl through the never-ending list of cable channels. I settle on an Alfred Hitchcock marathon – a fitting choice considering the director filmed many of his movies in northern California.
Dragging myself out of my award-winning mattress the next morning is a tough task but with a breakfast spot favoured by locals a short stroll away, I make the effort and am rewarded with eggs, bacon, and fluffy pancakes drowning in maple syrup. Coffee refills come courtesy of a cheery waitress who reminds me of an amalgam of all the wonderful American sitcom mothers I grew up watching in the '80s.
Loaded up with carbs, sugar, caffeine and kindness, this is the ultimate way to end an all-American adventure. For one night only, I've lived the American Dream.
The details: AutoCamp, Sonoma County, California
AutoCamp, 14120 Old Cazadero Road, Guerneville, California, USA.
The IT Verdict: A retro retreat deep in the heart of California's wine country is a taste of the Great Outdoors for travellers who like to adventure in style.
Location 7.5 / 10: Found off the main highway at the end of a gravel road, Airstreams are nestled between clusters of redwoods.Style/character: 10 / 10 The American summer camp-meets-lumberjack vibe works.
Service 8 / 10: Friendly, approachable staff make the check-in process simple.
Rooms 9 / 10: Spotless Airstreams kitted out with comfy beds and luxe soft furnishings? Yes please!
Food and drink: 7 / 10: Snacks, local beers and wine available for purchase in the clubhouse. Best to head into town for meals.
Value for money: 7.5 / 10: Cheaper accommodation could no doubt be found elsewhere but nothing as unique (or fun) as this place. From $363 a night.
All IT reviews are conducted anonymously and our writers pay their own way – so we experience exactly what you would.
LEAVE YOUR COMMENT