The ultimate guide to Prague food and drink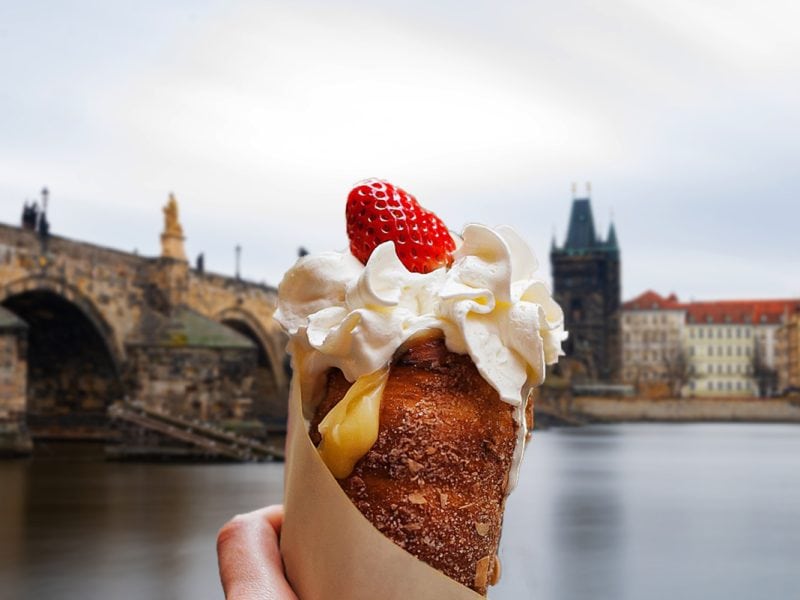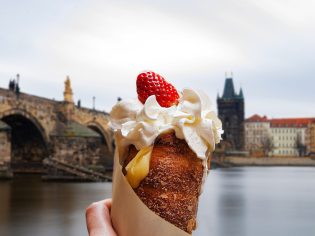 The diet will always be left waiting till tomorrow while you're in Prague.
Delicate morsels. Exquisite nibbles. Amuse-bouche. None of these phrases come to mind when eating out in the Czech Republic capital of Prague. Like many of its Central European neighbours, the tasting notes for the dishes here is 'hearty, creamy, rich and flavoursome'. And that they pair well with the excellent local beer of course. So, prepare your stretchiest pants. These are the best foods to try in Prague.
1. Beer
Even if you're a big beer drinker, you may find it hard to keep up with the locals and their love of a foamy mug of pilsner. The average person in the Czech Republic drinks more beer than any other country in the world: around 468 beers per year, according to Expensivity.
While there's no pressure to keep up, if you drink, it's a must to try a pint or two at one of the many craft breweries, pubs, beer gardens and cafes here in Prague. Especially when you factor in the low cost, as well as the fantastic taste, of the tap beers.
Start with the ubiquitous Pilsners, which are from the nearby town of Pilsner, and don't be surprised when the creamy head is larger than you might be used to. It makes it even tastier.
2. Nakládaný hermelín (pickled cheese)
All that beer is going to make you hungry. One of the most famous snacks to go with beer is the humble nakládaný hermelín or pickled cheese (really, this is a bit of a misnomer, as it is more like a marinaded cheese). Made from a brie-like cheese, this is soaked in oil, along with flavoursome ingredients such as garlic, onion and pepper.
3. Pražská šunka (Prague ham)
If you're in Old Town Square to watch the magical Astronomical Clock strike midday, you will probably detect the tantalisingly smoky smell of Prague ham, roasting on a spit at a nearby stall.
While it might be tempting to buy ham then and there, the famous Prague ham can be found all over the city for cheaper and in less touristy locations. Order a plate at a bar, served with horseradish cream.
4. Guláš (goulash)
While goulash might sometimes be more associated with Hungarian cuisine, it is a common staple on the Prague lunch menu. A slow-cooked beef or pork stew, hearty to the max, delicately spiced with paprika. It is commonly served with delectably soft and moist houskové knedlíky or bread dumplings, slices of which soak up the juices just so.
As we said, goulash can be found everywhere, and variations are common. If you're on a budget, try out one of the cheap 'canteen'-like restaurants dotted around the capital, where you can often get a plate of goulash for around 125CZK ($9).
5. Obložený chlebíčeky (garnished bread)
An open-faced sandwich, larger, but not dissimilar to, Venetian cicchetti or Spanish pintxos.
A piece of bread is topped with a spread, before being layered with various cured meats, boiled eggs, pickles and cheeses to create this 'garnished bread'. The ideal snack or light dinner from a delicatessen, particularly if you've overdone it on the dumplings at lunchtime.
6. Svičková (marinated sirloin)
This dish of braised beef steak, cooked in a creamy vegetable sauce and served with bread dumplings, is a classic staple of Prague cuisine. It is best eaten in winter for a real stick-to-your-ribs experience.
Spiced with black pepper, bay leaves and thyme, svičková is a delectable, flavourful, and most of all, filling dish that you must try. Don't be surprised if you order and find your meal served with the traditional accompaniments: whipped cream and tinned cranberries.
7. Tatarák (steak tartare)
Like the French dish of tartare, the Czech tatarák is a blend of good quality raw minced beef, oil, salt, pepper and spices. I tried it out in a local butcher-counter-meets-cafe (yes, this is a thing), which served the tartare, blended with what tasted like pickles.
The cafe (Naše Maso, as recommended by the Taste of Prague food guides) also served the tatarák with raw pieces of garlic to rub on the toast accompaniment. Like many things on the menu in Prague, the rich creaminess of the tatarák goes perfectly with a cold tap beer.
8. Smažený sýr (fried cheese)
Vegetarians rejoice! As well as the city's various falafel stands, and of course the pickled cheeses, there is one more non-meat dish you can eat. We're talking of course about fried cheese, also known as smažený sýr.
This gooey goodness is not unlike mozzarella and is served in a breaded slab, similar in appearance to a schnitzel. It is served with tartare sauce, meant for smearing a dollop on an oozing, cheesy forkful.
9. Grilované klobásy and Párek (grilled and boiled sausages)
A common staple in many beer gardens and breweries, the grilované klobása or grilled sausage makes for a cheap, small meal – particularly when you're bar hopping in Prague.
Klobásy can be served on a plate, blistering hot and with sides like ketchup and sauerkraut, or in a roll from a stall to eat on the go.
You can also go for the párek, a hot-dog-like sausage that's boiled or steamed. I got a dish of párek in a hidden courtyard brewery in Prague's New Town, which came with dill pickles, mustard and fresh slices of bread for 92CZK ($6).
On the street, you'll most likely get it served in a bread roll with a hole drilled into the middle for the sausage.
10. Pečená kachna (roast duck)
The ultimate comfort dish comes in the form of the crispy-skinned pečená kachna, flavoured with caraway seeds. It's traditionally served at times of festivities. But isn't it worth celebrating being in this beautiful city by ordering a dish?
Expect to receive a quarter of a duck with side serves of sweet-tasting cabbage or sauerkraut, as well as dumplings and plenty of sauce.
11. Pork knuckle
Looking to share a meal with two of your closest friends? Then this monster of a meat dish is the one for you.
Pork knuckle is first marinated in a broth before being roasted for several hours until it's mouth-wateringly crispy. It's then served in a steaming hunk, along with favourite side dishes like pickled vegetables, horseradish and potatoes.
Crackling fiends, eat your heart out … but take my advice. Don't schedule that three-hour walking tour of the Old Town for afterwards.
12. Řízek (schnitzels)
As an Australian, you might be thinking that you know the bread-scape of a fine schnitty like the back of your hand. But if you haven't yet had schnitzel in Czechia, I'm going to need you to take a seat, strap on that napkin and ready your knife and fork.
Made from tenderised chicken or pork, the Czech schnitzel (often known here as řízek) is covered in flour, egg and breading before being deep-fried in butter or oil. The result is the řízek cooked to perfection, with a soft crunch from the thin layers of breading, and mouthfuls of super tender, juicy meat. Expect your plate to come with a side serving of boiled potatoes or potato salad.
13. Trdelník (chimney cake)
This famous Prague 'street food' is not in fact from Prague, but nearby Hungary. But damn, the locals have made it their own by serving trdelník variations everywhere.
It's immensely popular among tourists and the Instagram set for its unusual preparation, as well as its taste. Trdelník is prepared by wrapping the dough around a spit called a trdlo, where it is cooked over hot coals before being sprinkled with sugar. Some gelato bars in the capital have even started serving trdelník stuffed with ice-cream.
14. Koláče
This sweet pastry was originally served as a wedding treat, but today can be found in many cafes and bakeries throughout the capital.
Round in shape, these treats have an unending number of fillings to choose from – like strawberries, apples and plums, jams, sweet cottage cheese, poppy seeds and creams.
15. Větrník
Another sweet treat, also round in shape. The větrník is a delicate creation of puffy choux pastry stuffed with fresh vanilla cream, caramel cream and caramel glaze. Perfect as a mid-morning pick-me-up when cruising through the many museums of Prague.
16. Fruit dumplings
Because we're never done with dumplings. As well as being a staple side dish of saucy meals, like goulash and svičková, dumplings have been adapted as a dessert too.
Traditionally, this dish sees dumplings filled with fruits like blueberries, plums or apricots. Next, they are sprinkled with sugar, grated cream cheese, melted butter and cinnamon. The only problem with these is making room for them after everything else.
LEAVE YOUR COMMENT